Business Leaders Join UN Chief to Step Up Action for Global Sustainability

Business leaders joined UN Secretary-General António Guterres on Tuesday, to step up delivery of critical investments for a 'sustainable, net zero, resilient and equitable world'.
The Global Investors for Sustainable Development (GISD) Alliance, which brings together 30 business giants worth an estimated $16 trillion dollars, met Guterres in New York and outlined concrete actions for the future, the UN Correspondent reported.

Since October 2019, when the secretary-general convened the GISD Alliance, its CEOs and other top executives had been working with the UN and other partners to develop guidelines and products that align the existing finance and investment ecosystem with the Sustainable Development Goals (SDGs).
Acknowledging the "great responsibility" facing private sector leaders, Guterres said that the goals were clear.
The goals, according to him, are to "build a sustainable, net zero, resilient, and equitable world, to better align investments with sustainable development, and to act on their commitments, with credible timelines, targets and plans.
Since its creation, the GISD Alliance had developed standards and tools aimed at moving trillions of dollars to bridge the gap in financing, and to realise the UN's 2030 Agenda.
The group works through increasing the available supply of long-term investment for sustainable development, realising SDG investment opportunities in developing countries, and enhancing the impact of private investment for sustainable development.
"I count on the members of the GISD Alliance to catalyze greater investment for developing countries and make net zero and sustainability the core of everyone's policies and business models," Guterres said.
GISD also sprang into action to address crises, including in 2020, by developing a COVID Bond Call to Action. The call prompted companies and governments to use innovative social bonds to respond to the pandemic, contributing to a sustainable economic recovery.
In 2021, GISD published its latest investment tool designed to align financing with the SDGs. Through a set of sector-specific metrics, it proposes to accurately measure the impact of companies on sustainable development targets and provide investors with key insights.
This is an important step, since previous reporting frameworks largely focused on measuring the impact of company operations on sustainability across whole industries.
According to Leila Fourie, GISD co-chair and group CEO of the Johannesburg Stock Exchange, "industry-agnostic performance indicators, while useful, tend to fall short in capturing the full sector-specific impact of products and services that companies produce."
In the coming months, GISD will launch a net-zero Exchange Traded Fund (ETF) and a blended finance fund, helping the "move toward creating real life opportunities to finance the SDGs," said Oliver Bäte, GISD co-chair and CEO of Allianz.
GISD is also working with the G20 Sustainable Finance Working Group, the COP26 climate conference bureau and G7 leading economies, as well as engaging with the multilateral development banks, to develop actionable recommendations on ways to scale up private investment for sustainable development. (NAN)
China Takes Over Ugandan Airport, Other Country's Assets Over $207million Loan Deal
This came despite reports that President Yoweri Museveni had sent a delegation to Beijing for a renegotiation with the Chinese government over toxic clauses that exposed the East African country.
The Museveni-led Ugandan government had on Tuesday, 17 November 2015, signed an agreement with Exim Bank to borrow $207 million at two per cent upon disbursement.

The loan had a maturity period of 20 years including a seven-year grace period, but it had now appeared that the transaction signed with the Chinese lenders practically means Uganda "surrendered" its most prominent and only international airport.
The Uganda Civil Aviation Authority (UCAA) revealed some provisions in the Financing Agreement with China that exposed Entebbe International Airport and other Ugandan assets to be attached and taken over by Chinese lenders upon negotiation in Beijing.
Uganda, however, sought to renegotiate the deal but the latest visits and pleas to alter the original terms with Chinese authorities were declined.
According to the Daily Monitor, the Ugandan government waived international immunity in the agreement it signed to secure the loans, exposing Entebbe International Airport to take over without international protection.
In desperation, Uganda in March 2021 sent a delegation to Beijing hoping to renegotiate the toxic clauses of the deal but the officials came back empty-handed as China would not allow the terms of the original deal to be varied.
Last week, Uganda's Finance Minister, Matia Kasaija, apologised to parliament for the "mishandling of the $207 million loan" from the China Exim Bank to expand Entebbe International Airport.
Progress of works at the airport, built in 1972, has reached 75.2 per cent, with two runways having reached overall completion of 100 per cent.
Entebbe International Airport is Uganda's only international airport and handles over 1.9 million passengers per year. Its seizure by China would greatly dent the legacy of the 77-year-old Museveni, who came to power on the back of an armed uprising in 1986, and expose him to election defeat.Naija360
IOM, FG. Evacuate Another 330 Stranded Nigerians from Libya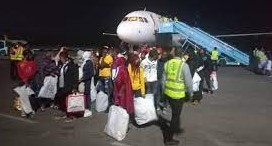 The International Organisation for Migration (IOM) in collaboration with the Federal Government have evacuated another 330 stranded Nigerians Tripoli and Benghazi, Libya in its continuous voluntary evacuation exercise.

The Charge d' Affairs of the Nigerian Mission in Libya, Mr Kabiru Musa, disclosed this in a statement on Wednesday, in Abuja.
According to Musa, the 330 evacuees from Tripoli and Libya are expected to arrive the Murtala Mohammed International Airport, Lagos on Wednesday night in separate flights.
He said that almost 1,000 stranded Nigerians had been evacuated from Libya in November alone, reiterating the Nigerian government's commitment not to leave any stranded Nigerian behind in Libya.
"Following successful evacuation exercises and the high number of stranded Nigerians in Libya, the IOM in collaboration with the embassy of Nigeria in Tripoli airlifted 158 Nigerians from Benghazi and 172 others from Tripoli on Wednesday.
"The Benghazi chartered flight no. UZ389 departed Benghazi airport at 15.00 hours local time and is expected to arrive Murtala Mohammed international airport, Lagos at 22.00 hours," he said.
He said that on the other hand, the Tripoli chartered flight no. UZ0190 left Mitiga international airport at 18.00 local time and expected to arrive the Lagos international airport at 23.30 hours.
"A total number of 330 Nigerians were evacuated including men, women and children.
"Some of the returnees were in Libya's detention centres for immigration offences while others were either rescued victims of human trafficking or irregular migrants on voluntary return.
"The exercises were carried out successfully in full compliance with COVID-19 protocol. All the returnees are expected to spend few days at IOM's provided facilities before their reintegration into the society," Musa said.
Musa assured that the exercise will be ongoing until Nigerians who stand in need while in Libya are supported to re-unite with their families at home. (NAN)
Pakistani Envoy says Africa a Promising Continent with Vast Opportunities
Mr Abdul Razak Dawood, the Advisor to the Pakistani Prime Minister on Commence and Investment, on Tuesday declared that Africa was "a promising continent and land of opportunities".
The envoy stated this on Tuesday in Lagos at the 2nd Pakistan-Africa Trade Development Conference, a Single Country Exhibition, holding from Nov.

23 to Nov. 25.
He also called for closer economic ties with Africa to harness mutual benefits in trading activities with Pakistan.
The exhibition targets the business community from Nigeria, other West African nations, as well as non-ECOWAS countries.
100 companies are participating in the exhibition that showcases pharmaceuticals, paints and chemicals, surgical instruments, beauty and cosmetics, leather products and accessories.
Others are kitchen wares, food and beverages, automotive and agricultural machinery, electrical appliances and information technology.
According to Dawood, until now, Africa has been a distant frontier for Pakistan, economically, with the trade volume not very high.
"It has hovered around only four billion dollars, but the good news is, ever since we created the 'Look Africa Policy', our trade is increasing by 21 per cent .
"Soon after coming into power, the Prime Minister of Pakistan took the initiative and asked the ministry of commerce to look at regional connectivity and, in particular, look at Africa.
"As a result of that, we developed a 'look Africa policy' and we analysed all the 54 countries of the continent and our study showed a promising continent and a land of opportunity.
"Our vision is to get closer and set a target of doubling our export in the next five years; we are looking at regional connectivity. We are not only looking at Africa. We are equally looking at Asia as well.
"We were trying to get positive results after the first conference in Kenya, but due to the pandemic, we could not come to this country until this time and we will be coming back to Nigeria next year," he said.
He added that no cooperation was possible without the business men and women from Africa and Pakistan, urging governments of both groups to facilitate robust collaboration.
Speaking earlier, the High Commissioner of Pakistan to Nigeria, Mr Muhammad Azam, said that with global priorities moving away from geo-politics to geo-economies all over the world, national policies must focus on transformation via multiple facets.
"African continent is the largest free trade area with 1.2 billion persons market.
"It has tremendous business potentials and resources to benefit its market and government of Pakistan.
"The 'Look Africa Initiative' aims at improving trade and investment relationship between Africa and Pakistan.
"The Pakistan trade development conference, a single country exhibition, is the manifestation of the initiative undertaken by the Pakistani ministry of commerce.
"In the post-COVID-19 environment, this conference will enable the business communities of Pakistan and Africa, especially the Nigerian business community, meet with 100 Pakistani companies to interact with each other," he said. (NAN)