Cooperative Societies Contribute N500bn to Nigeria's GDP in 2020 – Expert
An economist, Dr Abayomi Awujola, has said that cooperative societies contributed over N500 billion to Nigeria's Gross Domestic Product (GDP) in 2020.
Awujola, Head of Department, Economics, Bingham University, Abuja, stated this during a paper presentation at the North East regional meeting of Presidents of the Cooperative Societies of Independent National Electoral Commission (INEC), yesterday in Yola.

Awujola said that the contribution of cooperative societies in the national economic growth and stability could not be over emphasised.
"Cooperative societies hold over N500 billion as its share of the country's GDP in 2020.
"Presently, there are three million cooperatives worldwide which together provide jobs for some 200 million persons or 10 per cent of the world employed population," he said.
He said that among the cardinal objective of cooperative society was to serve the common man and to liberate him from the oppression of the economically strong people and organisations.
The economic expert said that the role of cooperative society was to create unity, promote welfare for the members and reduce inequality of wealth as well as establish equal rights and moral principles.
He noted that it would be very difficult for the civil servant to build a house, buy a car and meet societal needs without the support of his organisation.
"The only means where civil servants can bail themselves out to afford societal needs is to be part of cooperative society
"And those who are yet to join any cooperative society should begin to join one so that they can be empowered and live a better life," he said.
"A lot of cooperative societies have transformed into Micro Finance Banks in Nigeria," he said.
In his remarks, Alhaji Kassim Geidam, Resident Electoral Commissioner in Adamawa, assured the participants of conducive atmosphere to facilitate smooth conduct of the conference.
Geidam said the conference with the theme: "Solving problem of Cash Scarcity among Staff Members through Cooperative Society," was a good effort towards managing competing needs within limited resources.
"A cooperative is an autonomous association of persons united voluntarily to meet their common economic, social and cultural needs and aspirations through a jointly owned and democratically controlled enterprise.
"Remember as Cooperative Societies, it is not every staff problem that will be supported or funded by you as such problems or loan requests must fulfill some conditionalities bordering on viability and prospect of repayment.
"Good Cooperative Societies mainly facilitate or enable members to easily access cheap loans to help build local enterprises that are profitable or atleast self-reliant," he said.
The conference was attended by INEC personnel drawn from Adamawa, Bauchi, Borno, Gombe, Taraba and Yobe States. (NAN)
Foreign Inflows Fall by 32%, UK, South Africa, others Slash Nigeria Investments
The Central Bank of Nigeria has disclosed that capital importation into the country fell by 32 per cent to $500m in October 2021, from $660m recorded in September.
The CBN disclosed these figures in its latest monthly economic report (October) recently released on the bank's official website.

The decline is a negative turnaround from the increase recorded in September when capital inflow rose by $220m from $440m in August.
The report also shows that there is a corresponding decline in investment inflows from the United Kingdom, South Africa and other countries leading the pack in capital importation into Nigeria.
A breakdown of the inflows recorded in October shows that foreign portfolio investments dominated capital importation with a value of $330m.
The CBN said, "New capital importation decreased by 32.0 per cent to US$0.50bn in October 2021, from US$0.66bn in September 2021.
"Disaggregation of capital importation by type of investment shows that foreign portfolio investment inflow (mainly money market instruments), at US$0.33bn, decreased by 34.0 per cent, relative to the US$0.50bn in September 2021.
"Despite the decline, portfolio inflow remained dominant in total foreign investment, accounting for 65.0 per cent.
"The inflow of other investments, mostly loans, was US$0.14bn or 28.2 per cent of the total, a slight increase from US$0.13bn in September 2021.
The report also noted that foreign direct investment accounted for only 6.8 per cent of capital inflows in October at $30m.
Considering capital importation by nature of business, the central bank said financing led the chart representing 47.4 per cent, banking stood at 13.8 per cent, shares got 12.9 per cent while trading was 8.9 per cent.
Other sectors such as telecommunication and service contributed 7.4 per cent and 3.8 per cent, production/manufacturing accounted for 3.6 per cent while agriculture contributed 2.1 per cent.
The CBN added that, "Capital importation by country of origin indicates that the Republic of South Africa led the pack (46.1 per cent), followed by the United Kingdom (16.4 per cent) and Singapore (10.0 per cent). The Netherlands contributed 9.5 per cent, the United States of America (9.4 per cent), Guinea (2.0 per cent), Mauritius (1.8 per cent), United Arab Emirates (1.0 per cent), Czech Republic (0.9 per cent), and Denmark (0.9 per cent). Others accounted for the balance.
"Analysis of capital importation by destination (states), reveals that Lagos and Abuja were the main recipients with US$0.44 billion (or 88.3 per cent) and US$0.06 billion (or 11.7 per cent) of the total, respectively."
FIRS Loses N5.8bn to MDAs Tax Evasion, Others – Report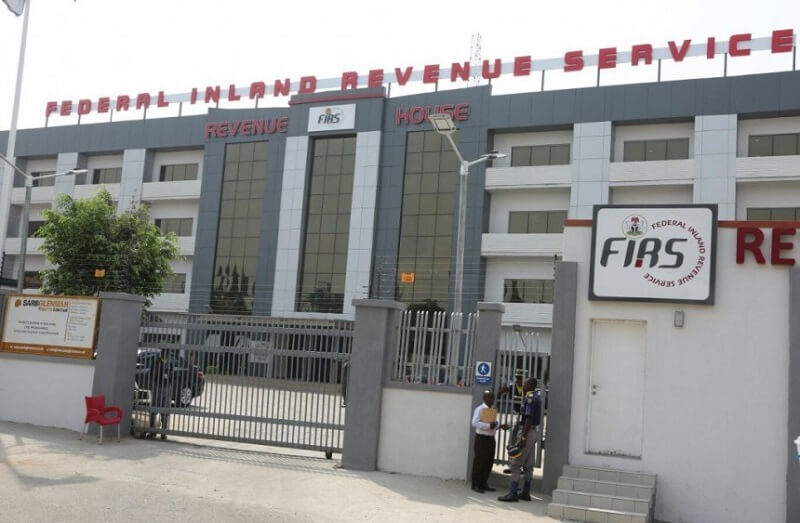 The non-remittance of tax deductions by ministries, departments and agencies of government as well as the House of Representatives and Senate led to the loss of tax revenue of N5.8bn by the Federal Inland Revenue Service in 2019.

The Office of the Auditor General of the Federation disclosed this in its 2019 Annual Report on non-compliance, internal control, and weakness issues in MDAs of the Federal Government of Nigeria for the year ended December 31, 2019.
The MDAs are the Federal Ministry of Agriculture and Rural Development; Federal College of Freshwater Fisheries Technology, New Bussa; Advertising Practitioners Council of Nigeria; Nigerian Civil Aviation Authority; Nigerian Communications Satellite Limited; Hussaini Adamu Federal Polytechnic, Jigawa State; Federal Medical Centre, Keffi, Nasarawa State' Department of Petroleum Resources; National Assembly Service Commission; and Nigerian Correctional Service.
The report said between 2018 and 2019, the MDAs failed to either remit one per cent stamp duty, value added tax, withholding tax or Pay As You Earn tax deducted from awarded contracts, thereby contravening sections of the Financial Regulations and Treasury Circular issued on December 29, 2015.
According to the report, Paragraph 234(I) of the Financial Regulations states that 'it is mandatory for accounting officers to ensure full compliance with the dual roles of making provision for the Value Added Tax and withholding tax due on supply and services contract and actual remittance of same'.
It quoted Paragraph 235 as saying, "Deduction of VAT, WHT, and PAYE shall be remitted to Federal Inland Revenue Service at the same time the payee who is the subject of deduction is paid."
According to the report, the Treasury circular Ref No. TRY/A12&B12/2015 and OAGF/CAD/VOL.II/390 dated December 29, 2015 states that "1% Stamp Duty chargeable on contract awards and the remittance be made to the relevant tax authority (Federal Inland Revenue Service)."
It said, "The audit observed that the sum of N5,828,621,715.06 was the amount of taxes not remitted by 12 Ministries, Departments and Agencies.
"The Nigerian Civil Aviation Authority has the highest amount of N2,984,887,250.00 while Federal College of Freshwater Fisheries Technology, New Bussa has the least amount of N1,021,011.13."
Customs Targets N4.1trn Revenue in 2022
The Nigeria Customs Service (NCS) says it has a revenue target of N4.1 trillion in 2022.
NCS had said it generated N2.3 trillion revenue in 2021, exceeding the target by N63 billion. The FG had set a 2021 revenue target of N1.

67 trillion for the agency last year.
Yusuf Malanta, customs area controller (CAC), Apapa Command of NCS, disclosed this during a press briefing in Lagos yesterday.
According to Malanta, the command gathered N870.4billion from importers in 2021.
Furthermore, he said the revenue profile of the command increased significantly by 68 percent in 2021, compared to N518.
4 billion collected in 2020.
He also said the Apapa command was ready to achieve the 2022 revenue target.
"The revenue target of the NCS has been increased to N4.1 trillion," he said.
"For us in Apapa Area Command, we have already boarded and fastened our seats towards the realization of this revenue target.
"We hope that the service will surely leverage the deployment of digital transformation of Customs business processes which will further take care of many control mechanisms through its risk management system."
Speaking on the revenue collected for 2021, Malanta said despite COVID-19, gridlock, and other challenges, they were able to overshoot their target.
"Despite the enormous challenges faced in the trade supply chain; occasioned by Covid-19 pandemic still ravaging economies around the world, high cost of freight, incessant traffic gridlock, rail construction through the port, as well as ensuring an increase in compliance level from stakeholders, the Command between January and December 2021 was able to collect a revenue of N870,388,340,650.65 and remitted to the federation and non-federation accounts of the Federal Government, respectively," he added.
"This clearly shows that the revenue profile of the command has significantly increased by about 68% when compared with the collection of N518.4 billion in the year 2020."