COVID-19 Deaths at Lowest in 1 Year- WHO
The World Health Organisation (WHO) has said that the death toll from Coronavirus (COVID-19) is now at its lowest level in almost a year.
WHO Director-General, Dr Tedros Ghebreyesus, said at a news conference on Wednesday in Geneva that vaccine inequality had persisted in spite of decline in COVID-19 deaths.

Ghebreyesus reported that the death toll from COVID-19 was still an unacceptably high, noting that almost 50,000 deaths a week and the real number was certainly higher.
He said, "Deaths are declining in every region except Europe, where several countries are facing fresh waves of cases and deaths.
And of course, deaths are highest in the countries and populations with the least access to vaccines."
Ghebreyesus again called for greater support for developing countries to ensure equitable distribution of COVID-19 vaccine.
He appealed for global cooperation saying "countries that continue to roll out boosters now are effectively preventing other countries from vaccinating their most at-risk populations."
As of Wednesday, there were more than 238 million COVID-19 cases worldwide and more than 4.8 million deaths.
WHO had previously pushed governments to vaccinate 10 per cent of their populations by the end of September, a target which 56 nations missed, most of them in Africa.
The director-general said even more countries were at risk of missing the 40 per cent target to be achieved by the end of the year.
"Three countries – Burundi, Eritrea and the Democratic People's Republic of Korea – have yet to start vaccinations.
"About half of the remaining countries are constrained by supply. They have a vaccination programme underway, but don't have enough supply to accelerate enough to reach the target," he said.
Ghebreyesus urged countries and companies that control global vaccine supply to prioritise distribution to the COVAX solidarity initiative and the African Vaccine Acquisition Trust (AVAT).
Meanwhile, he said that WHO and partners were working with other countries such as those affected by fragility or conflict to strengthen technical and logistical capacity for vaccine rollout.
"With aggressive and ambitious action, most of these countries can still reach the 40 per cent target by the end of this year, or be on a clear pathway to reaching it," he said.
He also addressed the escalating crisis in northern Ethiopia, where a nearly year-long war in the Tigray region has left up to seven million people in urgent need for food and other assistance.
He said the conflict had spilled over into neighbouring Afar and Amhara, further increasing needs and complicating response efforts.
Aid is not reaching the area "at anywhere close to the levels needed", he said, and communications, electricity, other basis services remain cut off.
WHO and partners are calling for unfettered access to the affected regions, as the lives of millions of people are at stake, Ghebreyesus told journalists.
He said, "People with chronic illnesses are dying due to lack of both food and medicine. Nearly 200,000 children have gone without critical vaccinations.
"When people do not have enough food, they are more susceptible to deadly diseases, as well as the threat of starvation, and that's what we're now seeing in Tigray." (NAN)
Japan's Ex-Justice Minister Accepts 3-Years Prison Term Over Vote Buying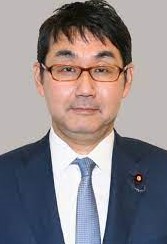 A three-year prison term over vote buying for former Japanese Justice Minister, Katsuyuki Kawai, was finalised on Thursday after he withdrew his appeal.
Kawai, who held the ministerial post in former Prime Minister Shinzo Abe's cabinet, is the first former Japanese cabinet member in more than 10 years to have a prison term finalised.

He was charged with distributing about 28.7 million yen ($251,600) to 100 local assembly members and supporters to buy votes for his wife in the upper house election in Hiroshima Prefecture two years ago.
His defence team filed an appeal after the Tokyo District Court sentenced the former minister to three years in prison this June.
However, his lawyer said Kawai withdrew the appeal on Thursday.
"The responsibility is solely on me, and I am ready to accept it all,'' Kawai said in a statement released through his lawyer.
He said the responsibility was solely on him and he asked for leniency on the people who have accepted cash.
As a result, his civil rights will be suspended and he is not allowed to run for election until five years after his service of the sentence.
Kawai pleaded not guilty in his first hearing in August 2020 but he admitted most of the charges in March and requested a suspended sentence.
He gave up his lower house seat in April, saying he would bear the responsibility for causing public mistrust in politics.
According to ruling finalised in February, his wife Anri Kawai was also sentenced to 16 months jail.
She was sentenced for distributing money to local legislators in Hiroshima Prefecture. (NAN)
Business Leaders Join UN Chief to Step Up Action for Global Sustainability

Business leaders joined UN Secretary-General António Guterres on Tuesday, to step up delivery of critical investments for a 'sustainable, net zero, resilient and equitable world'.
The Global Investors for Sustainable Development (GISD) Alliance, which brings together 30 business giants worth an estimated $16 trillion dollars, met Guterres in New York and outlined concrete actions for the future, the UN Correspondent reported.

Since October 2019, when the secretary-general convened the GISD Alliance, its CEOs and other top executives had been working with the UN and other partners to develop guidelines and products that align the existing finance and investment ecosystem with the Sustainable Development Goals (SDGs).
Acknowledging the "great responsibility" facing private sector leaders, Guterres said that the goals were clear.
The goals, according to him, are to "build a sustainable, net zero, resilient, and equitable world, to better align investments with sustainable development, and to act on their commitments, with credible timelines, targets and plans.
Since its creation, the GISD Alliance had developed standards and tools aimed at moving trillions of dollars to bridge the gap in financing, and to realise the UN's 2030 Agenda.
The group works through increasing the available supply of long-term investment for sustainable development, realising SDG investment opportunities in developing countries, and enhancing the impact of private investment for sustainable development.
"I count on the members of the GISD Alliance to catalyze greater investment for developing countries and make net zero and sustainability the core of everyone's policies and business models," Guterres said.
GISD also sprang into action to address crises, including in 2020, by developing a COVID Bond Call to Action. The call prompted companies and governments to use innovative social bonds to respond to the pandemic, contributing to a sustainable economic recovery.
In 2021, GISD published its latest investment tool designed to align financing with the SDGs. Through a set of sector-specific metrics, it proposes to accurately measure the impact of companies on sustainable development targets and provide investors with key insights.
This is an important step, since previous reporting frameworks largely focused on measuring the impact of company operations on sustainability across whole industries.
According to Leila Fourie, GISD co-chair and group CEO of the Johannesburg Stock Exchange, "industry-agnostic performance indicators, while useful, tend to fall short in capturing the full sector-specific impact of products and services that companies produce."
In the coming months, GISD will launch a net-zero Exchange Traded Fund (ETF) and a blended finance fund, helping the "move toward creating real life opportunities to finance the SDGs," said Oliver Bäte, GISD co-chair and CEO of Allianz.
GISD is also working with the G20 Sustainable Finance Working Group, the COP26 climate conference bureau and G7 leading economies, as well as engaging with the multilateral development banks, to develop actionable recommendations on ways to scale up private investment for sustainable development. (NAN)
Global Investment Flows Rebound, Reaches $852bn in 2021
After a big drop in 2021 caused by the COVID-19 pandemic, global Foreign Direct Investment (FDI) reached an estimated 852 billion dollars in the first half of 2021, showing a stronger than expected rebound.

The latest Investment Trends Monitor released on Tuesday by the United Nations Conference on Trade and Development (UNCTAD) showed increase in the first two quarters.
It shows the increase in the first two quarters in FDI, recovered more than 70 per cent of the losses stemming from the COVID-19 crisis in 2020.
For the UNCTAD's director of investment and enterprise, James Zhan, the good news "masks the growing divergence in FDI flows between developed and developing economies, as well as the lag in a broad-based recovery of the greenfield investment in productive capacity".
Zhan however warns that "uncertainties remain abundant".
The duration of the health crisis, the pace of vaccinations, especially in developing countries, and the speed of implementation of infrastructure stimulus, remain important factors of uncertainty.
Other important risk factors are labour and supply chain bottlenecks, rising energy prices and inflationary pressures.
Despite these challenges, the global outlook for the full year has improved from earlier projections.
The growth in the next few months should be more muted than the in the first half of the year, but it should still take FDI flows to beyond pre-pandemic levels.
Between January and June, developed economies saw the biggest rise, with FDI reaching an estimated 424 billion dollars, more than three times the exceptionally low level in 2020.
In Europe, several large economies saw sizeable increases, on average remaining only five per cent below pre-pandemic quarterly levels.
Inflows in the United States were up by 90 per cent, driven by a surge in cross-border mergers and acquisitions.
FDI flows in developing economies also increased significantly, totalling 427 billion dollars in the first half of the year.
There was a growth acceleration in east and southeast Asia (25 per cent), a recovery to near pre-pandemic levels in Central and South America, and upticks in several other regional economies across Africa, and West and Central Asia.
Of the total recovery increase, 75 per cent was recorded in developed economies.
High-income countries more than doubled quarterly FDI inflows from rock bottom 2020 levels, middle-income economies saw a 30 per cent increase, and low-income economies a further nine per cent decline.
Growing investor confidence is most apparent in infrastructure, boosted by favourable long-term financing conditions, recovery stimulus packages and overseas investment programmes.
International project finance deals were up 32 per cent in number, and 74 per cent in value terms. Sizeable increases happened in most high-income regions, and in Asia and South America.
In contrast, UNCTAD says investor confidence in industry and value chains remains shaky. Greenfield investment project announcements continued their downward path, decreasing 13 per cent in number and 11 per cent in value until the end of September.
After suffering double-digit declines across almost all sectors, the recovery in areas relevant to Sustainable Development Goals (SDGs) in developing countries remains fragile.
The combined value of announced greenfield investments and project finance deals rose by 60 per cent, but mostly because of a small number of very large deals in the power sector.
International project finance in renewable energy and utilities continues to be the strongest growth sector.
The investment in projects relevant to the SDGs in least developed countries continued to decline precipitously.
New greenfield project announcements fell by 51 per cent, and infrastructure project finance deals by 47 per cent. Both had already fallen 28 per cent last year. (NAN)