COVID-19 Third Wave: Lagos Records 288 Deaths — Official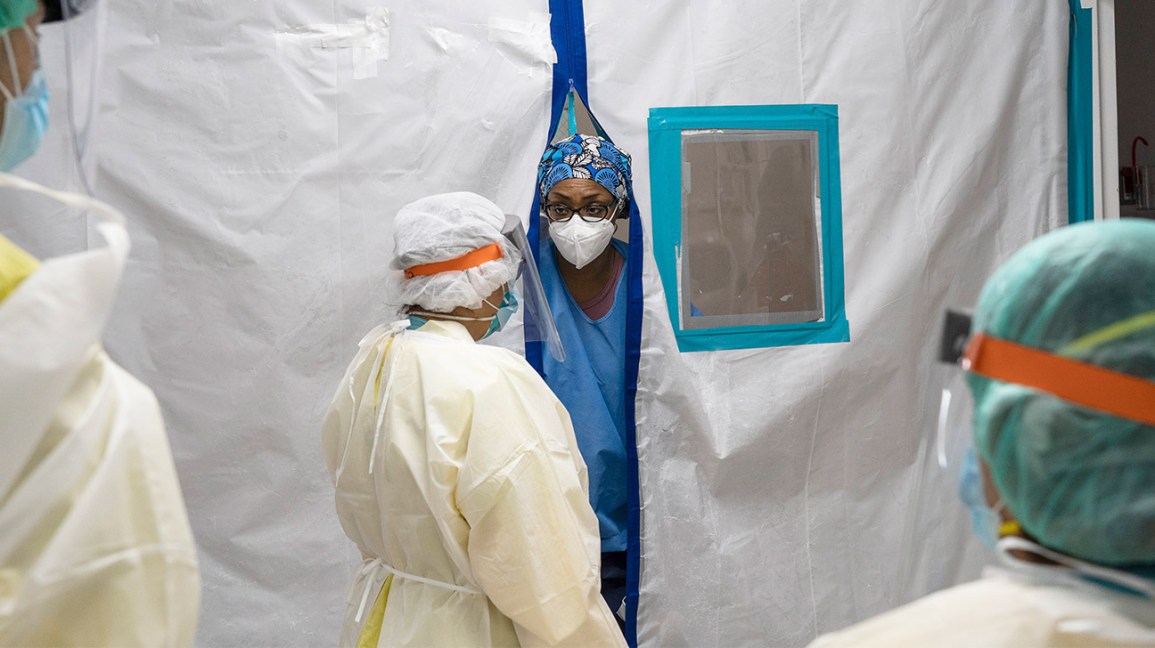 The Lagos State Commissioner for Health, Prof. Akin Abayomi says the state has recorded 288 deaths in the ongoing COVID-19 third wave.
The commissioner also said that the state had conducted 783,404 valid COVID-19 sample tests since the inception of the pandemic.

Abayomi made the disclosure on Monday through his Facebook account @Profakinolaabayomi, while giving the state's COVID-19 update for Oct. 15.
The commissioner said that 73 per cent of the tests were conducted by accredited private COVID-19 laboratories, while 27 per cent were done by government owned laboratories.
According to him, the state recorded 24 new COVID-19 infections on the reported day, increasing the number of confirmed cases in the state to 77,377.
He said that 91 patients among those who had tested positive for the virus were transferred out of the country, while some were transferred to other states.
Abayomi said that 5,192 COVID-19 patients who had been successfully treated and recovered had been discharged from the state's public and private care centres.
According to him, the state recorded 213 to 901 average daily infections between November and December, 2020, at the height of the second wave of the pandemic.
Abayomi noted that the bed occupancy rate had further declined to 10 per cent at the state's public and private care centres.
He said that the 11 activated care centres had 570 bed capacity, while 514 beds are available.
According to him, the average case positivity rate currently stood at 9.8 per cent, while its fatality rate is 0.85 per cent. (NAN)
Covid-19 Vaccination: WHO Tasks Media on Educating, Mobilization and Creating Awareness
By Laide Akinboade, Abuja 
Worried that only 2.9% Nigerians have been fully vaccinated in eight months, the World Health Organization, WHO, has challenged the media to rise to the test of the COVID-19 hesitancy by educating, mobilizing, and creating awareness amongst the populace.

The WHO country representative, Walter Mulombo, stated this at a 2 day conference of Association of Nigeria Health Journalists, ANHEJ, in Keffi.
With the theme, 'Improving confidence in Covid-19 vaccine in Nigeria beyond 2021: The role of the media'
Mulombo who was represented by Charity Warigon, the Head of Communication Units of WHO, he said although the COVID-19 pandemic, unlike any pandemic in history, has affected everyone and every country in a manner unexpected, there was no sufficient knowledge to inform development of vaccines initially, and was exploited by mischief makers.
According to him, "The theme is timely and apt, as it not only speaks to the present, but also to the future of making Nigerians healthier.
" The COVID-19 pandemic, unlike any pandemic in history, has affected everyone and every country in a manner unexpected, although there had been calls and available support to nations to build their health systems and security in preparation for future outbreaks. In the earlier phases of the pandemic, there was absence of sufficient knowledge to inform development of vaccines as the sciences were limited, which were exploited by mischief makers, through what we call, infodemics.
" If we are to build and/or maintain trust, this noble group and profession is one out of a few that have historically been proven to be trusted to provide information that shape the behavior and lives of generations of peoples the world over".
He continued, "The media and journalists are the bridge between scientists and the public. It behoves on every member of the Fourth Realm of the Estate to, as social responsibility, ensure the provision of accurate, timely, credible, understandable, relevant, and actionable information through various communication channels.
"The challenges that the Nigerian media and journalists face notwithstanding this cohort of journalists have proven to be highly professional by rising to the test of the COVID-19 hesitancy by educating, mobilizing, and creating awareness amongst the populace.
"In this regard, journalists covering health beats proved their capability and have done an invaluable work over the years and made the difference in helping people make informed decisions and positive choices to promote their health.
"We can only improve on what we have achieved so far and even do better, as there is so much to attain in driving confidence in the vaccination effort by building trust and continuously being a trusted and reliable source.
"Our messaging must continue to remind the public that, for the foreseeable future, we must continue to wear masks, physically distance, and avoid crowd. Being vaccinated doesn't mean that we can throw caution to the wind and put ourselves and others at risk: relaxing public health and social measures interventions should be done cautiously and with careful attention paid to those who remain unvaccinated".
He therefore reiterated the commitment of WHO in promoting health and wellbeing, keeping the world safe and serving the vulnerable, to achieve Universal Health Coverage and ensure that no one is left behind.
The President of ANHEJ, Hassan Zaggi, in his welcome address, decried the fact that a lots of educated and enlightened Nigerians are not coming out to be vaccinated. Which according to him is unacceptable and the media is really worried.
He commended the Federal Government for rolling out the mass vaccination campaign,through church, schools and health facilities.
The Chairman of Federal Capital Territory, FCT, Nigeria Union of Journalists, NUJ, Emmanuel Ogbeche, in his goodwill message condemned the absence of some relevant Government agencies, like Ministry of Health, Nigeria Centre for Disease Control, NCDC, at the conference. He also urged journalists to work the talk and be seen as believers of what we preach by coming out to be vaccinated.
He also tasked journalists to make all public office holders in Nigeria accountable.
A group has raised alarm over low number of educated, enlightening Nigerians taking the coronavirus, Covid-19 vaccination in Nigeria.
It would be recalled that The executive director of the National Primary Health Care Development Agency (NPHCDA), Faisal Shuaib, recently revealed that 5,891,305 eligible persons have received their first dose of the COVID-19 vaccine, representing 5.3 per cent of the eligible population.
He said this represents only 5.3 per cent of the overall eligible population while 3,252,067 have received their second dose and are fully vaccinated, thereby representing only 2.9 per cent of the overall population of eligible persons.
16-Day Activism: FIDA Tasks Stakeholders on Ending GBV
The Federation of Female Lawyers (FIDA) on Wednesday stressed the need for institutions and communities to be proactive and develop policies that prevent every form of Violence Against Women and Girls (VAWG) and ensure perpetrators are dealt according to the law.

Ms Rhoda Tyoden, National President, FIDA Nigeria made the call in Abuja at a news conference in commemoration of 16 days of activism on Ending all Gender-Based Violence Against Women and Girls with theme: "Orange the World: End Violence Against Women NOW!
Tyoden, while decrying the increasing number of reported cases of GBV in the country, described it as a clear gross violation of their fundamental
human rights.
"It is a global health and developmental issue that cuts across economic wealth, culture, religion, age, and sexual orientation.
"It is one of the most extreme expressions of unequal gender relations in our society,
accordingly it remains a critical factor for the optimum contribution and development of women and girls in our society," she said.
She further regretted that women and the girl-child were subjected in many climes to live and survive in domestic settings that threatened their very existence and proper development.
"The COVID-19 Pandemic showed more than ever that women are the most disadvantaged in the society, as the pandemic fueled an exponential increase in
VAWG through domestic and physical abuse, rape, psychological abuse, FGM, early marriage among others," she said.
According to her, World Health Organisation (WHO) reports indicates that globally about 1 in 3 (30 per cent) of women worldwide have been subjected to either physical and/or sexual intimate partner
violence or non-partner sexual violence in their lifetime, maintaining that these statistics are worrisome and cannot be ignored.
"We acknowledge that the theme is apt and appreciate the emphasis on ending the violence NOW, stressing the urgency required and emphasize that all persons
are born free, equal and must be respected and protected.
"As such, women and indeed girls must be kept safe from all forms of violence," she stressed.
She proffered new tools in the prevention and elimination of VAWG stressing the need for increased awareness and advocacy efforts; Sharing knowledge, intervention strategies and innovations.
"Institutions and communities must therefore be proactive and develop policies that prevent and deal forthwith with abuse to act as a deterrent.
"There is urgent need to address the gendered impact of the COVID-19 pandemic on Women and Girls in West African Commonwealth countries.
"Legislators and the Executive
members of Governments should act fast in ending the violence against women and
girls in the region.
"This call remains a desideratum as the rate of violence still escalates, and is still at an all-time high due to the effects of the COVID-19 pandemic on women and
girls which is fueled by patriarchy and misogyny. These must all be stopped now, "she stressed. (NAN)
Bauchi Govt Begins 3rd Phase COVID-19 Vaccination
The Bauchi State Primary Healthcare Development Agency (BSHCDA), says it has received over 35,000 doses of AstraZeneca and Moderna COVID-19 vaccines for the third phase vaccination exercise in the state.

Dr Rilwanu Mohammed, Executive Secretary of the Agency, stated this at the inauguration of the exercise on Wednesday in Bauchi.
Mohammed said that the exercise would be conducted to schools and private health facilities across the state.
He said the state had recieved 26,000 Astrazeneca and 9,000 doses of Madorna vaccines.
"This third phase will be extended to private hospitals and schools in communities to reach the targeted population.
"We recorded six COVID-19 related deaths within two weeks in the state," he said.
The Secretary called for the provision of Johnson & Johnson vaccine as a single dose for the old age in the state.
He also warned pregnant women agzinsy receiving Jab of the vaccine.
In his remarks, Mr Mohammed Musa, Head of Communication, National Primary Healthcare Development Agency (NPHCDA), said that about 50 million people were targetted for vaccination across the country by Jan. 2022.
Also speaking, the Emir of Bauchi, Alhaji Rilwanu Suleiman Adamu, admonished community leaders to take their jab in public to reinforce confidence and correct misconceptions about the vaccine.
Adamu also advised religious leaders to educate their followers on COVID-19 to stem spread of the pandemic. (NAN)