Diri, Making Health Services Work in Bayelsa

From Mike Tayese, Yenagoa
There is a popular saying that "Health is wealth", and when you have a good number of educated and healthy people will make a good and great nation. One of the areas many governments find it difficult to invest on is Health sectors, not only at state level even the federal government have not been able to get it right, hence the need for seeking medical help abroad for those that can afford it.
Many Nigerian with low income earner cannot patronize the private hospital as a result of over charging while government hospitals where they suppose to find solace are not well equipped, most of the times either no drugs or personal to attend to the number of patients daily at the hospital. Many states  across the Federation cannot boast of good hospital while many government don't see it as priority. But in the case of BAYELSA, the state government has made several efforts or attempt at introducing different forms of Health Insurance Programme at different time in the history of the state, in an effort to reducing the burden of Healthcare cost to her civil servant at all levels and the general residents of the state. The first leap into this was in the year 2002, during the era of the first civilian governor of the state, chief DSP Alamieyeseigha of blessed memories. But in July 2017 brought in place by the government of former governor Henry Seriake Dickson, give birth to BAYELSA Health Insurance Scheme (BHIS), in his doggedness to ensure success of the Programme, maintained his stand in the face of uncertainties, in this case, the necessary legislative, accountability and administrative frame work  were put in place to quarantee system ability, particularly, if the stakeholders adhere to the established policies and guidelines. Today, the BHIS system has developed to the level where it can withstand some shock in the insurance system. When governor Douye Diri government took  over in February 14th 2020 did not behaved like most Nigerian politicians who abandoned their predecessors programme or projects but rather continued with the system by improving on it and also deem it fit to built a befitting edifice  in order to encourage productivity. It's a building that house an ICT network that every staff can access anything at the comfort of their desk. Due to the spirit of continuity of governor Douye Diri, the BHIS over the years have registered over 121,000 civil servants and their dependents, nearly 5,000 private individuals and up to 15 private organization in the state including private. As at the end of 2021,  the BHIS system has carried out 4,664 major surgeries, this is outside other medical admission and treatment, while CS alone was 1,095 with general hospital attendance of 677,132. To avoid excuses from partnering hospitals, the state government through the BHIS pay directly to the hospitals and #2,085,492,600 as capitation and #1,068,269,701. 20 was paid as fees for services. (Secondary Care). Giving more insight into the health sector in the state is the Hon. Commissioner For Health, Dr. Igwele Newton Pabra, who said, when the prosperity administration came onboard, it was at pick of COVID-19 and government did remarkably well through its policies and actions were able to contain the spread of the virus and recorded lesser mobility and mortalities. On assumption of office, governor Douye Diri build the Kaiama Referral Hospital and put it to use immediately. The government also worked and fixed the  Ekeremor and Southern ijaw referral hospital and is ready for commissioning. Other health Infrastructure includes the Ogu, Ayamassa, Ofonibiri health centers were all done. Speaking with Daily Asset in his office, the commissioner who was represented by his Special Adviser, Dr. Williams Appah, said since the creation of the state there was no Mental Health Facilities but government in his wisdom has bullt one which is also set for commissioning at Ogbia town. As part of infrastructures, the government also, has embarked on building a Community Midwifery school in Sampou which is a multi million dollars projects. For government to reach out to all the Communities also commenced renovation of health center in Azikoro, equipment facilities supplied in the state which includes patient beds, refrigerators, dialysis machine amongst others. The school of Nursing was upgraded to degree awards institution which has increased the school quota of admission and manpower and that also has brought some improvements to the school. A new concrete roads was constructed and new hostels built and that is a huge plus because it's not every state that have achieved that. He continued by saying in health service delivery, there have been several Medical Outreaches inaugurated by this administration from COVID-19, active research, interventions to Nembe oil spill at Santa Barbara to when the flood ravaged the state last year. "The second year of Prosperity government, we had about 64 surgeries done that cut across all the Constituencies in the State. Some with hernia far in the hinterlands were reached and operated upon. In this third anniversary, the government in his wisdom setup 24 member teams, comprising of Doctors, Nurses, Physiotherapist, Pharmacist, Medical Laboratory, COVID-19 vaccinators, those that collect samples from tuberculosis patient amongst others went to the field and visited 24 communities for  four days with this interventionist. The aim is to reach Communities that seems not reachable. A place like Adiegbe in Ekeremor local government area, Amatolo in southern ijaw local government area was also reached. He said the idea of going to those places was not just interventions but for Assessment and Data collection. " As part of government effort,  BAYELSA  Health Summit was organized for three days on how to chart the way forward and to develop health law that will guide the operation in the state. The state government also partners with some agencies like Zipline health spaces, Sterling Bank, NDDC amongst others for donations of equipment and the development of drone for emergency distribution of vaccines. The Diete Koki Memorial Hospital is also undergoing upgrading and expansion to enable them render quality and more services. The previous administration through the MDG's built over 105 Health Centers, though all were not fully completed while some are not functioning very well due to some challenges. But government is doing everything they can with the available resourses to fully revamp the Health sector's in the state because the governor promised he will not play politics with the health of the people. Though the Health Sectors is very challenging due to enormous resourses plunged into it and that has made it difficult for many state governments to succeed in it. But the government of governor Douye Diri has relent in his oar since he assumed office in February 14th 2020. His efforts in health service delivery has reduced a lot of medical bills on both civil servants, private individuals, private organization in the state. The system is pakaged in such a way that it is more or less free medical services. He sees the health of it's citizenry as Paramount to his administration hence why s doing what he can with the little resourses available to maintain a healthy people and healthy state.
Japa Syndrome: Reflection on the Current Situation – Dr. Emeka

In light of the soaring cost of living as a result of petroleum products' hike in price and other economic woes, many Nigerians have embarked on a quest to leave the country in search of greener pastures abroad. In this interview with Prosper Okoye, the news editor of DAILY ASSET, migration expert Dr.
Emeka Obiezu discusses the intricacies that drive the Japa syndrome. Dr. Emeka, who is also the Chairman of the Civil Society Migration Network (CSOnetMADE), sheds light on the realities surrounding Nigeria's migration landscape.
DAILY ASSET: Japa has become a daydream for most people.
How has this impacted migration in Nigeria?
Dr. Emeka Obiezu: It is evident.
The entire migration trend revolves around sustaining one's livelihood and fulfilling their dreams. We refer to this as the driving force behind migration. The primary reason people leave or desire to leave is because they are living in an unfavorable environment and they believe that another place offers better prospects and the fulfillment of what they lack in their current situation. Nigeria has consistently witnessed a migration trend driven by economic motives, such as the lack of opportunities, unemployment, job insecurity, and even threats to personal safety and property. This is not unique to Nigeria; it is a common feature in migration trends worldwide. Out of the 281 million international migrants, 169 million are labor migrants who move primarily due to economic reasons. This means that there are either no immediate job prospects or their current employment is unsatisfactory or lacks job security. It could also involve changing jobs that motivate their move. The trend suggests that if the economic conditions in their home country improve, the migration curve will decline. However, if the opportunities remain stagnant, the graph will also remain stable, and if the lack of opportunities increases, the migration outflow will rise accordingly. Therefore, the concept of "japa" is merely a way of encapsulating the prevailing economic conditions in Nigeria and the lack of opportunities that drive the migration curve upward. Although there are other factors involved, they are intertwined. For instance, the anticipation of the outcome of the 2023 election has already instilled fear and anxiety, leading to uncertainties about the future for many Nigerians. This intensifies the desire to find a better place before the situation worsens or they become trapped here. Unfortunately, the outcome of the election did not improve matters. The implications of the political landscape reverberate through the economy. As you can see, even someone who had no prior plans to travel suddenly wants to leave this week, as the resources they have, including transport fare, are no longer sufficient. This has a ripple effect on every other aspect of life.
DAILY ASSET:
What could be the implication of this trend?
Dr. Emeka: There are so many things that could come out of it. One is to look at it in terms of nation-building. If we have a high percentage of workforce outflow, then it would adversely impact the nation-building of the country in terms of jobs and quality of job. What is really disheartening is that the rise in the flow rate is higher for skilled workers and professionals. Like I heard one of the doctors' associations demanding the new president to declare a state of emergency in the health sector, and that is just them. The labour union is on the street, and so many other sectors are also crying of losing their best. One of the presidential candidates use the term from consumption to production, so I don't know if the skilled work population leaves whether we would achieve production against consumption. Well, the one sitting now did not campaign on that, so that may not be his concern. There is always a flip-up from the other end, Nigeria benefits so much from the diaspora engagement. We hope, this is a question of hope because diaspora remittances translate to the desire of the diaspora to contribute to nation-building and the availability to do that. We have had a good report in terms of how our diaspora is interested in giving back to the community, and so if we still maintain over $23 billion as our inflow from our diaspora, maybe this number of people that are going out may increase that poll in terms of higher remittances coming back home. If the diaspora also ventures from their different field it can also reflect in nation-building in such a way that it does amount to a complete loss.
DAILY ASSET: How would you evaluate the Nigeria Migration System?
Dr. Emeka: Our lives as migrants and actors of migrants are characterized by dynamics. We live in the moment; in other words, today speaks for itself. Not that we have cut off completely from our past, but we use today to judge how the past was utilized well, and whether the present is active enough or the future is venturing at all.
Having been in the migration sphere in the last few years, I could, in fairness, identify progress in the management of migration in Nigeria. In other words, there are more conscious efforts by actors to come together. The coming together of different stakeholders to think through what could be the best options for situations around is helping us to gain more insight and experiences from people who have worked in different spaces of migration outside our own space. It also helps us to squarely address the issues at hand. Nigeria has also come up with instruments to help in the management of migration. The policies that were made before 2018 are being reviewed, and some action plans have been developed for their implementation. Some have even gone a step further by establishing memoranda of understanding and operating procedures that would guide implementers. Migration governance instruments are a key element in managing migration. When we have all those instruments that we can fall back on, it helps both the implementers and the advocates to have something to refer to, either to push for more things or to measure what has been done. So, in that direction, I would say yes we have made progress. But, have we done enough to say that we have our migration issues under control? Not yet. I think what needs to be desired in that direction is what I call committed ownership of the migration issues in terms of framing the question, designing the plan, and following through with the implementation. Somehow, it would be fair to say that our migration governance is reactive. The reason I say that is because what we do now is spurred by what others do, particularly international partners, either governments or international organizations, who raise issues and we follow suit. For instance, the major trend in migration governance up until now has been the issue of return, readmission, and reintegration. This is because the Western world is trying to clean their environment of what they call unwanted persons, that is, migrants who are in irregular status. Because they want to push them away, they get in touch with us saying they want to return our people and ask what they should do to accomplish that. Then we tell them to design a package that when they come back, it will help them reintegrate into economic activities and others. They buy into it for their own interest and begin to design various projects and programs around it. That is what we have been pursuing for a number of years now, which is why I can say that it is reactive. Another reactive aspect of it is when our people are stuck in Libya or some other place, and then we rush in to see what we can do about it. However, we could have taken proactive migration governance that looks at the development issues that are the root causes of this movement. We have not done enough because it requires political will, which has to translate into the financial budget. We have experts who design policies, but they end up in the political space because there is no political will to implement them. Somebody says political will is simply defined as putting your mouth where your money is or putting your money where your mouth is. In other words, if I say this, there is something to back it. I would want to see an intentional act done by Nigeria's migration governance, to say in the next quarter, we are going to do intentional advocacy or policy that will align with the government's national development policy plan to say, "Do this or do that," and we can observe the number of people it would help prevent from migrating. For instance, we can consciously create specific job opportunities targeting demographics that we know are prone to migrate and provide them with those opportunities. By doing so, we can assess how many would benefit from it and how many would choose not to leave. If we begin to implement such measures, we can say that we are holding our migration governance to a radical, proactive approach that allows us to design it instead of merely following the fallout from other places.
DAILY ASSET: There appears to be a deliberate effort by certain countries to keep Nigerians away from their country. What are your thoughts on this? And how can one leave wisely, as you always advise?
Dr. Emeka: I can explain that with a simple example. If you want to visit a friend, what would be the wise thing for you to do if I ask you that question?
DAILY ASSET: I don't answer questions (chuckles).
Dr. Emeka: Alright. The wise thing to do is to call up your friend and confirm if they are available. Then the person will inform you how to get to their house and any specific instructions, such as having dogs in the house and how to ensure they don't come after you. You would also discuss the duration of your visit and the purpose of your visit. All these details should be discussed and agreed upon before you embark on your journey. That is the right way to visit someone, even if it is a family member.
Migration is a human right for every person. You can move whenever and for any reason you want to move. However, entering the place you are going to is also the human right of another person. They need to know who is coming, what they are coming to do, and how long they intend to stay. Therefore, for this action to be completed, there must be a relationship between the person who is moving and the person receiving them. That is why we advise that the wise way to move is to obtain all the necessary documents that will enable the migrant to do so legally and safely.
So, how do you begin? Firstly, you need to identify yourself by obtaining a passport. With your passport, let's say you, as a Nigerian, want to go to Country B. In order to enter Country B, you need to inquire about the requirements set by Country B for entry and the purpose of your visit. Based on that, they may inform you that you need a work visa, for example. To obtain a work visa, you will be given the requirements, and once you fulfill them, you can obtain the visa at the embassy of Country B.
However, having a visa to enter the country does not automatically guarantee your entry. The immigration officer at the border needs to confirm your identity and the purpose of your visit. They may also specify the conditions and duration of your stay. For instance, if you are given a 30-minute stay, it is your responsibility for the sake of your dignity and credibility to leave once the time is over. If, for any reason, you decide to overstay, thinking that the place is comfortable and you prefer to stay a bit longer, you would be violating the agreement and entering an irregular status.
The issue of a deliberate effort to prevent people from entering certain countries is one of the reasons why irregular migration thrives. If I want to enter your country and you don't want me to, I may be unable to obtain a visa or face harsh conditions if I do. In such situations, someone may approach me and suggest an alternative way to enter the country without going through those procedures. This creates opportunities for individuals engaged in smuggling operations. However, it doesn't benefit anyone. It doesn't benefit the country, nor does it benefit the migrant involved. It exposes the migrant to various dangers and makes it difficult for the country to manage its resources.
As migration actors, we urge countries and everyone involved in the migration issue to make the pathways for regular migration as accessible as possible. Furthermore, we appeal that for those who are already in a country and are in an irregular status, instead of detaining or deporting them, opportunities should be created for them to regularize their status. This approach preserves their dignity and enables them to contribute positively to their home country and help those they left behind.
DAILY ASSET: Are there strategies in place by the government or civil society associations to assist those affected by conflict and victims?
Dr. Emeka: One of the primary elements of migration governance is to protect migrants throughout the entire migration process, from their decision to leave to their eventual return. The human rights of migrants are of utmost importance, and we work towards ensuring their protection. This is because they are human beings and every individual's rights should be safeguarded regardless of their status. There are several measures in place. For refugees, there is the 1951 Convention on the Status of Refugees that provides protection. For migrants, there is a convention on migrants' rights and the rights of their families. The International Labour Organization has established labour policies to prevent discrimination and promote fair recruitment, among others. Nigeria has also signed international conventions and developed national policies and programs to protect migrant workers. One example is the establishment of NAPTIP (National Agency for the Prohibition of Trafficking in Persons). Their responsibilities include combating human trafficking, rescuing and protecting victims, and prosecuting offenders. Some instrumental policies include the National Migration Policy and the National Policy on Labour Migration. These initiatives provide opportunities for protecting migrant workers and preventing exploitation in various ways.
DAILY ASSET: How effective are these policies?
Dr. Emeka: The effectiveness of these policies depends on the individuals and entities responsible for their implementation. The challenge we face with policies is their execution, and this is not unique to Nigeria. It is a global governance issue. Some actors may argue that policies are put in place by the government but do not lead to any tangible outcomes. However, as advocates, we see these policies as a means to hold the government accountable. We persistently push for their implementation until at least one migrant receives the intended protection. To some extent, the Nigerian government is improving its efforts to protect migrants, particularly those who are returning. We are establishing bilateral relationships with other countries to ensure that there are no detentions, reduce deportations, and provide opportunities for voluntary return with dignity. Therefore, the implementation of these policies is gradually taking shape.
DAILY ASSET: The increasing number of returnees is a cause for concern. Does your organization engage in any initiatives to support their reintegration into society?
Dr. Emeka: The reason why numbers are highlighted in the media is because there is now a structured process in place for documenting and managing these returns. These efforts are aimed at organizing the return processes. Reintegration is a crucial component of the return process, enabling individuals who have completed a migration cycle to reintegrate into their local communities in a sustainable manner. The goal is to ensure that they do not face the same fears or economic and political pressures that compelled them to migrate in the first place.
This is known as sustainable reintegration, and it begins even before the person returns. They are made aware of the conditions in their country of return and are provided with orientation and available opportunities. These opportunities may include education, vocational training, and business training. We focus on both individual and community reintegration. Individual reintegration addresses the specific needs of each person and follows their journey until they are able to rebuild their lives in a sustainable manner.
Community reintegration involves bringing together a group and engaging the receiving community. The community plays an active role, designing and managing projects that address the needs of potential migrants and aim to reduce irregular migration.
As a civil society organization, our network comprises over 240 organizations, many of which are grassroots actors. These organizations implement various projects, such as providing shelters. In fact, the first male shelter designed to receive returnees was built by a member of our network, the Patriotic Citizen Initiative. Our members collaborate with the government based on their areas of focus. Some provide psychosocial support, guidance, shelter, family tracing, and monitoring of the reintegration process. Together, they form the return and reintegration working community within Nigeria's migration governance framework. This collaboration occurs at different levels, including the federal level, monitoring and evaluation groups, and other governance structures that bring actors together to coordinate our activities.
DAILY ASSET: There have been allegations that shelter homes for returnees in Nigeria are poorly managed, and that individuals who leave these shelters are worse off than when they entered. What is your honest assessment of the shelter homes in Nigeria?
DR. Emeka: If these are mere allegations, they should be treated as such unless there is substantial evidence to support them. Therefore, I won't comment directly on those specific allegations. However, it is important to recognize that institutions are operated by human beings, and there may be instances where human weaknesses such as neglect or abuse occur. It is crucial to ensure that both civil society organizations and government actors maintain oversight of these centers to prevent any form of abuse or compromise of the beneficiaries. From my personal experience, the shelter homes I have worked with have been exceptional in their operations.
DAILY ASSET: Alright, is the Nigerian Migration policy keeping pace with the current migration reality?
Dr. Emeka: The Nigerian migration policy was formulated in 2015, and it did not anticipate the specific circumstances of 2023 since it could not predict the future. Therefore, it served the purpose at the time of its creation. However, the policy was not designed to be permanent and unchangeable. It included provisions for review, allowing for adjustments based on evolving policies. The review process is currently underway, taking into account the present experiences and dynamics of migration trends. This review has involved a wide range of actors contributing to the development of different processes. The ultimate aim is to address both evident and underlying issues related to migration. It is important to acknowledge that as human beings, our actions are limited by our knowledge and vision. Nonetheless, we strive to do our best and ensure that our policies align with the realities we are encountering.
DAILY ASSET: Finally, what would you recommend that the new administration prioritize?
Dr. Emeka: My advice is for all Nigerians, whether it's the government or individuals, to work towards building a better Nigeria. The current state of migration reflects the fact that Nigeria is not favorable for many people, and we cannot deny this reality. It is not unpatriotic to acknowledge that Nigeria is not favorable to many individuals. Having experienced Nigeria outside of the country, I have witnessed the longing and regret in the eyes of those who left and wish they had stayed. They left because Nigeria is not favorable to them. It is the responsibility of everyone, whether in private or public spaces, to contribute to creating a favorable environment. Key aspects to address include security, job opportunities, social life, social services, social insurance, and everything that ensures basic comfort for individuals. This is my suggestion and recommendation to all Nigerians. We cannot achieve this overnight, but if people observe a clear direction of progress, it will be encouraging and may dissuade some individuals from undertaking forced migration. Our ultimate goal is to make migration a choice, not a necessity. Currently, it is viewed as a necessity because people feel trapped and believe that if they don't leave, they don't know what will happen. We are desperately seeking any opportunity to escape the limited space we feel confined in.
Matters Arising as Presidential Election Petition Court Begins Proper Hearing
With the pre-hearing stage over, legal fireworks kicked off at the Presidential Election Petition Court, (PEPC) on May 30.
The court held its inaugural session on May 8, the ritual that takes place to enable the bar and bench to agree on some ground rules before the actual hearing of petitions commences.
The PEPC has 180 days to hear and determine the petitions of Mr Peter Obi and the Labour Party (LP), Alhaji Abubakar Atiku and the Peoples Democratic Party, (PDP) and the petition of the Allied Peoples Movement, (APM).
According to Section 285 (5) to (7) of the 1999 Constitution as amended: "An election petition shall be filed within 21 days after the date of the declaration of result of the elections.
"An election tribunal shall deliver its judgment in writing within 180 days from the date of the filing of the petition.
"An appeal from a decision of an election tribunal or Court of Appeal in an election matter shall be heard and disposed of within 60 days from the date of the delivery of the tribunal or Court of Appeal''.
They are in court challenging the outcome of Feb. 25 Presidential Election which produced President Bola Tinubu and his vice Kashim Shettima.
Proceedings started at the court after the pre-hearing session with the Labour Party calling its first, out of 50 witnesses.
One of the witnesses, Mr Lawrence Nwakaeti, led in evidence by Mr Jubril Okutepa, a Senior Advocate of Nigeria, a counsel from the petitioners legal team tendered documents including a United States District Court judgment.
The judgment allegedly indicted President Bola Tinubu and ordered his forfeiture of 460,000 dollars in a drug-related offence.
Under cross examination by counsel to Tinubu, Mr Wole Olanipekun, a Senior Advocate of Nigeria, the witness admitted that the judgment was not registered in Nigeria.
The witness told the court that he had read the judgment in its entirety and would be surprised if no mention was made of 460,000 dollars forfeiture in it.
While also cross examining the witness, counsel to the All Progressives Congress, (APC), Mr Lateef Fagbemi, a Senior Advocate of Nigeria, sought to know if the document had the certification of any police officer in the United States.
"Do you have a certificate given under the hand of a police officer in the United States where the alleged conviction took place.
"Are you aware of a formal clearance report dated Feb. 4, 2003 issued under the legal attache' of the United States embassy in respect of the alleged indictment and forfeiture'', he asked.
The witness told the court that he had no certificate from the police and that he was not aware of any such report.
The witness further told the court that he did not have the charges against Tinubu because there were no charges since the indictment was from a civil forfeiture proceeding.
Mr Kemi Pinhero, a Senior Advocate of Nigeria, counsel to the Independent National Electoral Commission sought to present the witness as a trouble maker saying he was involved in some controversy over local elections in his state.
This however, attracted vehement objections from the petitioners counsel as he said the issue of the local election was not before the court.
For Obi and the Labour Party on day one, it was just one witness, 49 more to go.
If supporters of Obi and the LP had high expectations for hearing of the petition on day two of the proper hearing stage, they may have been a somehow disappointed.
At the resumed hearing of the petition on May 31, counsel to the petitioners, Prof. Awa Kalu, another Senior Advocate of Nigeria, told the court that he was constrained to ask for an adjournment due to unforeseen circumstances.
"My lords, our plan was to continue our case but we had an unexpected development at the secretariat.
"The unexpected development has to do with the illness of two of our key staff for which reason I am constrained to pray for an adjournment until tomorrow,'' he said.
Justice Tsammani granted the request, especially as there was no objection from counsel to all the respondents.
Obi and the Labour Party had told the PEPC that they would need three weeks to prove their case and as at May 31, the petitioners had 19 days to go.
The court was again forced to step down hearing in their petition due to poor scheduling of documents they sought to tender in evidence.
There was some confusion as a lot of discrepancies were noticed as Mr Emeka Okpoko, a Senior Advocate of Nigeria, attempted to tender documents from 23 Local Government Areas of Benue.
All efforts to reconcile the discrepancies proved abortive forcing the judges to rise for about 15 minutes to allow the petitioners rectify the confusion.
The judges didn't seem pleased when they returned after the stand down and things still hadn't been sorted out.
At this stage, Tsammani told the petitioners to take an adjournment and sort their documents out before returning to court.
"What we have done today is a waste of time. The poor way you have arranged the documents will cause confusion both for you and the court Justice Misitura Bolaji-Yusuf said in frustration.
Kalu, however, prayed the court to allow his team tender the documents they had rather than take an adjournment since they had already lost one day and this was granted.
The petitioners proceeded to tender certified true copies of electoral documents obtained from INEC in six out of the 18 states whose results they were challenging.
The documents were mainly Forms EC8A, which are election results from polling units.
The documents were admitted by the court though all the respondents objected to them being admitted in evidence.
Atiku and PDP on the other hand, appeared to have a better grip of things at the court.
This may not be unrelated to the fact that they are not strangers to the election petition court.
Atiku along with the party opened their case at the court on May 30 by first tendering documents to support their petition.
One of such documents tendered by counsel to the petitioners, Mr Eyitayo Jegede, SAN was Form EC8E which is the final declaration of winners result.
Jegede also tendered the Bimodal Voters Accreditation Systems Machines, (BVAS) report from all the 36 states including the Federal Capital Territory, (FCT).
He also tendered INEC certified documents in respect of number of registered voters as well as number of Permanent Voter Cards, (PVC)s collected in all the 36 states including the FCT.
Again, all the respondents objected to the admission of some of them in evidence.
The Chairman of the Court, Justice Haruna Tsammani, however, admitted the documents in evidence.
The petitioners called their first witness, retired Captain Joe Agada, who was led in evidence by Jegede.
Agada told the court that he was forced to sign the result sheet of the presidential election.
He alleged that ballot papers and result sheets were manipulated by compromised electoral officers in collusion with agents of other political parties.
Under cross examination, the witness said that he had given evidence for Atiku in 2019.
PDP's second witness, Mr Solarin Adekunle, who said he was the Ogun Collation Officer also told the court that he refused to sign the collated results in protest against electoral malpractices.
The petitioner's third witness, Rep. Uzoma Abonta, told the court that the election should be nullified on the grounds that there were so many irregularities, discrepancies and noncompliance with rules of the Electoral Act.
Atiku and the PDP have called six witnesses out of 100 witnesses they said they have.
Allied Peoples Party, (APM) are not directly challenging the election of Tinubu and Shettima but challenging the issue of ''place holder''.
To this effect, hearing of the party's petition has been stalled due to a judgment of the Supreme Court on the issue of place holder.
At the resumed hearing of the petition on May 30, Olanipekun counsel to Tinubu told the court that the petition challenging his client's declaration as president on grounds of place holder had been resolved by the Supreme Court.
Olanipekun said that a judgment of the apex court of May 26 delivered in a suit instituted by the PDP marked SC/CV/501/2023 against the APC on similar grounds had taken care of the issue of place holder.
Counsel to the APM, Mr Yakubu Maikasuwa, SAN told the court that they had been unable to get a copy of the judgment.
"I therefore apply for an adjournment as we are doing all we can to get the judgment so we can take a position on the status of the petition."
All the respondents in the matter did not oppose the application for an adjournment.
Hearing of the petition has been adjourned until June 9 to enable the lawyers obtain the May 26 judgment of the Supreme Court.
Concerns have been raised by political analysts as well as the petitioners as to why INEC is rejecting its own documents.
Although Pinhero, INEC's counsel hinted that it was because the documents were being smuggled into the petition, he refused to explain further when asked by newsmen.
The clock is ticking as supporters of all the petitioners as well as those of the respondents eagerly await the outcome of the PEPC. NAN
Atiku, Murray-Bruce, Momodu, Others Mourn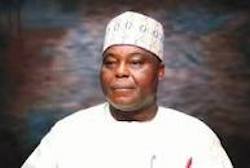 Prominent Nigerians, among them politicians, captains of industry and media gurus, yesterday mourned the passing of AIT Chairman, Raymond Dokpesi, describing his death as a great loss to the media industry.
Former Vice President, Atiku Abubakar, on his Twitter account wrote, "I am in a state of shock! As we say in Islam: from God, we came, and to Him, we return.
"I am in prayers and will continue in prayers! My everlasting and deepest condolences to the Raymond Dokpesi family.
May God forgive his sins and grant him eternal rest. Ezemo, not on a date like this should you leave us! -AA."
A former federal lawmaker, Sen. Shehu Sani, on Twitter, expressed shock at the news of the death of the media icon.
"I received the shocking news of the demise of High Chief Raymond Dokpesi. He was a detribalised Nigerian and a patriot who has made tremendous contribution to the struggle, restoration and sustenance of democracy in Nigeria.
"He raised the bar in professional broadcasting and was a champion of press freedom. He fought many political battles in the pursuit of justice and freedom. Dokpesi was an institution and his life an inspiration. Life is transient. May his soul rest in Peace. Amin," he said.
Media mogul, Dele Momodu, also shared a condolence message on his Instagram page mourning the death of Dokpesi.
"This is too sad to bear. Our media IROKO is gone… Good night High Chief Dr Raymond Aleogho Dokpesi. May your great soul Rest In Peace," he said.
Nigerian politician, Ben Murray-Bruce, mourning the media icon on his Twitter page said, "Chief Dokpesi left an indelible mark on the world of media and broadcasting.
"It is with a profound sense of sorrow that I learned of the passing of High Chief Raymond Dokpesi, a monumental figure whose influence and contribution to society will never be forgotten.
"Chief Dokpesi left an indelible mark on the world of media and broadcasting, instilling a standard of excellence and professionalism that remains unparalleled. His tireless efforts to foster unity and promote progress will always be remembered and appreciated.
"While we mourn this immense loss, we also celebrate a life of purpose and impact. My deepest condolences to the Dokpesi family, our thoughts and prayers are with you during this incredibly difficult time.
"We hope that you find solace in the knowledge that Chief Dokpesi's legacy will continue to inspire generations to come. May his soul rest in perfect peace."
Nigerian singer, Eedris Abdulkareem, on his Instagram page prayed that God comfort the family and that the soul of Dokpesi rest in peace.
"My condolences to the family of Chief Raymond Dopeso. Wishing you peace, comfort, courage, and lots of love at this time of sorrow. My heart goes out to you at this difficult time.
"I am thinking of you and your family and sending caring thoughts your way, may the lord rest the soul of chief and grant him eternal rest Amen," he said.
A visit to AIT office at Kola, in Alagbado area of Lagos State, revealed a sombre environment.
The security personnel on duty refused visitors into the premises, saying "there are no officials or staff to attend to any interviews but you can come back tomorrow."