Recruitment: NDLEA Releases Candidates List for Final Screening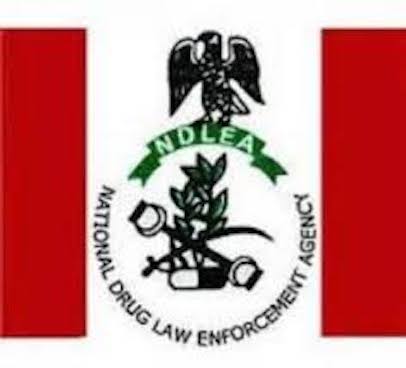 The National Drug Law Enforcement Agency (NDLEA) has released shortlisted names for the final screening of qualified candidates for narcotic officers and narcotic assistants cadres. Its Director, Media and Advocacy,  Mr Femi Babafemi, announced this in a statement on Saturday in Abuja.

The News Agency of Nigeria (NAN) reports that the screening exercise, which was suspended in January due to the COVID-19 pandemic, will now proceed in batches in designated centres. Babafemi said the screening for NDLEA  headquarters Abuja candidates within the recruitment categories and others, whose names were on the final list should visit its official website, www.
ndlea.gov.ng.According to him, the names of the candidates are listed on the agency's website and advised candidates to report at NDLEA headquarters, No. 6, Port Harcourt Crescent, Off Gimbiya Street, Area 11, Garki, Abuja, as follows:" Lawyers May 17, Specialised Courses and Languages May 19,  Special Skill Candidates – May 20,  and Doctors – May 21, 2021."NDLEA Academy Jos, Plateau, candidates on the general list should report at the Agency's Academy, Katon Rikkos, Jos, Plateau, for screening in the order of batches specified below:" Batch A:  Nos 1- 242 (May 17); Batch B: Nos 243- 484 (May 18 ); Batch C: Nos 485-726  (May 19),"Batch D: Nos 727-968 (May 20); Batch E: Nos 969-1209 (May 21);Batch F: Nos 1210-1450 (May 22)."Narcotic assistant cadre candidates on the narcotic assistant cadre should report at the Agency's Academy, Katon Rikkos, Jos, for screening in strict compliance to the order specified below between May 24 and June 8."Batch A: Nos 1- 300 (May 24); Batch B: Nos 301-600 (May 25);Batch C: Nos 601-900 (May 26); Batch D: Nos 901-1,200 (May 27);Batch E: Nos 1,201-1,500 (May 28); Batch F: Nos 1,501-1,800 (May, 29)."Batch G: Nos 1,801- 2,100 (May 31); Batch H: Nos 2,101-2,400  (June 1); Batch I: Nos 2,401-2,700 (June 2); Batch J: Nos 2,701-3,000 (June 3);Batch K: 3,001- 3,300 (June 4)."Batch L: Nos 3,301-3,600 (June 6); Batch M: Nos 3,601- 3,900 (June 7);Batch N: Nos 3,901-4,165 (June 8),'" he said. Babafemi said candidates attending the screening exercise must strictly observe the COVID-19 non-pharmaceutical protocols and should arrive the designated venues on the specified dates. He added that candidates must present their guarantors form, and original and duplicate copies of their academic credentials, including birth certificates." Proof of State of Origin, certificate of medical fitness from a Government Hospital, a pair of shorts and round neck white T-Shirts, Canvas and stockings." Any candidate who fails to abide by any of the conditions indicated above will be disqualified instantly, " he said. (NAN)
Army Conducts Shooting Exercises in Rivers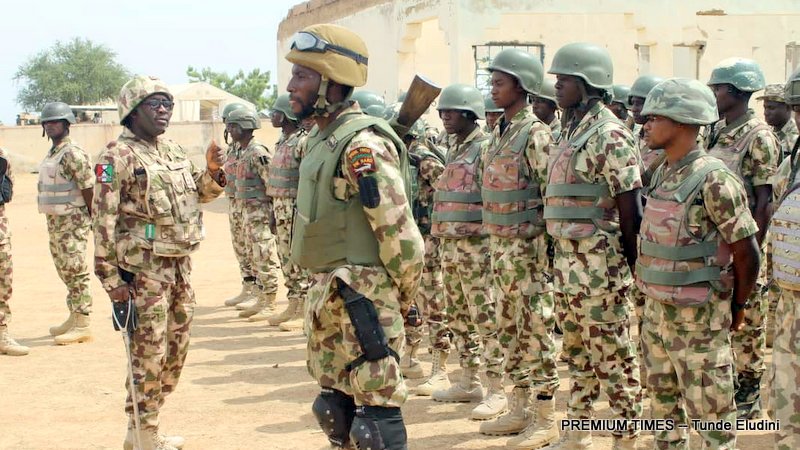 The Nigerian Army 6th Division has announced that it would commence its annual range classification exercise from Sunday, June 13, to Sunday, June 27.
Lt.-Col. Charles Ekeocha, the division's spokesman said in a statement in Port Harcourt, on Friday, that the exercise aimed at ascertaining the professional competence of troops on the use of firearms.

He said troops from the division and its affiliated formations and units would conduct the exercise at the Army Shooting Range in Igwuruta and Elele Barracks, both in Ikwerre Council.
"The shooting exercise is a routine activity in the Nigerian Army which involves the firing of various caliber live ammunitions.
"Members of the public, especially residents of Igwuruta and Elele, as well as its environs, are advised to keep away from the general shooting area," he stated.
The army spokesman also advised the public not to panic over the movement of troops, military hardware and sound of gunshots. (NAN)
FG declares Monday, June 14, Public Holiday for Democracy Day
The Federal Government has declared Monday,  June 14, as Public Holiday to mark 2021 Democracy Day. The Permanent Secretary, Ministry of Interior, Dr Shuaib Belgore, said this in a statement on Thursday in Abuja.

Belgore said the Minister of Interior, Mr Rauf Aregbesola, made the declaration on behalf of the federal government. Aregbesola congratulated Nigerians on the occasion and urged all citizens to support the present administration in its efforts at ensuring a united and prosperous nation. The minister urged Nigerians to shun any form of agitation that could threaten the unity of the country for the good of all.
He added that the space known as Nigeria would be a haven of peace, unity and progress if citizens love  their neighbours and  embrace the spirit of brotherliness. "As we mark another Democracy Day in the history of our dear country, let us reflect on the efforts of our founding fathers and ensure that Nigeria remains one United and Indivisible Entity. "We should all know that no meaningful development can take place in an acrimonious environment. "With the challenges we face in Nigeria today, I see an opportunity for us not to break up or break down but to break open; open up to ourselves in truth. "So that we may appreciate each other, understand each other, honour each other and live together in peace and prosperity," he said. He, however, assured that with the concerted efforts by President Muhammadu Buhari to secure the lives and property of Nigerians and stabilise the economy, the nation would continue to get better. "There will surely be light at the end of the tunnel," he said. The Minister, however,  wished all Nigerians a happy Democracy Day celebration. (NAN)
Synergy Responsible for Success in Fight Against Banditry – Commissioner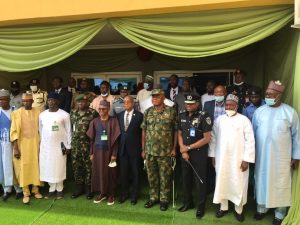 The Kaduna State Government says synergy among security agencies is responsible for the success so far recorded in the fight against banditry and other forms of criminality in the North West zone.

The Commissioner for Internal Security and Home Affairs, Mr Samuel Aruwan, said this at the second quarter North-West Zone security meeting organised by the Department of State Services (DSS) on Thursday in Kaduna.
Aruwan stressed the need for stakeholders to re-commit to working together toward checkmating insecurity in the zone.
According to him, considering the current profile of security challenges where banditry is now fused with terrorist threats, collaboration, especially among various state commands of the DSS is more pertinent.
"The different constitutional mandates of security agencies and the immense strain on their numerical strength demand that they must be on the same page, especially in terms of intelligence gathering and sharing.
"We have previously emphasised the need for greater inter-agency collaboration. Happily, we are seeing some significant improvement in this regard,'' Aruwan said.
He said that "team work makes the dream work'' with each one bringing a "crucial piece to the intelligence puzzle''.
The commissioner said that this was necessary especially in "times when the challenges have blurred state lines and operate with no delineation between territories''.
"The underlying psychology which we as state governments and state commands must work with at this time is that of one team, one fight.
"Our states must work as one team because our fight has clearly become one fight.''
According to him, anything less than collaborative spirit may turn our best efforts into liabilities instead of assets to the entire security architecture.
He said that collaboration was both a means of achieving an objective and an objective itself, adding "the benefits to each state, DSS and to sister security agencies are numerous''.
"Closer collaboration will enable individual state government plan for adequate financial support to fill logistic and technical gaps,'' Aruwan said.
Aruwan said that the various states in the zone and DSS commands must consolidate on existing collaborative efforts and intensify same toward protecting lives and property of the people.
Earlier, DSS Director in Kaduna State, Mr Idris Koya said the periodic meeting was originated by the Director-General of the DSS, Alhaji Yusuf Bichi.
Koya said the meeting was to enable the state directors in the zone come together and brainstorm on the changing spate of insecurity bedeviling the North West.
"To exchange ideas and proffer possible solution that would aid in tackling contemporary threats effectively, efficiently and with minimum cost.
According to him, the region is currently confronted by threats of kidnapping, banditry, insurgency, famers/herders conflicts and arms trafficking.
He added that concerted effort was required to address those threats, including the input of the respective state government.
"Our successful operations are made possible and easy through the requisite working tools provided by the state governments.
"I wish to recommend to my colleagues from other security outfits to tow similar pattern of convening regular zonal security meetings toward robust discussion on security threats confronting the zone.''
The Commissioner of Police in Kaduna State, Mr Umar Muri, who spoke on behalf of sister agencies, said the meeting was organised at the right time.
According to Muri, there must be synergy in the fight against banditry, kidnapping and other criminal activities in the zone. (NAN)