Russia to mark Soviet WW2 Victory as Ukraine decries School Bombing
Kremlin forces bombed a village school in eastern Ukraine killing about 60 people, President Volodymyr Zelenskiy said. The bombing occurred as Russia prepared to mark the Monday anniversary of the Soviet Union's victory over Nazi Germany in World War II.
The governor of the Luhansk region said about 90 people were sheltering at the school in Bilohorivka on Saturday when it was bombed.

"As a result of a Russian strike on Bilohorivka in the Luhansk region, about 60 people were killed, civilians, who simply hid at the school, sheltering from shelling," Zelenskiy said in his nightly video address.
There was no response from Moscow to the news.
In the southern port of Mariupol, which has endured the most destructive fighting of the 10-week war, the deputy commander of the Azov regiment holed up in the Azovstal steel plant pleaded with the international community to help evacuate wounded soldie
"We will continue to fight as long as we are alive to repel the Russian occupiers," Captain Sviatoslav Palamar told an online news conference.
Leaders of the Group of Seven (G7) industrial nations vowed on Sunday to deepen Russia's economic isolation and "elevate" a campaign against Kremlin-linked elites.
The G7 said it was committed to phasing out or banning Russian oil and denounced Russian President Vladimir Putin's invasion of Ukraine.
"His actions bring shame on Russia and the historic sacrifices of its people," the G7 said in a statement, referring to Soviet Russia's role in defeating Nazi Germany 77 years ago.
Putin has repeatedly likened the war in Ukraine – which he casts as a battle against dangerous "Nazi"-inspired nationalists in Ukraine – to the challenge the Soviet Union faced when Adolf Hitler invaded in 1941.
Ukraine and its allies reject the accusation of Nazism and the assertion that Russia is fighting for survival against a aggressive West, saying Putin unleashed an unprovoked war in an attempt to rebuild the Soviet Union.
In a video address, filmed in front of charred Ukrainian apartment blocks with footage of Russian missile strikes, Zelenskiy said that evil had returned, but his country would prevail.
Hailing the G7 response, Zelenskiy said in his nightly video address: "The main thing I felt today was the world's even greater willingness to help us … it is clear to the whole free world that Ukraine is the party of good in this war."
"And Russia will lose, because evil always loses," he added.
Putin will preside over a parade in Moscow's Red Square on Monday of troops, tanks, rockets and intercontinental ballistic missiles, making a speech that could offer clues to the future of the war.
Russia has come under increasingly punishing sanctions since Putin launched what he called a "special operation" on Feb. 24, with trade heavily impacted and assets seized.
The European Union should consider using frozen Russian foreign exchange reserves to help pay for the cost of rebuilding Ukraine after the war, foreign policy chief Josep Borrell said in an interview with the Financial Times.
In the Ukrainian-controlled city of Zaporizhzhia, about 230 km (140 miles) northwest of Mariupol, dozens of people who had fled the city and nearby occupied areas waited to register in a car park set up for evacuees.
"There's lots of people still in Mariupol who want to leave but can't," said history teacher Viktoria Andreyeva, 46, who said she had only just reached the city after leaving her bombed home in Mariupol with her family in mid-April.
"The air feels different here, free," she said in a tent where volunteers offered food, basic supplies and toys to the evacuees, many travelling with small children.
Separatists said a total of 408 people were evacuated from Mariupol over the past 24 hours, including 65 children.
Mariupol is key to Moscow's efforts to link the Crimean Peninsula, seized by Russia in 2014, and parts of the eastern regions of Luhansk and Donetsk that have been controlled by Russia-backed separatists since then.
In Luhansk and Donetsk regions, half a dozen Russian attacks were repulsed, with tanks and armoured combat vehicles destroyed, Luhansk governor Serhiy Gaidai said on Monday.
Viktor Andrusiv, an adviser to the interior minister, said Ukraine was awaiting the delivery of more sophisticated weapons and expecting further attacks from Russia on Monday.
"We are preparing for rocket attacks today – please, take air alerts very responsibly today."
A number of Western officials, including U.S. first lady Jill Biden, Canadian Prime Minister Justin Trudeau, a German parliament head and the Norwegian foreign minister arrived in Ukraine on Sunday in a show of support.
Irish rock group U2's frontman Bono and his bandmate The Edge performed a 40-minute concert in a metro station in Kyiv on Sunday and praised Ukrainians fighting for their freedom.
"This evening, 8th of May, shots will ring out in the Ukraine sky, but you'll be free at last. They can take your lives, but they can never take your pride," Bono said. (Reuters/NAN)
Biden Announces Expansion of U.S. Military Presence in Europe
The U.S. military presence in Europe is set for a long-term expansion, U.S. President Joe Biden says.
"We're going to make up sure that NATO is ready to meet threats from all directions across every domain, land, air and the sea,'' Biden said.
He spoke alongside alliance NATO Secretary-General Jens Stoltenberg at a summit of NATO leaders in Madrid.

Biden noted plans for increased U.S. troop deployments in the Baltics, the deployment of two squadrons of U.S. F35 fighters in Britain and additional air defences in Italy and Germany.
Biden also announced the establishment of a permanent headquarters for the U.S. Fifth Army corps in Poland.
The announcement followed a U.S. decision to up the number of U.S. destroyers based in Rota, Spain from four to six. (dpa/NAN)
Senate Wades into Ewkeremadu Saga, Sends Delegation to London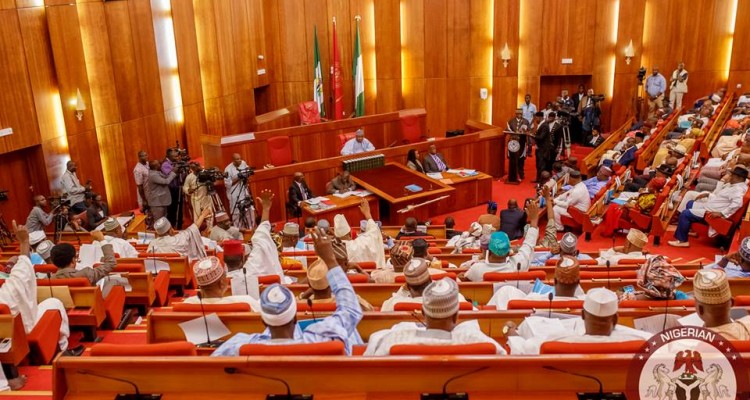 President of the Senate, Ahmad Lawan, has disclosed that a delegation from its Committee on Foreign Affairs would depart Nigeria for London on July 1, 2022, to pay a visit to Senator Ike Ekweremadu and his wife, who are both presently in detention over an allegation of organ harvesting. 

Lawan made this known on Wednesday, while giving details into the outcome of a closed session held by the upper chamber before the start of plenary proceedings.


The closed door session which started about 10:57 a.m ended at 11:49 a.m.
According to Lawan, the decision to wade into Ekweremadu's arrest and detention was against the backdrop of a briefing received by the Nigerian High Commissioner to London.

He further disclosed that the Senate would engage the Ministry of Foreign Affairs and Nigerian High Commission in London on the recent arrest of Senator Ike Ekweremadu by the London Metropolitan Police in the United Kingdom.

He said, "I had a personal engagement with our Nigerian High Commissioner to Britain, Alhaji Isola Sarafa, who has done so well to establish contact with our colleague, who has been able to get his team to be in the court at Uxbridge  where Ekweremadu was taken to.

"The high Commission has also been able to provide some consular services that include the engagement of some lawyers who will defend our colleague.
"We commend them for giving attention to the issue at stake. Equally, the Nigeria Foreign Affairs Minister has been engaged here, so that the Ministry of Foreign Affairs takes steps to provide diplomatic support for our colleague. 

"Because this issue is already in court, we have limited opportunity to discuss beyond what we have done so far.

"But I want to ensure the family of our colleague, Senator Ike Ekweremadu and Nigerians, that the Senate will continue to engage with our ministry of foreign affairs as well as our high commission in London. 

"The High Commission has done so much but we still expect that it will continue to provide any other further consular services.

"We have also mandated our committee on foreign affairs to engage with the British high commission here in Nigeria, to find more details on this case, as  as far as the high commission is involved.

"There will be a delegation to London to see Senator Ike Ekweremadu and his wife. A delegation from the Senate Committee on Foreign Affairs of the Senate will leave in the next two days to London for that purpose.

"I want to urge all all federal government institutions that can do anything to ensure that Justice prevails in this case, that they do so."
Reps Urge Foreign Affairs Ministry to Provide Ekweremdu with Consular Support
The House of Representatives has urged the Federal Ministry of Foreign Affairs and Nigeria's High Commission to the UK to ensure embattled Sen. Ike Ekweremadu and his wife, Beatrice are provided with all consular services they require.
The resolution was sequel to a unanimous adoption of a motion by Rep. Abdullahi Abdulkadir (APC-Bauchi) at the plenary on Tuesday.

Moving the motion earlier, Abdulkadir said he is concerned, the arrest of Ekweremadu a Nigerian citizen, a serving senator, a former Deputy President of Senate and former Deputy Speaker of the ECOWAS Parliament by the metropolitan police in the United Kingdom.
He said Ekweremadu and his wife Beatrice were arrested at the London Heathrow Airport, on their arrival from Nigeria to the United Kingdom.
According to him, the Metropolitan police and the Crown Prosecution Service (CPS) have since charged the Ekweremadus of offences relating to human traficking and exploitation.
Abdulkadir said that the Nigerian lawmaker and his spouse had been detained pending the determination of the jurisdiction issues by the Attorney-General of England and Whales.
"Concerned that the additional information emerging from the Nigerian Immigration Service (NIS) and other legitimate sources including the visa issuing protocols at the UK High Commission.
"Bank verification number (BVN) suggest a different narrative which might not have been available to the metropolitan police at the time of arrest and charge.
"Hopeful that the authority in the United Kingdom will work with their national security and intelligence counterpart in Nigeria to conduct a holistic and thorough investigation to ascertain all the facts relating to the allegation in order to make a fair determination on the issues in the best interest of equity and justice for all concerned
"I am confident that the Federal Government of Nigeria will, through the respective organs of government, use all available tools to ensure that the investigation and outcome of this will be conducted in the highest fidelity to the rule of law and with respect to the dignity of the person as enshrined in the European Convention of human rights which the United Kingdom is a signatory.
"We are aware of Ekweremadu's unblemished record as a constitutional lawyer, ranking legislator at the highest level in Nigeria, the West Africa subregion and various international parliamentary bodies and foremost advocate of the right and dignity of man.
"Also aware that Mrs Ekweremadu has had a flawless career in the Nigerian federal public service rising to the rank of director," he said.
Abdulkadir said that it is important to be mindful of the value of human life as it was imperative that Miss Ekweremadu who has a life threatening ailment is not allowed to come to harms way due to the unavailability of parental care owing to the continuous detention of her parents.
The lawmakers requested that the agencies of government and corporate bodies and particularly the National Identity Commission (NIMC), Nigerian Immigration Service and banks, act swiftly to respond to legitimate request for information to facilitate the prompt resolution of the charges against Ekweremadu.
The house resolved to invite the Minister of Foreign Affairs, acting Comptroller of the Nigerian Immigration Service, Director-General of NIMC to brief the house through the relevant committees on all necessary actions taken regarding the matter.
In his ruling, the Speaker, Femi Gbajabiamila said that a criminal charge does not constitute a conviction or conclusive proof of guilt.
According to him, this is merely the beginning of the judicial process to substantiate the fact of the allegation and gather sufficient evidence to sustain the charges therein.
"Until that process is concluded and even then, let us keep in mind that at the heart of this matter, there are human beings and fellow citizens whose lives have taken a turn none of us would ever wish for ourselves," he said. (NAN)