Taming Malnutrition: The Silent Child Killer
Christian Njoku examines the relentless scourge of child malnutrition in the country against the efforts of the society, federal and state governments to contain it.
Every country in the world is affected by one or more forms of malnutrition, making it one of the greatest global health challenge.
In Cross River, the scourge of malnutrition is no news, especially in  Edim Otop, in Calabar South and many other areas in the state, where children are seen with tiny legs, protruded stomachs and pale looking hairs and eyes.

These children may not be considered severely malnourished, but merely looking at them, it is clear that something needs to be done to help them regain the appropriate weight, height and nutrients they require.
On a visit to one of the Primary Healthcare Centres (PHC) in Calabar, many of the women and children that came to access healthcare were simply malnourished.
Malnutrition is an unhealthy condition caused by not eating enough food or healthy food and which results to stunting, underweight, overweight/obesity and the exposure to many diseases such as kwashiorkor, marasmus and so on.
An attendant who preferred to be anonymous, said they attend to different kinds of people every day, mostly women and children and most of their challenges are connected to poor or inadequate feeding.
"We attend to women and children every day and when you look at them, you just know that they are not feeding well and are deficient of some important nutrients and vitamins." "It is more painful when I see malnourished pregnant women because they are easily exposed to other conditions not good for them.
"The least we do is educate them on the right foods to eat and distribute available supplements, such as folic acid, ferrous sulphate and vitamin B complex," she said. In 2021, the Government of Cross River introduced the Active Search Strategy which was the use of a large network of community tracers and health workers in rescuing and treating malnourished children in the state.
The search helped in the discovery of over 234 severely malnourished children living in remote parts of the state as well as the capital. The then Commissioner for Health, Dr Betta Edu said Gov. Ben Ayade had directed that victims of malnutrition in the state be given urgent medical attention free and their families supported to sustain care.
She added that severe malnutrition among children in the state was a serious issue aggravated by ignorance, cultural beliefs, poor government policies and the poor economy of the state and nation.
While this initiative could be considered laudable, the big questions are: how sustainable was it? What is the state government doing about the root causes of malnutrition rather than being reactive?
Mrs Vickie Emah-Emah, Founder, Neighborhood Care Well Foundation, one of the NGOs fighting malnutrition among children said many families in the state are not able to feed well.
Emah-Emah said that there was high level of food insecurity due to the poor economy of the state. According to her, there is also the problem of many hard to reach areas in the state, especially the creeks where the people survived mostly on what they have locally but are deficient in other nutrients.
"Looking at the access and availability of food, good nutrition is difficult; I have seen sickly and wasted children die during our field works as a result of malnutrition and exposure to disease and mosquito infested environments. "The result is that they get infected by malaria parasite and other health conditions and because they already have weak immune systems, they die even before healthcare services get to them.
"What my foundation does is to ensure that no matter the project we embark upon to support children, there is always a nutrition component. "We have also assisted over 3,000 women who are among the most vulnerable groups, with income generating activities and grants for start-ups to enable them help their households.
"However, one of the major challenges is poor data. For instance, if Cross River had done a nutrition needs assessment, we will have credible data to work with, but without data, you can't do much," she asserted.
According to the National Nutrition and Health Survey (NNHS) 2018, each year, about one million Nigerian children die before their fifth birthday and malnutrition contributes to nearly half of these deaths.
The survey also shows that although acute malnutrition levels are below the critical levels in Nigeria with Global Acute Malnutrition (GAM) rate of 7.2 per cent, the case loads are high given the population of the country and challenges of insecurity in some parts, including food deficit.
Although, these nutritional surveys provide relevant information about states like Cross River, it is mainly periodic and does not give information on the levels and causes of under five year old malnutrition, especially in the rural areas.
It should, however, be noted that  the Federal Government in 2016 introduced a strategy called the Agriculture Sector Food and Nutrition Strategy 2016 to 2025, with the aim of reducing malnutrition in the nation. The strategy has eight thematic concerns which include improving food security at the national, community and household levels: To significantly reduce under-nutrition, including micro nutrients deficiency disorders among infants, children, adolescents and women of reproductive age.
It also aims to increase the knowledge of nutrition among the populace and integrate nutrition education into agricultural formal and informal trainings, among others. Mr Julius Adanlawo, an officer in the Nutrition Unit of the Federal Ministry of Agriculture and Rural Development (FMARD), said one of the offshoots of the strategy was the ongoing World Bank assisted Accelerated Nutrition Result in Nigeria, (ANRIN) currently operating in Gombe.
He said with the programme, the Federal Government was looking at using a food based approach to fight malnutrition by providing inputs like bundles of orange, fleshed sweet potato rich in vitamin, among others.
"However, funding has been quite a challenge because the budgets are meagre and the release of the funds is another issue, so we cannot be in all the states at the same time," he said.
Although this 10-year strategy is nearing its expiry period, having gone an 8-year distance so far, Nigerians are really yet to feel its impact as it is practically unknown to many in the country.
Dr Chijioke Osuji, an agro-industry and value chain expert maintained that from the agriculture production point of view, "bio- fortification is possible and being done in some agricultural commodities."
Osuji, however, said that it was in processing that a lot of fortifications and value addition could be done, explaining that the " yellow cassava rich in vitamin A can be blended with the white one that is rich in starch."
According to Osuji, there could also be the addition of different premixes to enhance the micro nutrients of commodities. "In Nigeria, there is a mandatory inclusion of vitamin A in maize and wheat flour, sugar and in vegetable oil. There is also the mandatory inclusion of iodine to salt for fighting goitre.
"We have many companies in Nigeria carrying out voluntary fortification to enhance consumer's wellbeing and wholesomeness of the food. This is something our government needs to continue to pursue.
"We also need to educate our women who have children especially those who are to be weaned, on complementary foods with protein rich components such as soya beans. "For many years in Nigeria, soya beans flour has been popular especially among women because it is known to have some good level of health benefits, apart from its high protein content.
"Some people add crayfish and other types of fortifications to their food, but we need to pay more attention to feeding of children," he noted. Osuji said serving children "eba" and soup in the name of school feeding programme is not an optimised advantage because the child eats "eba" and soup at home.
He advised that in schools, the government should go the extra mile of ensuring that enriched foods that are fortified and made easy to consume and not cumbersome like "eba" and soup or "jollof" rice should be served.
He maintained that the food could be turned to convenient snacks that is very rich, so that it will deliver good nutrient and help reduce malnutrition among children. "The truth is this, when you have many children malnourished and stunted, it means they will never reach optimum performance in their chosen career because their brain development had been hindered due to poor nutrition.
"It is not a coincident that the most well fed nations are the ones that produce the most Nobel Prize Winners, Olympic gold medalists and inventions, this is because they have higher brain capacity collectively than others. "We have been discussing nutrition for a long time now, it is time for the Nigerian Nutrition Policy to be reviewed more regularly and its essential components looked into.
"Components like agricultural production, post harvest losses and value addition to allow the researches we have been carrying out for the development of food to come to fruition" he contended.
There are research works that have made efforts to identify and proffer solutions to this silent child killer, government at all levels should pool resources in order to halt the advance of this condition. We need good nutrition as the first line of defence against the impact of diseases. (NANFeatures)
Democratic Betrayals: the Challenge of Statehood
By Wealth Dickson Ominabo
Recently Nigerian leaders and other democratic actors in the country  have been in a binge of festivity;  celebrating democracy in the country . From May 29 when many governors took time out to give account of their years of stewardship to Sunday June 12 when the federal government rolled out the drums to celebrate the new  Democracy Day  in Nigeria, our nation's public sphere has been obsessed with commentaries about the valiance of democracy and the sacrifices of the different actors in time past and present.

Without a doubt , democratic rule was not an easy wish. It was not a buffet served on a dinner table to citizens and other democratic enthusiasts. Democracy was birthed from the streets of rugged struggle; a struggle that had some casualties, heroes and villains . Democracy was a product of agitations and negotiations by different stakeholders.
Here lies the vault of great expectations; that democracy will be properly nurtured, cherished and yield good fortunes to the citizens.
23 years ago, democracy was a thing hoped for; a prayer point to many, who believed that democracy was the promise land- a system of many possibilities, an oasis where the basic rights of citizens will flourish and dreams and aspirations will be realised.
23 years later, democracy is losing its meaning, its value and essence in the lives of the citizens. Beyond the refrain of democracy being the government of the people by the people and for the people, the real meaning of democracy is lost in the multiple conflicts and social contradictions in the nation. Almost all the intrinsic promises of democracies have either been betrayed by different actors and the values of a democratic reign have been discarded. The promises of liberty, justice and peace have been betrayed.
The virtues that define a democratic state are eroding – freedom of expression is daily curtailed, freedom of thought, conscience and religion are being challenged by non-state actors, while the civic space is shrinking on a daily basis even as the state is busy in pursuit to capture institutions to their advantage.
The ballot is losing its potency at every electioneering cycle, votes are traded to the highest bidder, our democracy is commercialized, legitimacy is manipulated, accountability and good governance are trivialized, social justice is ostracized.
Today, the  sovereignty of the Nigerian state is contested with non-state actors – those without the mandate to govern- now superintend over a  large expanse  of the Nigerian territories,  imprisoning citizens and executing punishment, and judgement on innocent citizens in different guise through different terror tactics and strategies.  They kidnap, kill and rape and impose levy on citizens  in different parts of the country. They move daily from state to state like roaring lions devouring the destinies of many and taking others to slavery and servitude. Government to which the people willed their sovereignty through the ballot decides to share its legitimacy with these non-state actors through indiscretion, inaction and dereliction of responsibilities.
In Nigeria, democracy has not been able to address the challenges of the  citizens. Civilian rule in all these years has failed to guarantee the two basic democratic rights – freedom from fears and wants. Nigeria is at a crossroads; it is captured by human miseries, and characterized by sallow marks such as hunger, poverty, conflicts and underdevelopment.  Nigeria is a fallow ground for extremists – who cling to different frustrations to undermine the State, thereby exposing the country to wanton fragilities. 
One cannot but situate the crisis of Nigerian statehood to the challenge of leadership amplified by sustained culture of democratic betrayals by government. The Nigerian Guardian in a recent editorial aptly captures the crisis of the Nigerian state when it wrote that :
" The deluge of socio-economic and political upheavals in the Nigerian polity currently portrays a very bad omen for peace, progress and continuity of the country. For an entity with so much potential, the wasting of assets, both human and material, in the past few years has been monumental even to the uncaring. In totality, the ruling political elite at all levels of government have ran the country almost aground such that hope for a redeem is dim; and, unless some drastic action is initiated, not only will it be difficult for the country to survive eventually, her downfall can be slow, steady and painful. The handwriting is on the wall, and the dastardly results are playing out. Surely, the state of the Nigerian nation calls for a change of direction to avert a looming doom."
The Paper drawing the attention of all stakeholders to the near collapse of the Nigerian state, warned of the danger of the sustenance of the present governance culture of democratic betrayal, abscondment and dereliction of responsibilities by leaders .
It posited that : "Today, the country is hell-hole describable by the absence of government in the national space and negative sovereignty; it is a country living a lie. It might not be so lucky this time around. It is the time to act; and to act quickly to rescue it from the brink of disintegration."
As Larry Jay Diamond, aptly observed in his article "Three Paradoxes of Democracy,"  founding  and preserving  democracy  are two different things. For democracy to endure, he argues that  it  must be deemed legitimate by the people and  "..this legitimacy requires a profound moral commitment and emotional allegiance, but these develop only over time, and partly as a result of effective performance." Democracy he asserts  will not be valued by the people "unless it deals effectively with social and economic problems and achieves a modicum of order and justice."
Here lies the challenge of Nigeria's democracy and the recession of the country into a failed state. The point must be stressed that the fault does not lie in democracy as a form of government but on the actors – coy democrats who are too shy to live and act according to the dictates of democracy.
To improve Nigeria's democracy and make it work for the common good of all citizens, leaders and all democratic actors must incentivize social and economic rights of citizens. This is the most sustainable way to reinforce the waning legitimacy of the Nigerian State.
Legitimacy is not an end in itself- it doesn't start and end with electoral mandate.  Legitimacy is enhanced through shoring up of public trust; trust is reinforced  through fulfillment of democratic promises and commitment to  the social contract between the government and the citizens.
Ominabo is the Communications officer at the Goodluck Jonathan Foundation
The Drug and Sex Lives of Boko Haram Terrorists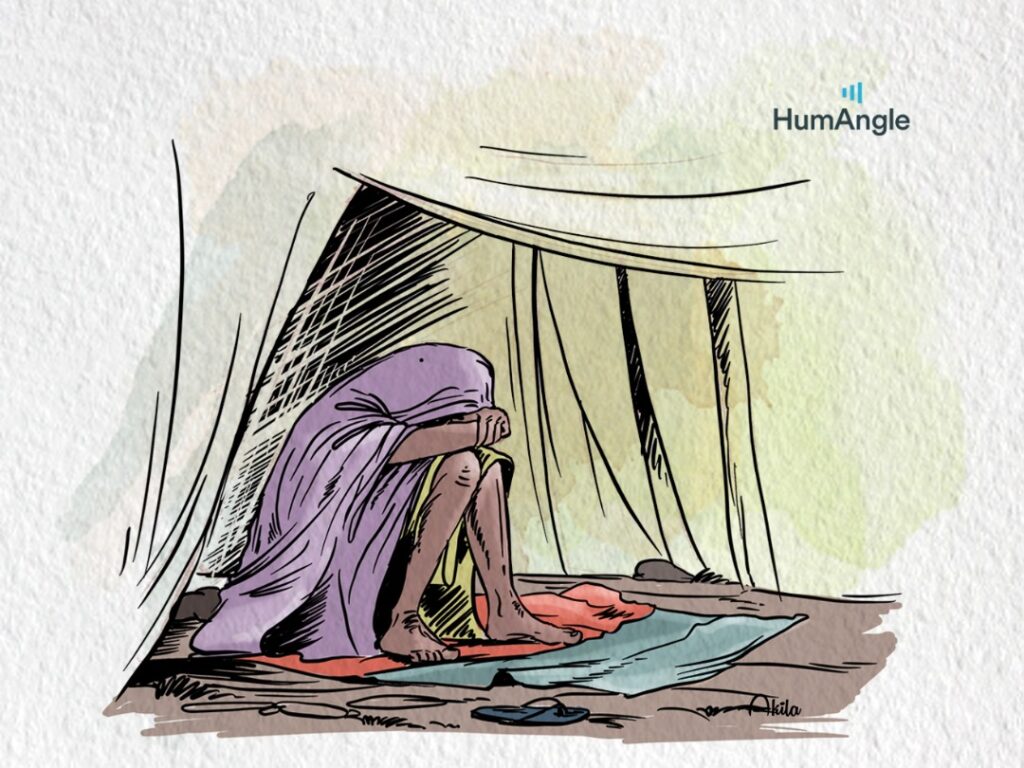 Women abducted during the early years of the Boko Haram insurgency in Borno, northeastern Nigeria, ended up becoming wives of the insurgents. Hauwa Shaffi Nuhu spoke to those who recently escaped about an aspect of their abduction that has been under-documented — the sex life of the insurgents.
One hot night in the deep forests of Sambisa, in northeastern Nigeria, shortly after a military airstrike targeted the Boko Haram settlement where they lived, Amina Mohammed and her husband — alongside many members of the terror group who had fled the location during the bombing — are hurdled up in hiding.
They are under small, inconspicuous tarpaulin tents. It is very uncomfortable because they are trying not to attract attention to themselves, as an aircraft can still be heard hovering above their heads.
This means staying still is the surest means of surviving. Still, in the middle of the palpable tension and ensuing danger, she sees her husband approaching her corner of the tent with a familiar expression. She knows what is to come and braces herself for it.
There is no talk; he simply comes to her. The sex is aggressive. So aggressive that it numbs out her inner thighs, and she feels as though there is an organ from deep inside her that may spill out of her vagina. It is not an irrational fear or concern.
She has a friend who experienced a curious incident she believes was prompted by her husband's use of excessive and prolonged force during sex, which she says was so aggressive that her uterus fell out of her vagina. This friend was married to a Boko Haram member as well.
When Amina's husband first enters her tent as she sits on a tarpaulin, she notices that he smells of drugs and so knows this is one of those nights he can go several rounds without tiring. The first round lasts two hours, then he rests and goes another round.
He is her third Boko Haram husband, the other two having died — the first, by execution, and the second at the war front. So, by now, she knows the drill. It does not make it any less bearable.
"They make love like horses," she says, referring to their energy.
"They only care about their satisfaction […] Even when you complain of tiredness, they won't let you be, as long as you are not on your period, they don't care. They have sex anywhere, even when we are under attack. Sometimes, even under the tree."
Even now that she has returned to town, she hears comments about her marriageability.
"People see me and whisper among each other that no man can sexually please any woman who has been married to a Boko Haram member before."
Uterine prolapse
Uterine prolapse is a condition in which the uterus in a woman's body falls out of place and protrudes out of her vagina. It usually needs to be pushed back into place. The prolapse occurs when the ligaments and muscles supporting the uterus get weakened and can no longer support it in place.
According to Dr Ishaku Musa, a chief consultant obstetrician and gynaecologist at the Gwarinpa General Hospital in Abuja, "forceful intercourse can damage the support structures of the womb. This now leads to uterine descent, also called uterine prolapse."
This was what happened to Amina's friend.
Uterine prolapse is widespread among the women captives, especially due to limited access to medical supplies. Often, it happens during childbirth. Many of the women are girls who were abducted seven to 10 years ago and who have had to grow among the terror group and be married off to its members. Some of them are now radicals as well.
Stephen Yusuf, a doctor at the Abubakar Tafawa Balewa University Teaching Hospital (ATBUTH), explains that the uterus is kept in position by various ligaments. "Repeated pregnancy and delivery weakens these ligaments," he says. "Or if there is a very large baby. And some other conditions that weigh down on the uterus from above."
Amina says there wasn't enough support for child birthing in the terrorist camps. Even though there were sometimes medical personnel, usually those abducted in Maiduguri and Adamawa, they were not enough for all the people needing help.
"All the children I gave birth to there, I did it alone. No doctor, no help […] A lot of women die when giving birth. There is no proper care. When I had my last child, it was my friend that served as a midwife. We used a stick to cut the umbilical cord after the baby was born."
Drug use among the terrorists
On the day Amina asked her husband for ₦500 to buy tomatoes for food, he not only denied having the amount, he nearly became violent towards her. It would not have been the first time.
But later that same day, he pulled a wad of naira notes from his pockets and gave them to her. It totalled ₦30,000 when she counted it. She became terrified.
"How can someone that refused me ₦500 give me ₦30,000?" she remembers thinking. "I became scared."
Still, she took it. After handing her the money, he hung his rifle around his neck, then walked out without first wearing his shoes.
When he returned later at night, still barefoot, he informed her his money was missing. ₦30,000 to be exact. She reminded him that he had given her the money. He labelled her a liar and accused her of stealing it from his pockets.
Amina admits that before he gave her the money, she had seen him injecting himself with drugs, as he occasionally did. He was more of the pills-popping type, but sometimes he injected himself too. The effect usually lasted hours.
"I told him he was not in his right senses; that I saw him take the injection, and what was it meant for?"
He told her to keep quiet, asking if she was looking to get him killed. The punishment for drug use amongst Boko Haram members is death. It did not stop the terrorists, including Amina's husband, from using it in hiding.
Usually, after he had injected himself, he would give her the bottles to bury in the ground, she says. But after she confronted him that day about his drug use, he became suspicious and scared that she might one day out him. So he ordered her to dig up all the bottles from wherever she had buried them, and then give them to him to dispose of himself.
"I went and dug everything out with my bare hands and gave them to him, and he threw them away," she recalls.
The pills were easier to take for him because then he could just claim they were pain killers. Once, she asked to take the pills to numb the pain she was feeling, and he warned her not to, saying that she would run mad if she did.
"They always say they are pain killers. One time I attempted to take the drug — it is red in colour — and my husband said I will run mad if I take it. How will I run mad when he has not? And they usually take it when they are about to go to the battlefield. They go out of their senses after taking these drugs."
She did not know it then and would not until she left Sambisa forest but the pills her husband took were mostly tramadol, and the injections, pentazocine.
But Boko Haram members do not use drugs only before going to the battlefields. They also used them in preparation for sex. It made them so energetic and powered up that they could spend an entire night on rounds and rounds of sex tirelessly, Amina says. It was also often aggressive. Another woman, Maijiddah, tells HumAngle that barely three months into her marriage with one of the men in Sambisa, she sought to end the marriage for this reason.
But she could not ask for divorce explicitly. She, therefore, threatened to report his drug use to the terror group's leadership because it was what powered his violent sexual activities.
Before this, she had first tried to run away from the group. She was caught and locked up in prison for some time.
"He was so into drugs that without it, he would be useless. He was also a dealer. He could spend an entire night on top of me. Sometimes he would sleep off on top of me, and if I tried to roll him off, he would immediately get violent."
Like Amina's husband, he also partook in the use of tramadol and pentazocine. When she threatened to report him, he opted to divorce her instead. "He said since I wanted to destroy his life, he would rather divorce me, and he did. That was how I escaped that life."
After the divorce, she was transferred to a building known as Gidan Zaurawa, she says. A Hausa term that translates to mean 'House of the single-women.' It was where women among the terror group who were either divorced or widowed were kept for three to four months before being remarried.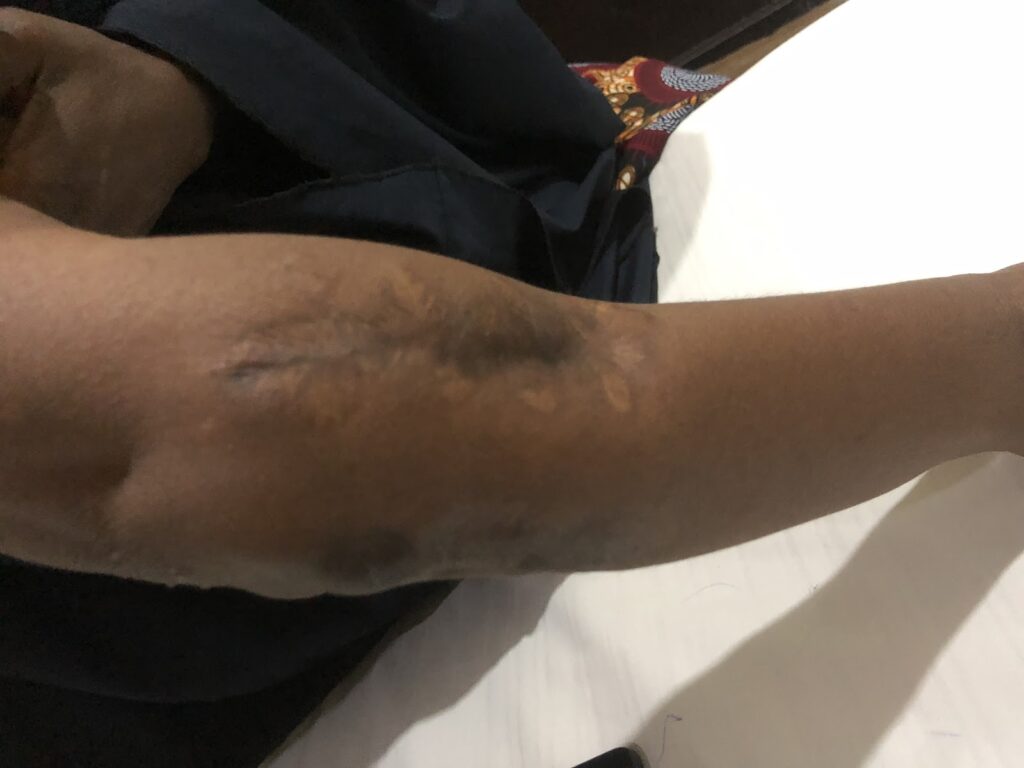 How does Pentazocine work?
Pentazocine is an opioid in the same class as tramadol. According to Dr Yusuf, there are other opioids that can be injected for the purpose of 'getting high', like morphine and fentanyl but they are very expensive. Their effect is also short-lived. Pentazocine, known among drug users as 'Penta' for short, is cheaper than the rest, in addition to having a more lasting effect.
"It's usually to numb pain but it also causes euphoria and makes them happy. That's the major feeling. The feeling of euphoria," Dr Yusuf says.
"That euphoric feeling might be the reason he took that amount of money and gave it to his wife even though he would not have given it to her normally if he wasn't under drug influence."
Any religious justification?
Drugs — intoxicants, generally — are prohibited in Islam. And, since the terror group insists it is Muslim, the use of drugs is generally prohibited among Boko Haram members.
However, the group has seen different stages of evolution and acceptance towards the vice. According to sources familiar with its operations, at some point it started to unofficially overlook the use of hard drugs, especially tramadol, on the basis of it being helpful to them on the war front and therefore necessary for their work. When certain members were questioned about its use, they argued that it usually helped them with strength on the battlefield.
While the use of tramadol, therefore, has always been rampant among the group, it is usually mostly hidden. It is ferried through to the militants from Damboa, according to Maijiddah, usually the same way that bullets are sent down to them through canoes. She also explained that individuals partner with allies who are domiciled inside the towns.
A report published in 2018 described the pill as "the drug of choice for Boko Haram."
Certain hard drugs have been used, too, by the group to aid amputation due to their limited access to medical supplies. Later, as the group evolved, they began to use the drugs for sex too.
According to women who had been wives of eminent members of the insurgent group, hardcore members of the group are not punished for the use of hard drugs. Sometimes, even high-ranking members were punished, as long as they were identifiable as people with milder or less radical ideologies.
"It's usually the members that are not hardcore radicals that are punished for it," one of the women says. "The ones that don't know what they're doing, that are only there to fight aimlessly."
Culled From HumAngle
Why Manufacturers of Poor Quality Maternal Medicines Should be Sanctioned
Abiemwense Moru writes that  attention should be shifted to the quality of maternal medicines in the country's fight against high maternal mortality and general improvement of healthcare.
Deaths from preventable diseases linked to pregnancy and childbirth are very high in Nigeria.
Indeed statistics released by Health Watch Nigeria, a health communication and advocacy organisation, showed that daily, about  145 women, between the ages of 15 and 45 years die from preventable cases linked to pregnancy and childbirth.


Stakeholders in the public and private health sectors, also stressed that the country should fight the high maternal mortality by improving quality of care.
They also said that manufacturers and distributors of poor-quality maternal medicines should be sanctioned.
The stakeholders said that though sanctions are already in place, but the perpetrators are not deterred.
They advocated stiffer penalties for manufacturers and distributors of poor-quality maternal medicines in the country.
The stakeholders spoke recently in Abuja at a programme on leveraging Public-Private Partnerships to Improve Access to Quality Maternal Medicines, organised by Nigeria Health Watch.
Dr Kayode Afolabi, the Head, Reproductive Health Division, Federal Ministry of Health, said that the National Agency for Food and Drug Administration and Control (NAFDAC), should continue its work as the main regulatory agency.
He said: "We are all familiar with the work of NAFDAC as the regulatory agency in this regard and what we should do is to further strengthen NAFDAC.
"This will enable NAFDAC to ensure such substandard products are not allowed into the country and then we need to look at the supply chain process.
"Particularly those maternal health products that need to be stored with certain conditions of temperature.
"Can we maintain the cold chain and if there are gaps, how do we address the gap, should be our priority,'' he said.
Dr Kay Adesola, President, Association of Nigerian Private Medical Practitioners (ANPMP), said good regulatory mechanisms with penalties should be put in place to curb the circulation of substandard medicines.
"We all must take the issue of access to quality medicines as our businesses since no one is exempted from health concerns.
'Good mechanisms in form of regulatory policies with effective implementations.
"These measures must, however, not be seen taking the place of appropriate penalties to deter the die-hards importing these substandard drugs just for monetary gain.
"In some climes, some similar culprits are made to face stiff penalties such as death sentence or life jail.
"Apply penalties and see the mileage we will achieve in making maternal medicines safer and more lives saved," he said.
On his part, Prof. Chimezie Anyakora, Chief Executive Officer, Bloom Public Health, in a panel discussion gave insight into the critical role of supply chain management in ensuring the quality of maternal medicines in the country.
He said that maternal medicine quality is determined by factors including manufacturing, supply, storage and distribution of these medicines.
Anyakora stated that concerted efforts and strategic partnership among stakeholders were essential to build capacity in supply chain management in order to ensure quality medicines for the end users.

He also highlighted the role Bloom Public Health and its partners, including DrugStoc, were playing in ensuring proper management of the supply chain from manufacturers to end users.
He added that the distributions were through various projects like: the Drug Revolving Fund Project in Ebonyi to ensure sustainable availability and access to safe and quality drugs.
In her presentation, Dr Chioma Ejekam, Consultant Public Health Physician, said that all women needed access to high quality care in pregnancy and during childbirth.
She explained that most maternal deaths were preventable as the healthcare solutions to prevent or manage complications were well-known.

Ejekam, however, said the issue of quality around these maternal medicines had become a global concern as substandard or falsified (SF) medical products had long been acknowledged as a threat to individual and public health.
She said that penalties should be melted out on those manufacturers and distributors of such falsified or substandard maternal products.
Mr Frank Muonemeh, Executive Secretary, Pharmaceutical Manufacturing Group of Manufacturers Association of Nigeria (PMG-MAN), said everyone must be involved in the fight against substandard medicines.

According to him, unless the people are in the driver's seat, from production to the last distribution point, substandard medicines will continue to be in circulation.
He, therefore, called for penalties against producers and manufacturers of falsified medicines.
Dr Chibuzo Opara, Chief Executive Officer of DrugStoc, said some of the key things his organisation was trying to solve was the problem related to supply chain financing and healthcare commodities security.

He said that the country needed to improve its cold chain infrastructure for better health services.
He said that, good investment, power supply and transportation could enhance the quality of the cold chain.
On her part, Mrs Vivianne Ihekweazu, the Managing Director of Nigeria Health Watch, said there should be stronger accountability to reinforce sanctions for substandard medicines.

She advised that policy makers, stakeholders and health workers needed to work together to improve pharmaco-vigilance, since it impacts on the quality of care they deliver.
"There is a need for a stronger reporting system and cross collaboration to detect falsified medicines and prevent them from getting to the bedside of a mother," she said.
Ms Azuka Okeke, Chief Executive Office, Africa Resource Centre for Excellence in Supply Chain Management, said the country needed to leverage the PMG-MAN for better medicines.
She said this was necessary as they provide an organised structure for local manufacturers and ensure the production of quality and affordable medicines.
"You cannot guarantee the quality of products if you don't know the source.
"To achieve Universal Health Coverage (UHC), we must engage local manufacturers and associations in order to guarantee quality and accountability," she said. (NANFeatures)