TFA: Expert raises alarm over amount in Nigerians dishes
By Laide Akinboade
An health expert has raised alarm over the amount of Trans Fatty Acids (TFAs), which are bad fatty acids in Nigerian dishes.
In a statement issued by a Physician and President Medical Initiative For Africa, Dr Taiwo Fasoranti, and made available to journalists in Abuja, he said it is imperative for individuals to avoid to the barest minimum the consumption of TFAs in their diets, it is established that such TFAs have health hazards.

The statement reads, "With the recent advocacy to eliminate Trans Fatty Acids (TFAs) from the food supply system in Nigeria, a critical question in the minds of many is what exactly are the sources of trans fatty acids?  Dietary fats are the most concentrated form of food energy.
Fats that are liquid at room temperature are called oils, while fats that are firm at room temperature are called solids. We have two types of dietary fats: saturated and unsaturated. The difference between the two depends on the amount of hydrogen atoms that surround the fatty acid structure, called "saturation." Saturated fatty acids are "saturated" with hydrogen atoms and are typically solid, while unsaturated fatty acids are not "saturated" with them and are typically liquid.TFAs are unsaturated fatty acids that come from either natural or industrial sources.
 "Naturally-occurring trans fat come from ruminants (cows and sheep). Industrially-produced trans fat are formed in an industrial process that adds hydrogen to vegetable oil, converting the liquid into a solid, and resulting in "partially hydrogenated" oil (PHO)."
He noted, "Hydrogenation is a chemical process that adds hydrogen to the unsaturated bonds. In this way, an unsaturated fat can be turned into a saturated fat and increase its melting point . For edible purposes and for commercial use, we produce solid fats, (such as Margarines) which contains hydrogenated (hardened) oils as their major ingredients. This is because of successfully converting low-melting unsaturated fatty acids and glycerides to higher-melting saturated products."
He explained, "partially hydrogenated oils are made when hydrogen is added to vegetable oil (hydrogenation process) to increase shelf-life and flavour stability of foods. Partial hydrogenation results in the addition of hydrogen atoms at some of the empty positions, with a corresponding reduction in the number of double bonds.
"Typical commercial hydrogenation is partial to obtain a malleable mixture of fats that is solid at room temperature, but melts during baking, or consumption. In a nutshell, it makes it edible."
He said , sources of trans fatty acids come from partially hydrogenated vegetable oils which are found in margarine's, shortenings, cakes, pies, and cookies (especially with frosting), candies (especially with creamy fillings), crackers, snack foods, microwave popcorn (buttered and flavoured varieties), frozen pizzas, frozen biscuits, pastries, muffins, doughnuts (especially frosted or cream-filled), breaded and fried chicken and fish, fried fast foods. Also, the practice of recycling oils for frying leads to TFAs." 
He therefore said, "However, there are alternatives to the use of partially hydrogenated vegetable fats in diets. One of the healthiest alternatives to using saturated or partially hydrogenated fats is the use of natural unsaturated liquid vegetable oils such as olive, canola, corn, or soy oils. They contain high levels of monounsaturated Fats. "They are not subjected to the harmful processing steps seen in TFAs. Olive oil, especially extra virgin, is among the least processed cooking oils on the shelves which makes it retain most of its antioxidants, vitamins, and minerals".
He stressed that it is pertinent to state that the responsible public health response to the consumption of trans fatty acids, is "public health awareness on the adverse effects of trans fatty acids. The use of food labels whereby consumers have a choice to read labels and decide if they want to use a product is a good step as well.  
He therefore supports governments and regulating agencies efforts at reducing the consumption of trans fat. Rigorous public health awareness programmes at Primary, Secondary and Tertiary health centres should be encouraged, "While individuals should be cautious and avoid to the barest minimum the consumption of TFAs in their diets, it is established that such TFAs have health hazards. The use of alternatives as elaborated in this piece is advisable just like maintaining good cooking habits is", he said.
UNILAG Waterfront Needs Adequate Shoreline Protection – VC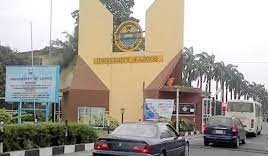 The University of Lagos's waterfront is in need of urgent adequate shoreline protection as its ageing perimeter fence has collapsed, the Vice-Chancellor, Prof. Oluwatoyin Ogundipe, said yesterday,
Ogundipe made the disclosure in an interview with the NewsMen in Lagos.

"The rains that Lagos and its environs have experienced possibly due to the impact of climate change and subsequent higher-than-normal discharge of the rivers emptying into the lagoon, possibly led to the collapse of the already aging perimeter fence and embankment with imminent security issues and attendant ecological perturbations.
"In the morning of yesterday, Oct. 19, the chief security officer of the university called my attention to the sad development.
"We quickly rushed there to carry out an on-the-spot assessment of the collapsed perimeter fence on the waterfront.
Ogundipe appealed to the Federal Government to urgently come to the aid of the university in that regard.
"We need reconstruction of the embankment," he pleaded," he told Reporters.
According to the vice-chancellor, the waterfront of the university is subjected to wave actions and coastal erosion which are associated with risks of land loss, damage to coastal infrastructure and flooding.
He said that the university had maintained an embankment on the shoreline and waterfront serving as perimeter fencing and ensuring that coastal erosion and occasional flooding were addressed.
"The Lagos lagoon is part of the lagoon complex which comprises a network of nine lagoons namely: Yewa, Ologe, Badagry, Iyagbe, Lagos, Kuramo, Epe, Lekki, and Mahin, stretching from the Republic of Benin.
"It lies behind the barrier beach and extends for 210km along the coast.
"The Lagos Lagoon is, on the average, about two to four metres in depth, but it is 10 metres deep at the entrance at the Commodore Channel around the Lagos Harbor, which empties the lagoon into the Atlantic Ocean," he noted.
He added that the Lagos lagoon was bound in the south by the five cowries creeks, in the Eastern flank by the Palavar Islands, the northern end by Ikorodu, and on the western border, by mainland communities.
Ogundipe said that the Lagos lagoon waterfront with usefulness as a tourism resource is considered a major artery in the water transportation architecture of Lagos metropolis.
"In this light, the university of Lagos waterfront has already been earmarked for construction of a jetty by the Lagos State Government under the leadership of Gov. Babajide Sanwo-Olu.
"The lagoon is flanked by tidal wetlands and swamps.
"This comprises of the waterfront, known as university of Lagos Waterfront, shorelines of Ilaje-Bariga and shorelines of Makoko community," Ogundipe said. (NAN)
Foundation Donates N6m to Children with Cancer in FCT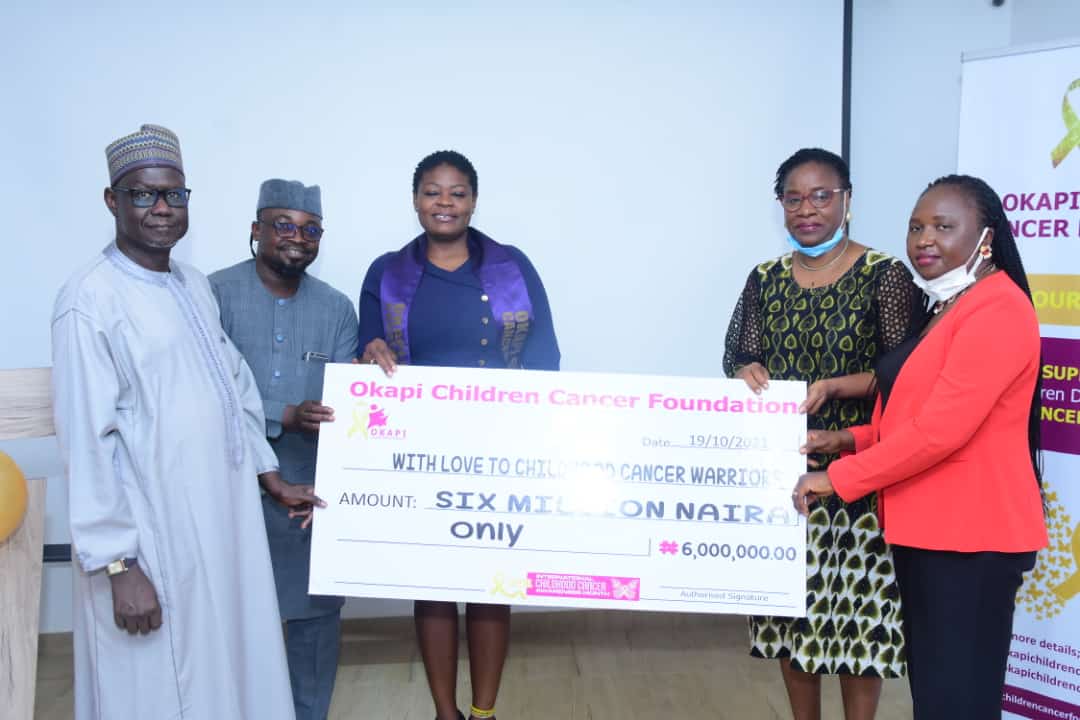 Okapi Children Cancer Foundation on Tuesday donated N6 million to children fighting cancer in the Federal Capital Territory (FCT), Abuja.
The Chief Volunteer and Founder of the foundation, Ms Kemi Adekanye, said the gesture was part of their annual events.

She stated that the gesture is to support children fighting cancer at the National Hospital, Abuja, and the University of Abuja Teaching Hospital (UATH), Gwagwalada.
Adekanye decried the high costs of treating and managing childhood cancer in the country.
She however urged government and other philanthropists to support the patients and families, which will increase the chances of survival for them.
"The organisation had since its inception in 2017 donated over N14.8 million to support the children.
"We have been able to render support to these children, to reduce the costs of treatment, as well as provide emotional support and job opportunities for some of their parents.
"A lot of these children commence treatment and abandon it midway, because of the high costs of treatment and other care," she said.
She therefore called for more awareness and enlightenment on childhood cancer.
This, she noted, would garner more support and initiation of policies to help manage the disease.
Consultant Paedetric Oncologist, UATH, Dr Uduak Offiong, while commending the Foundation, said the donation would support parents whose children are fighting cancer, especially in accessing blood platelets.
According to her, many children abandon cancer treatment due to financial constraints.
She therefore appealed to the government to subsidise the costs of treating childhood cancer.
Offiong also urged that cancer should be included in the National Health Insurance Scheme (NHIS) for less privileged families to access treatment.
Similarly, Dr Oyesakin Adewunmi, the Head of Unit, Paedetric Oncology, National Hospital, Abuja, represented by Dr Patricia Igoch, called for more support and attention to be given to childhood cancer.
On his part, the President, Nigeria Cancer Society, Dr Adamu Umar, decried the lack of awareness and neglect of childhood cancer in the country.
Umar also called on the federal government to include it in the NHIS, while funds should be allocated for its management.
A Clinical Mental Health Counselor, Dr Margaret Olokpo, called for more emotional support to both the children suffering from cancer and their parents.
One of the benefiting parents, Mrs Titilayo Adewunmi, commended the organisation for their unwavering support to them in caring, managing and treating their children fighting cancer.
The organisation recently held a walk and Zoom meeting to educate the public on signs, symptoms and appropriate treatment for childhood cancer in the FCT. (NAN)
Aisha Buhari Hosts Turkish First Lady, Lauds Nigeria-Turkey Relations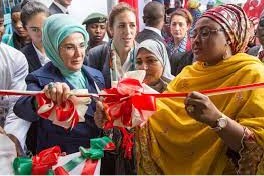 Mrs Buhari was speaking when she received the Turkish first lady at the side-line of a bilateral meeting between Nigeria`s President Muhammadu Buhari and President Recep Tayyip Erdogan of Turkey at the State House, Abuja.

"I really appreciate Mrs Erdogan for the visit and this will go alone way in strengthening the relationship between my pet project, Aisha Buhari Foundation and her Foundation.
She reaffirmed her commitment to supporting the girl-child education and the less privileged, especially children in the Internally Displaced Persons Camps (IDPs).
Mrs Buhari said the visit availed them the opportunity to strengthen their existing relations with a view to finding solutions to the incessant cases of domestic violence, women's rights and child abuse.
The two first ladies, who met behind closed-doors, expressed their desire to strengthen relationship to secure the future of Nigerian women and children through their individual foundation(NAN)