William Ruto Wins Kenya Presidential Poll as Senior Election Officials Disown Results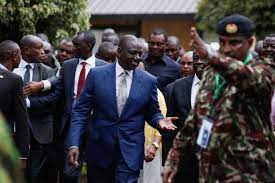 The head of Kenya's electoral body on Monday declared Deputy President, William Ruto winner of the country's closely-fought presidential election, despite several commissioners rejecting the results.
Independent Electoral and Boundaries Commission chairman Wafula Chebukati said Ruto garnered 7.18 million votes (50.49 percent) against 6.94 million (48.85 percent) by his rival Raila Odinga in the August 9 vote.

Meanwhile the planned announcement of the Kenyan presidential election results on Monday descended into chaotic scenes after the deputy chairperson of the election commission and three other commissioners disowned the presidential election results.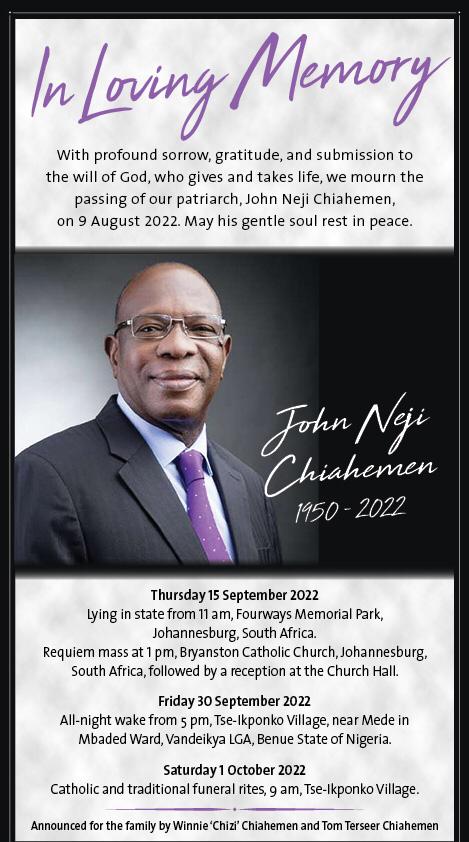 "We are not able to take ownership of the results that will be announced,'' Juliana Cherera, the deputy chairperson of the electoral commission told a media briefing at a different venue from where the announcement was to be made.
Diplomats and international election observers were whisked out of the tallying hall where the chairman of the electoral commission was preparing to announce the presidential results.
Kenya has a history of post-poll violence and slow progress by the electoral commission in tallying Tuesday's vote has fed fears that the election will be disputed, leading to bloody scenes like those that followed presidential polls in 2007 and 2017. (Reuters/NAN)
Credible Records, Progressive Politics Speak for Ayu — Aide
The credibility and detrabalised progressive politics being played by the National Chairman of Peoples Democratic Party (PDP) Dr Iyorchia Ayu, is key to his political success.
Malam Yusuf Dingyadi, Senior Special Assistant on Media and Communications to Ayu, made the remark in an interview with newsmen on Sunday in Sokoto.
Dingyadi said Ayu had been a trusted ally of politicians, academics, focused individuals, business community and other categories of people from all parts of the country, the reason for his acceptability.

He explained that Ayu's position as the party head would surely strengthen the chances of the party to win 2023 elections.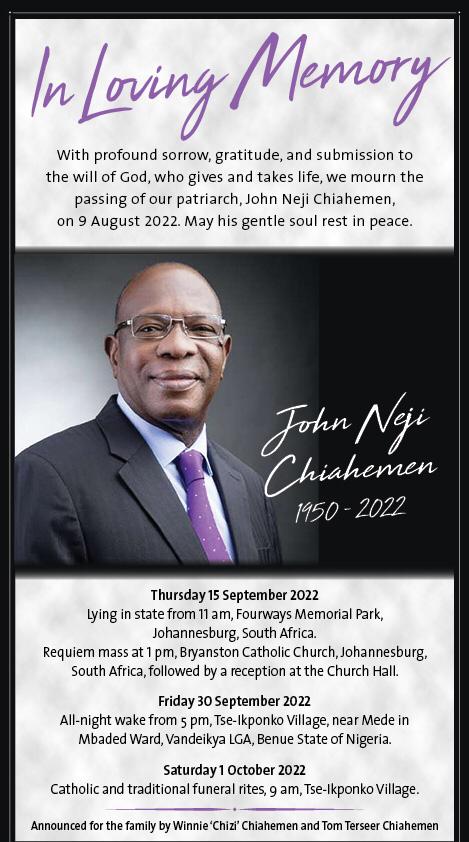 " Ayu's trusted credibility has been the bedrock of his widespread political support in the country, " Dingyadi said.
The Media Aide cautioned Nigerians against being misguided by some elements that capitalise on ethnic and religious divisions in politics to cause disagreements with the party system and national politics.
According to him, peace and stability of Nigeria as a nation should be sacrosanct, and condemned the activities of some groups sponsoring political agitations against Ayu's PDP leadership.
" Nigerians should always stay away from comedians, who play television politics, in attempt to showcase thier strength and decapitate party unity for selfishness.
" The PDP Board of Trustees (BoT), National Executive Committee (NEC), stakeholders have unanimously passed a vote of confidence on Ayu to continue as a chairman; there's no reason behind certain lamentation and mischief.
" This effort is in recognition of track records and initiatives which placed the party in a strong pedestal and reawakening of our political popularity in the country.
" We therefore appeal to our members to remain focused, disciplined and committed with a view to taking our party to victory in 2023.
" The party is well acceptable in all the 36 States of the Federation, with full hope to take the country to the promised land that would also ensure peace and unity among the citizens. " Dingyadi said.
He stressed that removing Ayu would create constitutional crisis for the party which would snowball into greater problems than what the party was currently facing. (NAN)
Tears flow as Curtain comes down on Federer's glittering Career
Roger Federer's trophy-laden career ended with defeat on Friday, but for once the result hardly mattered as the Swiss maestro headed into retirement with tears in his eyes and cheers ringing in his ears.
With a sellout crowd of 17,500 at London's O2 Arena willing him on, the 20-time Grand Slam champion returned after more than a year away to play tennis.
He played alongside Rafa Nadal, the Spaniard with whom he shared one of tennis's most captivating rivalries.

With the clock past midnight, Federer could have sealed victory in the Laver Cup doubles clash when he served at match point in a tense deciding tiebreak.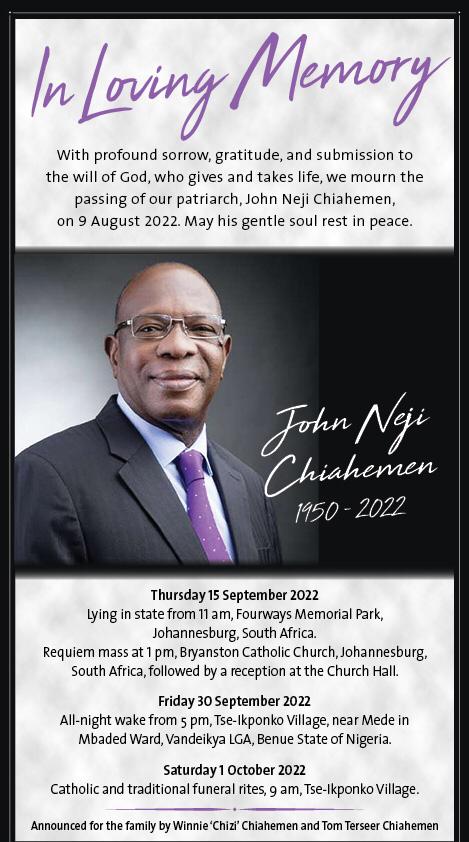 But it was not to be as Americans Jack Sock and Frances Tiafoe ripped up the script.
Sock thumped a forehand winner and sealed a 4-6 7-6 11-9 win for Team World.
After a brief moment of stunned silence around the packed arena, the crowd rose to salute the 41-year-old Federer, whose elegance, charisma and sportsmanship has graced tennis and transcended sport during a 24-year career.
Federer produced moments of his trademark magic during a fiercely contested duel and kept his emotions in check.
But the tears flowed afterwards as Ellie Goulding sung while a montage of Federer's feats was projected on the black court.
When he was hugged by wife, Mirka, children Leo, Lenny, Myla and Charlene, and his parents Lynette and Robert, there was hardly a dry eye in the house.
"We'll get through this somehow. It's been a wonderful day.
"I told the guys I'm happy, not sad," said Federer, who announced last week that this would be his final event after struggling to overcome a knee injury.
"I enjoyed tying my shoelaces one more time, everything was the last time," he added. "Playing with Rafa and having all the greats here, all the legends."
Federer broke down as he thanked his wife.
"She could have stopped me a long, long time ago but she didn't. She kept me going and allowed me to play, so it's amazing – thank you," he said.
Federer's eagerly anticipated final bow came after British favourite Andy Murray had battled against Australian Alex De Minaur for two and a half hours, but lost.
Murray's two Wimbledon titles made him a national sporting icon, but the night was all about Federer – a player who resides in the pantheon of sporting greats with the likes of Pele, Tiger Woods, Michael Jordan and Muhammad Ali.
Even his practice sessions here have been standing-room-only affairs, and an electric atmosphere greeted him as he walked out into the cavernous arena alongside Nadal just after 10 p.m.
"I've done this thousands of times, but this one feels different. Thank you to everybody who's coming tonight," Federer posted on Twitter earlier in the day.
The crowd included Australian great Laver – the man who inspired Federer to create the team competition being staged in London for the first time.
Loud cheers accompanied Federer and Nadal, or 'Fedal' as they are nicknamed, on to court and The Clash's London Calling boomed out as they warmed up.
An even bigger roar went up when Federer punched away a volley in the opening game – his first competitive shot since defeat by Hubert Hurkacz at Wimbledon last year ended his dream of a record-extending ninth title on Centre Court.
During changeovers video screens showed iconic moments of Federer's career with tributes from Nadal and his mother.
But this was no exhibition match.
American duo Sock and Tiafoe, pantomime villains for the night, tested Federer's reactions with some lusty blows aimed at the Swiss maestro.
Federer was equal to pretty much everything, his silky shot-making and nimble footwork on show despite a long time away from the court.
The iconic pair, with a combined age of 77 and 42 Grand Slam titles between them, edged the opening set by breaking Tiafoe's serve. Butthe Americans levelled as Federer and Nadal began to fade.
Chants of "Let's go, Roger, let's go" resounded around the packed stands in the championship tiebreak as Federer and Nadal clawed their way towards a victory the occasion demanded.
Even the tennis gods could not intervene to allow Federer one last victory, but nothing could take the gloss off a night to celebrate a player who led tennis into a golden era.
"It still feels like a celebration for me and that's exactly what I hoped for," said Federer, who scaled unprecedented heights and rewrote the record books.
"It's been a perfect journey and I would do it all over again." (NAN)
NFF Elections: PFAN Task Force warns against Defying Court Order
The Professional Footballers Association of Nigeria (PFAN) Task Force says the Nigeria Football Federation (NFF) should not engage in the act of defying a court order regarding its upcoming elections.
Harrison Jalla, Chairman of PFAN Taskforce, told newsmen on Friday in Abuja that all those in the NFF defying court orders would face the consequences of their actions.

Newsmen report that the NFF Electoral Committee had fixed Sept. 30 for the Federation's elective congress in Benin and proceeded to release a schedule of events.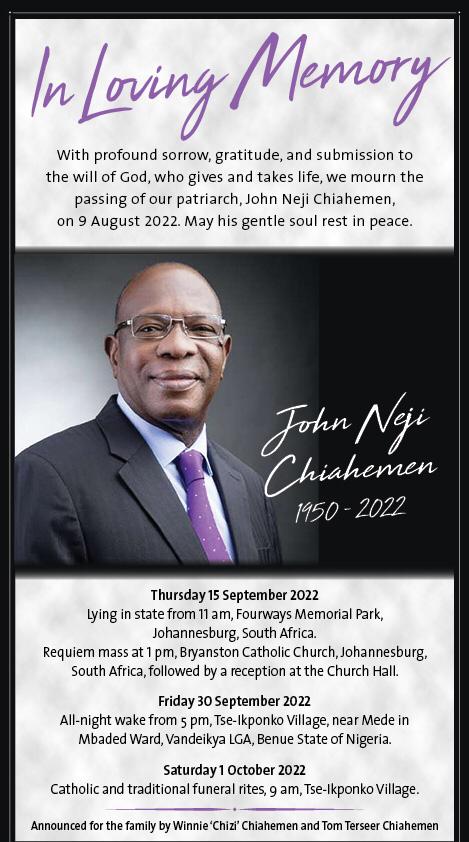 But an order of a Federal High Court Abuja order on Sept. 15 has since put the NFF Elections on hold.
Justice Inyang Ekwo, ruling on an ex-parte motion, ordered the Youth and Sports Development Minister and the NFF President, or any person acting on their instruction, to maintain the status quo.
This he said would be pending the hearing and determination of the motion on notice for interlocutory injunction.
"The attention of PFAN Task Force has been drawn to publications in the media space on the threat by the NFF and its Electoral Committee to defy the Sept. 15 court order.
"In the light of this, the PFAN Task Force has taken appropriate steps and has duly informed all relevant agencies of government that there is a threat to cause a breach of the peace by defying the court order," Jalla said.
He disclosed that PFAN Task Force was exploring all possibilities within the ambit of the law to ensure those already defying the court order would face the consequences of their actions.
Jalla said it was worrisome that NFF has continued to violate and breach court orders.
"This is in spite of President Muhammadu Buhari's advice that they (NFF) go back as a body to amend the statutes, expand it and accommodate those who have been disenfranchised.
"As we speak, they are already breaching the orders of court because we see correspondences after the court order, and campaigns for elections are still going on.
"So, we are taking the appropriate steps to ensure that those who do this don't go scot-free."
He said PFAN Task Force did not need government to do the job of ensuring a stop is put to the act of defying court orders.
"We have all it takes within the ambit of the law to ensure that the election does not hold," Jalla stated.
He noted that the court order to halt the elections was a result of a consistent and deliberate acts of breaching court orders by the NFF since 2021.
"Every Nigerian is a citizen of the country, and the threat by NFF to defy the court order is unacceptable as nobody is above the law.
"The NFF has no immunity from the laws of the land, even as FIFA itself has no immunity from the laws of Switzerland.
"The order we got from court didn't just start today. We've been in court four times, and the two parties have been in court since 2021.
"At the last hearing date in June, the court gave us Oct. 31 to come back.
"We asked for an interlocutory order because we anticipated that an election would hold.
"They (NFF) said they are not going to do any election because there was no cause for that action and the court agreed with them as there was no electoral committee in place at the time."
The PFAN Task Force Chairman added that the judge thereafter stood down the order and gave all involved parties an Oct. 31 date to return to court.
"In between that period, they set up an electoral committee and started selling nomination forms. There is no court that will accept that anywhere in the world and that was how this fresh order came about.
"So, when the court order was issued, it was because they were already violating the process in court. This has really nothing to do with stopping the election.
"If any other group is now telling us that they are not bound by that order of court, then we will take it from there," he said.
Also, Victor Baribote, the PFAN spokesman, said it was very clear the Nigeria football governing body was not in order.
"In the last eight years, there has been nothing to show for all what the Federal Government did in terms of supporting the NFF with massive funding.
"Also, all the funds FIFA brought in and all the funds that were realised from the private sector cannot be seen in what is on ground.
"We are all aware of the activities which have been going on within the football circle of late.
"This is why on June 26 in 2021 PFAN set up a task force in its wisdom, to look at issues on how we can advance our football.
"We are all aware and are witnesses to the fact we have been recycling old hands in the NFF.
"On the strength of that, the task force wrote a letter to the NFF last year in line with Article 29, requesting for an ammendment of the Statutes to include every stakeholder.
"But to cut the long story short, the NFF has blantantly refused to do anything about it," he claimed.
The former Nigeria Premier League (NPL) Chairman said the position of PFAN was that election was not important at the moment, and that "fixing" the nation's football was the top priority.
He noted that Nigeria had all it takes for its football to become the biggest employer of labour in the country, if the right things were done.
"It is not about election because the election we are talking about is the same one that will reproduce the same people who brought us to where we are today, and that is unacceptable.
"So, we are ready to answer any name to make football work again in this country. We are not going to let it go. The President (Muhammadu Buhari) himself has said it is a national asset that should be guarded jealously.
"So, our position is that we have to sit down as a group, fix the game, include those who are supposed to be part of it and we take it from there.
"If that is not done, then if it is FIFA or the Federal Government that wants to intervene in this process, it is left for them to come and do what is necessary," Baribote said.(NAN)