Atiku Promises to Address Insecurity, Others Challenges From Day One, if Elected
Johnson Eyiangho, Abuja
Presidential Candidate of the Peoples Democratic Party (PDP), Atiku Abubakar, has promised to address the numerous challenges in the country including insecurity, disunity and economic deprivation from day one, if elected President in 2023.
Atiku urged the huge crowd at the PDP campaign rally in Osun State on Wednesday, to vote the party in the next year general elections, saying that doing so would empower th state with more resources and authority to provide the infrastructure needed for development and industrialisation for the economic benefit of the people.

"I believe by returning PDP to power you will strengthen this authority by voting PDP in the next general elections because a Federal Government controlled by PDP and a state government controlled by PDP in Osun State is to the greater good of Osun people.
"Our only objective is to make sure that the current challenges of insecurity, disunity, economic deprivation, lack of jobs for our young men and women and the future of this country through restructuring can be achieved and this I promise you I am going to start doing them from day one," he said.
Atiku thanked the people of the state for voting for the candidate of PDP, Ademola Adeleke, in the last governorship election in the state.
"My brothers and sisters of Osun State I have came to thank you and I appeal to you to come out in greater numbers than you did in the last state election and vote for the PDP in the next general election.
''This is the only way that you can secure your future and the future of your children. We promise you we will not fail you; we are not like APC because we have done it before. We have got the experience, we have got the people who have the capacity to bring about changes," Atiku said.
His wife, Titi, who hails from the state, appealed to the people, especially the youths not to sell their vote.
"I know there is hunger in the land and it is APC that brought all these predicaments to us but if Atiku is voted, he is going to change the state of this country not just Osun alone.
"The youths are the most unemployed in Nigeria, Atiku has promised women and youths 60 per cent in his cabinet and he is going to fulfill it. Atiku is a man of his words, he matches his words with action," she said.
Titi added, "Nigeriand we are more divided than we were before. Atiku wants to bring unity, to bring this country together. Atiku is going to bring back that lost glory.
"Atiku is going to unify us, he is a unifier. Atiku has come to rescue Nigeria. Atiku has come to restructure Nigeria. Atiku has come to give our children good education.
"There will be no Boko Haram, there will be no kidnapping, there will be no abduction.
"All of these are going to stop but it has to start with you people. If you give Atiku your votes come February 25, that is when it will be possible for Atiku to make you great."
Men Can Also Suffer Breast Cancer – BRECAN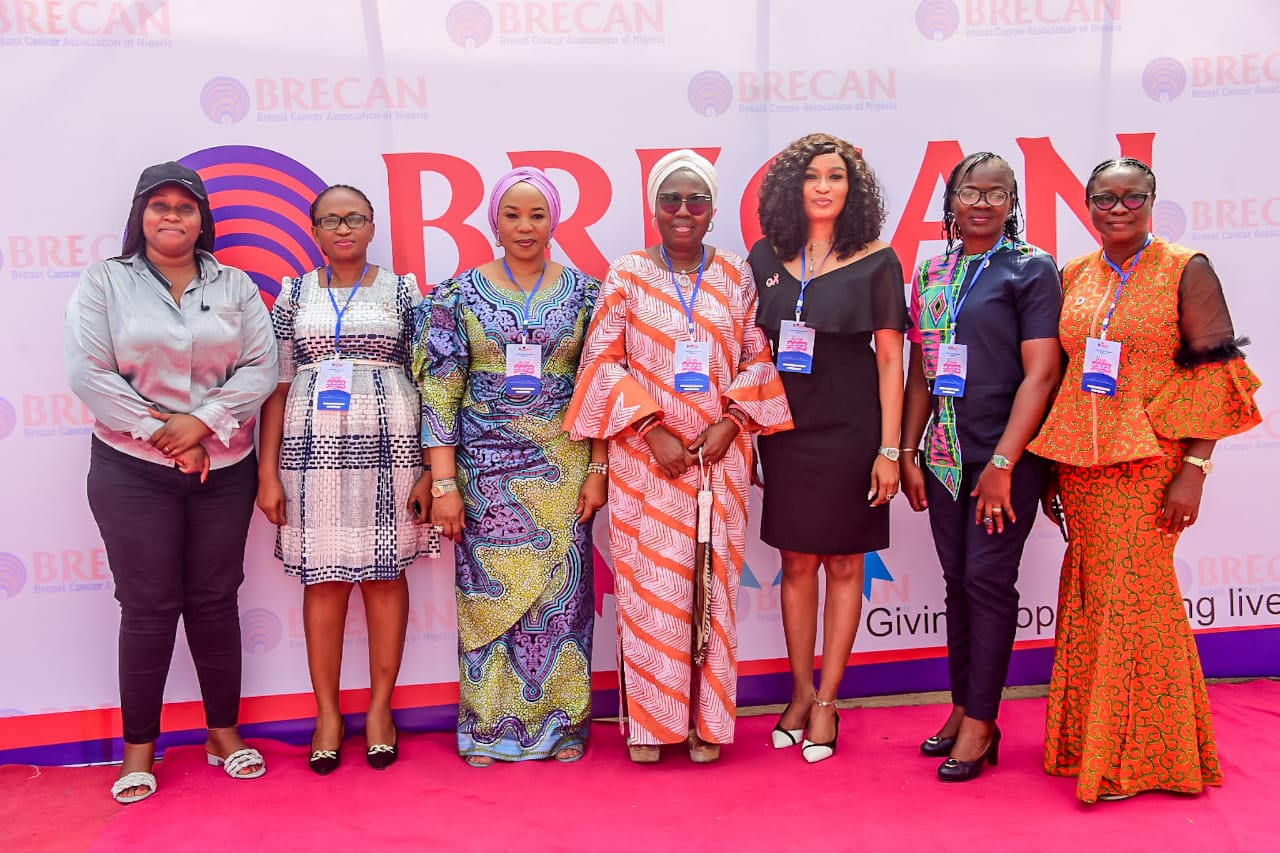 By Prosper Okoye, Abuja
The Founder of the Breast Cancer Association of Nigeria (BRECAN), Chief Betty Akeredolu, has called on all Nigerians irrespective of their gender to subject themselves to regular cancer checkups and noted that the disease could better be treated when detected early enough.
"Cancer progresses with time, you may ignore that lump because it is painless, but you might just be sitting on a time bomb.

" Chief Betty, who is also the First Lady of Ondo State said while speaking at the BRECAN's third Annual General Meeting held on Friday, in Abuja.
 "I was diagnosed with breast cancer in 1997," she recounted her ordeal. "Because I had the knowledge about early detection, when I noticed something abnormal I went to the doctor, and after the entire test it was confirmed that I had breast cancer," she said.
Mrs. Akeredolu further narrated that while she was set to undertake surgery at the University College Hospital, she met so many other women who had breast cancer but at various degrees of affliction.
"There were various degrees of affliction in the sense that some women's cases had gone out of hand; you'd see soreness in some women's breasts and maggots swimming inside. In some cases, the breast gets so swollen that it bursts." She explained that such cancer escalations were caused by ignorance.
"These fake pastors will tell them that an enemy has put something in their breast; and many will believe them because but they don't know that if one has an open wound, it will attract flies, and when a fly perches on it, it will lay eggs on it and cause the wound to deepen and produce maggots," she said; adding that BRECAN was created after her successful surgery to combat such ignorance.
BRECAN's National President, Amb. Tolu Taiwo said the organization has grown geographically in Nigeria, and in its intervention scope; and was further exploring health interventions that would be beneficial to the male folks for gender equality's sake.
"The re-launching of Abuja's chapter is BRECAN's move to provide an avenue for professional assistance; to tell people that they can't die of breast cancer, cervical cancer, or prostate cancer if detected and treated earlier. We have been doing this for the past 25 years. We have been living up to our slogan: 'giving hope, and saving lives,'" she said.
While delivering her welcome address, BRECAN Abuja Chapter Chairperson, Mrs. Nkem Olusola-oke, said the addition of cervical and prostate cancer to BRECAN intervention areas would reposition the organization to better fight cancer in Nigeria. "In 2001 BRECAN received an award as the best cancer non-governmental organization; today, we are more than ever determined to lift the organization to greater heights," she added.
In a virtual lecture titled: 'Volunteering,' Dr. Johnson Olaniyi, talked about the need for Nigerians to give their time to social courses that would promote the general welfare of Nigerian society. He said such volunteer acts could bring social, emotional, physical, and professional benefits to the one who volunteers.
Promise Ihezie also facilitated a robust session on the theme of Advocacy and Partnership. He taught that the theme was essential to achieving programme goals.
Both sessions followed interactions and questions by the participants who were present and those who participated virtually.
Other highlights of the event were the dance, drama, speech presentation, and music renditions by the students of British Nigeria School, Abuja.
UN Deputy Chief, Amina Mohammed Concludes 3-day Trip to Rome
UN Deputy Secretary-General, Ms Amina Mohammed, on Friday concluded her 3-day trip to Rome where she met with the Italian Minister of Foreign Affairs Antonio Tajani.
UN Spokesman, Mr Stéphane Dujarric, told newsmen at the UN headquarters in New York that it was at the meeting with Tajani that she informed him about the Food Summit.
"In the meeting, it was announced that Italy would host the UN Food Systems Stocktaking Moment, which will take place in Rome from July 24 to 26.

"The aim of the high-level meeting is to provide opportunities for countries to report on progress made at the national level since the UN Food Systems Summit in 2021, as well as their contributions to the achievement of the 2030 Agenda,'' he said.
Dujarric said countries would review progress towards transforming food systems worldwide at a three-day meeting in Rome.
The so-called UN Food Systems Stocktaking Moment is the first global follow-up to a 2021 summit convened to change how the world produces, consumes and thinks about food.
The high-level event falls at the halfway point for achieving the 2030 Agenda for Sustainable Development and the 17 Sustainable Development (SDGs), which provide a blueprint for a more fair, equitable and "green" world.
"I am looking forward to Italy's leadership in bringing together stakeholders to create the evidence that food systems transformation is a critical SDGs accelerator,'' Mohammed quoted as saying.
Mohammed further stressing that "more sustainable, equitable, healthy and resilient food systems directly impact people's lives and livelihoods as we strive for a better future for people and for the planet."
During the Stocktaking Moment, countries will share stories of success and early signs of transformation, while maintaining the momentum needed to ensure resilient food systems.
It will take place from July 24 to July 26 at the headquarter of the UN Food and Agriculture Organisation (FAO) in the Italian capital.
Italy will host, in collaboration with FAO and two other UN agencies – the international Fund for Agricultural Development (IFAD) and the World Food Programme (WFP) – which are also based in Rome.
The UN Food Systems Coordination Hub, which supports governments in developing and implementing agrifood system transformation, and the wider UN system, are also organisers.
The three-day meeting will provide an opportunity for countries to report on progress made since the UN Food Systems Summit in September 2021, held online, where more than 50,000 people, including 77 world leaders, committed to accelerate action on transformation.
At the Stocktaking Moment, governments will also assess their contributions to achieving sustainable development despite a current global context that has substantially changed.
The UN reports that the number of people worldwide who cannot afford a healthy diet rose by an additional 112 million between 2019 to 2020, to almost 3.1 billion, reflecting the impacts of rising food prices during the COVID-19 pandemic.
Italy has welcomed its role as host and co-organiser, said Deputy Prime Minister Antonio Tajani, who is also the Minister of Foreign Affairs and International Cooperation.
"Italy, with the strategic involvement of its strong and innovative agrifood sector, is committed to play an increasingly active role in supporting the efforts of the international community to promote food security and transformative and innovative solutions for sustainable and efficient food systems throughout the world," he said.
"As one of the oldest and most influential food cultures of the world, we intend to play our part in addressing one of the key challenges for the achievement of the 2030 Agenda."
The Stocktaking Moment will further highlight the central role of food systems transformations in overall SDG advancement ahead of the Sustainable Development Goals Summit in September.
The UN and Italy urged countries and stakeholders to "prepare and seize the opportunity" to reaffirm global commitment to act with urgency, in line with the promise of the SDGs. (NAN)
Progressives Govs Meet Buhari Seek Another Extension for Naira Swap
By Mathew Dadiya, Abuja
President Muhammadu Buhari has met with the Progressives Governors Forum of the All Progressives Congress (APC) as they pleaded for the review of the redesigned currency notes to run concurrently with the old notes and gradually phased out due to the scarcity of cash in the country.
The President also urged citizens to give him seven days to resolve the cash crunch that has become a problem across the country from the policy of the Central Bank of Nigeria to change high value Naira notes with new ones.

Buhari in a statement by his Senior Special Assistant on Media and Publicity, Mallam Garba Shehu said the currency re-design will give a boost to the economy and provide long-term benefits while expressing doubts about the commitment of banks in particular to the success of the policy.
According to the Progressive Governors, the cash crunch was threatening the good records of the administration in transforming the economy.
The President also indicted some bank Chief Executive Officers (CEOs) on the scarcity of the naira notes in circulation, accusing them of selfishness and inefficiency.
"Some banks are inefficient and only concerned about themselves. Even if a year is added, problems associated with selfishness and greed won't go away," the President said.
He said he had seen television reports about cash shortages and hardship to local businesses and ordinary people and gave assurances that the balance of seven of the 10-day extension will be used to crackdown on whatever stood in the way of successful implementation.
"I will revert to the CBN and the Minting Company. There will be a decision one way or the other in the remaining seven days of the 10-day extension," Buhari assured.
The Governors told the President that, while they agreed that his decision on the renewal of currency was good and they are fully in support, its execution had been botched and their constituents were becoming increasingly upset.
They told the President that, as leaders of the government and party in their different states, they were becoming anxious about a slump in the economy and the series of elections that are coming. They requested the President to use his powers to direct the concurrent flourish of the new and old notes till the end of the year.
The President said when he considered giving the approval to the policy, he demanded an undertaking from the CBN that no new notes will be printed in a foreign country and they in turn gave him assurances that there was enough capacity, manpower, and equipment to print the currency for local needs. He said he needed to go back to find out what was happening.
President Buhari told the Governors that, being closer to the people, he had heard their cries and will act in a way that there will be a solution.
An unconfirmed report has it that some bank CEOs had taken a huge chunk of the new naira notes to the house of some politicians.
It was gathered that the APC Governors had expected to get a direct response from the President to allow both the old and new naira notes to circulate concurrently to ease the suffering of Nigerians.
The Governors met with President Buhari over the hardship Nigerians are facing as a result of the naira swap introduced by the CBN.
Briefing some journalists in the Hausa language, Governor Nasir el-Rufai, of Kaduna State, alleged that the Central Bank of Nigeria, CBN, mopped up over N2 trillion of the old note but printed only N300 billion, which he said was not enough and has contributed to the hardship the masses are facing.
el-Rufai, flanked by his Kano State counterpart, Abdullahi Ganduje, said even if the CBN had wanted to implement the cashless policy, they should have printed at least half of what they mopped up, which is N1 trillion.
The governor said the Progressive governors had informed President Buhari that the masses are suffering and traders are losing their goods due to lack of patronage.
He gave the example of a tomato seller that travelled to Lagos with their goods but all got wasted because people have no money to buy, so they appealed to the president to reconsider his stance.
He said, "We the governors of the All Progressives Congress under the aegis of Progressive Governors Forum have met with the President and informed him about the issue that is bothering us and the problems the people are going through because of the currency redesign policy.
"The President explained to us what they have told him and we have seen that the Central Bank Governor (CBN) and the Minting and Printing did not tell Mr. President the truth about the things that are happening in the country.
"What's the truth? Firstly, we are told that they have mopped up over N2 trillion of the old notes and printed only N300 billion of the new notes. Why will you retrieve such an amount of money and then print only N300 billion? That is why there are problems, the money is not enough.
"If you also look at some state and local governments that don't have banks and the problems they are facing from POS. People don't have money to buy things in the market, but they can't go shopping, tomatoes sellers took their products to Lagos and could not sale till they spoiled.
"We have narrated all these issues to Mr. President and he said he will meet with CBN, other stakeholders, and even the deposit money banks. He will see what they will tell him before he takes a decision. But he didn't indicate to us that this issue has ended, there will be no extension and he did not tell us that he will extend it.
"He only told us that until he gets certain about what is going on. We have told him about things that are happening in our states and the trouble people are encountering.
"Our fear is that, if there is no solution to this, it may cause a crisis and affect the general elections and the election may not even hold completely. The President said he will look into it."
Asked what precisely the APC governors want the president to do, he said, "What we the governors want is to give an extension on this policy so that everyone can exchange his money. Because of N300 billion, there is no how it will be equal to N2 trillion. N1 trillion should be printed not N300 billion. The money is not enough that is the problem.
"Our advice is that both the old and new notes should be used until the old notes are gradually faced out. They should print new notes that will be enough, for now, they are not enough for circulation. Those who say the printed new notes are enough are telling lies to the President."
Further asked on what he will tell those accusing him of looking for a godfather that is why he is criticizing the President, he said, "I don't criticize President Buhari. I have never criticized President Buhari, it's only those working with him who are telling him lies, they don't tell him the truth, and they don't tell him what the people are going through on these policies or decisions that are taken.
"What President Buhari brought, we support it. We know the reason he wants to do something but this thing they are not doing it right and they don't tell him the right thing. We the true followers of Buhari are not using him to get money for shopping, we are mandated to tell him the truth, and that's what we've done.
"President Buhari himself knows me, he knows how we have been together. All these allegations I'm used to hearing them. Which godfather am I looking for?
"Asiwaju Bola Ahmed Tinubu is our Presidential Candidate we want him to win the election. I have told Asiwaju Bola Ahmed Tinubu ten times I don't want government work, I don't want to work with him. He is the one saying he wants to work with them at all costs. I swear, I'm bigger than saying he is my godfather, I'm not seeking work, I'm not seeking shopping money, what I am seeking is from God and not man."
el-Rufai said the president did not tell them yes or no, adding that the chairman of Progressive Governors Forum, and governor of Kebbi state, Atiku Bagudu, had gone back to meet the President privately with the hope to convince him.
However, the Kebbi state governor did not brief members of the State House Press Corps that had waited for him on the outcome of his meeting with the President.