DAILY ASSET Rebrands, Enhances Masthead, Appoints New GM, Other Senior Staff

By Orkula Shaagee, Abuja
As part of activities marking the Fifth Anniversary of DAILY ASSET Newspaper, the Management of the Abuja-based daily has introduced a new Masthead to enhance the paper's aesthetics towards further market penetration.
DAILY ASSET hit the newsstands on June 12, 2017 and celebrated its Fifth Anniversary on June 23 with a Roundtable on "The Media, National Economy Politics and 2023 Elections,"  a colourful ceremony that drew out  professionals and decision-makers in the nation's private and public sectors.

Its Publisher and Editor-in-Chief, Dr Cletus Akwaya explained in a statement in Abuja at the weekened that the new Masthead reflected the clarity, courage and tenacity with which the Newspaper will proceed in the next phase of its journey in the treatment of news and every other editorial materials.
"DAILY ASSET is gradually carving a niche for itself and hopes to maintain its distinct personality in the crowded media space hence the new Masthead.
"We hope to make the Newspaper unmistakable in both physical appearance and editorial content. We shall do this by producing everyday, a beautiful copy with content, based on facts and in constant defence of the treasured truth in line with our Motto " Truth is Treasure," the statement said.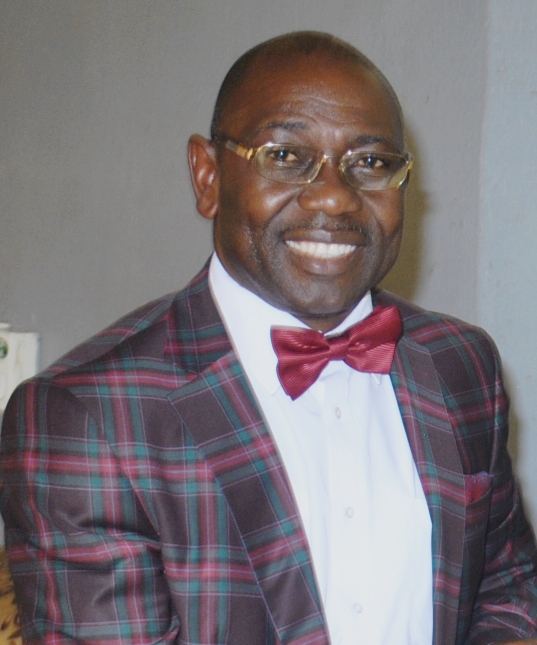 The Publisher also stated that henceforth, the company's branded items, will bear the new logo as a symbol of identity, pride and encouragement to the staff.
"It shows growth, progress and gives the stakeholders a sense of accomplishment in the journey we have embarked upon," Akwaya, a former Commissioner of Information in Benue State and former, Group Managing Director of Leadership Newspapers Group explained in the statement.
Meanwhile, the Newspaper company has announced the appointment of three new senior personnel as part of strategies to reposition the Newspaper in the pursuit of its new corporate goals.
The new appointees include David Shodeinde, General Manager Marketing; Josephine Iorzua Assistant Manager, Advert and Eze, Special Coverage Editor
David Shodeinde-General Manager Marketing:
David Shodeinde is a prolific advertising practitioner and marketer. He holds a BSc and MBA from the Ahmadu Bello University, Zaria and currently studying for an MSc, Business Administration at Bingham University, Karu, Abuja. He is a goal-getter, target-driven and excellent service delivery manager. A strong negotiator and client/management relationship builder.
He horned his advertising skill in Daily Trust Newspaper, where he rose to the position of Head of Advert, creating advertising solutions to diverse clients.
He also had a stint with Daily Times and some multimedia organization in Lagos.
Shodeinde is innovative and entrepreneurial biased and has proven capacity to work with little or no supervision to accomplish difficult schedules.
While at Daily Trust, Shodeinde was responsible for creating new businesses and a need – solving advertorial for clients(value adding services). He is a multi-talented team player and leader with competencies in analysis of competitive environments as basis for technical inputs and guidance for the company review of how to react to competitive price adjustment and other variables. He also has deep understanding of developing knowledge pieces, indicators and market statistics for corporate decision making.
He is happily married with four children.
Josephine Iorzua, Assistant Advert Manager
Josephine Iorzua graduated in Banking and Finance from the Kano State Polytechnic. A vibrant, energetic, enthusiastic professional, she has demonstrable ability to work in a competitive environment with little or no supervision. She had career spanning over eight years across operational banking, marketing (sales) and NGO. She also worked as Advert Executive with Businessday Newspaper. She joined DAILY ASSET to fulfil part of dream of working to create wealth and empowering people.
Eze  Okechukwu Godson, Sports Editor
Godson Eze is a 1997 Mass Communication graduate of the Institute of Management and Technology (IMT), Enugu. Born on March 10,1975, he hails from Alor Agu, Igbo Eze South Local Government Area of Enugu State.
Eze served as National Youth Service Corps(NYSC) Member at Federal Government Girls College, Monguno,Borno State in 1998 and had worked with Daily Trust Newspaper, Abuja, Daily Star Newspaper, Enugu and Sports Souvenir, Lagos as well as a brief stint as a Research Assistant at the University of Barcelona, Spain.
His Sports Journalism career took him to many international sporting events including the Olympic Games in Athens, Greece, FIFA Gala Award at the Zurich Kongress Haus, Zurich, Switzerland, All Africa Games in Abuja among others. He has had special appearances at both Galaxy Television, Ikeja & LTV 8,Ikeja Lagos as a Sports Analyst.
He joins DAILY ASSET with eyes on a career turn around to venture into other aspects of Journalism other than sports.
Again, Wike, Obi Meet Behind Closed-Doors in Port Harcourt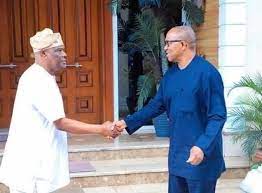 The aggrieved governor of Rivers State, Nyesom Wike has for the second time in few weeks met behind closed doors with the presidential candidate of the Labour Party, Peter Obi.
The meeting which held in Wike's residence had in attendance the former governor of Ondo State, Olusegun Mimiko.
This is not the first time Wike will be meeting politicians of rival political parties in his residence after losing the People's Democratic Party, (PDP), presidential and vice president tickets to Atiku and Governor Ifeanyi Okowa of Delta State.

It was gathered that the meeting was to woo Wike to Labour Party, ahead of the 2023 general election.
Celebrating the meeting on his Twitter handle on Monday, Mimiko shared a photo with the politicians, saying that it was nice to spend some time with them.
Terrorism: NSCDC Declares Emergency Security Measures in Schools Nationwide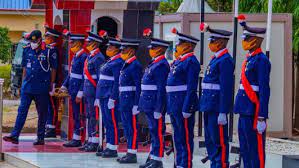 The Nigeria Security and Civil Defence Corps (NSCDC), has declared a state of emergency in schools nationwide.
The Commandant General, Ahmed Abubakar Audi, represented by Deputy Commandant General ( DCG ), in charge of Crisis and Disaster Management, DCG Nnamdi Nwinyi, disclosed this in a two-day Train-the-Trainer Capacity Building Workshop at the Corps National Headquarters, Sauka, Abuja.

He said the state of emergency declared on schools nationwide was a proactive step in protecting Nigeria's educational institutions.
According to him, the NSCDC has trained its Specialised Female Squad Unit on sustainable measures and strategies, to be used in protecting schools nationwide, thereby curtailing security threats.
The Commandant General observed that the workshop was "apt, timely and germaine to the implementation of the Safe School Initiative of the Federal Government.
"
He stated that the workshop was coming at a time when the nation is contending with security challenges, which he said necessitated the need for more pragmatic actions to whittle down the menace of insecurity in the country.
According to him, the Specialised Female Squad, since its formation has gained significant mileage against the ugly trend of the kidnapping of school children for a run.
He commended the Squad for their deliberate efforts in repelling numerous kidnapping attempts on students and more importantly, for keeping schools safe at all times.
The CG charged the Unit to remain focused, resilient, and committed to the security of schools and the protection of students, teachers, and other workers.
"The learning environment should be devoid of violence and crimes to attain educational excellence, which is key to the growth and development of the nation.
"Nothing in the world could be so precious as our children, which is why we have declared an emergency in this sector to mitigate the multi-faceted threats challenging the nation's security architecture, especially attacks on institutions of learning by hoodlums, kidnappers, and bandits.
"We have developed strategic plans and a robust template that will crystalize into more precise action to prevail over these hostilities and achieve sustainable safe schools in Nigeria.
"Note that the workshop is structured to expand your capacity as members of the Female Squad unit, you are therefore to compare notes, engage in critical thinking and come up with more robust templates to achieve sustainable safe schools in Nigeria." He said.
Dr. Audi assured that schools would remain safe and conducive for Nigerian children as the Corps is intensively l, collaborating and cooperating with other security operatives in combating all forms of criminalities across the country.
He charged participants at the workshop to take the lessons, skills, and knowledge acquired during the training down to their colleagues and subordinates for effective discharge of duties.
Chief Executive Officer, Supersonic Limited, Frank Ohwofa, in his remarks, thanked the Commandant-General, for granting their company the opportunity, to facilitate the training and praised his foresight, in creating the Specialised Female Squad.
He stated that the workshop is conceived to train the Female Squad Unit on new security trends and patterns employed by bandits and kidnappers for ransom.
"The workshop will interrogate in-depth public emergency security systems that can be deployed, by the Corps in collaboration with other stakeholders to effectively harness the kinetic assets of the Corps for maximum performance, thereby enhancing response time to violent incidents in places of learning." He stated.
He stated that the workshop is consistent with the imperative to provide robust interventionist and proactive measures, to mitigate the multi-faceted threats confronting the nation.
He described those chosen to lead in the fight against kidnapping and other forms of insecurity threatening safe learning environment in this trying moment in our nation's history as patriots.
He also challenged the participants to take advantage of the training, to build on the training already acquired, before now to fill necessary gaps.
He advised them to domesticate the knowledge and skills acquired in the strategic Train-The-Trainer Capacity Building Workshop, in their various State Command Headquarters.
A statement by the Director, Public Relations, DCC. Olusola Odumosu, NSCDC, National Headquarters Abuja, on Tuesday, said the CEO of Supersonic Limited, Frank Ohwofa, assured that with the cream of experts available at the workshop, the participants would leave the programme sharpened, and re-invigorated.
He added that the participants would go home better informed about new strategic planning tactics and execution of security protocols in schools.
"He called on the Federal Government, State Governments, proprietors of private school owners, and all stakeholders in the education sector, to give maximum support to the efforts of the Nigeria Security and Civil Defence Corps, under the able leadership of the current Commandant – General, for better security and protection of schools, students, teachers, and workers nationwide." The statement added.
Odinga Rejects Kenya Election Results
Raila Odinga has rejected the results of Kenya's presidential election saying that the figures announced on Monday were "null and void".
According to the results, Mr Odinga narrowly lost to Deputy President William Ruto.
Mr Odinga accused the head of the electoral body of a "blatant disregard of the constitution".

"We totally without reservation reject the presidential election results," he said.
Making his remarks in front of supporters in the capital, Nairobi, he said that there was "neither a legally elected winner nor a president-elect".
The 77-year-old long-time opposition leader was running for president for the fifth time. He has challenged the results in the previous two elections, including successfully in 2017.
Mr Odinga accused the chairman of the electoral body Wafula Chebukati of "gross impunity" saying his team will pursue all legal options.
Minutes before Mr Odinga spoke, four of seven electoral commissioners who refused to approve Monday's results held a press conference to give their reasons.
They accused Mr Chebukati of side-lining them and of announcing results that were full of "mathematical absurdity and defied logic".
Juliana Cherera, the vice-chairperson of the commission, said that if you added the percentages as announced by the chairperson of the commission the sum came to 100.01%.
But some commentators have said that this is down to a simple rounding error.