Dickson Charges New LG Chairmen on Transparency, Accountability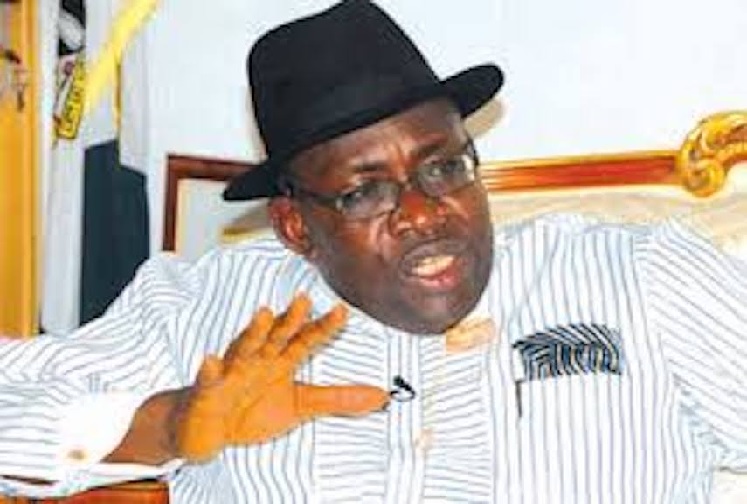 From Mike Tayese, Yenagoa

Bayelsa State Governor, Honourable Seriake Dickson, has challenged the eight newly elected local government chairmen to promote transparency and accountability in the administration of their councils' resources.
Governor Dickson gave the charge on Wednesday, at the swearing-in ceremony of the council chairmen and their deputies in Government House, Yenagoa.

Dickson was quoted by his Special Adviser on Public Affairs, Mr. Daniel Alabrah, as calling on the chairmen to ensure strict compliance with the Transparency and Accountability Law of the state.
He stressed that legislative sanctions would be imposed on any chairman for misuse of council funds.
According to the governor,  council chairmen were expected to carry out their statutory obligation of prompt payment of workers' salaries and embark on projects to impact positively on the lives of the people.
" To whom much is given, much is also expected. While we allow you to maintain your funds, utilise them in the interest and development of our rural communities. 
"We urge you all to show prudence and respect for public funds. We must use our scarce resources to address our multifarious problems as a state. That is what my administration has been doing in the last seven years going to eight years now.
"Last month, no office in this state including mine got overhead. But we are still funding the Ekeremor Road, Yenagoa-Oporoma Road and also funding the nine-kilometer fencing of the airport.
"This is as a result of the discipline and prudence we have been showing. Let me put you on notice that my team will be monitoring your activities.
"Let me also remind you that the House of Assembly has supervisory authority over you. And I will not hesitate to work with the House to exercise legislative sanctions on any of you where it becomes necessary."
On security, Governor Dickson urged the new administrators of the third tier of government to collaborate with security agents in checking sea piracy, pipeline vandalism, kidnapping and other unwholesome practices in the state.
The governor, who described the council chairmen as field commanders of the Restoration Administration, charged them to lead the party effectively at the local government level.
He enjoined them to work closely with party and community leaders in mobilizing support for the right causes that would foster peace, stability and progress.
The chairmen of the eight councils are Victor Isaiah (Brass), Alalibo West (Nembe), Dengiye Ubarugu (Kolokuma/Opokuma) and Embeleakpo Alale (Sagbama).
Others are Uroupaye Nimizuoa (Yenagoa), Dr. Perekeme Bertola (Ekeremor), Chief Kia Ebidoughabofa-Nigeria (Southern Ijaw) and Ebinyo Turner (Ogbia).



---
2023: Group Warns APC, Tinubu Against Muslim-Muslim Presidential Ticket
Ahead of the 2023 presidential election, a group under the aegis of Defence Watch has cautioned the ruling All Progressives Congress (APC) and its presidential candidate, Asiwaju Bola Tunibu against presenting a Muslim/Muslim ticket in the election.
The group made the appeal in a letter to President Muhammadu Buhari titled: "APC's Muslim/Muslim Ticket in Nigeria's 2023 Elections: A Threat to National Stability, Regional Peace and Security'".

The letter which was jointly signed by Alhaji Ahmed Adamu and Otunba Adeniji Adegoke, the group's National Coordinator and National Secretary respectively, was made available to newsmen on Monday in Abuja.
According to the group, the letter, was copied to all heads of democratic and security institutions as well as other international concerns in the country.
It said a Muslim-Muslim ticket would not only be a threat to national stability, but could also retard the country's peace and security.
The group said presenting such a ticket as being proposed by the APC, would portray Nigeria as an Islamic and a sectarian nation.
It said, the pairing of two Muslims would be ultimately resisted by the country's millions of practicing Christians, moderate as well as progressive Muslims and civic groups.
It added that ethno-cultural associations and enlightened members of the international communities could also protest such a pairing.
"We are therefore calling on President Buhari to direct the security forces to do the needful by advising Sen. Bola Tinubu, APC presidential candidate and the party on the possible threats this action could pose to security in the country.
"It is pertinent to note the serious implications of the action with regards to security, especially when one rightly imagines that Christians will feel threatened with a Muslim/Muslim ticket.
"They may resort to pulpit preaching and mobilization of opinions across the Christendom," the group added.
It further went on to reveal that civil society organizations and students would likely protest if a Muslim- Muslim ticket was eventually introduced into the polity in manners that might constitute security concerns.
The group warned on the danger such political arrangement could cause on the continental security.
It noted that West African Sub-region and African regional peace and security were basically predicated on the presumption of Nigeria's political stability.
"We therefore implore you to use your good offices to weigh in on Tinubu and the APC to thread with caution and refrain from unyielding desire to foist on the nation a Muslim Muslim ticket
Bello Forwards Three Commissionership Nominees  to Kogi Assembly for Confirmation
From Joseph Amedu, Lokoja
Kogi State Governor,  Yahaya Bello has forwarded  names of three Commissionership nominees to  Kogi State House of Assembly for confirmation
The Chief Press Secretary to the Governor, Onogwu Muhammed disclosed this while speaking with journalists in Lokoja on Tuesday.
He said that the nominees  are;  former Commissioner for Information and Communications, Kingsley Fanwo, (Kogi West); Dr.

Zakeri Usman and Engr. Mohammed Abdulmutalab from Dekina and Okene Local Government Areas respectively.
The Information Commissioner, Fanwo had resigned his appointment to contest the Yagba West House of Representatives ticket of the All Progressives Congress but lost.
It was also gathered that Dr. Usman if confirmed by the assembly, will replace the former Commissioner for Health, Dr. Saka Haruna Audu who was sacked by the Governor from office in April 2022, over allegations of misappropriation of funds.
Meanwhile, Abdulmutalab will also replace Engr. Abubakar Ohere who resigned to pursue his senatorial ambition.
Ohere emerged the Senatorial candidate of the APC for Kogi Central Senatorial seat, and would be slugging it out with Barr. Natasha Akpoti Uduaghan, the candidate of the main opposition- Peoples Democratic Party(PDP).
Ex-Senator Alleges N500m Contract Racket in Ebonyi, Petitions EFCC, FIB, DSS
From Godwin, Okeh Abakaliki
A former Senator, who represented Ebonyi Central Senatorial Zone in the National Assembly, Sen. Emmanuel Onwe on Friday invited the Economic and Financial Crimes Commission (EFCC) and the Federal Investigation Bureau (FIB) to urgently investigate alleged contract racket involving a company, Express Concerns International Ltd and one Mr Onny Igbokwe, who parades as whistleblower.

Senator Onwe, who hails from Ikwo LGA and the current APGA senatorial candidate for Ebonyi Central senatorial in the 2023 general election, made this known while speaking with newsmen in Abakaliki, Ebonyi state capital.
Recall that, Igbokwe had in a petition he forwarded to the Presidential Amnesty Programme; the Federal Ministry of Justice; among others, claimed that the Senator and Express Concerns International Ltd were involved in illegal N500 million deal.
Onwe, who is the Director of the Agric Division of Express Concerns International Ltd, insisted that Igbokwe became aggrieved because he scuttled his criminal efforts to steal the 30 per cent mobilisation fund, for a project meant to train Niger Delta youths.
"Igbokwe's intention was to steal the money and proceed to probably poison him to avert traces of the attempted criminal diversion of the fund.
"The information being peddled by Mr Onny Igbokwe is absolutely false. This is nothing but pure criminal blackmail for that matter, arising from the greed of this crook called Igbokwe and his criminal co-travellers.
"An award of contract was made to Express Concerns Intentional Ltd on the 24th of November, 2021 to train 90 Niger Delta youths.
"This so-called petition he (Igbokwe) is peddling arose from the fact that he demanded N84million from me, which of course there was no way I was going to give him N84million from a contract that would not yield a profit of that amount.
"They know me. My integrity is as solid as the rock and nothing they do will affect that. And in the fullness of time, by the time we bring these criminal blackmailers to book, we will be justified. Therefore, I'm inviting EFCC, FIB, DSS and others to come and investigate this matter.
"By the way, this contract is to train young people from the Niger Delta in rice farming, fish farming and poultry," he stated.