Full Text of Buhari's 59th Independence Day Address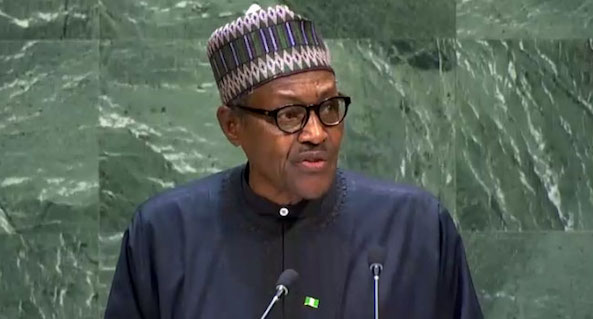 INDEPENDENCE DAY SPEECH
BY
HIS EXCELLENCY
MUHAMMADU BUHARI
PRESIDENT OF THE FEDERAL REPUBLIC OF NIGERIA
ON THE
OCCASION OF THE 59TH INDEPENDENCE ANNIVERSARY
1st OCTOBER, 2019
Dear Compatriots,
1st October each year is an opportunity for us to reflect and thank God for his endless blessings on our country.

2. It is also a time for us, collectively, to:
3. Remember the sacrifices made by our Founders and great leaders past; by soldiers, by distinguished public servants; by traditional leaders, by our workers —- sacrifices on which Nigeria has been built over the 59 years since Independence in 1960; and
4.
Rededicate
ourselves to attaining the goals which we have set for ourselves: a united, prosperous and purposeful nation in the face of 21
st
century opportunities and challenges.
5. In the past four years, the majority of Nigerians have committed to Change for the Better. Indeed, this Administration was re-elected by Nigerians on a mandate to deliver positive and enduring Change – through maintaining our National Security; restoring sustainable and inclusive Economic Growth and Development; and fighting Corruption against all internal and external threats.
6. This Change can only be delivered if we are united in purpose, as individuals and as a nation. We must all remain committed to achieving this positive and enduring Change. As I stated four years ago, "Change does not just happen… We must change our lawless habits, our attitude to public office and public trust… simply put, to bring about change, we must change ourselves by being law-abiding citizens."
SECURITY:
7. Good Governance and Economic Development cannot be sustained without an enabling environment of peace and security. In the last four years, we have combatted the terrorist scourge of Boko Haram. We owe a debt of gratitude to our gallant men and women in arms, through whose efforts we have been able to achieve the present results. We are also grateful to our neighbours and allies – within the region and across the world – who have supported us on this front.
8. The capacity of our armed forces to defend our territorial integrity continues to be enhanced by the acquisition of military hardware as well as continued improvements in the working conditions of our service men and women.
9. The Ministry of Police Affairs has been resuscitated to oversee the development and implementation of strategies to enhance internal security. My recent assent to the Nigerian Police Trust Fund (Establishment) Act has created a legal framework to support our Police with increased fiscal resources to enhance their law enforcement capabilities.
10. These initiatives are being complemented by the ongoing recruitment of 10,000 constables into the Nigeria Police Force. This clearly demonstrates our commitment to arrest the incidence of armed robbery, kidnapping and other violent crimes across our nation.
11. We remain equally resolute in our efforts to combat militant attacks on our oil and gas facilities in the Niger Delta and accelerate the Ogoni Clean-up to address long-standing environmental challenges in that region.
12. The recent redeployment of the Niger Delta Development Commission from the Office of the Secretary to the Government of the Federation, to the Ministry of Niger Delta Affairs underscores our commitment to enhance the living standards of our communities in the Niger Delta, through coordinated and appropriate programmes.
13. Our attention is increasingly being focused on cyber-crimes and the abuse of technology through hate speech and other divisive material being propagated on social media. Whilst we uphold the Constitutional rights of our people to freedom of expression and association, where the purported exercise of these rights infringes on the rights of other citizens or threatens to undermine our National Security, we will take firm and decisive action.
14. In this regard, I reiterate my call for all to exercise restraint, tolerance and mutual respect in airing their grievances and frustrations. Whilst the ongoing national discourse on various political and religious issues is healthy and welcome, we must not forget the lessons of our past – lessons that are most relevant on a day such as this.
15. The path of hatred and distrust only leads to hostility and destruction. I believe that the vast majority of Nigerians would rather tread the path of peace and prosperity, as we continue to uphold and cherish our unity.
ACCELERATING SUSTAINABLE AND INCLUSIVE ECONOMY GROWTH
16. This Administration inherited a skewed economy, where the Oil Sector comprised only 8% of Gross Domestic Product but contributed 70% of government revenue and 90% foreign exchange earnings over the years. Past periods of relatively high economic growth were driven by our reliance on Oil Sector revenues to finance our demand for imported goods and services. Regrettably, previous governments abandoned the residual Investment-driven Non-Oil Sector, which constituted 40% of Gross Domestic Product and comprised agriculture, livestock, agro-processing, arts, entertainment, mining and manufacturing activities that provide millions of jobs for able-bodied Nigerians and utilize locally available raw materials and labour for production.
17. To address this imbalance, our commitment to achieving economic diversification has been at the heart of our economic strategies under the Economic Recovery and Growth Plan, which I launched on the 5th of April, 2017.
18. This medium-term development plan charted the trajectory for our economy to exit from recession and return to the path of sustainable, diversified and inclusive growth for Nigerians. Pursuant to these reforms, the economy has recovered and we have had 9 successive quarters of growth since our exit from recession. The exchange rate in the last 3 years has remained stable, with robust reserves of US$42.5 billion, up from US$23 billion in October 2016.
19. Learning from the mistakes of the past, this Administration is committed to responsibly managing our oil wealth endowments. We will continue to prudently save our oil income and invest more in the non-oil job-creating sectors.
20. In this regard, we are significantly increasing investments in critical infrastructure. Last year, capital releases only commenced with the approval of the Budget in June 2018. However, as at 20th June this year, up to N1.74 trillion had been released for capital projects in the 2018 fiscal year.
21. Implementation of the 2019 Capital Budget, which was only approved in June 2019, will be accelerated to ensure that critical priority projects are completed or substantially addressed. The Ministry of Finance, Budget and National Planning has been directed to release N600 billion for Capital Expenditure in the next 3 months.
22. To maximise impact, we shall continue to increasingly welcome and encourage private capital for infrastructural development through Public Private Partnerships. Through the Road Infrastructure Tax Credit Scheme, which I initiated in January this year, we are giving incentives to private sector inflow of over N205 billion in 19 Nigerian roads and bridges of 794.4km across in 11 States of the Federation.
23. As we push to diversify the economy, we still remain focused on optimizing the revenues generated from the oil and gas sector. We will, working with the Legislature, soon pass the Petroleum Industry Bill and amendments to the Deep Offshore Act and Inland Basin Production Sharing Contracts Act into law, to ensure Government obtains a fair share of oil revenues, whilst encouraging private sector investment.
24. We will also continue our fight against illegal bunkering of crude oil and the smuggling of refined petroleum products across our borders, including the diligent prosecution and conviction of offenders found guilty of these acts. Whilst Nigeria remains committed to free and fair continental and international trade, we will not hesitate to take all necessary steps to tackle illegal smuggling, transshipment and other predatory trade practices that destroy jobs in our country.
25. We are resolute in reforming the power sector. In August this year, we launched the Presidential Power Initiative to modernize the National Grid in 3 phases: starting from 5 Gigawatts to 7 Gigawatts, then to 11 Gigawatts by 2023, and finally 25 Gigawatts afterwards. This programme, in partnership with the German Government and Siemens, will provide end-to-end electrification solutions that will resolve our transmission and distribution challenges.
26. The programme will also look to localize the development and assembly of smart meters as well as the operations and maintenance capabilities of transmission and distribution infrastructure.
27. I am pleased with the improved inter-agency collaboration between the Ministry of Power and the regulators in the banking and power sectors to ensure that electricity sales, billings and collections are automated and become cashless.
28. These initiatives are important to ensure that the technical and collection losses in the sector are substantially reduced. I remain confident that Nigerians will have affordable and uninterrupted electricity supply in the not too distant future.
29. Our efforts to improve the power sector will complement other infrastructure investments projects under the Presidential Infrastructure Development Fund, which is investing in the Mambilla Power Plant project, as well as key economic road infrastructure such as the Lagos-Ibadan Expressway, Second Niger Bridge and Abuja-Kano Expressway. The first set of these projects remain on track to be completed by 2022.
30. Our journey to food security and self-sufficiency is well underway. We have made remarkable progress in almost all segments of the agriculture value chain, from fertilizers to rice, to animal feed production. We shall sustain these policies to ensure additional investments are channeled, thereby creating more jobs in the sector. We must not go back to the days of importing food and thereby exporting jobs.
31. Our commitment to achieving macroeconomic stability and economic diversification, has been underscored by the merger of the Ministry of Finance with the Ministry of Budget and National Planning.
32. This combined Ministry has the important mandate to enhance the management of domestic and global fiscal risks; coordinate policies with the trade and monetary authorities; raise and deploy revenues to fund budgeted expenditure; and integrate annual budgets and medium-term fiscal strategies.
33. With this, our revenue-generating and reporting agencies will come under much greater scrutiny, going forward, as the new performance management framework will reward exceptional revenue performance, while severe consequences will attend failures to achieve agreed revenue targets.
34. I recently constituted an Economic Advisory Council to advise me on inclusive and sustainable macroeconomic, fiscal and monetary policies. This independent body will work with relevant Cabinet members and the heads of key monetary, fiscal and trade agencies to ensure we remain on track as we strive for collective prosperity. However, we are also committed to ensure that the inconvenience associated with any painful policy adjustments, is moderated, such that the poor and the vulnerable, who are most at risk, do not bear the brunt.
35. Our ongoing N500 billion Special Intervention Programme continues to target these vulnerable groups, through the Home-grown School Feeding Programme, Government Economic Empowerment Programme, N-Power Job Creation Programme, loans for traders and artisans, Conditional Cash Transfers to the poorest families and social housing scheme.
36. To institutionalize these impactful programmes, we created the Ministry for Humanitarian Affairs, Disaster Management and Social Development which shall consolidate and build on our achievements to date. To the beneficiaries of these programmes, I want to reassure you that our commitment to social inclusion will only increase.
37. Our population growth rate remains amongst the highest in the world, presenting both challenges as well as opportunities. It is our collective responsibility to ensure that we provide adequate resources to meet the basic needs of our teeming youth.
38. Accordingly, we shall continue to invest in education, health, water and sanitation, as well as food security, to ensure that their basic needs are met, while providing them with every opportunity to live peaceful, prosperous and productive lives.
FIGHTING CORRUPTION AND RESTORING GOOD GOVERNANCE:
39. On fighting corruption, our institutional reforms to enforce the Treasury Single Account policy, introduce the Whistle-blowers' Initiative, expand the coverage of the Integrated Payroll Personnel and Information System as well as the Government Integrated Management Information System have saved billions of Naira over the last four years, and deterred the rampant theft and mismanagement of public funds that have plagued our public service.
40. The Ministry of Justice, the Independent Corrupt Practices Commission, and the Economic and Financial Crimes Commission will continue to address this menace. We are determined to ensure that transparency and good governance are institutionalized in public service.
41. We must commit to installing a culture of Good Governance in all we do. This Administration has fought against corruption, by investigating and prosecuting those accused of embezzlement and the misuse of public resources. We have empowered teams of prosecutors, assembled detailed databases of evidence, traced the proceeds of crimes and accelerated the recovery of stolen funds.
42. Furthermore, we partnered with our friends abroad to combat tax evasion, smuggling, terrorism and illicit financial flows. In June 2018, I assented to the Mutual Assistance in Criminal Matters Act, to provide a domestic legal framework for obtaining international assistance in criminal matters.
43. This measure has already strengthened our law enforcement agencies in obtaining evidence, investigating suspects and facilitating the recovery, forfeiture and confiscation of property implicated as proceeds of crime.
44. An example is the US$300 million recently identified as part of the Abacha money-laundering case, working closely with the Government of the United States of America. The Federal Ministry of Justice is working with the US Department of Justice to conclude a Memorandum of Understanding to expedite the repatriation of these funds.
45. The P & ID Arbitral Award has underscored the manner in which significant economic damage has been caused by the past activities of a few corrupt and unpatriotic Nigerians.
46. The policies that we are putting in place today are to ensure such criminal and unpatriotic acts do not go without consequences. Our renewed partnership with the 9th National Assembly will facilitate the swift passage of enabling laws that will institutionalize these anti-corruption efforts in our criminal justice system.
47. In this connection, I call upon our States to intensify their own efforts to instill greater fiscal transparency and accountability. And to ensure greater fiscal efficiency and optimum use of our very scarce resources.
48. The blight of Corruption is fighting back. Nevertheless, this is a battle that we shall see through and this is a war, which we shall win by the Grace of God.
49. I will also call upon all Nigerians, from every walk of life, to combat Corruption at every turn. By choosing to question and confront corrupt practices, by reporting unethical practices or through whistleblowing. Together, we can overcome corruption and will no longer be a country defined by corruption.
50. Fellow Nigerians, let me reiterate my call for unity across our dear nation.
51. Nigeria will emerge from our present challenges stronger and more resilient than ever – but only if all of us join hands to entrench Good Governance, foster Inclusive Economic Development, and defend and protect our Nation from all those who would wish us ill.
52. I thank you most sincerely and wish you a Happy Independence Anniversary.
53. May God bless you all, and may He continue to bless the Federal Republic of Nigeria.
Tinubu's Blind Ambition Provoking Civil War
By SKC Ogbonnia 
The blind ambition of Bola Ahmed Tinubu to rule Nigeria at all costs is on course to provoke a civil war. But this war will not be fought between the Yoruba and the Igbo, as Tinubu would wish; it is a civil war between the Nigerian masses and the corrupt oligarchy that he represents.
Keenly aware that he is neither physically fit nor morally sound to mount a presidential campaign, let alone govern Nigeria, Mr Tinubu is already attempting to win by hook or crook.

Barely less than one week after grabbing the presidential ticket of the All Progressives Congress (APC), he is already fanning the embers of war. Very glaring is a recent incident in which armed thugs were sent to disrupt the traders of Alaba International Market, Ojo, Lagos State, who went the extra mile to shut their shops in order to obtain their Permanent Voters Cards (PVC). Any serious inquiry into the mayhem would reveal a page from Tinubu's patented plot to control the Lagos State electorate by terror.
A sham selling point in Tinubu's march to the APC nomination is the assumption that he dictates who wins and who loses in the Nigeria's most populous State of Lagos. But, as an APC chieftain and the governor of Kaduna State, Nasir El-Rufai, noted in a recent speech, Tinubu has been able to lord himself over the good people of the State due to low voter turnout. "Here in Lagos, you have over six million registered voters, only about a million voted (in 2019 general elections); five million did not vote."
This low voter turnout is rooted in Tinubu's lack of popularity among the masses. To that end, he has always deployed all manners of terror to suppress the votes of his opponents. Like the attack on the Igbo traders at Alaba International Market, armed thugs were also used to unleash terror on the voters in many parts of Lagos State with heavy Igbo populations during the 2019 elections.
Tinubu's penchant to incite the Yoruba against the Igbo is well chronicled. Recall the murder of Funke Olakunrin, the daughter of Afenifere leader, Reuben Fasoranti, by Fulani Herdsmen. In attempt to appease the Fulani, whom he believes would crown him president, Tinubu quickly exonerated the herdsmen without any iota of evidence. Instead, he stoked the name of Chukwudi Onuamadike, popularly known as Evans, a notorious kidnapper, to suggest that heinous crimes in Nigeria owe their origin to Igboland.
Follow the above with the callous attempt by Remi, the wife of Tinubu, to instigate hatred against the Igbo living in Lagos. In one instance, she was caught on camera on a campaign trail spewing the following snide: "Igbo, we no dey trust una again!"
One must not forget the case of Tinubu's close ally, the Lagos State commissioner of Police, Hakeem Odumosu, who peddled the false allegation that the Indigenous People of Biafra (IPOB), a predominantly Igbo group, was planning to wreak havoc in Lagos. Further, Tinubu cannot feign ignorance of the origin of another false claim by state authorities that the IPOB was behind the burning of the palace of Oba of Lagos and other public infrastructure during the #EndSARS protest in the year 2020.
In each of these instances, however, the Yoruba masses and their true leaders have been bold to denounce Tinubu's evil machinations. They have resolved to stand side by side with their Igbo counterparts for the common good.
The Nigerian masses are becoming wiser. They are beginning to recognise that the powerful corrupt cabal, where Ahmed Bola Tinubu is a high chief, has no sympathy for what the ordinary man or woman is going through — be it Igbo, Hausa, Fulani, Yoruba, Ijaw, Tiv, etc. They must resist the temptation to shed each other's blood, by fighting the Tinubu war. The only war the masses ought to fight, and must fight, is against the corrupt elite. The purpose is to reclaim our country. The year is 2023. The ammunition is the PVC!
SKC Ogbonnia, a 2019 APC Presidential Aspirant, writes from Houston, Texas.
Time to Rethink Nigerian Politics and Party Nomination Processes
By Dakuku Peterside
After a long voyage, all the political parties have concluded their special conventions and primaries, and they now have presidential flag bearers representing the parties at the polls next year. The past two weeks have been a protracted season of tension, permutations, and intrigues. The dramas that brought the two presidential candidates to victory were captivating and pulsating.

There were no apparent upsets as the two presidential candidates from the All Progressives Congress (APC) and the Peoples Democratic Party (PDP) are political heavyweights and they represent the culmination of what Nigerian politics has been in the past two decades.
The symbolisms of both of their candidature are not lost on us – the triumph of the political godfathers, the super rich and high-powered stakeholders in our political firmament. Whether their candidacy is what Nigerians expected or not, whether the process of choosing them was "dollarised" or not, whether their ages would be a factor in their efficiency on the presidential job or not, one of them would likely become the president come May 2023, barring any miracle.
The theatre of presidential politics offers us the rare opportunity to reflect on our politics, our stunted development, and the future of our country. Like most Nigerians, I have conducted a post-mortem on the presidential primaries of the two major political parties in Nigeria, borne out of my critical and sober reflection on all the political theatricals, actions and inactions of significant actors and institutions involved in the primaries. I want to share my five takeaways from the special conventions of the two major political parties.
First, I believe that Nigerians were interested in the primaries because they wanted the parties to choose a candidate who deeply understands the myriad of Nigerian problems and can articulate solutions to them, whilst galvanising all Nigerians to realise our collective aspirations as a people. Most people were disappointed because the primaries did not adequately showcase any candidate, so that Nigerians could start making sense of who he is and what he represents. The profiles, service records, programmes and manifesto speeches of the aspirants did not count for much for the delegates who decided the presidential nominations.
These attributes mattered to the public but not to delegates in their worlds. It was all about schemes, scams, and personal interests. A negligible number of delegates voted on the basis of their conviction about the competence and service record of the aspirants. Throughout the consultation and nomination processes, except for an insignificant number of aspirants, no one spoke about how to solve our most pressing socio-economic problems in Nigeria.
Second, the primaries were auctions of some sort. What was at stake was who would be the highest bidder for an estate worth more than $411 billion – the size of the Nigerian economy in 2019-2020. The leading aspirants, going by what transpired at both conventions, were ready to offer a paltry $100 million for this piece of estate, making it the cheapest auction ever conducted anywhere in the world. If we go by the stories of some delegates who alleged that some aspirants offered them between $5,000 and $20,000 each, a quick calculation will give you a vivid idea of the bid of leading aspirants in both political parties. Similar things happened on a smaller scale in the fringe parties.
A lot has been said and written about the "dollarisation" of the presidential nomination processes. It beggers belief that the presidency is for sale to the highest bidder at this stage of our political development. We discussed within and outside the venue of the primaries (on social media, traditional media, and the public sphere) about offering dollars as inducement to delegates to vote for a candidate, as if it is a normal thing to do.
This action is a crime and, if proven, should have severe consequences for both the givers and the receivers. But not in Nigeria, where anything goes. Where is our collective conscience and morality? How do we want to be taken seriously as a country by other nations when the most important political office in the country is bought or sold to the highest bidder? How do we expect good leadership from a foundation of corruption and crass hedonism? Why must we be mercantile about our national leadership and development?
Third, these primaries showcased elitism and elite dominance of the political system and structures. Major stakeholders, including the delegates, are of the elite class or their cronies, and they were there to do the bidding of the privileged class. It was a gathering of the political elite to struggle to control state power. We noticed different factions jostling for control. The gang of the governors was prominent in both the PDP and APC primaries. Governors who control fiefdoms were directly or indirectly in control of delegates from their states, barring a few renegades who refused to be directed by the governors and voted either on the basis of personal conviction or the dictates of the candidates that had paid in dollars.
In these primaries, we saw the political elite's insensitivity, manipulation and greed displayed in gargantuan proportions, and even state governors were not exempted. The level of personal greed was embarrassing, and there was no room for principles or conviction. Only a handful in the elite political class could restrain their greed, even for money they do not need.
Fourth, loyalty, morality and friendship are meaningless in Nigerian politics. The only thing that matters is shifting interests. We saw politicians who had been long-time allies work at cross-purposes and those who had conversely been at each other's throats for ages collaborate for personal gains and unfounded promises. Alliances and counter-alliances were formed and broken. Politicians slaughtered personal relationships at the altar of political expediencies. Primordial sentiments and attachments led to friends and counterparts betraying each other.
At long last, we saw ethnic feelings dictating the choices made by some without considering what is best for Nigeria and the public that the delegates were representing. Advocates of zoning felt hard done and cried wolf in both primaries, although the Northern Governors Forum of the APC, in a heroic act, displayed unusual patriotism when the group insisted on the presidential ticket of the party going South. It may take time for the wounds created during these primaries to heal, and it may take time to rebuild trust and harmony among party members who felt betrayed and used by the system.
Fifth, delegates did not vote for aspirants based on the issues of interest to the people they were supposed to represent. The welfare, interest and progress of the ordinary persons did not matter. Everything was purely a transactional enterprise. Most Nigerians watching the primaries from home felt betrayed by the lack of sincerity of some aspirants who, at the last minute and when it mattered the most for them to sell their presidential aspirations to Nigerians, jettisoned the aspiration altogether and "en mass", in some instances, engaged in the endorsement of other aspirants, thereby changing the equation of the selection process.
These primaries illustrate the dire state of our politics and the need for a review of the whole democratic process. The monetisation and dollarisation of our politics leave a sour taste in the mouth of every democratic person. Although we have faulted the process, only time will tell whether the products of these processes will deliver Nigeria from this state of quagmire, and raise the hopes and aspirations of many hopeless Nigerians who have given up on the country. The candidates of the two major political parties, who are wealthy political juggernauts, have been part of the orthodoxy, have planned for the presidency for many years, and have fought hard to clinch the tickets of their parties. We sincerely hope they have the elixir to Nigeria's problems.
At the end of my review, these past conventions or presidential nomination processes revealed everything wrong with our politics – the weak ideological foundation of the parties, the attitude of our people to a democratic culture, the influence of poverty or the lack of economic empowerment on political choices, the absence of citizenship rights and responsibilities in our politics, the vanishing moral values and desperation of the elite to hang on to power as the only means of survival and wealth in an economy that is very hard to create wealth privately within.
The whole charade and shenanigans of the political class and their desperation to grab power at all costs are linked to poverty and hopelessness in the land, as poor people pay little or no attention to issues. Most ordinary Nigerians suffer from physical and material deprivation, whilst our political elites are afflicted by moral and mental poverty, as seen in their attitudes and behaviours in the presidential nomination of the two major parties.
We cannot continue this way as a nation, and I hope subsequent primaries will see significant improvements in the identified areas. It is time to rethink our politics, party nomination process, the basis of our choices as individuals and the future of our country. Still, I congratulate the presidential candidates of all the parties for winning the slot of their parties.
I look forward to an issue-based campaign devoid of sleaze, mudslinging, ethnic and religious chauvinism, and campaign monetisation. We must get it right this time because we cannot afford to gamble with our collective destiny.
Dakuku Peterside is a policy and leadership expert.
The Spread of Mob Justice in Nigeria
By Dakuku Peterside
There is an epidemic of mob justice in Nigeria today, and the frequency at which they occur shocks our shared sensibilities. The ubiquitous nature of jungle justice across all parts of Nigeria leaves any discerning mind to wonder how low we are falling as a nation. Every week, we are served on social media with images and videos of an angry mob killing and desecrating the bodies of citizens who are victims of this madness sweeping through our society.

It enrages any civilised mind that people will pull out their phones to record such atrocities and man's inhumanity to man with glee and the effrontery of a witch in a horror movie scene.

Often, the images of the mob of young people excited and jubilant in the atrocity of lynching an innocent person hunts us and makes us wonder what the future of Nigeria will become with these types of young people in our midst.
Life almost has little or no value on our streets, and it seems no one is exempt from the cold hands of jungle justice if you are at the wrong place and at the wrong time. A mere accusation of blasphemy or a shout of "ole, ole, ole" may mark the end of the life of a Nigerian. Recent examples will demonstrate the prevalence and spread of mob justice in Nigeria.

Commercial motorcyclists lynched a sound engineer identified as David Imoh in the Lekki axis of Lagos state a few days ago. David and his friends were attacked by a mob of okada riders over a misunderstanding concerning a N100 balance. Some motorcyclists present at the scene joined their colleague to beat up David and two of his friends resulting in David's demise and his two friends in hospital fighting for their lives. The mob of motorcyclists who, at the slightest provocation or altercation with any of their colleagues, meting out jungle justice is becoming a common phenomenon in our big cities.

In a similar incident, at least eight persons were killed during a clash between traders and commercial motorcyclists in the Dei-Dei market area of Abuja, the Federal Capital Territory (FCT). A trailer killed the passenger of an "okada rider" due to reckless driving, and the traders in that area of Abuja set ablaze the motorcycle. The other okada riders formed a mob, killed and maimed many people, and burnt down houses and stores of many traders.
Nigerians recently woke up to the news of the gruesome killing and burning of a student of Shehu Shagari College of Education, Deborah, by a mob of her fellow students because they accused her of blasphemy. The whole scene was a wild orgy that negated any form of civilisation.
The satisfaction derived from taking a life that was known to some of them could only come from psychopaths. The ensuing rioting and public disorder because of the arrest of the perpetrators of the act demonstrates the depth of the rot of acceptance of jungle justice in Sokoto and is worrisome because youths were the vanguards. The riots led to more killings, burning of houses and destruction of religious buildings.
Furthermore, a pastor was injured, and many houses were burnt by irate youths who went on the rampage over alleged blasphemy in the Katangan area of Warji Local Government Area of Bauchi State. Trouble started when some people circulated a message on social media that a Christian girl in the town allegedly engaged in the blasphemy of Islam.

Nigerians are disturbed about these incidents and are rightly so. The fundamental element of a democracy is to protect the life, property and liberty of the people, but today, in the most populous black nation of the world, the life and freedom of the people are almost worthless. Citizens take laws into their own hands, which results in the death of other citizens with no consequences. This resort to jungle justice by people is symptomatic of broader issues that plague our society. What are some of these issues?
First, there is a growing malaise of social angst, frustration and discontent with society and social systems in our country. People are losing faith in society and are easily provoked and resort to self- help even in criminal and social justice issues.
The reason for this may be the constant and ongoing degradation of most Nigerians' quality of life which leads to frustration, and they are ready to unleash their anger on anyone or anything that causes slight irritation to them. We have a huge youth population that is unemployed, or completely unproductive. These angry youths are the catalysts of such mob actions and enjoy the frenzy of destroying lives, property, and social institutions as if they have no stake in society. We have a generation of young people that we must be quick to make productive and help channel their energy to improving society rather than destroying it.

Second, our ethnic and religious fault lines are sharp and edgy. Increasingly, issues are dichotomised on ethnic or religious lines and based on the side of the divide one falls, one interprets and acts towards social and religious matters. Little wonder why when a case that demands complete condemnation of all Nigerians of various hues and cues arises, some shamelessly defend or even condone it based on their narrow ethnic or religious sentiments.
No civilised society will allow, tolerate or accept jungle justice and mob action. Our "Nigerianness" needs to be worked on and improved. The Nigerian project since 1914 has seen a battle to create national cohesion and blur our ethnic and religious lines. Institutions like the National Orientation Agency (NOA), the National Youth Service Corps (NYSC), and Federal Character Commission, among others, have been working hard to make us Nigerians, to no avail.
The real danger of rising incidents of lynch mob is in the proven power of spontaneity. When the sudden eruption of mob violence feeds into existing ethnic and political divisions, they could engulf a wider spectrum and become a national security concern.

Third, Nigerians increasingly are losing trust in our law enforcement and criminal justice system, and are resorting to self-help to deal with what they perceive as a crime against society. Our law enforcement system is almost in shambles, and many are not relying on it any more, to enforce law and order.
The corruption in the system is palpable, and everyone knows that. Some Nigerians believe, albeit rightly or wrongly, that cases that go to the law enforcement agents may not receive proper prosecutorial attention or be bought or sold to the highest bidder. Until law enforcement officers pursue a zero-tolerance attitude in dealing with mob justice, this will continue to show an upward trend.
Our judicial system is slow, clumsy, and sometimes ineffective. Justice delayed is almost the same as justice denied. The time it takes to conclude cases is so long that sometimes the victims have forgotten about their ordeal before the court punishes offenders. Sometimes, the victims are unaware of when the offenders are punished.

Fourth, normalization of violence in our society has become a cultural resort. There is a growing insensitivity to acts of violence because of too much exposure to violent acts in our society. Terrorism, banditry, secessionism, "unknown gunmenism", riots and social unrests, and high- and low-level criminality abound and are bombarded to our senses through social media, digital images, and traditional media that we are "unshockable". The number of videos of gruesome killings, burning and destructions I have seen lately leaves me traumatised. Some are so disturbing that they hunt me for days after watching them. Most Nigerians are the same.
The unintended consequence of exposure to such gruesome authentic images of an orgy of mutilation and death is that society becomes narcotised to them, which lowers our sense of decency, humanity, and value of life. As a society, we must shun all images that cheapen the value of life, regardless of the intention of recording or sharing such images. We must not allow ourselves to continue to be inured by these images.

It behoves us to improve the situation and reduce mob justice in our country. It is an anomaly that people provide tacit legitimacy to such "mob justice" under all sorts of excuses, and it reflects the larger malaise of loss of faith in law enforcement and the judicial systems. It is the truth that we have barely functional and fractured law enforcement and judicial system, where it takes years before one can hope to get justice. But does it mean we should encourage sidestepping of the system?
We must realise the gravity of the danger it poses to us as individuals and society. In some cases, innocent people may be targeted based on rumour, misinformation, or suspicion. Mob justice may spark an ethnoreligious conflict capable of inflicting indelible damage on our society if we do not curb it now.
As a people, we must remove the inertia in our judicial process and make the system practical for delivering justice as quickly as possible to restore public trust in the criminal justice system. This will eradicate the excuse of people's impatience that leads to extra-judicial killings, which are illegal and a violation of the fundamental human rights of Nigerians. We need a complete police reform to gain people's trust in the law enforcement system in Nigeria. People who engage in mob justice must be arrested and prosecuted and punished by the law to serve as a deterrent to others. If people know that such actions may have no consequences and there are few records of perpetrators receiving due punishment for their actions, they are encouraged to carry on with impunity.

The rioting in Sokoto shows that some people do not see anything wrong in mob justice and do not see why any person should be punished for it. Our public enlightenment agencies must find ways of limiting the spread of gruesome images in all media, and our national orientation agency must educate the masses on the dangers of engaging in mob justice and the consequences of such actions. We must "save ourselves from ourselves" on this road to perdition.

Dakuku Peterside is a policy and leadership expert.