How a Lagos Airport Taxi Driver Returns $2,400 to Passenger
Mr Olayinka Adeniyi, a taxi operator under the Airport Car Hire Association of Nigeria (ACHAN), Murtala Muhammed International Airport (MMIA), Lagos, has returned 2,400 US dollars, (about N888,000), and an international passport forgotten by a passenger.
Adeniyi told newsmen on Wednesday that he discovered the items in an envelope at the back seat of the car he was driving on July 29.
This was shortly after he returned from Ibese in Ikorodu where he dropped a passenger.
The cab driver said he never had it in mind to take someone's belongings because it would put sorrow in another family's life.
Adeniyi, who had been operating at the airport for over 15 years, said: "At about 1:30 am on July 29, I met this passenger on arrival at the International airport.
"I negotiated with him and we agreed at N6,000 to transport him to his destination at Ikorodu.
"I returned to the airport immediately I dropped him at his house.
"But no sooner than I arrived and parked my car at the airport, I discovered an envelope had been left behind on the back seat of my car.
"I picked the envelope and opened it.
"What I saw was his international passport. I looked further into the envelope and discovered there was another white envelope inside.
I opened the second envelope only to discover that something was wrapped in it. It was dollars in $100 denomination. I counted and they were 24 in number," he said.
Adeniyi said he reported the items to the officer- on- duty at the airport's arrival car park and was instructed to drop the parcel at ACHAN's secretariat.
Speaking on the recovery, the passenger, Mr Dele Ayeni said he was a living testimony to the advantages of taking cab from registered points at airports.
"I arrived Lagos from Cairo on July 29 at about 1:30 am on Monday. As I was coming out of the terminal, I met this polite driver who agreed to take me to my destination at Ikorodu.
"While on the way, I decided to drop my jacket on the floor of the car to avoid being noticed as an important man sitting in the rear seat of the car."
He disclosed that after some times at home he discovered that some items were missing from his belongings.
"Immediately we got to my house in Ikorodu; I removed my jacket from where I had kept it and also my luggage, without noticing that the envelope in the jacket had dropped on the back seat of the car.
"Unfortunately, I did not open my luggage to bring out what I had for my family members until after I woke up in the noon. That was when I discovered that the envelope was missing in my jacket,'' he said.
Ayeni said his wife then advised that he should go to the airport to inquire if it had been found.
He said due to her encouragement, he came to the airport and went to the car park where he had entered the cab.
Ayeni said immediately he approached and complained to one of the drivers on duty, he was informed that the driver had found the envelope and was taking it to his house.
"This is a living testimony that Nigeria has hope. We are not all bad people. I have started campaigning to people via social media to always patronise airport registered cabs.
"I want to thank ACHAN for having this type of arrangement in Nigerian airports. It is wonderful," Ayeni said.
The Chairman of ACHAN MMIA, Mr Olubi Ojo, said Ayeni's case was just one of the many cases the association handles on regular basis.
"This is a regular occurrence in this airport; passengers forget many things such as passports, money and other personal belongings in our cabs.
"But they are very sure of finding them if truly the items are left in any of our cabs.
"We give regular orientation to drivers on why they should return to the secretariat any item left behind by passengers in their vehicles," Ojo said.
The News Agency of Nigeria (NAN) reports that Adeniyi, the driver, is a commissioned driver because he has no car. (NAN)
Atiku Promises to Address Insecurity, Others Challenges From Day One, if Elected
Johnson Eyiangho, Abuja
Presidential Candidate of the Peoples Democratic Party (PDP), Atiku Abubakar, has promised to address the numerous challenges in the country including insecurity, disunity and economic deprivation from day one, if elected President in 2023.
Atiku urged the huge crowd at the PDP campaign rally in Osun State on Wednesday, to vote the party in the next year general elections, saying that doing so would empower th state with more resources and authority to provide the infrastructure needed for development and industrialisation for the economic benefit of the people.
"I believe by returning PDP to power you will strengthen this authority by voting PDP in the next general elections because a Federal Government controlled by PDP and a state government controlled by PDP in Osun State is to the greater good of Osun people.
"Our only objective is to make sure that the current challenges of insecurity, disunity, economic deprivation, lack of jobs for our young men and women and the future of this country through restructuring can be achieved and this I promise you I am going to start doing them from day one," he said.
Atiku thanked the people of the state for voting for the candidate of PDP, Ademola Adeleke, in the last governorship election in the state.
"My brothers and sisters of Osun State I have came to thank you and I appeal to you to come out in greater numbers than you did in the last state election and vote for the PDP in the next general election.
''This is the only way that you can secure your future and the future of your children. We promise you we will not fail you; we are not like APC because we have done it before. We have got the experience, we have got the people who have the capacity to bring about changes," Atiku said.
His wife, Titi, who hails from the state, appealed to the people, especially the youths not to sell their vote.
"I know there is hunger in the land and it is APC that brought all these predicaments to us but if Atiku is voted, he is going to change the state of this country not just Osun alone.
"The youths are the most unemployed in Nigeria, Atiku has promised women and youths 60 per cent in his cabinet and he is going to fulfill it. Atiku is a man of his words, he matches his words with action," she said.
Titi added, "Nigeriand we are more divided than we were before. Atiku wants to bring unity, to bring this country together. Atiku is going to bring back that lost glory.
"Atiku is going to unify us, he is a unifier. Atiku has come to rescue Nigeria. Atiku has come to restructure Nigeria. Atiku has come to give our children good education.
"There will be no Boko Haram, there will be no kidnapping, there will be no abduction.
"All of these are going to stop but it has to start with you people. If you give Atiku your votes come February 25, that is when it will be possible for Atiku to make you great."
Witnesses challenge Israel's killing of Palestinian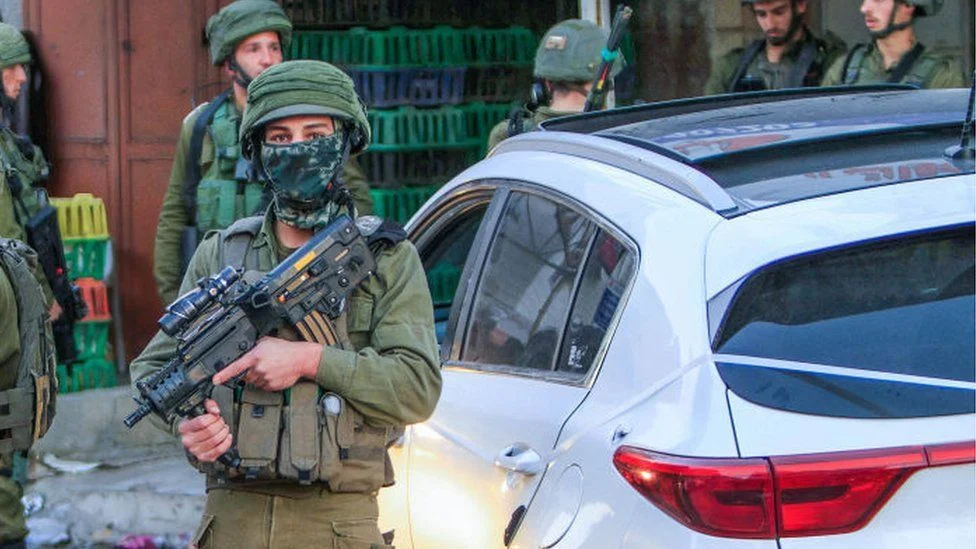 An eyewitness to the killing of a Palestinian by Israeli forces has told the BBC he believes the man was shot simply for punching a policeman.
Ammar Mefleh was killed at close range in the occupied West Bank last Friday.
He is the 10th Palestinian shot dead by Israeli troops in the space of a week.
Video of the shooting drew a massive reaction online and sparked a diplomatic rebuke by Israel to a top UN official who said he was "horrified" at the killing.
Israeli officials praised the officer involved saying he responded after the Palestinian stabbed a policeman in the face, and his actions prevented a "mass terror attack".
Palestinian leaders described it as an execution "in cold blood".
Mr Mefleh, 22, was killed in the Palestinian town of Huwara, which lies on a main road frequently used by Israeli settlers and has been the scene of growing violence in recent months.
This year in the West Bank more than 150 Palestinians have been killed, nearly all by Israeli forces. The dead include unarmed civilians, militant gunmen and armed attackers.
Meanwhile a series of Palestinian attacks targeting Israelis, as well as militant gunfire at troops during arrest raids, have killed more than 30 people including civilians, police and soldiers. 
The footage from Friday, shared extensively online, was rare in capturing in detail part of the event that led up to the shooting. The last 13 seconds are caught in a second video from another angle.
In the recording, the Israeli officer is seen holding Mr Mefleh in a headlock as the pair struggle. Two other Palestinians are in the melee at first, but then step back.
After Mr Mefleh struggles out of the headlock, he tries to grab the policeman's rifle. As they wrestle over the weapon the officer takes a hand off it – first to try to hit the Palestinian, who strikes him back – then to reach for his pistol.
Mr Mefleh for a split second has hold of the rifle but almost instantly throws it down or lets go of it, recoiling as he sees the officer raise his pistol. The policeman shoots him instantly, four times.
Following his killing, a popular Israeli news website reported that the officer had "eliminated the terrorist". The footage was repeatedly circulated on Palestinian social media with people appalled at the killing.
The UN's envoy to the region, Tor Wennesland, tweeted that he was "horrified by today's killing of a Palestinian man, Ammar Mefleh, during a scuffle with an Israeli soldier," calling for those responsible to be held accountable.
A spokesman for the Israeli foreign ministry, Emmanuel Nahshon, tweeted in response that Mr Wennesland's reaction was a "total distortion of reality".
"The incident is a terror attack, in which an Israeli policeman was stabbed in his face and the life of another officer was threatened and consequently he shot his assailant," Mr Nahshon added.
"This is NOT a 'scuffle' – this is a terror attack".
Latvia Axes Exiled Russian Broadcaster TV Rain
Russia's last independent television channel, TV Rain, has been shut down in Latvia after less than five months on air.
The channel, which is known as Dozhd in Russian, has been accused of showing content that supports Moscow's invasion of Ukraine.
TV Rain has called the allegations "unfair and absurd" in a post on social media.
It has been ordered to stop broadcasting on 8 December.
TV Rain says it will obey the order but will remain on YouTube, which is where most of its audience watches its content. However, it will no longer be able to broadcast on cable television inside Latvia, which has a large Russian speaking population.
The National Electronic Media Council (NEPLP), Latvia's media regulator, said the decision to revoke the licence was taken "in connection with threats to national security and public order".
Earlier this month, the regulator fined the channel €10,000 (£8,613; $10,488) for displaying a map in which occupied Crimea was shown as part of Russia's territory.
It was also censured for calling the Russian army "our army" in a piece about how to provide recruits with supplies. One of the broadcaster's hosts, Alexei Korostelyov, was fired as a result.
The decision has been criticised by many opposition figures in Russia, who argue that TV Rain is an important source of independent information for Russian speakers about the war.
"There is Putin, who started the war. There is TV Rain, which tells the truth about Putin and about the war. Stripping TV Rain of its licence only helps Putin," said Kira Yarmysh, press-secretary to jailed opposition leader Alexei Navalny.
The charity Reporters Without Borders called the move a "serious blow to freedom of information".
The channel, which has long been critical of Vladimir Putin and the Russian government, was blocked in Russia in early March, just days after Moscow invaded Ukraine.
Many employees then fled Russia, and later started work on rebuilding Dozhd abroad. It is one of several independent media outlets to have moved its operations out of Russia or suspended them since the invasion.
The State Security Service (VDD) has been investigating the incident and said it has repeatedly warned about the "various risks emanating from Russia's so-called independent media relocating their activity to Latvia".
The VDD said these risks include the possible connections of media representatives to Russian intelligence and security services, as well as the danger posed if Moscow seeks to target Latvia as part of measures to influence public opinion online and elsewhere.
Commenting on its decision to revoke TV Rain's broadcasting licence, NEPLP added that it "was convinced that the management of TV Rain did not understand the nature and gravity of each individual infringement, nor of any set of infringements".
Meanwhile, Kremlin spokesperson Dmitry Peskov told reporters that "some always think that there is a place better than home, that there is always more freedom than at home. This is one of the clearest examples that shows that these are the wrong illusions".