Incessant Borrowings Worrisome – Ndume Agrees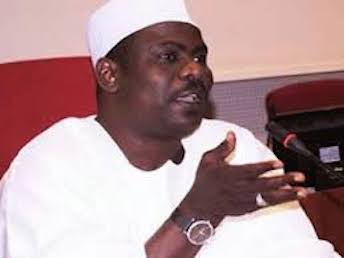 By Jude Opara, Abuja 
Even as the ruling All Progressives Congress (APC) has continued to endorse the continuous borrowing of the federal government, Senator Ali Ndume (APC Bornu South), on Thursday agreed that the increasing requests for loans by the executive arm of government and expeditious approval by the National Assembly, are worrisome.

Ndume who stated this while fielding questions from newsmen, said though borrowing is not a crime, added that required scrutiny for its approval, is never followed by the National Assembly in most cases.
He said this lack of thoroughness has contributed in making Nigerians to be suspicious of the federal lawmakers, hence the derogatory tag of a rubber stamp.
The lawmaker further revealed that, some of such requests hurriedly approved in the past, have not been even granted.
According to him, in as much as loans or borrowings are required by government to address the problem of infrastructural deficits facing the country, such loans should be cautiously considered in the face of debt servicing getting to 80 or 90%.
"Borrowing is not a crime but when the rate of debt services increases which I understand is getting to 80% to 90% you have to be cautious, you have to look for alternative.
"They are some loans that are not just absolutely necessary, there are some that can be delayed there are some that can be negotiated or renegotiated in terms of conditions attached to them. I think this is what the media should analyze and see whether it is necessary.
"We have infrastructural deficit in this country and all we hear is that when people come to Abuja and allocation is made you don't see anything happening, for me, is better to borrow that money and do the road instead of giving it out for people to collect it and go and spend it without accountability .
"What I am worried about again is the way the Senate is handling it. The Senate by definition is house of deliberation, when things like this come we don't just rush and approve it.
"Such requests supposed to be looked at critically by crossing the Ts and dotting the Is, ask questions, carry the people you are representing along and not sit down here in the National Assembly carrying out expeditious approvals which make the people we represent look at us with suspicions.
"They call us rubber stamp because we don't carry people along. We rushed to approve certain Borrowings which up till now, not granted by targeted creditors".
Press Week: There's huge strength in united Nigeria – Don
Prof. Adepoju Tejumaiye of the Department of Mass Communications, University of Lagos, says there is huge strength in Nigeria being together as a country as against its dismemberment.
Tejumaiye made the assertion at the Nigeria Union of Journalists (NUJ), Lagos State Council Public Lecture, with the theme: "Nigeria and Nation Building: Overcoming The Challenges Of Security, Restructuring and Self Determination For Progressive Development".

According to him, Nigeria does not need disintegration but devolution of powers to return the country to the pathway of growth and development.
"This country belongs to everyone of us. I am not someone that subscribes to the dismemberment of Nigeria. There is a big strength, huge strength in unity.
"Let us be together, we are going to achieve our goals but let there be sense of belonging for everybody.
"Population should not be used to share the national revenues, let revenues be shared on equal percentages and we will see that things will change," he said.
Tejumaiye, the Professor of Media Studies and Political Communications, said that the present system is spoiling and breeding indolence because it doesn't allow people to use their initiatives.
"Every state in this country has resources, huge. There is no reason why Nigeria should be in debt, that is the truth. What can solve it is devolution of powers.
"Decentralisation is the best way to go. Anything outside that will make this country to remain as it is. There is an urgent need for the devolution of powers to the respective federating units.
"Decentralisation of everything-The Police, Tax System, Revenue System, etc need to be decentralised. If we can get that done, then Nigeria is going to change for better," he said.
Tejumaiye said that the system in operation before the first coup in Nigeria, where different parts of the country were developing at their pace, is the best.
He said that the country needs to go back to that system because it would solve most of the problems confronting the nation.
"There is need for serious rethinking and this is in our hands. This is the time to get things right," he said.
Earlier, Mr Adeleye Ajayi, the Chairman, NUJ, Lagos State Council, said that Nigeria has raised the stakes especially in tackling the incidents of economic-induced kidnappings and other crimes.
According to Ajayi, security remains a major challenge in Nigeria but unlike what obtained in the pre-independence period, security problems escalated partly due to the diverse nature of the country.
"The trends leading to this situation are reversible, if serious proactive and sustained measures could be adopted by the government.
"The implication of this is that policy makers have the duty to arrest this drift through social justice and development," he said.
The NUJ boss said if Nigeria is to develop, there must be leaders who were broadminded enough to campaign for justice, equity and fairness beyond narrow group interests.
The lecture was delivered by Mr Segun Adeniyi, Chairman, Editorial Board, This Day Newspapers, and the occasion was chaired by Prof. Ralph Akinfeleye.
The panel of discussants include Prof. Adepoju Tejumaiye, Head of Department, Mass Communications, University of Lagos, and Dr Jide Johnson of the Nigerian Institute of Journalism (NIJ).
The press week, which started on Media with a news conference to unfold lined up activities, witnessed novelty matches on Tuesday while Thursday is slated for Chapels' Rendezvous.
A Jumaat Service at the Lagos State Secretariat Mosque and a Gala /Award Night, at the Lagos Airport Hotel, Ikeja are slated to hold on Friday.
The council would pay a visit to the Little Saints Orphanage, Abule Egba, and Regina Mundi Old Peoples' Home, Mushin, on Saturday while a Thanksgiving Service at the Chapel of Christ The Light, Alausa, Ikeja, is billed for Sunday. (NAN)
Get Involved in Politics, Osinbajo Charges Nigerian Youths
Vice-President Yemi Osinbajo has urged young Nigerians to get involved in politics.
He said this was necessary because transforming a society depended largely on those who occupied public offices.

His spokesman, Laolu Akande, said the vice-president made the submissions at a virtual session where he interacted with Nigerian fellows of the Mandela Washington Fellowship for Young African Leaders.
The interaction included a question-and-answer session where Osinbajo was engaged on issues ranging from education to health and to youth inclusiveness.
"You need to go the extra length if you are not already involved; get involved in politics.
While a lot can be achieved in civil society, government still holds the ace in terms of capacity and resources to bring social goods to the largest numbers.
"Being deciders rather than being a pressure group in policy formulation are hugely different positions.
"The consummation of our great ideas to transform our societies ultimately will depend on those politicians as we sometimes derisively describe them,'' Akande quoted Osinbajo to have said.
Osinbajo also told the session that African nations and especially Nigeria, could not afford to have their best minds and most committed social activists remain only in the civil society space.
"We simply can't afford it; you have to get involved in politics.
"You have to be in the position to make the difference on the scale that is required.
"There are many who will not be involved in politics, but those that are inclined should, and there will be many challenges even in the winning or getting heard in politics.
"I want to say to you that it should be an objective that you should set for yourselves, to get involved at whatever level of politics so that you can make the difference on the scale that is required,'' Osinbajo also said.
The vice-president described the efforts of young African innovators as Africa's most exciting story – the story of a present and future that could be steered by the continent's incredibly talented and optimistic young men and women.
He commended the innovation and creativity of the fellows.
"Within any generation, only a few wholeheartedly take on that challenge – the challenge of building a society.
"Most believe that the task is for someone else and that such endeavours cannot pay the bills,'' he noted.
Osinbajo recalled his days in civil society engagements and later in politics as Lagos State Attorney-General.
He said it took public office for him to be able to get the scale of change that was required to make a difference.
"Without public office, I would have remained a pressure group activist; I would have done some nice things; but I wouldn't have been able to make the changes that my country required.
"I was once where you are; I was part of several civil society groups at the time.
"I joined the first civil society group when I was 24; I was teaching at the time.
"I also co-founded the anti-corruption group, Integrity, and then Convention on Business Integrity, which still exist today and they function out of Abuja and Lagos.
"I was chair of the Legal Research and Development Centre, where we worked on civil rights issues and legal defence for the poor.
"We did a couple of legal defence initiatives; we got funding from donors and tried to do the best we could,'' he stressed.
Responding to concerns about the International English Language Testing System, Osinbajo said relevant government ministries and agencies would work on making things easier for Nigerians.
He said that as English-speaking people, Nigerians should get some concessions as opposed to being compelled to write the same test every two years, especially for those that had passed it previously.
The Fellowship is the flagship programme of the U.S. government's Young African Leaders Initiative.
Since 2014, nearly 5,100 young leaders from every country in Sub-Sahara Africa have participated in the Fellowship.
The U.S.A ambassador to Nigeria, Mary Leonard and the Special Adviser to the President on Social Investments, Mrs Maryam Uwais, also participated in the session. (NAN)
Senate President Inaugurates N11.65bn NASS Service Commission Office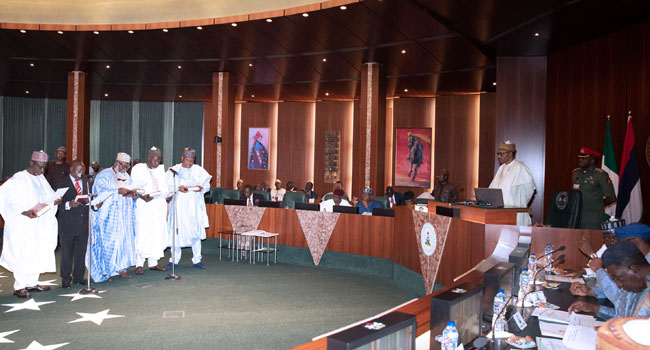 The President of the Senate, Ahmad Lawan on Wednesday, inaugurated construction of the permanent office building of the National Assembly Service Commission (NASC) worth N11.65 billion.
Performing the ceremony at the National Assembly Complex, Abuja, Lawan said the foundation laying marked an end to a 20-year delay for the take-off of the structure since establishment of the the commission in 2000.

Lawan said that, "This is an important day for us and for our democracy. We all recall how this arm of government, the legislature, has been do disadvantaged because of its non-existence in the past.
"
He added that the project should have been in existence "not 20 years ago, it should have been in existence may be more than 60 years ago when Nigeria became independent. But better late than never."
He said that the management of national assembly would continue to be committed to release funds for the completion of the permanent office of NASC.
"With the 24-month duration for the completion of the project, we will ensure we oversight because it is a critical project."
Lawan also urged the Federal Capital Territory Administration (FCTA) to expedite action on the processes of ensuring that the dilapidating parts of the national assembly were rehabilitated.
Earlier, Chairman of the commission, Mr Ahmed Amshi, described the construction of the NASC permanent office building as a "historic" feat recorded under the ninth assembly.
According to him, the fifth assembly found it expedient to reengage Triad Associates Ltd. for the execution of the project given their professional competence to ensure continuity.
He added that at the point of conceiving the project in 2010, the construction cost was estimated at N2.5 billion.
Amshi, however, explained that due to inflationary trends and incorporation of modern materials and facilities, the project would cost N11.65 billion to be completed.
"The capital provision of National Assembly Service Commission in this year's budget (2021) is N3 billion; even though this is not enough to pay the thirty percent mobilisation fees as required by law.
"The contractor was able to mobilise to site and acquired reasonable quantity of materials with what we are able to pay the firm," the NASC chairman added.
On his part, Chairman House Committee on Public Service Matters, Rep. Sani Bala said, "we will ensure adequate funding, uninterrupted adequate funding for the project.
"We will release adequate funds in 2022 budget and that of 2023.
"The contractor had assured the national assembly management that they will complete the project as and when due which is within 24 months.
"We want a situation whereby this project will be commissioned by the 9th National Assembly," Bala said.(NAN)