Kyrgios to Face Nadal in Wimbledon Semi-finals
Nick Kyrgios reached the first Grand Slam semifinal of his chequered career with a comfortable 6-4, 6-3, 7-6(5) victory over Chile's Cristian Garin at Wimbledon yesterday.
The unseeded 27-year-old lost the opening nine points on Court One but ultimately had too much firepower for Garin who had hoped to become Chile's first Wimbledon semi-finalist.
In surpassing his previous best Wimbledon run to the quarterfinals eight years ago, Kyrgios becomes the first Australian man to reach a Grand Slam semifinal since Lleyton Hewitt at the 2005 US Open.

On the eve of the match, Kyrgios was summoned to appear in a Canberra court next month on an alleged common assault charge, hardly ideal preparation for one of his biggest matches.
But any off-court distractions he managed to put to one side in a relatively low-volume display sprinkled occasionally with the instinctive shot-making that makes him such a draw.
As in his five-set win over American Brandon Nakashima in the previous round, Kyrgios kept his volatile temperament under wraps, although he regularly lambasted his sizeable entourage as the match dragged on, calling for more support.
Once again his serve underpinned his game, digging him out of trouble whenever Garin threatened to drag himself back into a contest that drifted away from him after his fast start.
Kyrgios saved eight of the nine break points he faced, including two at 4-4 in the first set.
Garin, who beat Kyrgios's compatriot Alex De Minaur from two sets down in the previous round, battled hard to extend the third set to a tiebreaker and led 5-3 in it before Kyrgios hit back to win the last four points.
One of tennis's great enigmas will now face Rafael Nadal or Taylor Fritz in the semis.
"An amazing atmosphere again," world number 40 Kyrgios, the lowest-ranked semifinalist at Wimbledon since Marat Safin (75) and Rainer Schuettler (94) in 2008, said.
"I never thought I'd be in the semifinal of a Grand Slam. I thought that ship had sailed – that I may have wasted that window in my career.
"I'm really happy I was able to come out here with my team and put on a performance."
 Baker Calls for  more Technical Basketball Academies in Nigeria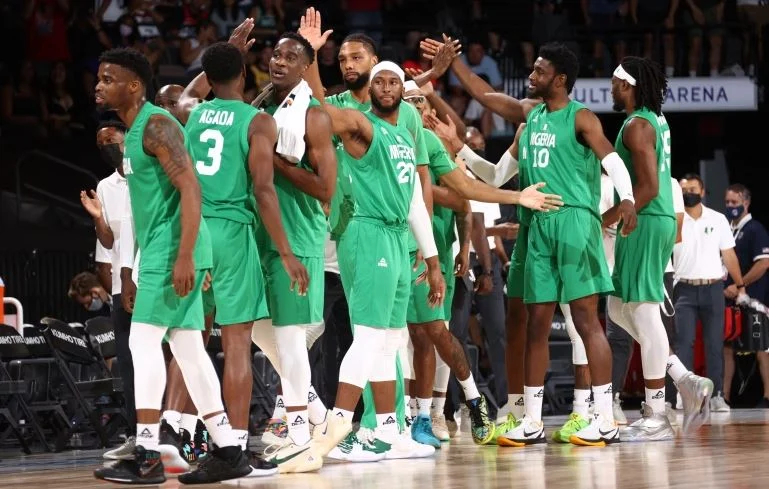 Ganon Baker, an international high-performer basketball trainer has called for more technical basketball academies in Nigeria to raise the standard of the game.
Baker made the call on Monday in Abuja at a week-long training clinic for Nigerian coaches and players organised by Sports Renaissance Africa Partners (SRAP).
The renowned U.S certified coach with over 30 decades of experience in the game, stressed the need for technical and systematic coaching to nurture the abundant basketball talents in the country.

He said his visit to Nigeria was to teach kids, players and coaches the rudiments of the game and how to win basketball championships.
" I see a lot of talents in Nigeria but they are unpolished, they are inexperienced, they are not secure, unbelievable talents, but it comes down to coaches, to nurture them that is why we are here.
"If you have good coaches, you are going to have good players, if you don't have good players may be coaches don't give them enough information.
"My experience with African players is that they're very humble and hungry to win," he said.
Baker said with proper coaching and exposure, a lot more Nigerian players can make it to the U.S National Basketball Association (NBA).
Earlier, the Chief Executive Officer of SRAP, Relindis Mbu said the clinic is aimed at leveraging on the wealth of tactical experience of Baker to help develop young talents and Coaches in Nigeria.
"The real goal of our project is to give tactical training to coaches so they can transfer it and build eco system of basketball in the world, Africa and Nigeria.
"The end goal is technical expertise that will bring our athletes to international standard so that they can excel locally and internationally in any where they are." she said.
Baker is one of the most respected premier basketball skill coaches in the World, he is renowned with working with the NBA, WNBA, CBA, Euro League, NCAA, NJCAA, U Sports among others.(NAN)
FIFA U- 20 Women's World Cup: Falconets Defeat South Korea 1-0
Nigeria's Under-20 National Women's Football Team (Falconets) defeated  South Korea 1-0 on Sunday in their Group C Match Day Two of the ongoing FIFA U-20 Women's World Cup in Costa Rica.
The News Agency of Nigeria ( NAN) report that the Falconets got a vital boost at the Estadio Alajuela Morera Soto Stadium with the defeat of the South Koreans to reach the knock-out round.

The Falconets also got off to a winning start on Thursday with a 1-0 win over highly-rated France.
However, the South Koreans shot to the top of the group when they beat Canada 2-0.
Falconets got on a sound footing with excellent passes to the admiration of few spectators but no goal to show for their display in the first half of the match.
They started very well, but their Korean opponents grew into the game, and even hit the post from a free kick but the Nigerian girls held on.
Both teams played almost all their tactics and skills all to no avail in the pursuit of a goal that never came
The Falconets dominated possession with 64 per cent as against the South Koreans' 36 per cent.
Both teams continued from where they stopped with the Falconets dominating in the second half of the game .
Esther Onyenezide finally scored for the Falconets in the 83rd minute of the game for the winning goal.
Nigeria will be up agsinst Canada on Aug.19 in their next match.
NAN reports that the victory lifted Falconets to the knockout rounds of the World Cup even before a final group game against Canada.
The Falconets were paired in Group C along with France, South Korea and Canada.
Meanwhile, in another match played earlier in Group D, Japan defeated Ghana 2-0.
The FIFA U-20 Women's World Cup, which started on Aug. 10, is expected to end on 28 in Costa Rica.(NAN)
Edo Deputy Gov. Retires From Professional Football in Style
Edo Deputy Governor, Philip Shaibu on Friday, announced his retirement from professional football.
Until his retirement, Shaibu was a signed player of Bendel Insurance FC, a club that he helped to secure a ticket to the Nigerian Professional Football League (NPFL).
The deputy governor announced his retirement in Benin at a news conference, shorty after the Insurance's last match in the Nigerian National League (NNL) against Vandrezzer FC of Lagos.

Insurance won the week 22 by a lone goal to end the 2021/2022 soccer season, amidst jubilation among the fans at Samuel Ogbemudia Stadium.
He had earlier distributed souvenir which included jersey with his name and balls to scores of fans who were present at the venue of the final league play.
Briefing newsmen, the Edo deputy governor said he was elated that his six years sojourn with the Benin side ended with a ticket to the Nigerian apex league.
Shaibu commended stakeholders, who helped to restore the past glory of the ancient football club.
"I am so excited today that in good health, I am retiring from professional football and thank the stakeholders in Bendel Insurance for this historic moment of retiring with jersey number 40.
"It's first of its kind and I am so excited and happy about it," he said, noting that he was more elated that his commitment to and rebranding of Bendel Insurance yielded the desired result.
The deputy governor, who recounted his football stints in Federal Capital Territory with YSFON U-20, Foreign Affairs FC as well as defunct Ijesha United and Nigerian Prisons FC, said he won all matches in the clubs except for a draw.
The retiring player, who noted that he exited without any injury, said the qualification for promotion of Bendel Insurance to the elite NPFL was his happiest moment in the football career.
He recalled winning a gold medal for Edo during the 20th National Sports Festival.
He urged Coach Monday Odigie to live up to the bidding in the NPFL, assuring the club of the necessary state government's support.
The club, he noted, could not afford to go back to the lower league, as they were back to where they rightly belonged.
He said the present government in Edo had demonstrated genuine love for sports with the upgrade of facilities at the Samuel Ogbemudia Stadium and rebranded both the men and women football clubs in the state.
According to him, Edo Government has returned the state as a home to sports, and a tourist site for sports development in the country. (NAN)