NAF Debunks N20m Ransom to Retrieve Anti-aircraft Gun
By Gom Mirian, Abuja 
The Nigerian Air Force (NAF) has denied allegations circulating on some media platforms that one of its personnel paid N20million ransom to bandits in Jibia Local Government Area (LGA) of Katsina State in exchange for an alleged seized anti-aircraft gun.

NAF spokesperson, Air Commodore,
Edward Gabkwet, made the denial in a statement yesterday in Abuja.
Gabkwet said report had gone out that the reason behind the payment was to retrieve the anti-aircraft gun which, it alleged, the NAF feared could be used against aircraft operating within Katsina state.
"The NAF wishes to categorically state that there is absolutely no iota of truth in the spurious allegation that was undoubtedly designed to cast aspersions on the good image of the Service", he said.
Gabkwet who described the report as being baseless, said it should therefore be taken as fake news and disregarded.
He further said in order to set the record straight as well as reaffirm NAF's unflinching commitment to decisively dealing with the armed bandits among other criminal elements said there is no basis for NAF to pay bandits or any criminal elements that it has continued to attack and decimate in the said state.
"For the avoidance of doubt, it must be stated that there is no basis for the NAF to pay bandits or any criminal elements that it has continued to attack and decimate in Katsina State, other parts of the North-West as well as other Theatres of Operation in the Country. Indeed, as recent as 12 October 2021, NAF aircraft conducted 5 missions in the Jibia general area and engaged targets with rockets and cannons at Bala Wuta bandits' locations in Kadaoji.
"Similar successes were recorded at Fakai Dutsin Anfare, an area in Jibia LGA known for its high incidences of bandits' activities.
"The false reportage therefore, begs the question as to why the NAF would negotiate for a weapon allegedly seized and still carry out air interdiction missions on the same bandits and their strongholds.
"The NAF is of the view that, this latest false report could be a part of a campaign to further the cause of insecurity in Nigeria by elements who see the NAF as a threat following series of successful exploits in operations against criminal gangs.
"Perhaps, this provides an avenue for the NAF to yet again appeal to members of the media, both local and international, as well as social media, to be circumspect in their reportage and endeavour to always verify their facts before going public.
"The public is enjoined to disregard the falsehood emanating from some sections of the social and mainstream media. The NAF also uses this opportunity to call on citizens to continue to cooperate with security agencies as efforts are ongoing to rid the entire Nation of criminals and their activities.
"On our part, the NAF, as a professional and disciplined force, will not in any way be discouraged from carrying out its mandate to rid the entire North-West Nigeria of banditry and other forms of criminality. We remain resolute in performing our function and will continue to work in synergy with other sister Services and security agencies to rid the Country of all criminal elements.
16, 17 Year Old Can Now Take COVID-19 Vaccination – NPHCDA
By Laide Akinboade, Abuja
National Primary Healthcare Development Agency, NPHCDA, said it has given a vaccination waiver for individuals aged 16 and 17 to enable them to receive coronavirus jabs.

The agency said this in an advisory made available to newsmen.
According to the agency, "The NPHCDA has given a waiver for persons aged 16 and 17 to receive COVID-19 vaccines if required for educational purposes," the advisory read.
It would be recalled that the Federal Government, through the NPHCDA, had earlier recommended that only eligible Nigerians from age 18 and above would be allowed to take the vaccine.
It was also reported that countries in Europe and the United States of America, following the rise in the number of child infections, had also begun the administration of vaccines for children, a move which global health bodies and agencies had castigated following the lack of vaccine equity in countries across the world.
Meanwhile, the World Health Organisation's regional office for Africa, has declared the Omicron variant of COVID-19 as the dominant strain in two African countries – Nigeria and Cape Verde.
Though the body did not reveal the number of Omicron cases in the two countries, it noted, "While it took around four weeks for the Delta variant to surpass the previously dominant Beta, Omicron outpaced Delta within two weeks in the worst-hit African countries."
The Nigeria Centre for Disease Control had on December 1, 2021, announced three new index cases of the Omicron variant, which was dubbed a variant of concern in the country.
As of December 21, 2021, the centre added that the number of Omicron cases in the country had risen to 45.
Speaking during a virtual press briefing, the WHO Director of Emergency Preparedness, Dr. Abdou Laye Gueye, who spoke on behalf of the Regional Director, Dr. Moeti Matshidiso, explained that the low vaccination drive had continued to fuel the variants, adding that the next wave might not be so forgiving as the Omicron variant.
"In countries experiencing a surge in cases, the fast-spreading Omicron variant has become the dominant type. While it took around four weeks for the Delta variant to surpass the previously dominant Beta, Omicron outpaced Delta within two weeks in the worst-hit African countries.
"Early indications suggest that Africa's fourth wave has been steep and brief, but no less destabilising. The crucial pandemic countermeasure badly needed in Africa still stands, and that is rapidly and significantly increasing COVID-19 vaccination. The next wave might not be so forgiving.
"So far, 30 African countries, and at least 142 globally, have detected the Omicron variant. The Delta variant has been reported in 42 countries in Africa. In West Africa, where COVID-19 cases are on the rise, the number of Omicron sequences undertaken by countries, including Cabo Verde, Ghana, Nigeria and Senegal, is growing.
"In Cabo Verde and Nigeria, Omicron is currently the dominant variant.
"This year should mark a turning point in Africa's COVID-19 vaccination drive. With vast swaths of the population still unvaccinated, our chances of limiting the emergence and impact of deadly variants are frighteningly slim."
WHO Recommends Two New Drugs for COVID-19 Treatment
By Laide Akinboade, Abuja
In order to treat those that are sick with coronavirus, COVID-19, the World Health Organisation (WHO), has recommended two new drugs for the treatment of severe and non-severe COVID-19 infections.

The global health body said the recommendation is based on new evidence from seven trials involving over 4,000 patients with non-severe, severe, and critical COVID-19 infection.
According to the WHO, the new drugs are baricitinib and sotrovimab.
The drug baricitinib (a type of drug known as a Janus Kinase (JAK) inhibitor, also used to treat rheumatoid arthritis) is strongly recommended for patients with severe or critical COVID-19 in combination with corticosteroids, a WHO Guideline Development Group of international experts said.
The recommendation is based on moderate certainty evidence that it improves survival and reduces the need for ventilation, with no observed increase in adverse effects.
The WHO experts noted that baricitinib has similar effects to other arthritis drugs called interleukin-6 (IL-6) inhibitors, adding that when both are available, physicians can choose one based on cost, availability, and clinician experience. It is not recommended to use both drugs at the same time, they said.
The experts also advised against the use of two other JAK inhibitors (ruxolitinib and tofacitinib) for patients with severe or critical COVID-19, noting that low certainty evidence from small trials failed to show benefit and suggests a possible increase in serious side effects with tofacitinib.
In a statement issued by WHO and made available to journalists in Abuja, WHO also makes a conditional recommendation for the use of the monoclonal antibody sotrovimab in patients with non-severe COVID-19, but only in those at highest risk of hospitalisation, reflecting trivial benefits in those at lower risk.
"A similar recommendation has been made by WHO for another monoclonal antibody drug (casirivimab-imdevimab). The experts also note that there were insufficient data to recommend one monoclonal antibody treatment over another – and they acknowledge that their effectiveness against new variants like omicron is still uncertain.
"As such, they say guidelines for monoclonal antibodies will be updated when additional data become available.
"Today's recommendations are based on new evidence from seven trials involving over 4,000 patients with non-non-severe, severe, and critical COVID-19 infection.
"They are part of a living guideline, developed by the World Health Organisation with the methodological support of MAGIC Evidence Ecosystem Foundation, to provide trustworthy guidance on the management of COVID-19 and help doctors make better decisions with their patients," it said.
The global health body noted that living guidelines are useful in fast-moving research areas like COVID-19 because they allow researchers to update previously vetted and peer-reviewed evidence summaries as new information becomes available.
"To make their recommendations, the panel considered a combination of evidence assessing relative benefits and harms, values and preferences, and feasibility issues.
"Today's guidance adds to previous recommendations for the use of interleukin-6 receptor blockers and systemic corticosteroids for patients with severe or critical COVID-19; conditional recommendations for the use of casirivimab-imdevimab (another monoclonal antibody treatment) in selected patients; and against the use of convalescent plasma, ivermectin and hydroxychloroquine in patients with COVID-19 regardless of disease severity," WHO noted.
Buhari, Benue IDPs Want To Go Back To Farm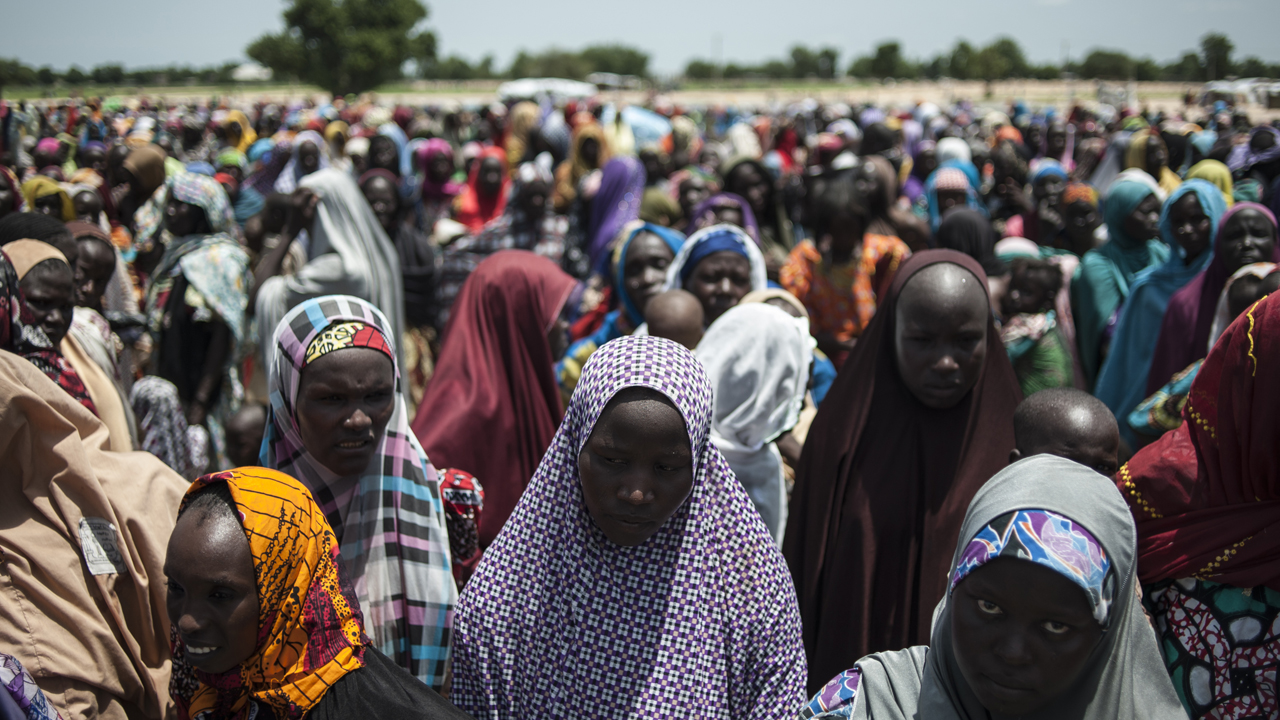 By Benjamin Ngutsav
The President, General Muhammadu Buhari had a few weeks ago, during an exclusive recorded interview with Channels Television, said Nigerians have to go back to the farm.

General Buhari was responding to a question on how the economy nosedived to an alarming level under his watch with the country's debt profile now at about N32 trillion as against N12 trillion in 2015 when he took over power true deceit and campaign of calumny against those who were then in power.
One of the interviewees, Seun Okinbaloye also mentioned rising inflation, unprecedented level of unemployment and skyrocketing exchange rate as some of the concerns leading to that question.
The President's response left many wondering if he understood the question or not. But his reply only revealed that the general is unaware of the security status of the country because he simply made a point regarding agriculture even as it appears he does not know the people need to be secured to farm.
His reply: "Well, I am not sure how correct your calculations are, but all I know is that we have to allow people to have access to the farm. We just have to go back to the land."
Many, including this writer were quick to fault his reply; but I think General Buhari, even as incoherent as he was, made a point. Nigeria was known for agriculture and we should go back to the farm to produce more and grow the economy.
Sierra Leone, Somalia, Togo, the United States of America, China, India, Brazil and a host of other countries depend on Agriculture to grow their economies. In 2017, Sierra Leone had the Highest Agriculture GDP Percentage of 60.7% in Africa as obtained from whichcountry.co. In China, the land is highly employed for agriculture. Brazil produces one-third of the planet's oranges. So agriculture is no doubt, the new crude oil.
So, General Buhari was right to say we need to go back to the farm. He is is apparently obsessed with farming. On Friday, December 17, 2021, he said he would return to his farm after the expiration of his tenure. "I look forward to the year 2023 when I finish, to go home to take charge of my farm," he said.
While General Buhari was right with his 'go back to farm' statement, it begs the question of whether he was also speaking to Benue Internally Displaced Persons, IDPs, who for five years now cannot access their land for farming.
Since 2018 till date, the Federal Government under the leadership of General Buhari has seen and heard their plight; but has deliberately refused to come to their aid. These farmers who the General has asked to go to farm have been displaced by armed Fulani herdsmen and their land forcefully captured. They can not return. Any attempt on their own to return is suicidal. How can they return to their farmlands where senseless killers lurk? How can they return to their farmland where security personnel have not been given the matching order to clear the wrong occupants of the land?
At some point of the killings by armed Fulani herdsmen, General Buhari could only tell Benue people to learn to live with their neighbours. How do you live with invaders as neighbours? He had neither empathy nor sympathy for those killed. Even the promise to relocate the IDPs has far been forgotten.
It was Vice President, Prof. Yemi Osinbajo who had visited the IDP camps and made the promise that Benue State would benefit from the N10 billion earmarked for the resettlement of IDPs in Nigeria. One can only hear of IDPs resettlement in the North East, but not in the middle belt and Benue state. Oh, Middle Belt! how Buhari has forgotten about you!
It is the beginning of the year and preparations for another cropping season have already begun. Since the President has charged everyone to go back to the farm, one would expect the President to fix security issues to allow those in different IDP camps across the country to have access to their farmland.
The President, General Muhammadu Buhari should know that Benue IDPs have heard his clarion call to go back to the farm. They are willing as they have always been. But armed Fulani herdsmen would not grant them access to their land. The President must hear the cries of those Benue IDPs and solve their problem before he returns to his farm in 2023.
Benjamin Ngutsav writes from Agbeede, Konshisha LGA, Benue State.