NASS Pledges support to military on insecurity
The National Assembly on Wednesday 31st July, 2019 pledged its continued support to the Nigerian military in tackling the current security threats across the country.
The President of the Senate, Sen. Ahmed Lawan, made the pledge at the National Defence College (NDC) Course 27 Graduation Dinner and Award Night in Abuja.
Lawan, who was represented by Sen.

Michael Nnachi, said that the ongoing fight against insurgency in the North East and other security challenges in other parts of the country required the support of all stakeholders.
According to him, as representatives of the people, we are very much in the frontline of efforts to improve security and development.
"We are indeed, in a good position to enable national discussions to forge alliances between Government, civil society and development partners.
"As such, under my leadership, the National Assembly will decidedly place emphasis on quality, efficiency and effectiveness of the legislative processes to improve security and development.
"You will agree with me that the business of ensuring security for this dear nation of ours cannot be left to the security agencies alone because it is a collective effort.
"In this regard, let me assure you that the 9th Assembly intends to work closely with the Executive, the Ministry of Defence and the leadership of the Services to ensure that members of the Armed Forces are well equipped, properly motivated and well trained,'' he said.
Lawan also pledged to encourage communication between the NDC and the Senate and House Committees on Defence to initiate mechanisms for enhanced security sector governance and reform in Nigeria.
He says: "I also agree that this interface has become imperative, given the growing need to instill best practices in our security sector and the very important role both institutions play in this regard,'' he said.
The senate president urged the graduating officers to justify the training they had acquired, saying they were better equipped for higher responsibilities.
"The Course you have just finished has prepared you for strategic leadership and higher level command, particularly at a time, when our nation is faced with a plethora of security challenges.
"The successful completion of this Course implies that you are now better equipped for higher military or other national duties and therefore added responsibilities,'' he said.
According to him, the administration of Muhammadu Buhari had taken deliberate steps to improve national security, institutional capacity and collaboration with contiguous neighbours.
Earlier, the Commandant of the College, Rear Admiral Mackson Kadiri, said that the college promotes military strategic understanding in the polity and strategic level military training.
Kadiri disclosed that the participants of the Course 27 numbering 127 had passed through a vigorous 11 months processes of the Higher Defence and Strategic Studies course.
"They are now better informed and wiser. More importantly, they are now more capable, willing and ready to serve their nations in any capacity."
The News Agency of Nigeria (NAN) reports that the dinner is part of activities lined up ahead of the graduation slated to take place on Friday.
Army Launches Operations Against Oil Thieves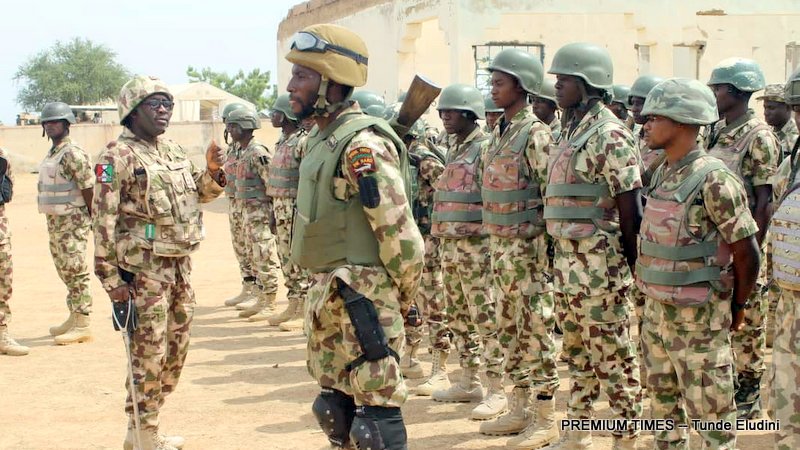 From Tayese Mike, Yenagoa
The Nigerian Army in Bayelsa State at the weekend launched a raid on the camps of suspected oil thieves and Militants at Igbomotoro and Azuzuama communities of Southern Ijaw Local Government area of the state.
It was gathered that the raid, which was conducted by men of 5 Battalion of the Nigerian Army, also combed the crude oil pipeline route along the Obama flow station, Kolo creeks and Brass areas of the State.

While a senior military sources said that the operation was also targeted at tackling the operations of some known militants involved in setting up illegal bunkering camps in communities of Southern Ijaw and some other illegal activities.
Another claimed the operation was targeted at arresting a known militant leader over his alleged shady activities, but he escaped with his boys through the creeks when he was alerted about the impending military raid.
It was also however gathered that the shrine allegedly being used to administer oaths on youths during recruitment into the illegal bunkering activities by the suspected militant leader was destroyed and many other items including Military Camouflage, Mobile phones and military boots were seized.
Indigenes of the Igbomotoro community however cried out over alleged military occupation of the area thereby causing panic and desertion by indigenes over fear of indiscriminate arrest.
An Indigene of Igbomotoro, who pleaded anonymity, however told Daily Asset on Sunday that the area is calm as the military men have retreated from the community as at Sunday morning," the situation is calm now. We are peace loving community and would not want soldiers to occupy our area."
Attempts to get the spokesman of the 16 Brigade of the Nigerian Army and the Joint Military Task Force to speak on the development proved abortive as no one showed signs of denying or confirming the development.
Troops Nab Alleged Gunrunner, Seven Rail Track Vandals in Taraba, Benue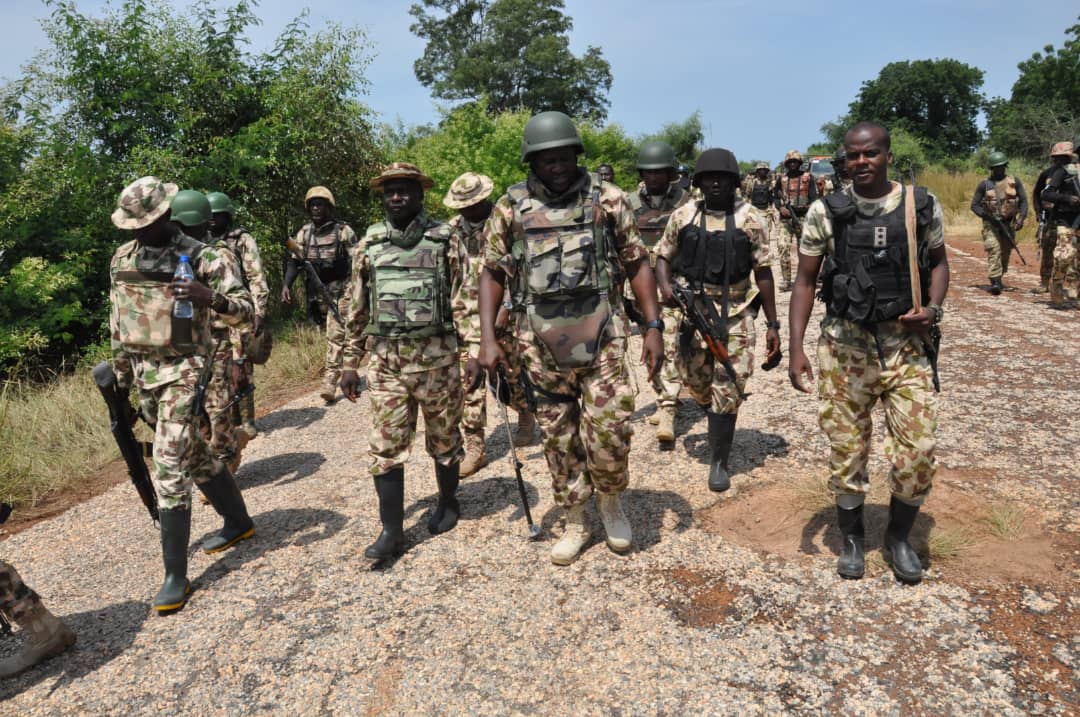 By Gom Mirian, Abuja
The Military High Command said its troops of Operation whirl stroke have arrested a notorious gun runner, one Mr. Ardo Manu Abdulrahaman Maranewo who has been on the security wanted list while seven rail tracks vandals were arrested in Taraba, Benue States.
Director, Defence Media Operations, Major General Bernard Onyeuko, who disclosed this in a statement yesterday in Abuja, said Abdulrahaman is specialized in selling and leasing arms and ammunition to bandits and kidnappers in Taraba State.

"Troops on patrol in Udei general along Udei -Makurdi-Lafiya road arrested 7 rail track vandals namely; Tersoo John (40yrs), Donald Kperuv (30yrs), Abraham Tinde (25yrs), Jamilu Danlami (20yrs), James Yandela (29yrs), Idris Usman Imam (32yrs) and Abubakar Adamu (30yrs).
Onyeuko said that the rail track vandals were arrested with a trailer (ABJ KWALI 846XB) loaded with cut to size vandalised railway tracks and sleepers.
He in another development, said the troops have on June 21, also raided a kidnappers enclave at Maraba in Ukyonugu Ityuluv Ward in Ukum Local Government Area of Benue State and arrested a bandits collaborator one Mr. Ichen Igbaka, a 65- year-old and his wife Mrs. Salomi Gbaka.
"Their house as a hideout for kidnapped for late bandit leader Mr Azu," he said, adding that the suspects and items recovered are in custody for further interrogation.
Meanwhile, in the North West he said "On 21 Jun 2022 troops of FOB Bakura Operation HADARIN DAJI responded to distress call of terrorists' activities at Rafin Dankura in Bakura LGA of Zamfara State engaged the terrorists in a shootout after abducting innocent civilians.
"After the encounter troops rescued the six (6) kidnapped civilians and neutralised 2 bandits in the process.
"Similarly, on 21 June 2022 in response to a distress call on terrorists activities made contacts with marauding terrorists at Maigora in Faskari LGA of Katsina State and neutralized 2 terrorists in the process.
"Items recovered includes 2 AK 47, 1x 36 hand grenade, 2 x cell phones and the sum two hundred and eleven thousand, nine hundred and fifteen naira (211,915.00)," he disclosed.
Don't Resume Train Service until AK-9 Victims are Rescued, Family Members Charge NRC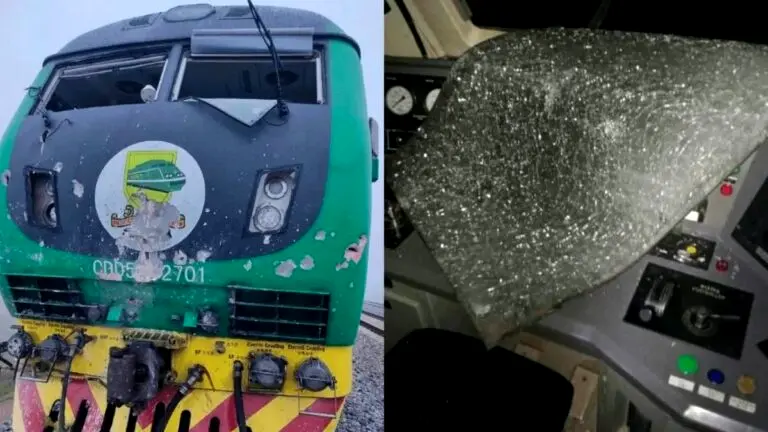 42 days after terrorists attacked the AK-9 train along the Abuja-Kaduna rail route, families of the over 100 persons still in captivity have urged the Nigerian Railway Corporation, NRC, not to resume services on the corridor until all those held captive are safely rescued.
Addressing a press conference, Monday, in Abuja, the families lamented the horrible conditions the abducted passengers have been forced to live in, even as they took a swipe at the manner the Federal Ministry of Transportation and the NRC have so far handled the matter.

Representatives of the families, Abfulfatai Jimoh and Ba'abba Muhammad said it would be insensitive for NRC to resume operations on the route with fate of scores of passengers kidnapped still unknown.
"Abuja-Kaduna train service should not resume until the quick and safe rescue of our family members held hostage and adequate security measures are put in place to guarantee the safety of prospective passengers.
This position aligns with the prayers of the majority of Nigerians," they said.
According to them, "it has been 42 long days of living in fear, virtually no sleep, no bath, wearing the same clothes, under the scorching sun and rain, and exposed to extreme environmental hazards.
"The emotional, psychological, mental, and physical torture arising from these conditions are only imaginable.
"Among the abducted passengers are children- some as young as three years old, pregnant women, women including an 85-year-old great grandmother, and others. Some of these victims have health challenges requiring daily medications, which they have had no access to in the last 42 harrowing days."
In an emotionally-laden voice, Jimoh added that the story of one of the victims giving birth in the forest is difficult to accept in a sane society.
"We read in the news that one of the two pregnant women in captivity delivered her baby in the forest.
"Giving birth is supposed to be a moment of joy; how would it have been if this woman delivered her baby in the comfort of a maternity ward? In whose hands? What is the place of birth of this baby, the forest? While some families have their breadwinners in captivity, others have their wives, mothers, sisters, brothers, uncles, and aunts held down in the bush.
"This hostage-taking has drastically disrupted the living conditions of affected families. Children are crying everyday, with the only question in their mouths being: When are my Mummy and Daddy coming home? What a miserable state!
"Since this unfortunate attack on the Abuja-Kaduna bound train, we believe the President and Commander in Chief of the Armed Forces of the Federal Republic of Nigeria, alongside his security and intelligence chiefs, have been working to rescue our loved ones. We have been given assurances that a positive outcome of these efforts would be apparent soon.
"We must, however, register our displeasure with the way and manner the Minister of Transportation, Mr. Rotimi Chibuike Amaechi has been handling this tragic event since it occurred. Just a few days after 28th March, Mr. Amaechi was seen running around the Stadium in Port Harcourt where he declared his intention to become the next President of Nigeria.
"We had expected Mr. Amaechi to be running around as to how to get his abducted passengers rescued, and this is highly disappointing. Mr. President also directed the Management of NRC to establish a Situation Room to give a minute by minute account of rescue efforts to relatives of kidnapped passengers.
"Still, one week after this Presidential directive was issued, NRC has neither contacted the relatives of kidnapped victims nor established any Situation Room as directed by the President. This display of gross incompetence and insensitivity should lead to the appropriate punishment.
"Furthermore, we sought the intervention of the leadership of the National Assembly, which is the people's court, but nothing has been forthcoming from them.
"We want to extend our profound gratitude to Nigerians, elder statesmen, traditional, religious, and community leaders, and the Nigerian media who have lent their strong voices to this struggle both in the open and behind the scene and their prayers for divine intervention. We still need this vital support until success is achieved," they said.
Fielding questions from journalists, Hidayiat Yusuf, spokesperson for the families slammed the NRC for contemplating resumption of operations on the route, saying "if there was security in place, our loved ones would not have been kidnapped.
"We are ready to negotiate with the terrorists if they are willing. If it is money they want, they should come forward and say so," she added.