Nigerians in New York Organise Debate for Mayoral Candidates
The Nigerian community in New York City, United States, on Sunday organised a debate for the mayoral candidates to learn about their views on critical issues impacting on the Nigerian community.
The debate was convened by The Nigerian Forum, a coalition of the Organisation for the Advancement of Nigerians (OAN) and the Nigerian-Americans Public Affairs Committee (NAPAC), a political action committee.

The New York City mayoral election is very competitive and strategic due to the city's diverse nature and an annual budget of about US$ 100 billion, the largest municipal budget in the U.S.
No fewer than 13 Democratic and two Republican candidates have qualified for the city's 2021 mayoral election following the Democratic and Republican primaries on June 22, 2021, and a general election on November 2, 2021.
no fewer than three Nigerians are contesting in the city council's elections.
They are Prof. Ranti Ogunleye, contesting for Staten Island City 49; Dr George Onuorah, contesting for Queens district 21; and Chris Durosinmi, contesting for Brooklyn District 37.
The Nigerian community is therefore positioning itself as an organised and important voting bloc that has enough weight to pull support for a candidate whose agenda resonates with the community.
Chairman of NAPAC New York, Mr Gbenga Omotayo, said that the debate aimed to discover the agenda of each candidate so as help make an informed choice about whose agenda would best support the Nigerian community.
Omotayo said a lot of issues affects Nigerians in the city, adding the candidate whose agenda best addresses the issues would secure the Nigerian community's support.
"We have a vision to make sure that our children get to wherever and whatever level they deserve and desire.
"We are going to use some criteria to determine who we should work with and whoever we go with it, by the grace of God, is going to be the next New York Mayor.
"When he is there, we are going to make demands of him; gone are the days when Nigerians were pushed aside. We don't want that to happen any longer,'' he said.
Omotayo also canvassed support for Nigerians contesting for New York City Council positions, saying, "we have our brothers contesting, we will support them".
Similarly, Dr Nelson Aluya, President of NAPAC, canvassed support for Nigerians contesting for elective positions.
Aluya said: "New York has a role to play, not only for us as Africans or for us as Nigerians but also for us black people.
"We must begin to put our differences aside and come together to achieve result."
Also speaking, Dr Bola Omotosho, who moderated the forum, said the goal was for Nigerians to hear first-hand from the candidates as a voting bloc in New York.
Omotosho, a former Democratic candidate for New York City Council, said "New York is a melting point of the world and the city is very important to the Nigerian community."
He added that the forum would afford Nigerians the opportunity to ask questions, noting that "New York is a very diverse community and whoever becomes its next mayor will inherit a lot of responsibilities."
Eric Adams, a leading mayoral candidate in the polls, pledged "to deliver the prosperity of New York to the Nigerian Community in the city".
Adams, current borough president of Brooklyn, said education, security and wealth creation as well as health would be top on his agenda, noting that he had supported the health sector in Nigeria by establishing a clinic in Lagos.
The Democratic candidate also pledged to connect Africa with New York through cultural, educational and youth exchange programmes. (NAN)
Buhari to British PM: No Third-term for Me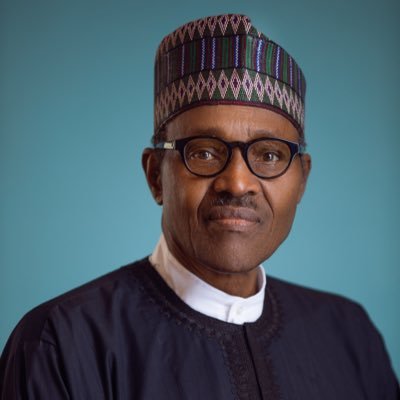 By Mathew Dadiya, Abuja
President Muhammadu Buhari yesterday held a bilateral meeting with Prime Minister of Great Britain on the sidelines of the 26th Commonwealth Heads of Government Meeting (CHOGM) in Kigali, Rwanda, during which he once again reiterated his resolve to respect the maximum term limit in the Nigerian Constitution.
The PM, obviously not quite familiar with the maximum two terms limit, had asked if President Buhari would run for office again; to which the latter responded: "Another term for me? No! The first person who tried it didn't end very well.

" (General laughter).
Special Adviser to the President, Media and Publicity, Femi Adesina, in a statement yesterday, said that, the leader of the proscribed Indigenous Peoples of Biafra (IPOB), Nnamdi Kanu, not being allowed to see his lawyers privately, the President dispelled such insinuation, saying the detained separatist was being given every opportunity under the law "to justify all the uncomplimentary things he had been saying against Nigeria in Britain,"
Buhari said: "He felt very safe in Britain, and said awful things against Nigeria.
We eventually got him when he stepped out of the United Kingdom, and we sent him to court. Let him defend all that he has said there.
"His lawyers have access to him. Remember he jumped bail before, how are we sure he won't do it again, if he's admitted to bail?"
On the keenness expressed by the PM to help Nigeria in the area of security, the President said helping to stabilize Libya could be an initial good step, as the fall of Muammar Gadaffi after 42 years in power unleashed his armed guards on countries in the Sahel, "and they are causing havoc everywhere, as the only thing they know how to do is to shoot guns."
On Boko Haram insurgency, Buhari said there was serious effort to educate the people on the fact that only an unserious person could kill innocent people, "and say Allah Akbar (God is Great). God is justice. You can't take innocent souls, and ascribe it to God. And the education process is working, the people now understand Boko Haram as anti-God, and not about religion."
Johnson said he was delighted about the good news on trade between the two countries, adding that the UK was further reducing tariffs on some goods going to Nigeria.
He described the relationship between the countries as "very strong attachment," adding: "I just want to be sure that we are doing enough. It's a massive partnership for us, and we need to capitalize on it."
The Prime Minister offered condolences on some recent attacks in Nigeria, particularly on churches.
Dozens Killed, Millions Stranded in India, Bangladesh Floods
At least 59 people are known to have died in lightning strikes and landslides triggered by severe monsoon storms in India and Bangladesh.
Millions of people have been stranded while emergency workers have struggled to reach those affected.
Forecasters are warning that the flooding is expected to get worse over the next few days.
Bangladesh government officials have described the recent flooding as the country's worst since 2004.

Unrelenting rains over the last week have inundated vast swathes of the country's north-east region, exacerbated by runoff from heavy downpours across mountains in neighbouring India.
Schools have been converted into makeshift shelters and troops have been deployed to evacuate households cut off from neighbouring communities as a result of rising waters.
People try to survive as monsoon rains swamped huge areas of the country, leaving millions of homes underwater in Sylhet, Bangladesh on June 18, 2022.
Bangladesh government officials have described the floods as the country's worst since 2004
"The whole village went under water by early Friday and we all got stranded," Lokman, whose family lives in Companiganj village in Bangladesh, told AFP news agency.
"After waiting a whole day on the roof of our home, a neighbour rescued us with a makeshift boat. My mother said she has never seen such floods in her entire life," the 23-year-old added.
A patient is taken to upstairs as flood water enter inside Sylhet Osmani Medical College Hospital in Sylhet, Bangladesh on June 18, 2022.
A patient is moved to a higher floor as flood waters enter a hospital in Sylhet, Bangladesh
In Assam state in neighbouring India, more than 1.8 million people have been affected by floods after five days of incessant downpours.
Assam Chief Minister Himanta Biswa Sarma told reporters he had instructed district officials to provide "all necessary help and relief" to those caught in the flooding.
"Our house is submerged in water. I've never seen such huge floods in my life," Husna Begum, a resident of Udiana village in Assam, told the BBC.
Hundreds Protest in Tunis against President's Plan for Constitution
Hundreds of people demonstrated in Tunis yesterday in a second day of protest against a constitutional referendum called by President Kais Saied that his opponents say would cement his hold on power.
The demonstration was organised by the Salvation Front, a coalition including the moderate Islamist Ennahda, the largest party in a parliament that Saied dissolved in March.

It followed a similar protest on Saturday called by the Free Constitutional Party over the referendum, and a strike on Thursday by a powerful labour union over government economic reform plans, which brought much of the county to a standstill.
The president's supporters say he is standing up to elite forces whose bungling and corruption have condemned Tunisia to a decade of political paralysis and economic stagnation.
The head of the country's constitution committee said on Saturday he will hand over the new draft of what he described as a democratic constitution to the president on Monday, ahead of a July 25 referendum.
The country's main political parties say they will boycott the plebiscite.
But opposition to Saied remains fragmented, as shown by the separate demonstrations at the weekend.
On Sunday, protesters marched through central Tunis to Avenue Habib Bourguiba, watched by a heavy police presence.
"Saied must leave… The people on the streets are constantly against you Saied," activist Chaima Issa told Reuters. "The UGTT (union) went on strike, and judges are protesting. Do you want to rule a people that reject you?"
Judges in Tunisia on Saturday extended their national strike for a third week in protest against a decision by Saied to sack 57 judges on June 1.
The president accused them of corruption and protecting terrorists – charges that the Tunisian Judges' Association said were mostly politically motivated.
Saied's move heightened accusations at home and abroad that he has consolidated one-man rule after assuming executive powers last summer and setting aside the 2014 constitution to rule by decree.