NPTF Trains 100 Policemen in Divisional Crime Management
The Nigeria Police Trust Fund (NPTF) in collaboration with Ibzain Integrated Services Limited, has begun training of 100 police personnel in Yobe in divisional crime management.
Mr Jamilu Ja'afaru, NPTF Deputy Director, Training, Welfare and Institution Development, stated this at a 7-day capacity building workshop in Damaturu on Wednesday.
He said the workshop was part of NPTF efforts to train and retrain men, officers and auxiliary personnel of the Nigeria Police Force for maximum productivity.
"This training we are conducting here in Yobe on Divisional Crime Management, is holding in 31 states of the federation under the 2022 Police Training Intervention Fund.
"The intervention started last year and so far we are able to provide various trainings to about 10,000 police personnel across the country and we will do more," Ja'afaru said.
Ja'afaru said that aside the trainings of personnel, the Fund had provided interventions to police accommodation in barracks, police station, procurement of gadgets and equipments among other.
He assured that no police personnel would be left out in NPTF training and charged the participants to utilise the knowledge acquired to enhance their capabilities.
"None of us is safe until the Nigerian police force is effectively and efficiently repositioned to secure us in this country.
"And we will leave no stone unturned in an attempt to do so," Jaafaru said.
In his remarks, Mr Ahmed Garba, Commissioner of Police in Yobe, noted that the welfare of personnel would take centre stage under his leadership.
Represented by ACP Abdulsalam AbdulRazaq, the CP charged the participants to take the training seriously by being punctual and attentive in order to benefit maximally.(NAN)
Inter-agency Cooperation Vital to Success of Counter-terrorism Operations – GOC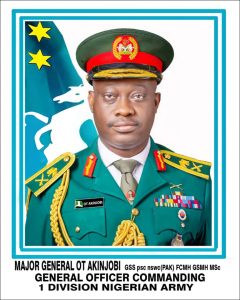 The General Officer Commanding (GOC) 1 Division Nigerian Army, Maj.-Gen. Olufemi Akinjobi, says strengthening inter-agency cooperation and capacity is vital to the success of counter-terrorism operations.
Akinjobi made the remarks on Friday at a seminar organised for members of Junior Course 95 of the Armed Forces Command and Staff College (AFCSC), Jaji.
The theme of the seminar was 'Imperatives of joint Counter Terrorism, Counter Insurgency (CTCOIN) training for operational efficiency at the tactical level'.
The seminar is an annual event for mid-level officers of the armed forces and other security agencies as well as relevant Ministries, Departments and Agencies.
The GOC stressed that in countering the threats of insurgency and terrorism which Nigeria has battled for over 15 years, there must be very strong inter-agency cooperation.
"Maximum successes would not have been realised through the effort of any single service, hence the joint training," he added.
According to the GOC, joint training promotes unity of efforts, reduces wasteful duplications and helps to maximise core competencies of the various services.
"This ensures that one service leverages the strength of the other in the pursuit of a unified purpose.
"The current fight against terrorism and other forms of insurgency such as Operation Hadin Kai and Operation Hadarin Daji underscores this fact," Akinjobi said.
He therefore urged the participants to take the lessons from the seminar seriously.
Akinjobi advised the college to harmonise the recommendations, observations and decisions reached into a working document and present it to appropriate authorities for approval and implementation.
Earlier, the Commandant of the College, AVM Emmanuel Wonah, said the seminar was a culmination of series of lectures packaged to broaden the knowledge of the students on the conduct of CTCOIN operations.
He said it was meant to engender deliberate and systematic approach in tackling insurgency and terrorism, as some of the participants would return to their theatres after the course.
Wonah said that the knowledge acquired would enable them to plan, execute and monitor progress of operations.
"In the course of this seminar, more perspectives will be provided by our resource persons to consolidate the lessons of earlier lectures.
"It is hoped that the seminar will bring out lessons that would assist the Armed Forces of Nigeria for seamless CTCOIN operations," he added.(NAN)
Troops Destroy Illegal 47 Refineries, Apprehend 65 Suspects – DHQ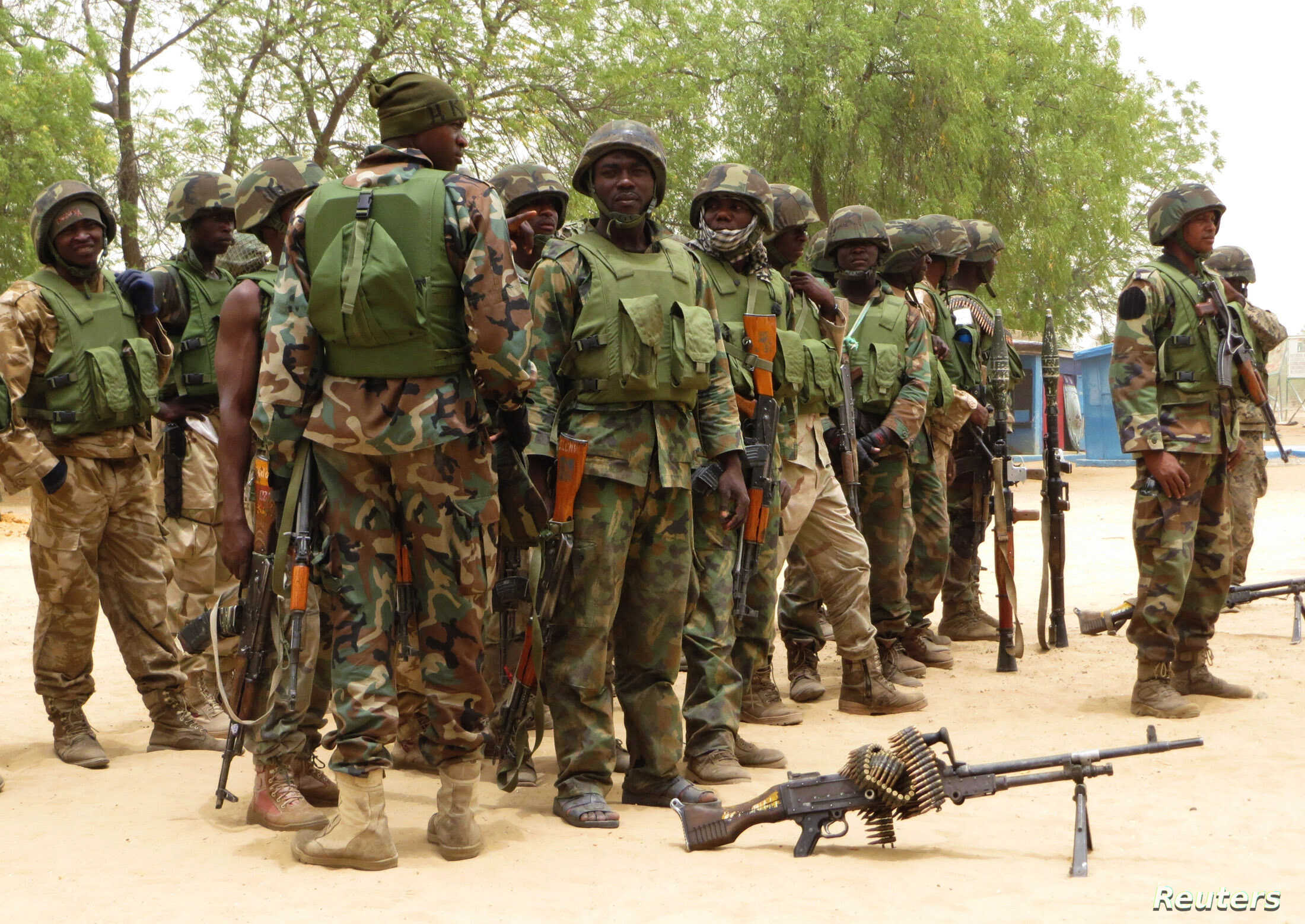 The Defence Headquarters says troops of Operation Delta Safe (OPDS) have destroyed 47 illegal refining sites, and apprehended 65 suspected oil thieves and other criminals in the last two weeks.
The Director, Defence Media Operation, Maj.-Gen. Musa Danmadami, said this on Thursday in Abuja at the bi-weekly news conference on the operations of the armed forces.
Danmadami said the troops had sustained the tempo in the war against oil theft, illegal refineries and other criminal activities through aggressive raid, patrol as well as clearance operations amongst others.
He said the troops recovered 186,000 litres of crude oil, 42,750 litres of Automotive Gas Oil, 4,500 litres of Premium Motor Spirit and 200 litres Dual Purpose Kerosine.
The spokesman said that 250 storage tanks, 220 ovens, 32 dugout pits, 31 wooden boats, one gas welding cylinder, and one pocking gas were recovered.
Others are two gas burners, two gas gauge, two adjustable spanners, one pumping machine and four outboards engines.
Danmadami said the troops also recovered 300 ammunitions, 15 AK47 magazines, 211 mobile phones, three vehicles, 100 wraps of suspected cannabis sativa, three and four pinches among others.
He said the troops had on May 18, raided a suspected criminals house at Ibaa community in Ahoada West Local Government Area of Rivers.
"All recovered items and apprehended suspected criminals have been handed over to the relevant authority for further action.
"Equally, it is worthy to mention that a total of N604.4 million was denied the oil thieves.
"The air component on May 18, conducted air interdiction operation at Krakrama active with illegal refining activities.
"Accordingly, the location was struck, with several illegal refined products and equipment destroyed in the air strike," he said.
In the South East, Danmadami said the troops of Operation UDO KA continued to clamp down on the Indigenous People of Biafra, Eastern Security Network terrorist and other criminalities in the zone.
He said the troops neutralised five terrorists and apprehended nine suspects, as well as recovered several arms, ammunition and other items during the period.
In the South West, he said the troops of Operation AWATSE apprehended 26 suspected criminals and recovered one locally made pistol, three cartridges, 280gm of tramadol and two bottles of codeine. (NAN)
Tinubu 'll Change Security Architecture, NSA Assures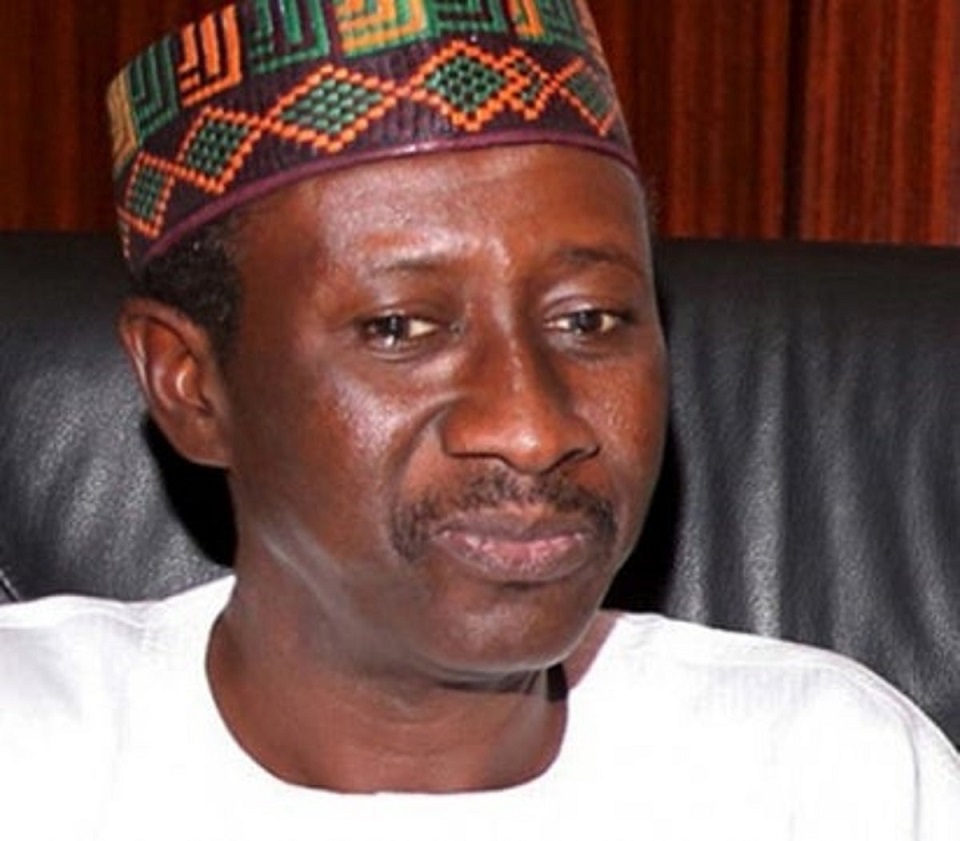 By Mathew Dadiya, Abuja
President Bola Tinubu, Thursday met with the Service Chiefs and heads of security and intelligence agencies and told them that he would change the security architecture in the country to to blend with his phIlosophy to address the insecurity challenges across the federation.
The President also said as far as he is concerned, 'Nigeria should not go on her knees as a result of security challenges while ather countries are working, moving forward and recording tremendous achievements.
'
Tinubu stated this in his maiden official meeting with Security and intelligence heads led by the Chief of Defence Staff, General Lucky Irabor at the Presidential Villa, Abuja as the the National Security Adviser, NSA, Major Gen.
Babagana Monguno (retd), who briefed State House correspondents after the meeting that lasted two hours, said the President has directed heads of security agencies to come out with their blue prints.
He ordered the security agencies to crush anyone involved in oil theft, stressing that his administration will not tolerate such menace.
"He is going to embark on a lot of reforms in terms of our security architecture, he is going to take a closer look at our misfortunes in the maritime domain, focusing particularly on the issues of oil theft, that as far as he is concerned, he is not going to tolerate oil theft Wherever the problem is coming from it must be crushed as soon as possible," he stated.
He has already mandated the security agencies to come up with a blueprint as far as he knows and as far as he concerned, he doesn't have the luxury of time. And whatever changes will be made have to be done as soon as possible.
"The President also has decided that what ever ventures the armed forces are going to be engaged in, they must carry along those operatives in the theatre. They must be well fed, well kitted, motivated and given all that they require.
He said it was an appraisal meeting for the President to get briefing on the activities of the different security formations and for him to tell them his own philosophy and what he expects from the security heads.
He said, "The President and Commander in Chief of the armed forces has just concluded a meeting of the general security appraisal committee consisting of the Chief of Staff service chiefs Inspector General of Police, and heads of the intelligence agencies.
"This is the very first meeting he's had with the heads of the security agencies. The meeting lasted for two hours.
"Having been briefed by the participants of the meeting, Mr. President, addressed prevailing issues confronting the nation in terms of insecurity and also mentioned his own philosophy towards dealing with national security issues.
"First and foremost, he appreciated the armed forces and intelligence agencies and the wider paramilitary agencies for the work they have been doing in the past couple of years. Their sacrifice, their loyalty, and he also paid tribute to those who died in defending this country, from the great big menace of terrorism, insurgency banditry, oil theft, sea robbery, piracy, etc.
"The President has made it very clear that he's determined to build on whatever gains that have been made and to reverse misfortunes and turn the tide in our favour.
"As far as he's concerned, this country should not be on its knees struggling while other countries are working and achieving greater heights."
President Tinubu said in moving the country forward he needs the security agencies to redouble their efforts, stressing that his own philosophy is one of contemporary security measures dealing with the requirements of the time.
According to the NSA, "He has made it very clear that he will not accept a situation in which our fortunes keep declining. And his own trajectory is that national security has to be coordinated, there has to be whatever…whether it is a basket system, but there must be a clearing house.
"All agencies must work to achieve one single purpose. Working at cross purposes and colliding with each other is not something that he will condone. He has made it very, very clear that all the security agencies must comply with the demands of coordination, with the demands of frequent consultations and also timely reports which must be acted on.
"President has said clearly that he will do whatever is within his powers to enable the operational elements but the intelligence agencies must also make their work easy for them by providing the type of intelligence that they require to carry out the assignment."