Open Letter to Oyo State Gov-elect Seyi  Makinde
By Opeyemi Ajala
Dear Governor Elect,
In the conventional customs of the people on E KUs, e ku orire ,on your success at the polls on March 9, 2019.
I am sure that by now, that the deluge of requests before you should have surpassed the ones you have been inundated with since you stepped into that crib on the blessed Christmas day in 1967! However, the challenge with this piece is that it's an additional request to compound those before you and the SSAs and SAs, this is vital since I am not in possession of your contact details or out of the phobia of joining the growing lists of those that will run down your phone battery (apologies to Dr Abati who knows more about the frequency at which phones of the office holders rings with the symmetry of the heartbeat).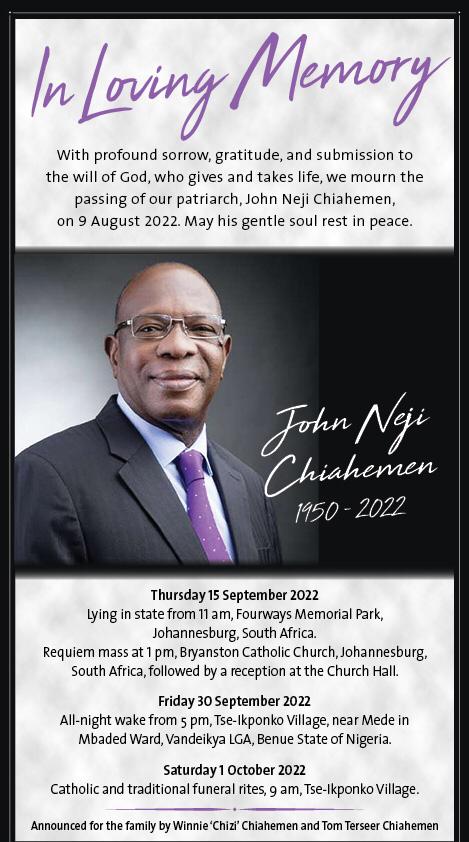 Before you get bored, as the Constituted Authority in waiting, my letter is in respect to the privatization of Shooting Stars Sports Club (3SC) being one of the modern pillars in the historical might of Ibadan, the city well documented for posterity by Prof. John Pepper Clark in his poem dubbed after the city. In line with article 2 of the club's objectives to attract fame, honour and goodwill for the people of Oyo State and Nigeria as a Nation. How do we ensure Shooting Stars Sports Club of Ibadan is weaned from the aprons of the impecunious State Government to become a functional self-sustaining entity in the mould of other clubs like Ikoyi Club, Island Club, Otan Ayegbaju Club, Etsako Club 81 et al that predates it? This is the 3rd clause in the club's objectives that aligns with the 1st objective which is centered on 'to manage and fund a Professional Football Club in the Federal Republic of Nigeria.
The genesis as Western Region Production Development Board (WRPDB) in 1963, then Western Nigeria Development Company (WNDC) before the metamorphosing into Industrial Investment and Credit Corporation (IICC) Shooting Stars and later the current nomenclature destination as Shooting Stars Sports Club (3SC). In order to achieve the club's mission which is 'to gather human and materials to return the lost glory of the Club, as well as repositioning to its rightful place in Nigeria and Africa Football', then it is essential to privatize the club as a publicly quoted company because the emotional attachment to the club will make the option of a Private Limited Company a NO-NO!
The 'painful' privatization is like the bitter-leaf that is initially bitter upon contact with the salivating tongue, but thereafter becomes sweet or in the more familiar Ibadan adage that tita riro lan kola (the process of etching tribal marks – not tattoo is painful, but after the healing of the grievous wounds, it becomes a thing of beauty on the face). The club's vision statement relies worryingly on sourcing for financial support from the State Government, Corporate Organisations and Private Individuals, however the question begging for answer is that for how long can this beggarly structure sustain the club in view of the dwindling oil revenue (even the oil rich Kingdom of Saudi Arabia is already on the path of privatizing her top 14 professional clubs with a Vision 2020 target date). It is pertinent to remind you that the issue of wages (non and delay payment) was a factor in your emergence as the people flashed the red card before your ko le se ri predecessor and his equally illustrious candidate – your opponent. The Club should be a revenue generating agent for the company the same way Nigeria Liquefied Natural Gas (NLNG) hatches into the income stream of the nation. Why the spending on Shooting when the trailblazer State should be earning revenue through the on and off the pitch activities of Shooting Stars. Privatizing the club is a macroeconomics fiscal adjustment weapon of encouraging Foreign Direct Investment in the club and subsequently boosting the State's Gross Domestic Product (GDP).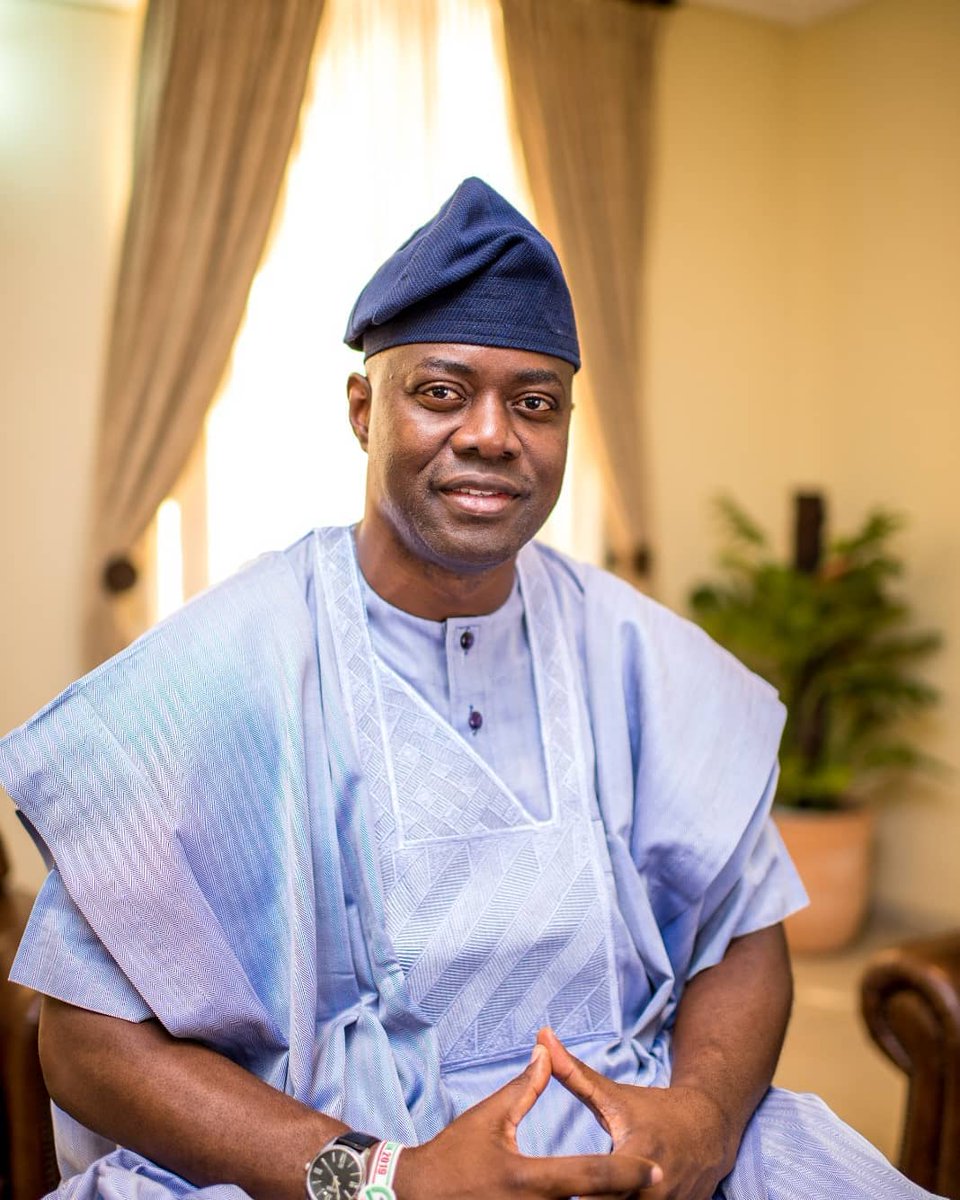 On the strength of the 2006 population census (I though it should be every decade?), the city was allocated over 3m out of the 5.5m population for Oyo State. I have attended more population growing function since that census that makes Ibadan at par with Wales of 3.125m (remember Wales' surprise run to the Semi Finals of the last Euro 2016?) This numerical strength coupled with the Siamese emotional attachment to the club makes the feasibility of privatization a viable option. 3SC considering the pedigree is one of the few clubs in Nigeria nay Africa that can tap into the emotional bank account of the people. The pace-setting place of the club in our nation's cum continent's footballing map is well documented. In 1976, 3SC became the first of the famous five Nigerian clubsides (Rangers International (1977), BCC Lions (1990), Bendel Insurance (1994) and Enyimba (2003 & 2004) to win a continental title when it thrashed the dreaded Yaoundé based Tonnerre Kalara 4-2 in the defunct Africa Cup Winners Cup final, the club set another record by becoming the inaugural winners of the CAF Cup donated by the presumed winner of the June 12 Presidential election, the late Bashorun MKO Abiola (GCFR), the painful double defeats against Egyptian conqueror, the Cairo based Zamalek in 1984 and 1996 was another record as the first Nigerian team to feature in two Champions Cup final, the pain soothed by Enyimba's back to back triumph in 2003 and 2004). For a side that has always been the Best (yeah the 1980 Green Eagles goaltender, Best Ogedengbe was a Shooting Star), only the best is good enough as we chart a way as pioneers again for Shooting Stars in privatization.
Ibadan, Ile Oluyole (reason one of the team's alias is Oluyole Warriors) has always been the pace setting city in Nigeria and Africa with many firsts in Broadcasting (WNTV), Sports (Liberty Stadium), Education (UI), Health (UCH) Urban Planning (Queen Elizabeth Road – the first dualised road & Bodija Housing Estate) et al, the antecedent is enough recipe to dish a mouth offering Initial Public Offer that is surely bound to be over-subscribed. The Nollywood chart buster 'Basira Beere' which features the popular Fuji Artiste – Taye Currency (whose scion – Yusuf Adebisi just got elected as a State legislator representing Ibadan South West constituency) is a pointer that the people of the city with the famed seven hills once united in a cause can always deliver.
Your Excellency, kind find a space in your agenda for this proposal to set 'Sooting' Stars on the path of infinitude. The time to stand on the side of history is now (sorry from May 29, 2019).
Once more, e ku orire
From a prodigal shooting fan who out of sheer infantile exuberance defied (not exactly the Saraki scenario) his father's supported IICC to support Leventis United till he retraced his tottering steps after the disbandment of Leventis United. As restitution demands, my stockbroker is anticipating my instruction to buy a minimum of a million units when the IPO is out
Opeyemi Ajala FCA was a Presenter , Eagle Sports Hour on Eagle Cable Television
Lagos, Nigeria
Funeral Oration for John Chiahemen
By Prof. Iyorwuese Hagher
My Lords Spiritual, the family of John Neji Chiahemen; Winnie Chiahemen, Children; Ide, Fanen, Mimi, and grandson Hemen. Tom Chiahemen his younger brother and the Nigerian Delegation; Senator Udo Udoma, Dr. Cletus Akwaya, Chief Tony Nnacheta, Prof. Gerald Igyor, Colleagues at Reuters, Our In-Laws from Kenya, Gentlemen of the Media, Fellow mourners.

Ladies and Gentlemen.
I am Ambassador Iyorwuese Hagher, a classmate of John Neji Chiahemen. We were born and nurtured in the same ethnic environment of Tivland in Central Nigeria and were the last generation of those born under the British Colony of Nigeria.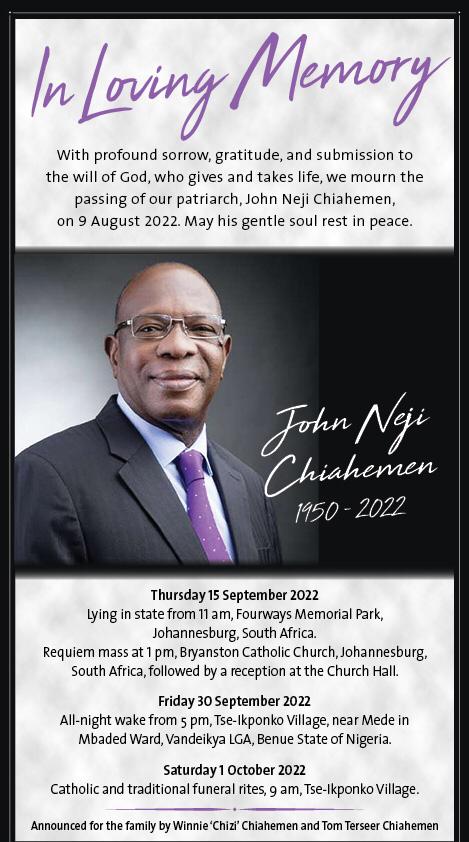 We were also the first generation of Nigerians with higher education to produce post-colonial manpower.
I wish to thank you all for the unique opportunity you have given, to pay the last respects to my friend. But I'm not here just to pay respect to my friend and compatriot.
I am here to also honor Africa's best journalist, a leading Pan Africanist, a humanist and our hero.
Neji was born in Tse Ikponko and his parents nurtured him on the vibrant Tiv story telling tradition. This nurturing became the seeds of media practice in his young mind. But it was at the Provincial Secondary School Katsina-Ala that Neji first acquired the tools of journalism, and went on to perfect his style and brand as a global media mogul.
Katsina-Ala Provincial Secondary school was a vastly diverse community of various tribes and races. It was here that Neji's character was fully developed. Unlike many people who embrace careers and destinies through accidents or later in life, Neji grew from being a child storyteller to becoming a journalist while yet in Secondary School where he was on the editorial board of the school student Newspaper "The Ferry Point" edited by Mr. Isaac Yongo, who was a senior student. Even though I was at Bristow, a missionary secondary school, we met often, specially during the holidays.
Neji was a straight A student, and was known for starting a reading Club with his friends. They read hundreds of novels, excelled in debates, and were the most brilliant. The club was also, dubbed, the mischief club in Philips house. They engaged in pranks against their senior students and teachers. They resisted the school fagging system. He was very practical and hands on personality. When everybody complained about the poor school diet, Neji did not complain. He cultivated vegetables behind his hostel and grew tomatoes which he supplied to other students and mixed these in the rice. He called these tomatoes "cheese".
Neji developed an independent mind and often went afoul of the military style- education foisted on them by a British retired army officer Clafton, the principal. This independence and resistant culture became a lifelong preoccupation to fight injustices in later life and to seek to expose them. Neji attended the All Girls Secondary School St. Louis Jos for his Higher School. He and
his classmates were the only males in the school. Neji was editor of the Lodestar School Newspaper. By attending an all-girls secondary school Neji assumed a comic and curious identity as an "old girl" of Saint Louis College. The alumni still refers to him as their late old girl alumnus. St. Louis taught the young Neji the significance of and respect for cultural, racial, ethnic and gender pluralism.
It was at Ahmadu Bello University that Neji and I became close friends. He had irrepressible charm. He exuded joy at all times. He had his nose in all happenings on campus and a breaking news mentality. He regaled us with witty, titillating and irreverent anecdotes about our hated professors. He was loyal and protective of his friends and favorite professors. He was master of words which he deployed strategically. Our campus life was intense but intellectually productive.
We joined the Anti-Apartheid movement and our heroes were Nelson Mandela, Martin Luther King Jr. Mohammed Ali, and Samora Machel. We clapped, danced with joy and mimicked the fiery rhetorics of Samora Machel when he came to receive an honorary doctorate degree at ABU in 1972. It was Aluta continua all the way. We embraced the global movement for the emancipation of the black race, and advocated for the decolonization of imagination and consciousness.
While on a long holiday in Jos Neji got his first professional job as a part-time reporter with the Standard Newspaper. The Newspaper was the protest voice of the minorities of Northern Nigeria. Neji and I never called each other by our names. Since I was older than him, I assumed senior brother status. He deferred to me and called me "Orvesen na jim jim", Meaning my real leader and I in turn also called him by the same nickname "Orvesen na jim jim" my real leader, because he was an intellectual giant, a veritable encyclopedia with vast knowledge about everything.
After graduation I unsuccessfully tried to prevail on him to accept the academic position that was offered to him in the political science department of the university. He rejected the offer with hilarious contempt. "No Thanks. I would rather go out of the sheltered campus and see the world" he told me. And saw the World he did plentifully, traveling and working through the whole world, seeing the world and the world seeing him. I stayed back on campus to teach and research till I left and joined politics. He applauded me.
Neji encouraged me in my academic and literary writings and took two copies of all my published books for himself and Mimi his daughter. I remember the time I went to do research at the University of Nairobi. When Neji returned to Nairobi and found me at the Nairobi Hilton, he went to check me out of the hotel and took me to his home. I stayed with him and Winnie his newly married wife for the rest of my stay in Kenya. I was meeting Winnie for the first time. Winnie was then and now a beautiful, kind and generous soul. They were a perfect couple meant for each other. Neji made me see a beautiful Kenya through his eyes – a sprawling historical entity, diversely rich and struggling to overturn its internal contradictions- like most of post-colonial Africa.
A few months before his demise, he rushed to me his first major published book "One Market: the making of the inaugural Intra-African trade fair."
In his endorsement of the book he wrote, "Orvesen na jim jim Exclusive copy of the book for Orvesen na" "Enjoy." Neji I enjoyed your book. It is a masterpiece and a befitting parting gift
to your beloved Africa. It is a major legacy that summarizes your outlook and mission for Africa's economic liberation from Neo-colonialism. You left us your vision of a united Africa, as a public intellectual and relentless crusader for global social justice. Your dream and belief in an Africa that could once again attain greatness through its drive to reverse engineer the continent, through integration and inter-regional trade, cannot die. It is an idea whose time has come.
Neji lived a beautiful life, a firmly planted life of serving others. He chose his vocation from childhood as a storyteller, and media practitioner par-excellence. Everywhere he went, he broke the news with zest. In his career at the Nigerian Television Authority, he dominated the news through innovation, energy, and uncommon insights. He was an uncommon man. He was a courageous Tiv man, and Pan Africanist, who sought to present the truth at all costs. Many times he put himself in harm's way in search of reality and this truth. Everywhere in Africa where the leadership was unwilling to develop their countries Neji faced existential threats. But he was undaunted.
Neji attained greatness not just because he was the best in his profession, he attained greatness by the measure of courage, generosity, competence, humility, politeness, and the manner in which he treated everybody with respect. He pursued excellence in everything he did. He loved his friends and family and was very loyal to them. He was a trailblazer, and role model and lived the best of himself. I will miss those special days he breezed into Abuja and we sat alone and laughed at the foibles of the world. Our world.
Neji was totally devoid of jealousy, guile, and malice. He laughed at the world, and at circumstances he found himself in, even when he was treated unjustly by others who used their power of riches and influence. He never dwelt on injustices to himself. He never spoke bad of other people. I and many of John's friends will miss him in diverse ways. All of his friends were special people to him. He was a celebrity who treated all of us also like celebrities. Life with Neji was to be enmeshed in affection and moral joy.
He defined his life with generosity and service. Neji, to paraphrase Helen Keller, "made the light in other peoples eyes his sun, the music in other's ears his symphony and the smile on other lips his happiness." He never trumpeted "who" he was but "whose" he was, and we knew he meant he belonged to us, family friends, Tivland, Nigeria and Africa!
My friend and brother Neji the Bible in Ecclesiasticles 3 vs 1. says "To everything, there is a season. A time for every purpose under the heavens" You fought a good fight. You deserve the crown of glory. It is time to say goodnight. God bless your soul till we meet again in heaven.
A Funeral Oration By Professor Iyorwuese Hagher, Nigeria's Former Ambassador to Canada and Mexico at the Funeral of John Neji Chiahemen In Johannesburg, South Africa Sept.15, 2022
Tribute to my Friend, John Neji Chiahemen
 By Udoma Udo Udoma
It is with sorrowful spirit that I stand here to say farewell to my good friend, John Neji Chiahemen.
Indeed, since the announcement by the family that John passed away there has been an outpouring of tributes from many friends and professional colleagues, from different parts of the world. There was also one from the Nigerian President, Muhammadu Buhari.

There is no doubt that John made an impact. He was a pioneer and pace setter in television and print journalism, and in the media generally, and was admired for his brilliance and commitment to excellence and to the highest international standards in whatever he did.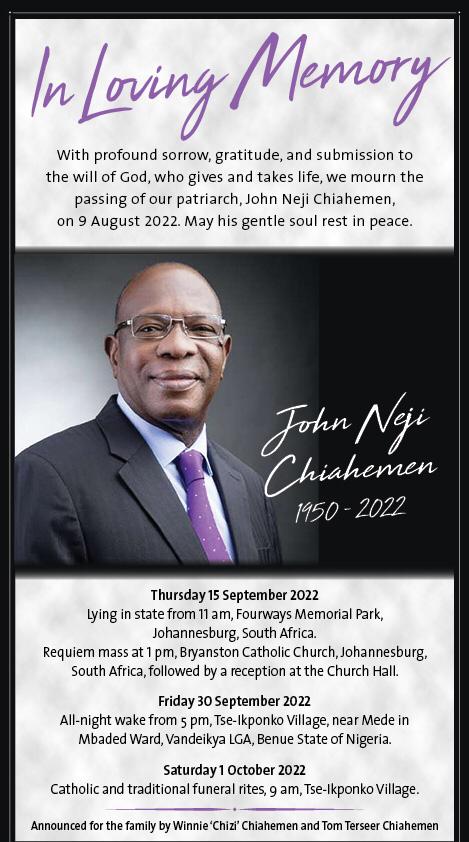 I cannot recall exactly when I first met John, but he came to my attention through a weekly programme he anchored on NTA called 'Newsweek'. This was the late 1970's and the early 1980's and I had just come back to Nigeria after my university education in the U.
K. It was a time of great optimism in Nigeria. We had just put the costly civil war behind us and were flush with oil money. The programmme was further evidence that we were now ready to compete with the best that was on offer anywhere in the world. I never missed the programme and recall remarking to many of my friends that Newsweek was comparable to the best that the BBC and ITN were then offering in quality, content and boldness. It was able to x-ray developments in the country without sparing our leaders from scrutiny.
However, John's frank and bold analysis and presentations started causing unease amongst the politicians. Matters came to a head when, in 1983, the Shagari Administration removed the highly respected and professional Director General of the NTA, Vincent Maduka, who had been one of John's protectors, and redeployed him to be an adviser on ''frequency allocation" at the Ministry of Communications! A party stalwart was appointed to replace Maduka. The NTA was converted into the political machinery of the ruling party, the NPN, and quickly lost credibility. An election monitoring programme, which John anchored, called 'Verdict 83', was so manipulated by the new authorities that it started being referred to by the populace as 'VOID 83'.
It was clear to John that his days at the NTA were numbered and he had to get out. Relief came by way of an offer from the international news agency, Reuters, as their first African correspondent based in Lagos. Nigeria's loss was Africa and the World's gain as John did exceptionally well serving Reuters throughout Africa, and beyond. After an impressive career in Reuters, he retired in 2009 as bureau chief for Southern Africa based in Johannesburg.
By the time he retired from Reuters he had become one of the best-known journalists on the continent and was in high demand as a consultant. Amongst other things he played a role in getting Arise Television off the ground. One of his last undertakings was a publication sponsored by Afreximbank which documented the history of the inaugural Intra-African Trade Fair. Afreximbank organized the Trade Fair in order to promote connectivity amongst African countries through expanded access to trade information and to create a platform for interactions amongst African businesses. John succeeded in completing the publication before he fell seriously ill and sent me a copy. I was most impressed by the extremely high quality of the production. The theme of the book is particularly reflective of John's belief and commitment to the greater integration and development of the African continent. John's dream was of a highly developed Africa that would take its rightful place in the World.
Even though I am a few years younger than John, he always treated me as a mate. We enjoyed each other's company. No matter where in the world John was (and he was very widely travelled) he always remembered to call me for a catch-up conversation on the political and economic situation in Africa, and in the world, as a whole. As a journalist he was abreast of the latest developments and was extremely well informed. I remember one conversation, when, to my surprise, he informed me that he was in Darfur, trying to make sense of yet another African conflict of brother fighting brother. And since, at that time, he had retired from Reuters I could not understand why he was still drawn to African trouble spots!
I recall the many enjoyable times we had together in Paris, in Abidjan, in London, in Lagos, in Abuja and in Johannesburg. In particular, I remember our memorable trip to visit John in Abidjan when, accompanied by his wife, Chizi, John drove my wife, Sally, and I to see the impressive Basilica of our Lady of Peace, Catholic Cathedral in Yamoussoukro.
John was also my tennis partner. Anytime we caught up with each other we invariably had a game of tennis. We did not mind that our standard of play was not of the highest because we were more interested in the conversation as well as the nice glass of wine that followed our games! And we certainly had lengthy and interesting conversations. I will miss the very many good times we had together.
When I think of John, I think of a very gifted man, with sharp intellect and with keen powers of observation and analysis. I think of a man of integrity and with a self-deprecating sense of humour. Many who worked with him at NTA, at Reuters and the various other organisations with which he was associated, have attested to his professionalism, his leadership qualities, his humanity, his kindness, and his humility and, most importantly his commitment to excellence.
John was also a family man. He was devoted to his wife, Chizi, and to his children, Ide, Fanen and Mimi and the latest addition to the family, his grandson, Finley.
On behalf of my wife, Sally and I, I wish to, once more, convey our heartfelt condolences to all the members of the Chiahemen family. I would also like to extend our condolences to his son in law, Ben, as well as his brother, Tom and all his other brothers and sisters, as well as his many relatives in Benue, his in-laws in Kenya, and friends throughout the world. Please be consoled by the fact that John led an impactful life and achieved so much.
Farewell John. Farewell my good friend. Farewell. Till we meet to part no more. May your soul rest in perfect peace in the bosom of the Lord.
Senator Udoma Udo Udoma, former Minister of Budget and National Planning delivered this tribute at the funeral of John Neji Chiahemen, renowned international Journalist and former African Bureau Chief/Editor of Reuters in Johannesburg, South Africa 15th September, 2022.
ASUU is the Problem of Education in Nigeria
By Godspower Ekuobase
This piece about academics in Nigeria may offend the arrogance of the Academic Staff Union of Universities (ASUU) if ASUU is repressive or it will excite ASUU's patriotism to bootstrap the Nigerian Academics to his pride of place in the global league of universal institutions called universities.
I write this piece to expose, as an insider, the realities of Academics in Nigeria towards rescuing the Federal Government of Nigeria (FGN) from the asphyxiation of ASUU and redirect ASUU to the path of patriotism.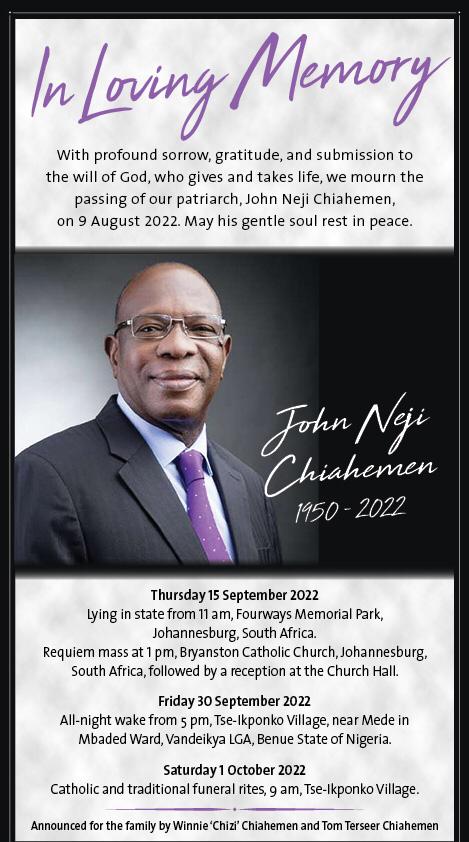 The truth is that like Saul who later became Paul, ASUU has ignorantly become the enemy of the Nigerian State. Why and How? You may ask! Permit me begin with the answer to "the why". ASUU pride herself as being the most educated, knowledgeable and intelligent set of Nigerians. This, obviously, is not true.
I assert that education is not certification, knowledge is not qualification and intelligence is natural, it is not grammar. Even the grammar, we do not write or speak it better than others.
ASUU should be humble enough to accept that we are not paid for certificates acquired, but we are paid to do our job of teaching, impactful research and community services within and outside the university with utmost professionalism and integrity and without fear or favour. If we say the truth, every Nigerian graduate has one or more lecturers that taught him/her that he/she wondered, and is still wondering, how the lecturer got thus far, even to the peak. I mean Professors! Maybe I am one of those lecturers, but it is high time we said the truth. Besides, many of the excellent students could not come into academics because we are guilty of what we accuse FGN – nepotism and tribalism!
ASUU may say they are not responsible for promotion or employment in any university. Who then does? ASUU members of course! Vice Chancellors, Deans, Heads of Departments and Professors are not military officers, APC or PDP members but ASUU members. ASUU is only interested in collecting dues with no mechanism in place to maintain the integrity and progression of Academics in Nigeria. It is important Nigerians know that FGN does not interfere in the appointment and promotion of Academic staff in any university. ASUU should drop this pride and let us move Nigeria forward.
The second reason why ASUU ignorantly persecutes Nigerians is that they are lost in ecstasy against the Nigerian state. They have abdicated their role of clamouring for members' welfare and have constituted themselves into a quasi-political party and self-made opposition to any government in power. Most Nigerians who are either polygamous or from polygamous home, will agree that the wife that antagonises her husband the most, get the least from her husband no matter how good or rich the man is.
Permanent Secretaries or Judges earn more than a Professor they will tell us and get us drunk with the wine of pride, adducing these categories of workers enjoy what they enjoy because they are puppets to politicians or government in power; and that ASUU will not falter its integrity and will remain the voice of the downtrodden.
Enough of this hypocrisy! At least in recent times, ASUU decides who rules this country and it is only when there are disputes, the judiciary arbitrate. When many staunch ASUU supporters discuss how they went about conniving with politicians of varying political parties to get them or their cronies installed in power, you will weep for this country.
Politicians in Nigeria, particularly, in recent times will sincerely accept in their heart of hearts that Lecturers have lost the integrity or love they profess they have for Nigerians as against the politicians or other public office holders. Is it not some of us that connive with some students to have unmerited qualifications they use to occupy these public offices? Why accuse who your members aided to power of incompetence or misrule? ASUU is a case of the pot calling the kettle black.
ASUU like most trade unions should concentrate their energy on their members' welfare – they should always come out straight with their welfare demands instead of their holier and richer than thou posture. We should be humble to say the truth, our salary is not enough not because we are better than other Nigerian workers or earn less but because of the nature of our job – even if we have all the comforts and tools to do research, we spend a fortune to get them published.
On the average, a Lecturer will require thirty to forty publications with about 1/3rd of them published with foreign currency, to be a Professor. To say the truth, a dedicated Lecturer with high integrity, which most of us are, is poor. With sustained support for any government in power, in our capacity as academics, the cooperation of other trade unions, and logical persuasions, we will get something from the government. Something is better than nothing! Do not judge us based on our packaging. We are suffering but smiling! Instead of ASUU to consistently market this truth, they have worsened the poverty of Nigerian academics by avoiding it; claiming that the Nigerian Universities are poorly equipped and citing autonomy and other smoky issues.
For the smoky issues, I will show later that ASUU is the problem and they know too. Nigerian Students! Poor salary is our problem and the genuine cause of our anger and persistent strike; not any acclaimed love for you. If we love you as claimed, why do we suspend most strikes after financial settlement from FGN. Some University Academics extort students financially and sexually and yet we claim we love the students and that we are fighting their course. What has ASUU done as a union to protect innocent students from this oppression. Absolutely Nothing! What a hypocrisy!!
Still on ASUU's "Nollywood" love for Nigerians, is it in the interest of Nigerians, that ASUU proposed and accepted 70years retirement age for the professorial cadre? NO! It was because the Judges were given 70years. Even after 70years, some ASUU members still want to stay on contract in FGN payroll while they receive gratuity and pension. The youths have no job, the old do not want to retire and yet they claim they love Nigerians.
ASUU should explain to Nigerians why a Lecturer that became an Associate Professor at the verge of 65years should be given extra five years in service. Somebody should help me tell ASUU that it is even in our culture as Africans to have the most elderly ones among us settle our disputes. Besides, rules and discretion are two desiderata deployed in legal practice. Discretion made law an axe that requires the very experienced because of the possible intrigues of lawyers. I assert that no other human task can be as an axe as law. Greed blinded ASUU, they forgot we have other legal means of income as Part-time teaching, external examination and assessment, an Adjunct lecturer position in another University, royalties, market for our books as in most tertiary institutions, opportunity for political office outside our place of work while in service which the Judges may not have.
Legally, Judges are not allowed to romance with any political party or its members. We all saw what happened recently with one of our finest Judges in the court of Appeal because her husband has affiliation with a political party. She had to withdraw from a case in the interest of the country. Before you call me APC puppet, I did not vote for APC in both the 2015 and 2019 presidential elections, but I wholeheartedly accepted the position of the majority and the wisdom of the Judiciary.
Before I digress, this singular act of envy by ASUU that claim to "love" Nigerians has contributed greatly to youth unemployment in civil service as other union began to also request for additional five years in service. 
Why Nigerian civil servants were on strike for addition of five years to their retirement age, a European nation with longer life-expectancy and lower youth unemployment went on strike to reverse their retirement age that was increased by a year. I have so far exposed my conviction on why ASUU has become an enemy of the Nigerian state. The reasons are pride, greed, and lack of instrument to enforce integrity and professionalism among its members.
This lack of instrument may draw pity to ASUU as a crippled toothless tiger before its members. ASUU however relies on two unholy but potent instruments of control – propaganda and intimidation, to satisfy its pride and greed. ASUU coarse its members and their families with fear – fear of career progression and academic opportunities irrespective of their capabilities.
The truth is that majority of the Lecturers in Nigerian Universities are sick and tired of the incessant strike by ASUU and the lack of innovative means of engaging government; as evident by the about 55% of its members who stood with the FGN on the deployment of IPPIS despite ASUU's intimidation. 
Some notable Professors or politically aspiring Lecturers had to hide to register with IPPIS to evade the fury of ASUU. ASUU cannot love us more than us!
The UNIBEN branch of ASUU robbed me and others that subscribed to IPPIS of our Christmas rice which we contributed towards and threatened us with queries; but I trashed mine. I was insulted and promised that ASUU will work against me if I should contest or vie for position in any University. Do not fear for me! I have never and will never fear any cult. The finality of man is death and death by truth is holy and paradise assured.   
If ASUU is truly democratic, they are supposed to bow to the voice of the majority. The truth on the IPPIS issue is, you may not like Buhari or the APC lead FGN, IPPIS is a holy ICT innovation capable of effectively preventing corruption, without a fight, on our national payroll. Globally, preventive means of checking corruption is cheaper and greener than the curative means of fighting corruption. No doubt, as with all ICT innovations and deployments, there are bound to be teething problems which do wear away with time. IPPIS provides the long-awaited opportunity for ASUU to exercise their academic autonomy and bootstrap Nigerian Universities to its pride of place. I wish to let Nigerians know that all ASUU is saying about IPPIS is pure propaganda against FGN.
I challenge ASUU to an open debate on IPPIS. Let us examine the smoky issues of funding, infrastructural decay and autonomy that ASUU has consistently used to blackmail FGN and woo the sympathy of Nigerians. It is important to note that the National University Commission (NUC) is an instrument of FGN to ensure Nigerian Universities meet up with global standards. NUC is doing an excellent job to guarantee high standard university education for Nigerians and foreigners alike.
The resource verification and the regular accreditation instruments and implementation procedures are second to none in the globe. I affirm that NUC make use of ASUU members to perform virtually all their task of maintaining standards in the Nigerian Universities. Oh! I may be accused of NUC sponsorship. My apologies, NUC.
I pity FGN, ASUU will recommend to FGN through NUC that all is well and, in most cases, excellent and the same ASUU is fighting FGN through the Presidency and Labour ministry that everything is in total collapse. Who then is the problem, FGN or ASUU?
Have we heard ASUU complained to NUC about resource verification or accreditation instruments or exercises? No! Does NUC (FGN) report and enforce ASUU's findings and recommendations on which university or its programme should be sustained? Yes! Who made strike part of our university calendar? ASUU! Who prepares the university for accreditation or resource verification? ASUU! Who are the phoney resource persons particularly in private universities? ASUU! Who does accreditation or resource verification? ASUU! Who affirms that our universities and its programmes are particularly in good form? ASUU! Who awards the degrees? ASUU! Who is saying our university system is dilapidated and substandard? ASUU! My Nigerian universities, your midwife has become your murderer, prosecutor, advocate and judge. ASUU why? Who therefore is the clog in the wheel of progress of Academics in Nigeria?   
The Way Forward:
(i) ASUU should apologise to FGN and Nigerians for negligence, misdirection, and disruption of university calendar at least in the last two to three decades; and put a final stop to the incessant strikes in the public universities in Nigeria.
(ii) ASUU should accept that other public or civil servants are equally important.
(iii) ASUU should come out straight with their unique welfare nature; with respect for constituted authorities as enshrined in our holy books.
(iv) ASUU should henceforth, "call a spade, a spade" and do their job with fairness, professionalism and integrity without any fear or favour.
(v) ASUU should device ethical means of enforcing professionalism, integrity and standards in Nigerian Academics commensurate with global norm.  It is hoped that this divine ambush on ASUU on his way to "Damascus" will redirect ASUU's focus from its misplaced intention to a genuine course of Nation building and promotion of Academics in Nigeria.   This piece is my opinion and not that of my university or professional bodies.       
Prof. Godspower Ekuobase, PhD, MCPN. Professor of Services Computing Department of Computer Science University of Benin, Benin City Edo State, Nigeria  Email: godspower.ekuobase@uniben.edu Tel.: +234(0) 8064951845