Police Parades 58 Suspects for Alleged Cases of Kidnapping, Armed Robbery Among Others.
By Gom Mirian, Abuja 
The Nigeria Police Force has on Wednesday 11th September 2019 paraded fifty- eight (58) suspects for their alleged involvement in kidnapping, armed robbery, unlawful possession of weapons and other crimes.
Among the 58 suspects paraded at at the Special Anti-robbery squad headquarters in Abuja, 57 were male while 1 is a female from Cameroon.

Our correspondent reported that several items were recovered from the suspects which includes ; eighteen (18) AK 47 Rifles, 1233 rounds of AK47 ammunitions, 5 single barrel riffle, 53 live cartridges, 1 automatic pistols, 9 pump action, and several recovered stolen vehicles.
The gang of eight (8) responsible for kidnapping the lawmakers from kaduna state, Hon. Suleiman Dabo confessed of demanding a ransom of 10 million naira before his release.
Kabiru Abdullahi 'm', 29 years old of falgore forest kaduna state, said his gangs members betrayed him that only 6 million naira was paid instead of 10 million.
Adding that his share from the ransom paid was four hundred and fifty thousand naira(450) only which was later recovered from him by the police Operatives on his arrest.
Similarly, a gang responsible for a kidnap of an undergraduate of the Ahmadu Bello University, Zaria and a member of representatives from Sokoto state whom said they prefer operating in military uniform so that the road users would have confidence in them also disclosed that they buy the military uniforms between the rate of N10000 to N15, 000 from Okirika in kaduna state.
They confirmed that a ransom of 5.5 million naira was paid before their victims were released.
Also paraded were the gang responsible for the kidnap of Turkish nationals in kwara state.
According to the gang members, 20 million naira ransom was demanded but nothing was paid before their rescue.
Daily Asset however gathered that some of the suspects paraded have been arrested and paraded several times in the past for same crimes committed but finally gained their freedom on getting to court.
In an interview with our correspondent, James Awoji, male, 33 years old whom was paraded for allegedly involving in one chance business said he has been arrested and paraded here at the Anti – robbery squad for same crime and charged to court but was aided by a lawyer to gain his freedom.
According to him, " I was arrested at a mechanic workshop for giving my car to my friend to go and do one chance, I was arrested for one chance before and charged to gwagwalada court and a lawyer helped me out"
When asked how many times he has been participating in the one chance and how much he could realized from the business a day, Awoji told our correspondent that he has taken part in the act for like four times and could realized like fifty to hundred thousand a day.
Adding that his routes of operations ranges from berger to Wuse, saying he prefer ladies than boys giving reasons that boys "drag to much" .
2023 Elections: IGP Convenes Strategic  Security Conference for Senior Officers, Others 
By Gom Mirian, Abuja 
The Inspector-General of Police, IGP Usman Alkali Baba, in his determination to ensure stability in internal security and a safe environment conducive for the conduct of the 2023 general elections has approved the organization of the third edition of the Conference and Retreat for Senior Police Officers.
A statement by the Force spokesperson, CSP Olumuyiwa Adejobi, stated that the Conference and Retreat with the theme: "The Imperative of a Nigeria Police Strategic Plan For Peaceful Election" is scheduled to hold from 18th to 21st October, 2022 in Imo State.

Adejobi said, the Conference and Retreat would assemble Senior Police Officers of the rank of Deputy Inspectors-General of Police (DIG), Assistant Inspectors-General of Police (AIG), Commissioners of Police (CP) and other Heads of Police Formations and carefully selected security and election management experts across the globe to engage in peer-review and cross fertilization of ideas on effective management of security before, during, and after the general election in 2023.
He added that the retreat would also provide ample opportunity for senior officers of the Force to interact with key officials from sister security agencies, the nation's electoral body and international development partners with a view to coordinating security towards free, fair, and credible general elections in Nigeria.
He said the Conference is expected to host President Muhammadu Buhari GCFR, President and Commander-in-Chief of the Armed Forces, who would declare the Conference open and deliver the keynote address.
"Other guests expected at the event are State Governors, Service Chiefs, Heads of other Security Agencies and past Inspectors-General of Police.
"The last edition of the Conference and Retreat for Senior Police Officers was recently held in the beautiful and serene city of Uyo, the Akwa Ibom State capital on 7th and 10th February 2022, the third edition will be held later in the year to prepare the Force to provide adequate security during the upcoming elections.
"The Inspector-General of Police is therefore consulting with Matchmakers Consult International for the seamless organization of a successful and goal-oriented Conference and Retreat.
"In addition, the IGP has also approved a train-the-trainers workshop for officers from the rank of Deputy Commissioners of Police to Deputy Superintendents of Police which will cascade down to the least Police Constable on Election Security Management scheduled to hold from 4th August to 31st August 2022 across the six Geo-Political Zones of the country as part of initiatives towards deepening the knowledge of Police Officers on election security operations for a peaceful, secured and credible electoral process", he said.
Police Kill Suspected Kidnapper in Edo
The Police in Edo have killed a suspected kidnapper at the Jattu area of Etsako local government area of the state.
Kidnappers abducted a Catholic priest of St Michael Catholic Church, Ikhabigbo, Etsako West Local Government Area of Edo on Sunday.
"The abductors killed the priest as well as a hunter," Police spokesperson, ASP Jennifer Iwegbu, stated yesterday in Benin.

She stated that a combined team of Police operatives and those of a vigilance group had earlier attempted to rescue the priest who was taken into the forest.
"The Police personnel who went on the trail of the kidnappers decimated one of them, while other gang members escaped with various gunshot injuries," she added.
Iwegbu assured that the fleeing abductors would be arrested and made to face the law. (NAN)
NDLEA Nabs Brazilian Returnee with Cocaine, Seizes London-bound Meth Consignments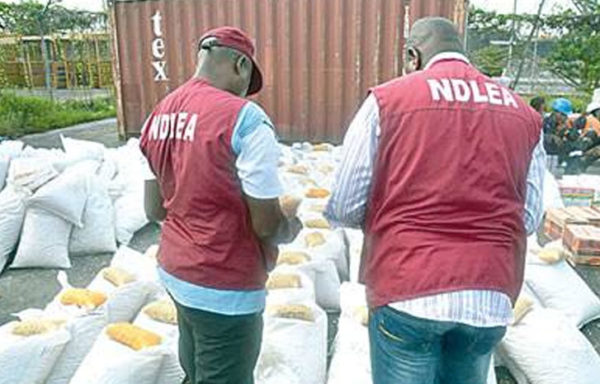 By Gom Mirian, Abuja
A Brazilian returnee, Igwedum Uche Benson has been arrested by operatives of the National Drug Law Enforcement Agency (NDLEA), at the arrival hall of the Murtala Muhammed International Airport, Ikeja Lagos with pellets of cocaine concealed in his private part.
Mr. Femi Babafemi, the Director, Media & Advocacy, NDLEA in a statement yesterday, said Igwedum was nabbed at the Lagos airport on Monday, June 20 upon his arrival on Ethiopian Airlines from Sao Paulo, Brazil via Addis Ababa.

Babafemi said preliminary investigations reveal the suspect had swallowed 50 wraps of cocaine before departing Brazil and excreted 48 pellets in Addis Ababa where he handed them over to another person.
According to the statement, the suspect however claimed he was unable to excrete the remaining two wraps at the hotel room in Addis Ababa before boarding his flight but later excreted them in the aircraft restroom during the flight from Ethiopia to Lagos.
In the same vein, after three weeks of painstaking investigation and tracking, operatives of the MMIA command of NDLEA on Saturday night, 25th June arrested a drug kingpin, Onyekachi Chukwuma Macdonald behind attempts to export 40 parcels of Methamphetamine popularly called Mkpuru Mmiri locally to London, United Kingdom through the NAHCO export shed of the Lagos airport Onyekachi was arrested at Manacola estate, Alakuko area of Lagos at the weekend, three weeks after his Mkpuru Mmiri consignment weighing 2.05kilograms was intercepted at the airport and his freight agent, Peter Christopher Anikan arrested on 7th June.
During his interview, the suspect said he's from Ahiazu, Mbaise Local Government Area of Imo state and had lived in Dubai, UAE for 10 years before returning to Nigeria in 2019.
He stated that after his return to Nigeria he opened a phone accessories shop in Sango Otta, Ogun state but the business collapsed.
He then started sending cigarettes to London and decided to conceal the illicit drug in the consignment after advice by a friend.
Closely related is the seizure of another consignment of 2kg Mkpuru Mmiri at a courier house in Owerri, Imo state.
The cargo seized on Wednesday 22nd June had ankara and lace fabrics in which two cylindrical cellophanes containing the drug heading to Hong Kong were concealed.
Also at the Lagos airport, NDLEA operatives on Friday 24th June intercepted 500,000 tablets of Tramadol 225mg packed in 10 cartons and labeled Tramaking imported from Karachi, Pakistan on Emirates Airline.
The consignment weighing 407.60kg was seized during a joint examination with Customs and NAFDAC officials.
Same day, a Dubai, UAE-bound passenger, Alegbeleye Taiwo was arrested at the departure hall of the MMIA with 40 ampoules of pentazocine injection. The 21-year-old suspect claims he's from Osun state.
Meanwhile, two kingpins behind the importation of two recent drug consignments from Canada concealed in vehicle containers through the Tincan seaport in Apapa, Lagos have been arrested by NDLEA operatives.
One of them, Gboyega Ayoola Elegbeji was arrested at his house, 14 Bakare Street, Idi Araba, Lagos on Wednesday 22nd June, for importing a 40ft container TRHU7874497 containing 33 parcels of cannabis indica (Colorado) weighing16.5kg.
The second suspect, Sunday Joe Oyebola (aka Otunba) was arrested on Thursday 23rd June.
He's linked to the importation of a 40ft container MEDU4389887 containing four vehicles used to conceal 290 parcels weighing 145kg cannabis indica (Colorado) from Montreal, Canada.
He had been on the run since March and had in the course of the investigation attempted to bribe officers with N10million to influence the case.
Chairman/Chief Executive of NDLEA, Brig. Gen. Mohamed Buba Marwa (Retd) commended the officers and men of the MMIA, Tincan, and Imo state Commands of the Agency for the drug seizures and arrests especially of those who thought they could evade the long arm of the law.
He encouraged them and their compatriots across other formations to intensify their efforts towards achieving set goals.