Saraki Cautions Outgoing Governors to Avoid Undue Interference with Successors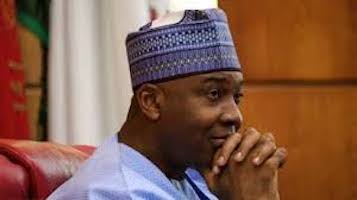 Former President of the Senate, Sen. Bukola Saraki, has advised outgoing governors to avoid unnecessary influence on their successors after leaving office on May 29.
The former governor of Kwara gave the advice at a farewell dinner for outgoing governors organised by the Nigeria Governors Forum (NGF) on Sunday in Abuja.
Saraki, former chairman of the forum also advised governors-elect not to allow people around them to push them into frosty relationship with their predecessors.
"Outgoing, governors please from June 1 you are no longer governors; please allow your successors to do the work they have to do.
"Let them call you when they want your advice.
For those that are coming, those around you will always want you to have a `head-on' with your predecessors.
"It is a big mistake. It is unnecessary. Challenges ahead are beyond that,'' he admonished.
While congratulating outgoing governors for successfully completing their tenures, Saraki also advised them to continue to play their roles in nation building.
"It is important that you play your role because this country needs everyone across all political parties.
"As you bow out as governors, you are going into a phase that is different and challenging. Brace up for challenges ahead. Spend more time with your families," Saraki advised.
The former Senate president also advised incoming governors to start planning for their legacies from Day One in office.
"I pray and hope you will not be a governor for the sake of being a governor. You will be a governor that will impact on the people.
"Plan for those four or eight years and keep on challenging yourselves everyday to make an impact,'' Saraki said.
In his remarks, former Gombe State governor, Alhaji Ibrahim Dankwambo also urged outgoing governors to avoid meddling in the affairs of their successors.
Dankambo urged incoming governors to begin to prepare for retirement as soon as they took office.
"Prepare for visits from the EFCC, ICPC and the Nigerian Financial Intelligence Unit which may ask some questions that need answers,'' he cautioned.
In her submissions, Deputy Secretary-General of the UN, Hajiya Amina Mohammed, said states must be made to work for their people.
"Nigeria cannot be great without the states. We know that we don't have strong foundations but through hard work, this country can be better,'' she said.
She called for partnership and deliberate policies to empower Nigerian women, noting that they did not have lesser brains compared to their male counterparts.
Former governor of Niger, Alhaji Babangida Aliyu, advised the governors-elect to give priority to programmes and projects that impacted on the people.
He also advised them to shun those pledging to help them to loot the treasury.
"Some people will come to tell you that this is your opportunity; don't listen to them. A former governor who made that mistake is now walking the streets,'' Aliyu said.
He also advised incoming governors to ensure they were accessible because being a governor does not confer superior intelligence.
"Get something to do to augment your income. Don't always stay at home. Be active. Don't allow your brain or physical body to sag,'' Aliyu stressed.
One of the highlights of the dinner was the launching of a book entitled: "Common Ground (Leading Charge at the Subnational") authored by former forum president, ex-Gov. Kayode Fayemi of Ekiti State.
Earlier in his opening remarks, chairman of the forum, Gov. Aminu Tambuwal of Sokoto State, said the event was to appreciate the outgoing governors and welcome the governors-elect.
Tambuwal said the book launched at the event would help the governors-elect in developing their plans and implementing them.
"Fayemi championed this and all our incoming governors will benefit from it,'' Tambuwal said. (NAN)
Governor's Forum: Tinubu Congratulates Abdulrazaq, Uzodinma, others on Leadership Choice
By Mathew Dadiya, Abuja
President Bola Tinubu, Thursday congratulated the two governors who emerged as leaders of the Nigerian Governors Forum (NGF) and Progressive Governors Forum (PGF).
The President's felicitation was contained in a statement from the State House signed by Abdulaziz Abdulaziz at the Presidential Villa, Abuja.
"I congratulate the Governor of Kwara State, His Excellency Abdulrahman Abdulrazaq, on his emergence as the Chairman of the Nigerian Governors Forum (NGF), and the Governor of Imo State, His Excellency Hope Uzodinma, on his election as the Chairman of the Progressive Governors Forum (PGF).
"In the same vein, I also congratulate His Excellency Seyi Makinde, the Governor of Oyo State, and his Kaduna State counterpart, His Excellency Senator Uba Sani, on their elections as deputy chairmen for the two respective forums," he said.
"Being called upon by their peers to lead them is a testament to the trust and confidence reposed in them by the governors," President Tinubu added.
The President tasked the new leaders to use their tenures to advance the peace, unity and socioeconomic development of the country and join hands with his administration to engender the Renewed Hope agenda.
"As chief executives of states, governors are critical to the overall success of our administration and the desire for a Nigeria that works for all.
"As an important fulcrum in our journey to a more prosperous and safe country, what states do or do not do matter a lot. I am therefore obliged to ask the new leaders to use their good offices to bring about a convergence of vision between the Federal Government, under my leadership, and governments at the state level.
"It is my prayer that you acquit yourselves diligently in discharging the responsibilities bestowed on you through this election," President Tinubu added.
Adamu Tasks APC Governors on Adherence to Party Manifesto

Sen. Abdullahi Adamu, the APC National Chairman has charged governors elected on the party's platform to adhere to its manifesto.
He gave the charge on Wednesday in Abuja, when the party's governors under the agies of Progressive Governors Forum (PGF) met with the National Working Committee (NWC).
"For us, anything that we will want to say to you is adherence to the manifesto as much as you can.
"We have a general framework for the governance of the country and you represent those who fly the party's flag.
"It is expected that whatever you do, you will have in mind the manifesto that the party gave the country, as Chief Executive Officers of states, you must key into this manifesto.
"But there are peculiarities, there are priorities you must have set and you are bound to do as much as you can to meet the expectations of those who voted for us,"Adamu said.
He said the party and the country generally were in a very difficult moment, adding that the governors had visited at a very difficult period with regards to the lifting of the fuel subsidy.
Adamu said the period would be very challenging, particularly to the governors because they were where it matters most.
"From national politics, you are the shock absorbers in the various states of the federation, you live with the people, you wake up with them and you work with them.
"The expectation is that you could have a better appreciation of their pains as citizens of this country. So, a lot of expectations will be on you as governors of the Federating units of this great country," Adamu said.
He assured that the party's leadership would continue to give the governors the needed cooperation.
"If you have any problem, turn to us and we will give you the best advice as we can, but whatever we do with you, you are the one wearing the shoes and know where it pinches," Adamu said.
Speaking to newsmen at the end of the meeting, Gov. Hope Uzordimma of Imo said the governors were committed to the party's idea and manifesto and the Federal Government under it.
He noted that everything contained in the party's manifesto during its campaigns were meant to be done and carried out.
On the removal of fuel subsidy as announced by President Bola Tinubu in his inauguration speech, all presidential candidates during the campaigns committed to remove fuel subsidy.
"The immediate past President, Muhammadu Buhari before he left, made us to know that fuel subsidy is no longer sustainable.What we are talking about now is the implementation process," he said.
He assured that the incumbent government of President Bola Tinubu was working out ways to implement the fuel subsidy removal to cushion the effect on the people.
"I have confidence in the ability of current president to navigate through the waters and take decisions that will be in the best interest of our people and the country as a nation.
On the leadership of the incoming 10th National Assembly, Uzodimma said Tinubu had not made proclamation for its leadership to be inaugurated.
The News Agency of Nigeria (NAN) reports that Uzodimma had earlier emerged as the PGF chairman via consensus.
Some of the governors at the meeting were Gov. Yahaya Bello of Kogi, Abduallahi Sule of Nasarawa State, Mohammed Bago of Niger and Gov. Uba Sani of Kaduna State.
Gov. Inuwa Yahaya of Gombe, Nasir Idris of Kebbi and Gov. Dapo Abiodum of Ogun was also at the meeting among others(NAN)
Gov. Hope Uzodinma Emerges New Chairman of Progressives Governors Forum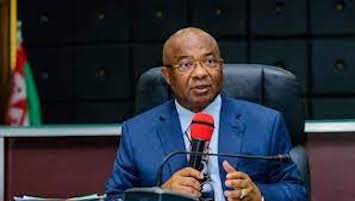 Gov. Hope Uzodinma of Imo has emerged the new Chairman of the Progressives Governors Forum (PGF) for the next four years.
He succeeds outgone Gov. Nasir El-Rufai of Kaduna.
Uzodinma emerged at a joint meeting of immediate past governors, reelected governors and newly-elected governors held on Wednesday in Abuja, according to former Gov.
El-Rufai, the immediate past Chairman of the PGF.
The PGF is an organization which comprises Governors elected under the All Progressives Congress (APC), which serves as a platform for collaboration, policy development, and sharing of experiences among its members.
El-Rufai said new Gov. Uba Sani of Kaduna State, emerged as Vice Chairman, while Dr.
Abdulkadir Mayere, former Permanent Secretary in the Federal Ministry of Agriculture, had been appointed as the Director-General of the PGF.
The tenure of the new leadership, according to El-rufai, takes off immediately. (NAN)