TUC Laments Nigeria Borrowing Profile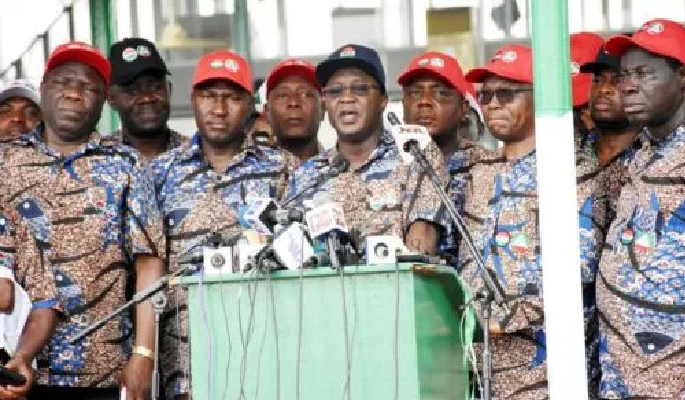 By Martin Paul, Abuja
President of the Trade Union Congress (TUC), Mr Bobboi Kaigama, has expressed worries over increasing rate of inflation and the country's debt profile.
At the opening of its Triennial National Delegates Conference in Abuja, Kaigama said it was a matter for regret that little efforts was being made to solve the issue.
According to him, with the country's current debt profile still at N24.3 trillion, efforts must be geared towards ending borrowing, and looking inwards for self-sufficiency.
"Our economy is in dire strait, regrettably, those who should manage it are not showing promising signs on how to fix it. Nigeria's debt profile is over N24.3 trillion, it was reported recently that government wants to borrow more.
"Borrowing in itself is not a bad thing, the issue is what do you borrow for.
Countries borrow for capital projects, and not to pay salaries, if we cannot bequeath wealth to our children, why burden them with debts.''
Kaigama said with the rate of inflation standing between 11.28 and 11.44 per cent for goods and services, there was an adverse effect on purchasing power for citizens, calling on the CBN and the federal government to ensure smooth running of the economy.
He also decried the secrecy surrounding crude oil refinery in the country, noting that adequate information should be available to Nigerians on both the internally and externally generated earnings.
He said with revenues generated from the Federal Inland Revenue service, NIPOST, NNPC, NIMASA, and those recovered by the EFCC and the ICPC, the country has no business borrowing.
The Vice Chancellor, Nasarawa State University, Prof. Suleiman Mohammed, while commending the TUC and its affiliates at promoting the rights of workers, urged them to continue in unity and solidarity.
Mohammed, who delivered a lecture with the theme, `Labour and Nation Building, The Place of Labour in National Politics'', said the role of the organised labour cannot be over flogged with an overall goal to unsettle the ruling class.
According to him, the political and elected leaders in all tiers of government have continued to use the instruments of the state to dis-empower workers, calling for more political consciousness to promote their rights.
While commending labour unions for playing monumental role in nation building, the vice chancellor said they must continue to promote industrial justice and fight for the protection of workers' interest in all tiers of government.
He also called for the involvement of workers in policy formulation and implementation, calling for strengthened collaboration and unity to promote significant roles in checking and influencing government policies and programmes.
The Permanent Secretary, Ministry of Labour and Employment, Mr Williams Alo, commended the support of the organised labour in improving lives of Nigerian workers, expressing hope that the new leadership of the union would strengthen the already existing partnership.
Alo pledged the commitment of the federal government to continue to be a dependable ally towards improving the welfare of workers and other Nigerians.
President, Nigeria Labour Congress (NLC), Dr Ayuba Wabba, stressed the need to address the global imbalance where more people live below poverty line in spite of the growing global wealth, saying it was more worrisome in the country.
Wabba said the role of unity of purpose cannot be overemphasised in trade unionism, saying it was only through this that workers' demands are met.

FG Denies Payment of Half Salary to ASUU in Oct.
The Federal Government has denied the accusation that it paid members of the Academic Staff Union of Nigeria (ASUU) half salaries in October.
Mr Olajide Oshundun, Head of Press and Public Relations, Federal Ministry of Labour and Employment, said this in a statement he signed on Saturday in Abuja.
Oshundun said the ministry was reacting to reports on alleged selective treatment and half salary payment to ASUU members.
He described both reports as grossly inaccurate, misleading and barefaced distortion of facts.
He noted that members of ASUU were paid their October salary pro-rata, and not half salary as the media widely reported.
According to him, pro-rata was done because they cannot be paid for work not done.
He also said that the Minister of Labour and Employment, Sen. Chris Ngige, never directed the Accountant General of the Federation to pay the university lecturers half salary.
"Following the ruling of the Court of Appeal, which upheld the order of the National Industrial Court of Nigeria (NICN), asking ASUU to go back to work, the leadership of the union wrote to the Minister, informing him that they have suspended the strike.
"The Federal Ministry of Education wrote to Ngige in a similar vein and our labour inspectors in various states also confirmed that they have resumed work.
"So, the minister wrote to the Federal Ministry of Finance, Budget and Planning, directing that their salaries should be restored.
"They were paid pro-rata according to the number of days they worked in October,'' he said.
He added counting from the day they suspended their industrial action, pro-rata was done because "you cannot pay them for work not done. Everybody's hands are tied."
Oshundun also dismissed a statement by the Chairperson of ASUU, Usman Danfodiyo University Sokoto (UDUS) branch, Muhammad Al-Mustapha, that the Minister of Labour and Employment was biased in the payment of salaries to selected professional members of the union.
"Those obviously being referred to by the UDUS ASUU chairperson are members of the Medical and Dental Consultants Association (MDCAN) who abstained from the eight-month strike of ASUU.
"This is because they abhorred the incessant strikes by the union and its grave effects on medical education in Nigeria and production of more medical doctors.
"Accusing the Minister of Labour and Employment of biased payment of salaries to selected professional members of ASUU is a barefaced distortion of facts.
"Mustapha said he received information that a segment of the staff in the College of Health Sciences (CHS) has been paid seven months of their withheld salaries from March to September.
"He added that this was due to a letter written to the Minister of Finance, instructing the exemption of the listed staff on the application of 'No Work, No Pay' rule," Oshundun said.
According to him, to set the records straight, the medical lecturers who are being referred to by the Chairperson of ASUU UDUS branch, abstained from the eight-month strike of ASUU.
He added that the the Medical and Dental Consultants Association (MDCAN) had in a statement corroborated this on Nov. 4.
The association said in the statement, "Realising the emergency situation in the sub-region, worsened by emerging public health threats, we abstained from the strike.
"The medical and dental lecturers in UDUS decided to continue the academic activities during the ASUU strike to save our healthcare from total collapse.
Consequently, the ministry dismissed the accusation of selective treatment in payment of salaries to ASUU members, urging the media to crosscheck their facts to avoid feeding the public with the wrong information.
However, Prof. Emmanuel Osodeke, the ASUU President, who spoke to the News Agency of Nigeria (NAN), said that members of the union were shocked when they received the half salary payment.
According to Osodeke, we cannot understand what is going on. How do you pay people who are just resuming from a prolonged strike half salary.
"Well, what we need to do, is to sort it out with the Minister of Labour and Employment," Osodeke said. (NAN)
ASUU is the Problem of Education in Nigeria
By Godspower Ekuobase
This piece about academics in Nigeria may offend the arrogance of the Academic Staff Union of Universities (ASUU) if ASUU is repressive or it will excite ASUU's patriotism to bootstrap the Nigerian Academics to his pride of place in the global league of universal institutions called universities.
I write this piece to expose, as an insider, the realities of Academics in Nigeria towards rescuing the Federal Government of Nigeria (FGN) from the asphyxiation of ASUU and redirect ASUU to the path of patriotism.
The truth is that like Saul who later became Paul, ASUU has ignorantly become the enemy of the Nigerian State. Why and How? You may ask! Permit me begin with the answer to "the why". ASUU pride herself as being the most educated, knowledgeable and intelligent set of Nigerians. This, obviously, is not true.
I assert that education is not certification, knowledge is not qualification and intelligence is natural, it is not grammar. Even the grammar, we do not write or speak it better than others.
ASUU should be humble enough to accept that we are not paid for certificates acquired, but we are paid to do our job of teaching, impactful research and community services within and outside the university with utmost professionalism and integrity and without fear or favour. If we say the truth, every Nigerian graduate has one or more lecturers that taught him/her that he/she wondered, and is still wondering, how the lecturer got thus far, even to the peak. I mean Professors! Maybe I am one of those lecturers, but it is high time we said the truth. Besides, many of the excellent students could not come into academics because we are guilty of what we accuse FGN – nepotism and tribalism!
ASUU may say they are not responsible for promotion or employment in any university. Who then does? ASUU members of course! Vice Chancellors, Deans, Heads of Departments and Professors are not military officers, APC or PDP members but ASUU members. ASUU is only interested in collecting dues with no mechanism in place to maintain the integrity and progression of Academics in Nigeria. It is important Nigerians know that FGN does not interfere in the appointment and promotion of Academic staff in any university. ASUU should drop this pride and let us move Nigeria forward.
The second reason why ASUU ignorantly persecutes Nigerians is that they are lost in ecstasy against the Nigerian state. They have abdicated their role of clamouring for members' welfare and have constituted themselves into a quasi-political party and self-made opposition to any government in power. Most Nigerians who are either polygamous or from polygamous home, will agree that the wife that antagonises her husband the most, get the least from her husband no matter how good or rich the man is.
Permanent Secretaries or Judges earn more than a Professor they will tell us and get us drunk with the wine of pride, adducing these categories of workers enjoy what they enjoy because they are puppets to politicians or government in power; and that ASUU will not falter its integrity and will remain the voice of the downtrodden.
Enough of this hypocrisy! At least in recent times, ASUU decides who rules this country and it is only when there are disputes, the judiciary arbitrate. When many staunch ASUU supporters discuss how they went about conniving with politicians of varying political parties to get them or their cronies installed in power, you will weep for this country.
Politicians in Nigeria, particularly, in recent times will sincerely accept in their heart of hearts that Lecturers have lost the integrity or love they profess they have for Nigerians as against the politicians or other public office holders. Is it not some of us that connive with some students to have unmerited qualifications they use to occupy these public offices? Why accuse who your members aided to power of incompetence or misrule? ASUU is a case of the pot calling the kettle black.
ASUU like most trade unions should concentrate their energy on their members' welfare – they should always come out straight with their welfare demands instead of their holier and richer than thou posture. We should be humble to say the truth, our salary is not enough not because we are better than other Nigerian workers or earn less but because of the nature of our job – even if we have all the comforts and tools to do research, we spend a fortune to get them published.
On the average, a Lecturer will require thirty to forty publications with about 1/3rd of them published with foreign currency, to be a Professor. To say the truth, a dedicated Lecturer with high integrity, which most of us are, is poor. With sustained support for any government in power, in our capacity as academics, the cooperation of other trade unions, and logical persuasions, we will get something from the government. Something is better than nothing! Do not judge us based on our packaging. We are suffering but smiling! Instead of ASUU to consistently market this truth, they have worsened the poverty of Nigerian academics by avoiding it; claiming that the Nigerian Universities are poorly equipped and citing autonomy and other smoky issues.
For the smoky issues, I will show later that ASUU is the problem and they know too. Nigerian Students! Poor salary is our problem and the genuine cause of our anger and persistent strike; not any acclaimed love for you. If we love you as claimed, why do we suspend most strikes after financial settlement from FGN. Some University Academics extort students financially and sexually and yet we claim we love the students and that we are fighting their course. What has ASUU done as a union to protect innocent students from this oppression. Absolutely Nothing! What a hypocrisy!!
Still on ASUU's "Nollywood" love for Nigerians, is it in the interest of Nigerians, that ASUU proposed and accepted 70years retirement age for the professorial cadre? NO! It was because the Judges were given 70years. Even after 70years, some ASUU members still want to stay on contract in FGN payroll while they receive gratuity and pension. The youths have no job, the old do not want to retire and yet they claim they love Nigerians.
ASUU should explain to Nigerians why a Lecturer that became an Associate Professor at the verge of 65years should be given extra five years in service. Somebody should help me tell ASUU that it is even in our culture as Africans to have the most elderly ones among us settle our disputes. Besides, rules and discretion are two desiderata deployed in legal practice. Discretion made law an axe that requires the very experienced because of the possible intrigues of lawyers. I assert that no other human task can be as an axe as law. Greed blinded ASUU, they forgot we have other legal means of income as Part-time teaching, external examination and assessment, an Adjunct lecturer position in another University, royalties, market for our books as in most tertiary institutions, opportunity for political office outside our place of work while in service which the Judges may not have.
Legally, Judges are not allowed to romance with any political party or its members. We all saw what happened recently with one of our finest Judges in the court of Appeal because her husband has affiliation with a political party. She had to withdraw from a case in the interest of the country. Before you call me APC puppet, I did not vote for APC in both the 2015 and 2019 presidential elections, but I wholeheartedly accepted the position of the majority and the wisdom of the Judiciary.
Before I digress, this singular act of envy by ASUU that claim to "love" Nigerians has contributed greatly to youth unemployment in civil service as other union began to also request for additional five years in service. 
Why Nigerian civil servants were on strike for addition of five years to their retirement age, a European nation with longer life-expectancy and lower youth unemployment went on strike to reverse their retirement age that was increased by a year. I have so far exposed my conviction on why ASUU has become an enemy of the Nigerian state. The reasons are pride, greed, and lack of instrument to enforce integrity and professionalism among its members.
This lack of instrument may draw pity to ASUU as a crippled toothless tiger before its members. ASUU however relies on two unholy but potent instruments of control – propaganda and intimidation, to satisfy its pride and greed. ASUU coarse its members and their families with fear – fear of career progression and academic opportunities irrespective of their capabilities.
The truth is that majority of the Lecturers in Nigerian Universities are sick and tired of the incessant strike by ASUU and the lack of innovative means of engaging government; as evident by the about 55% of its members who stood with the FGN on the deployment of IPPIS despite ASUU's intimidation. 
Some notable Professors or politically aspiring Lecturers had to hide to register with IPPIS to evade the fury of ASUU. ASUU cannot love us more than us!
The UNIBEN branch of ASUU robbed me and others that subscribed to IPPIS of our Christmas rice which we contributed towards and threatened us with queries; but I trashed mine. I was insulted and promised that ASUU will work against me if I should contest or vie for position in any University. Do not fear for me! I have never and will never fear any cult. The finality of man is death and death by truth is holy and paradise assured.   
If ASUU is truly democratic, they are supposed to bow to the voice of the majority. The truth on the IPPIS issue is, you may not like Buhari or the APC lead FGN, IPPIS is a holy ICT innovation capable of effectively preventing corruption, without a fight, on our national payroll. Globally, preventive means of checking corruption is cheaper and greener than the curative means of fighting corruption. No doubt, as with all ICT innovations and deployments, there are bound to be teething problems which do wear away with time. IPPIS provides the long-awaited opportunity for ASUU to exercise their academic autonomy and bootstrap Nigerian Universities to its pride of place. I wish to let Nigerians know that all ASUU is saying about IPPIS is pure propaganda against FGN.
I challenge ASUU to an open debate on IPPIS. Let us examine the smoky issues of funding, infrastructural decay and autonomy that ASUU has consistently used to blackmail FGN and woo the sympathy of Nigerians. It is important to note that the National University Commission (NUC) is an instrument of FGN to ensure Nigerian Universities meet up with global standards. NUC is doing an excellent job to guarantee high standard university education for Nigerians and foreigners alike.
The resource verification and the regular accreditation instruments and implementation procedures are second to none in the globe. I affirm that NUC make use of ASUU members to perform virtually all their task of maintaining standards in the Nigerian Universities. Oh! I may be accused of NUC sponsorship. My apologies, NUC.
I pity FGN, ASUU will recommend to FGN through NUC that all is well and, in most cases, excellent and the same ASUU is fighting FGN through the Presidency and Labour ministry that everything is in total collapse. Who then is the problem, FGN or ASUU?
Have we heard ASUU complained to NUC about resource verification or accreditation instruments or exercises? No! Does NUC (FGN) report and enforce ASUU's findings and recommendations on which university or its programme should be sustained? Yes! Who made strike part of our university calendar? ASUU! Who prepares the university for accreditation or resource verification? ASUU! Who are the phoney resource persons particularly in private universities? ASUU! Who does accreditation or resource verification? ASUU! Who affirms that our universities and its programmes are particularly in good form? ASUU! Who awards the degrees? ASUU! Who is saying our university system is dilapidated and substandard? ASUU! My Nigerian universities, your midwife has become your murderer, prosecutor, advocate and judge. ASUU why? Who therefore is the clog in the wheel of progress of Academics in Nigeria?   
The Way Forward:
(i) ASUU should apologise to FGN and Nigerians for negligence, misdirection, and disruption of university calendar at least in the last two to three decades; and put a final stop to the incessant strikes in the public universities in Nigeria.
(ii) ASUU should accept that other public or civil servants are equally important.
(iii) ASUU should come out straight with their unique welfare nature; with respect for constituted authorities as enshrined in our holy books.
(iv) ASUU should henceforth, "call a spade, a spade" and do their job with fairness, professionalism and integrity without any fear or favour.
(v) ASUU should device ethical means of enforcing professionalism, integrity and standards in Nigerian Academics commensurate with global norm.  It is hoped that this divine ambush on ASUU on his way to "Damascus" will redirect ASUU's focus from its misplaced intention to a genuine course of Nation building and promotion of Academics in Nigeria.   This piece is my opinion and not that of my university or professional bodies.       
Prof. Godspower Ekuobase, PhD, MCPN. Professor of Services Computing Department of Computer Science University of Benin, Benin City Edo State, Nigeria  Email: godspower.ekuobase@uniben.edu Tel.: +234(0) 8064951845
Indefinite Strike: ASUU Dissatisfied with FG's Response to Demands – Osodeke
The Academic Staff Union of Universities (ASUU) has expressed dissatisfaction with the Federal Government over response its demands, and declares a "comprehensive, total and indefinite" strike.
Prof. Emmanuel Osodeke, ASUU President made this known in a statement issued at the end of the Union National Executive Council (NEC) emergency meeting on Tuesday in Abuja.
The News Agency of Nigeria (NAN) reports that the statement is entitled "ASUU strikes are to save public universities".
It would be recalled that the lecturers have been on strike since Feb. 14, over alleged failure of government to keep to agreements entered with the unions.
The demands of the striking lecturers include issues bordering on funding of universities, salaries and earned allowances of lecturers, among others.
Osodeke said that the meeting was called to review developments since its last resolution that rolled over the nationwide strike action for another four weeks starting from Aug 1.
"In view of the foregoing, and following extensive deliberations on government's response to the resolution of Feb. 14, 2022 , so far, NEC concluded that the demands of the union had not been satisfactorily addressed.
"Consequently, NEC resolved to transmute the roll-over strike to a comprehensive, total and indefinite strike action beginning from 12.01a.m. on Monday, Aug. 29, 2022,'' he said.
According to him, NEC observed with regret that the union has experienced a lot of deceit of the highest level in the last five and half years as the Federal Government engaged ASUU in fruitless and unending negotiation without a display of utmost fidelity.
Osodeke said that ASUU and other well-meaning Nigerians had expressed serious disappointment and consternation on the attitude of the government conveyed by the Minister of Education, Malam Adamu Adamu.
He said that for the avoidance of doubt, however, none of the issues that forced the union to resume the suspended strike as listed in the December 2020 FGN-ASUU Memorandum of Action (MoA) had been satisfactorily addressed by the government to date.
" The draft renegotiated FGN-ASUU Agreement (second draft) remains unsigned; the University Transparency and Accountability Solution (UTAS) has not been adopted and deployed to replace the discredited Integrated Payroll and Personnel Information System (IPPIS).
"The White Papers on Visitation Panels to federal universities, if ready as claimed by government more than six months ago, are nowhere to be found," he said.
He said similarly, government had not delivered on the promised balance of one tranche of the Revitalisation Fund more than one year after, the outstanding two tranches of the Earned Academic Allowances (EAA) had not been released.
He added that nothing had since happened on the promised support for amendment to the Law of the National Universities Commission (NUC) to stem the tide of proliferation of universities, especially by the state governments.
"NEC was utterly disappointed in agents of government, especially the Minister of Education, for the deliberate falsehood and misrepresentation of facts aimed at scoring cheap political gains.
"It is disheartening to imagine that a minister whose responsibility it is to resolve the crisis can overnight turn round to lead in this ignoble enterprise of distorting facts and misleading Nigerians,'' he said.
He said NEC observed with displeasure that some mischievous Vice-Chancellors and Chairpersons of Governing Councils of State Universities have evolved disingenuous underhand tactics to undermine the current ASUU struggle in their various universities.
The union president said "ASUU struggles are to save Nigerian public universities irrespective of ownership federal or state."
He said ASUU shall use all legitimate means at its disposal to protect and defend the interests of its members in public universities who might be victimised on the account of the ongoing struggles.
Osodeke said the NEC noted with pains, its concerns for Nigerian students "who are also our wards and foster children" and condemned government's seeming indifference to their plights.
He said the union empathised with the students, parents, and other stakeholders in the universities.
He said NEC reaffirmed its belief in the sanctity of a stable academic system.
"Were it within our control, our universities would never have been shut for one day.
"However, ASUU was forced into taking this painful decision to prevent members of the Nigerian children from the ruling class and their foreign collaborators from further destroying whatever is left of our public universities. We are all victims.
"We need the understanding, solidarity and sacrifices of all to ensure that every qualified Nigerian youth who cannot afford the cost of private university education or foreign studies has unhindered access to quality university education,'' he said.
He said ASUU strikes were aimed at saving public education, and ensuring that governments (Federal and State) use "our common patrimony to support quality public university education. This is our collective obligation."
He said NEC acknowledged with appreciation past and current efforts by eminent Nigerians and groups to mediate in the lingering crisis.
He said that ASUU would remain focused on the full implementation of the Dec. 23, 2020 Memorandum of Action for quick restoration of industrial harmony in Nigeria's public universities.(NAN)