Turkey's Trade Minister Replaced After Nepotism Allegations
Turkish President, Recep Tayyip Erdogan, has sacked his trade minister, after allegations that her husband's company received preferential treatment for the purchase of disinfectants.

Ruhsar Pekcan was replaced by Mehmet Mus, from the ruling Justice and Development Party (AKP), according to a decree published in the Official Gazette on Wednesday.
No reason was given for Pekcan's removal.
Turkish media first reported that her ministry bought disinfectants worth 9 million liras (1.1 million dollars) in 2020, products in high demand because of the coronavirus pandemic.
On Tuesday, Pekcan denied the allegations and called the media reports malicious.
She said the purchase was based on the lowest bid and amounted to half a million liras (61,000 dollars).
In the decree, Erdogan also split the Family and Labour Ministry and replaced Zehra Zumrut Selcuk, the second woman appointed to his Cabinet in 2018.
The two entities are now called the Family and Social Services Ministry and the Labour and Social Security Ministry. (dpa/NAN)
UN Women's Feminist Roadmap Tackles Triple Crises of Jobs, Care, Climate
UN Women on Thursday published a flagship feminist plan for economic recovery and transformation, which aims to learn the lessons of the past and seize the opportunity to handle COVID-related crises better.

The UN's gender equality and empowerment organisation stated this in a report on "UN Women's Beyond COVID-19: A Feminist Plan for Sustainability and Social Justice''.
The report draws on the latest data, analysis and input from more than 100 global experts to provide concrete pathways for putting gender equality, environmental sustainability and social justice at the centre of global development efforts.
"We have a generational opportunity to break the vicious cycle of economic insecurity, environmental destruction and exclusionary politics and shape a better, more gender-equal and sustainable world," Pramila Patten, UN-Women's Acting Executive Director said.
In the first UN plan of its kind, the report details how the COVID-19 pandemic has exacerbated pre-existing gender inequalities and laid bare weaknesses in the already fragile global care economy.
"Globally, in 2019 and 2020, women lost 54 million jobs, and even before the pandemic, they took on three times as much unpaid care work as men," according to UN Women.
Moreover, women are disproportionately impacted by environmental degradation while also being left out of decision-making around policy and financing to address climate change.
And by the end of 2021, men's jobs will have recovered, but there will still be 13 million fewer women in employment, the gender empowerment agency pointed out.
The trio of interconnected crises of jobs, care and climate, systematically undermine gender equality and threaten the survival of people and planet, but there is still an opportunity to change course.
"Today's report provides a roadmap for how to do this, while recovering the ground that's been lost on gender equality and women's rights," Patten said.
To address these intersecting crises, UN Women is calling for better policy, action and investment, including in the care economy and social infrastructure, such as creating jobs and increasing support for unpaid caregivers.
The report maintains that public investments in care services could create 40 to 60 per cent more jobs than the same investments in construction.
Under the premise that transitioning to environmental sustainability can create up to 24 million new green jobs, the report stresses that women should have their fair share of these opportunities, including by getting the necessary training and skills.
And women's leadership must be promoted across institutional spaces, from governments to civil society and the private sector, and especially in crisis response.
Despite having been on the frontlines of the COVID-19 response, making up 70 per cent of healthcare workers globally, the roadmap notes that women currently hold only 24 per cent of seats on COVID-19 taskforces that have coordinated the policy response around the world.
Moreover, despite their critical roles as watchdogs and providing a social safety net in communities, women's organisations are woefully under-funded.
In 2018-19, women's rights organisations received only one per cent of all aid allocated by the Organisation for Economic Co-operation and Development (OECD) to gender equality, amounting to only a tiny fraction of total aid.
To finance these measures, transformative macroeconomic policies – including progressive taxes and, especially for low-income countries, global cooperation and debt relief – are urgently needed, the report says.
Equally important will be to achieve a shift in power relations to amplify the voices of historically excluded groups and ensure effective gender mainstreaming. (NAN)
Indian Military Seeks to Strengthen Ties with Nigerian Army
A delegation of Indian Defence Scoping has expressed the readiness of the Indian Armed Forces to strengthen defence ties with the Nigerian Army in furtherance of the existing relationship between India and Nigeria.

The leader of the delegation, retired Lt.-Gen. Vinod Khandare, made the call when he led the team on courtesy visit to the Chief of Army Staff, Lt.-Gen. Faruk Yahaya, on Thursday in Abuja.
Khandare said them members of the delegation comprised representatives from the Indian Army, Navy and Air Force, as well as National Security Council Secretariat and Indian ministries of defence and external affairs.
He said that both Indian and Nigerian armies had maintained cordial relationship in the area of training of officers and their defence colleges over a long time.
Khandare said visit was borne out of the desire to see how the trajectory for cooperation between the two countries could be taken further ahead.
He said that the direction of the relationship had to be enhanced towards capacity enhancement capability development in a direction that both the armies would benefit from each other.
"We have many spheres and domain that we need to cooperate because the future of warfare is changing very rapidly.
"While we may all agree that we are masters of conventional warfare but simultaneously we are also engaged in sub-conventional and both India and Nigeria are faced with similar challenges.
"The domain of our warfare are expanding now with technology also and I think we all need to incorporate technology seamlessly.
"These technologies, wherever they were discovered in the world have to be adopted fast because we are moving you be direction of kinetic which we are already doing, and we are also moving into non-kinetic," he said.
Khandare said that the military had to look at cyberspace, special forces, and realise that technology would enable them and empowers them to deliver faster, better and accurate.
He said if Indian and Nigerian armies could also work together in the area of medical security, adding that Nigerian army would achieve more in many spheres.
"Beyond the military cooperation, there are think tanks within the army and within the armed forces that is yet another place where we can also collaborate," he said.
Responding, the Chief of Army Staff, Lt.-Gen. Yahaya, said that India and Nigeria had been cooperating in the area of training.
He said that Nigerian Army could also explore other areas like medical, saying that a number of wounded Nigerian troops were currently receiving medical attention in India for certain degree of injuries.
According to him, Nigerian army will also consider sending army medical personnel to India for training.
He commended the delegation for the visit, saying the visit had demonstrated the commitment of both countries to collaborate further.(NAN)

3 killed, 60 Injured in Earthquake in South-western China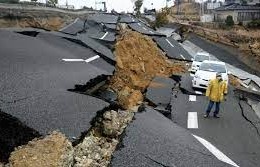 At least three people were killed  and 60 injured in an earthquake in south-western China, state media reported on Thursday.
The quake's magnitude was measured at 6.0 and its epicentre was in Luxian County in Sichuan Province.

The People's Daily reported that 737 houses collapsed and more than 7,000 buildings were damaged.
There were also reports of power outages as rescue work continued.
The west of China is regularly hit by earthquakes.
A 7.9-magnitude earthquake in May 2008 killed nearly 90,000 people in Sichuan. (dpa/NAN)