Witnesses challenge Israel's killing of Palestinian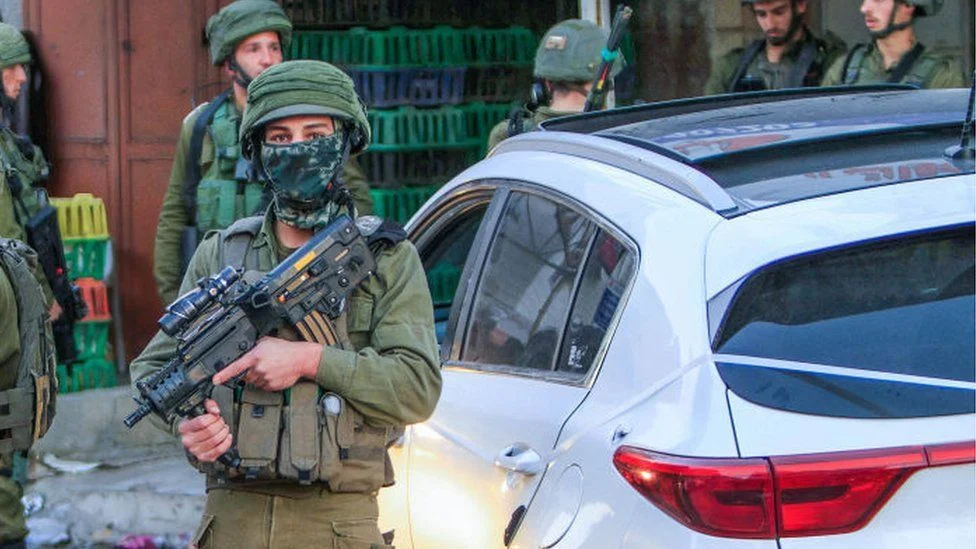 An eyewitness to the killing of a Palestinian by Israeli forces has told the BBC he believes the man was shot simply for punching a policeman.
Ammar Mefleh was killed at close range in the occupied West Bank last Friday.
He is the 10th Palestinian shot dead by Israeli troops in the space of a week.
Video of the shooting drew a massive reaction online and sparked a diplomatic rebuke by Israel to a top UN official who said he was "horrified" at the killing.

Israeli officials praised the officer involved saying he responded after the Palestinian stabbed a policeman in the face, and his actions prevented a "mass terror attack".
Palestinian leaders described it as an execution "in cold blood".
Mr Mefleh, 22, was killed in the Palestinian town of Huwara, which lies on a main road frequently used by Israeli settlers and has been the scene of growing violence in recent months.
This year in the West Bank more than 150 Palestinians have been killed, nearly all by Israeli forces. The dead include unarmed civilians, militant gunmen and armed attackers.
Meanwhile a series of Palestinian attacks targeting Israelis, as well as militant gunfire at troops during arrest raids, have killed more than 30 people including civilians, police and soldiers. 
The footage from Friday, shared extensively online, was rare in capturing in detail part of the event that led up to the shooting. The last 13 seconds are caught in a second video from another angle.
In the recording, the Israeli officer is seen holding Mr Mefleh in a headlock as the pair struggle. Two other Palestinians are in the melee at first, but then step back.
After Mr Mefleh struggles out of the headlock, he tries to grab the policeman's rifle. As they wrestle over the weapon the officer takes a hand off it – first to try to hit the Palestinian, who strikes him back – then to reach for his pistol.
Mr Mefleh for a split second has hold of the rifle but almost instantly throws it down or lets go of it, recoiling as he sees the officer raise his pistol. The policeman shoots him instantly, four times.
Following his killing, a popular Israeli news website reported that the officer had "eliminated the terrorist". The footage was repeatedly circulated on Palestinian social media with people appalled at the killing.
The UN's envoy to the region, Tor Wennesland, tweeted that he was "horrified by today's killing of a Palestinian man, Ammar Mefleh, during a scuffle with an Israeli soldier," calling for those responsible to be held accountable.
A spokesman for the Israeli foreign ministry, Emmanuel Nahshon, tweeted in response that Mr Wennesland's reaction was a "total distortion of reality".
"The incident is a terror attack, in which an Israeli policeman was stabbed in his face and the life of another officer was threatened and consequently he shot his assailant," Mr Nahshon added.
"This is NOT a 'scuffle' – this is a terror attack".
UN Deputy Chief, Amina Mohammed Concludes 3-day Trip to Rome
UN Deputy Secretary-General, Ms Amina Mohammed, on Friday concluded her 3-day trip to Rome where she met with the Italian Minister of Foreign Affairs Antonio Tajani.
UN Spokesman, Mr Stéphane Dujarric, told newsmen at the UN headquarters in New York that it was at the meeting with Tajani that she informed him about the Food Summit.
"In the meeting, it was announced that Italy would host the UN Food Systems Stocktaking Moment, which will take place in Rome from July 24 to 26.

"The aim of the high-level meeting is to provide opportunities for countries to report on progress made at the national level since the UN Food Systems Summit in 2021, as well as their contributions to the achievement of the 2030 Agenda,'' he said.
Dujarric said countries would review progress towards transforming food systems worldwide at a three-day meeting in Rome.
The so-called UN Food Systems Stocktaking Moment is the first global follow-up to a 2021 summit convened to change how the world produces, consumes and thinks about food.
The high-level event falls at the halfway point for achieving the 2030 Agenda for Sustainable Development and the 17 Sustainable Development (SDGs), which provide a blueprint for a more fair, equitable and "green" world.
"I am looking forward to Italy's leadership in bringing together stakeholders to create the evidence that food systems transformation is a critical SDGs accelerator,'' Mohammed quoted as saying.
Mohammed further stressing that "more sustainable, equitable, healthy and resilient food systems directly impact people's lives and livelihoods as we strive for a better future for people and for the planet."
During the Stocktaking Moment, countries will share stories of success and early signs of transformation, while maintaining the momentum needed to ensure resilient food systems.
It will take place from July 24 to July 26 at the headquarter of the UN Food and Agriculture Organisation (FAO) in the Italian capital.
Italy will host, in collaboration with FAO and two other UN agencies – the international Fund for Agricultural Development (IFAD) and the World Food Programme (WFP) – which are also based in Rome.
The UN Food Systems Coordination Hub, which supports governments in developing and implementing agrifood system transformation, and the wider UN system, are also organisers.
The three-day meeting will provide an opportunity for countries to report on progress made since the UN Food Systems Summit in September 2021, held online, where more than 50,000 people, including 77 world leaders, committed to accelerate action on transformation.
At the Stocktaking Moment, governments will also assess their contributions to achieving sustainable development despite a current global context that has substantially changed.
The UN reports that the number of people worldwide who cannot afford a healthy diet rose by an additional 112 million between 2019 to 2020, to almost 3.1 billion, reflecting the impacts of rising food prices during the COVID-19 pandemic.
Italy has welcomed its role as host and co-organiser, said Deputy Prime Minister Antonio Tajani, who is also the Minister of Foreign Affairs and International Cooperation.
"Italy, with the strategic involvement of its strong and innovative agrifood sector, is committed to play an increasingly active role in supporting the efforts of the international community to promote food security and transformative and innovative solutions for sustainable and efficient food systems throughout the world," he said.
"As one of the oldest and most influential food cultures of the world, we intend to play our part in addressing one of the key challenges for the achievement of the 2030 Agenda."
The Stocktaking Moment will further highlight the central role of food systems transformations in overall SDG advancement ahead of the Sustainable Development Goals Summit in September.
The UN and Italy urged countries and stakeholders to "prepare and seize the opportunity" to reaffirm global commitment to act with urgency, in line with the promise of the SDGs. (NAN)
Russia Preparing Massive Missile Attack on Ukraine – Spokesperson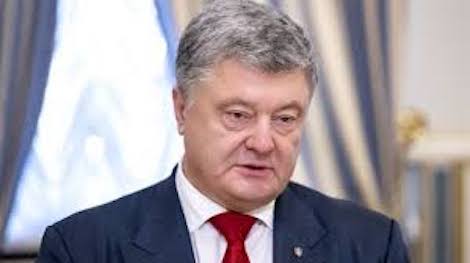 Russia is preparing a massive new missile attack on targets in Ukraine, a spokesperson for Ukraine's southern military command said yesterday.
The spokesperson pointed to movements by the Russian Black Sea fleet.
Most of the fleet had returned to their bases, and this suggests a new missile strike, Natalya Humenyuk told Ukrainian television.

Since Russian forces launched a campaign of missile attacks on Ukrainian cities and infrastructure in October, most of the cruise missiles have been fired from naval vessels on the Black Sea.
The fire was from naval vessels on the Black Sea and Caspian Sea or from strategic bombers.
According to Humenyuk, only 10 Russian ships are still at sea.
"They show their muscle for a time at sea, demonstrate their presence and control over the situation and then sail to the bases, where they usually prepare for manoeuvres for a massive missile attack,'' he Ukrainian military spokesperson has said.
Russian missile attacks have severely impaired Ukraine's electrical power supply and other utilities.
Millions of people have been left without electricity, heating and water for extended periods during the long winter nights.
The attacks have repeatedly hit residential blocks.
In Dnipro, 45 people were killed and 80 injured on Jan. 14. (dpa/NAN)
Pope Visit in DRC: WFP Highlights Africa's Biggest Hunger Crisis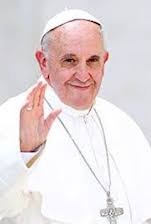 UN World Food Programme (WFP) yesterday said that aid agencies faced growing demands and shrinking funds in the Democratic Republic of Congo (DRC).
The UN agency made the disclosure in a statement as crowds in DRC thronged to hear Pope Francis's message of hope and solidarity on his three-day official visit to Central Africa.
Millions of Congolese face severe food insecurity, particularly in the northeast, where fighting has uprooted millions of people, resulting in Africa's biggest hunger crisis.

As part of his three-day visit to DRC, the pope is expected to meet families displaced by conflict in the east.
This staggering number includes more than half a million uprooted from their homes in recent months, the UN World Food Programme, WFP said.
To help them, the UN agency has appealed to the international community for more than $627 million to fund vital humanitarian assistance in 2023.
In a personal appeal, Pope Francis reportedly urged young Congolese to work for a better future and shun corruption.
His remarks in Italian were translated into French for those gathered at the 80,000-capacity Martyrs' Stadium in Kinshasa.
"You are part of a greater history, one that calls you to take an active role as a builder of communion, a champion of fraternity, an indomitable dreamer of a more united world," the pontiff said.
He also urged them never to succumb "to the persuasive but poisonous temptations of corruption."
In 2022, WFP reached 5.4 million of the most vulnerable people in DRC with food and nutrition aid, focusing on conflict-hit women and children.
However, needs are vast in the central African nation, where more than 26 million people face severe hunger – more than a quarter of its total population.
"I have seen firsthand that this country has so much potential to produce food for its people and give jobs to youths," WFP's DRC Country Director and Representative Peter Musoko, said.
He expressed hope that the pope's visit would help to highlight the plight of millions of hungry people in the Central African nation, for whom WFP is, sometimes, "the only backstop against catastrophic food insecurity".
"With an ongoing emergency and limited resource, we are appealing to the international community for $627.3 million in 2023," Musoko said.
Some of those displaced by violence in DRC's northeast have found assistance from WFP and partners at the makeshift Kanyaruchinya Camp, outside the provincial capital, Goma.
It is there that farmer Dorati Ndagisa now lives destitute with her five children after armed groups chased her from her homestead in eastern Nord Kivu Province.
Her plight is mirrored by many others, a result of chronic unrest linked to conflict from 1998 to 2003 over precious raw materials that involved as many as eight regional neighbours, and which spawned more than 100 armed groups now terrorizing communities in eastern DRC.
"Before, I was a farmer and I had a stable life," said Ndagisa, who once grew beans and potatoes in the village of Rugari, 35km (21.7 miles) away.
"Since the war, I have nothing and I don't know how to feed my children."