Breaking:Sen Diri Wins Bayelsa PDP Guber Primary


Sen. Douye Diri has emerged the candidate of the Peoples Democratic Party (PDP) for the Bayelsa governorship election fixed for Nov. 16.
Diri pulled 561 votes to beat his rival Mr. Timi Alaibe who got 365 votes in primary held on Tuesday at Gabriel Okara Cultural Centre, Yenagoa.
Declaring the result, Gov.

Darius Ishaku of Taraba, Chairman, Party's Electoral Committee for the state, said Mr Keniebi Okoko came third with 142 votes.
The News Agency of Nigeria (NAN) reports that 21 governorship aspirants contested to be the party flagbearer.
Diri was a member of the House of Representatives from 2015 to 2019, where he represented the people of Yenagoa/Kolokuma/Opokuma federal constituency of the state.
He was later elected as the Senator representing Bayelsa central senatorial district during the 2019 general election.
(NAN)
Peter Obi Promises to Change the Country for the Better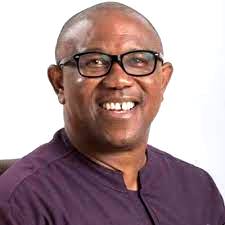 Presidential candidate of Labour Party (LP), Mr Peter Obi has asked Nigerians to hold him accountable if a new Nigeria fails to emerge with him as president.
Obi threw the challenge in Abakaliki on Friday at his campaign rally.
He pledged to reform Nigeria back from consumption to production.
The LP candidate assured that the country would be restored when most qualified candidates with character, trust and competence were elected.

He maintained that the 2023 general elections must be based on character and not on or and tribe.
"We will offer you a new Nigeria and also secure and unite the country.
"Let no one deceive you with religion or tell you it is their turn. Just vote people that understand governance.
"I am not contesting as an Igbo man, a south-easterner, but as a Nigerian who is most qualified and competent to revive the country,'' Obi said.
He commended the people of Ebonyi for their solidarity and support for the Labour Party.
He urged the electorate to vote for Mr Edward Nkwegu, the gubernatorial candidate of LP in Ebonyi to build a better nation.
In his remarks, National Chairman of Labour Party, Mr Julius Abure, appreciated the people of Ebonyi for their show of solidarity, support and commitment to the party.
Abure said the LP would produce most intelligent and credible candidates to fight poverty and insecurity in the country. (NAN)
Alia Polls 219,009 at  APC Governorship Re-run in Benue 
From David Torough, Makurdi
Rev. Fr. Hyacinth Alia has again, won the gubernatorial primary rerun election conducted by the Sen. Bashir Lado led rerun committee.
Alia polled a total number of 219,002 to defeat 12 other aspirants to emerge winner.
Recall, that the court of appeal sitting in Makurdi while delivering judgement in a case filed by one of the gubernatorial aspirants, Prof.

Terhemba Shija directed the party to conduct a primary re-run election in eleven(11) local government areas of the state.
While announcing the result at the APC Secretariat Makurdi, which also served as the collation Centre for the rerun, Sen. Lado, Chairman of Benue State Rerun Election Committee stated that the primary election rerun which was won by Rev. Fr. Dr. Hyacinth Alia was not only free, fair and credible but represented the wishes of APC members in Benue State.
Chairman of the party in the State, Comrade Augustine Agada while commending APC members in the state for a peaceful primary election, thanked them for their show of maturity during the rerun and termed the results of the election as no victor no vanquish, explaining that the winner in the election is not only Fr. Alia but for the entire Benue APC family.
In a good will message, Amb. Prof. Stephen Ugba who spoke on behalf of party Stakeholders, commended Benue APC for a successful exercise and called on all those who participated in the primary election to see themselves as winners.
The party immediately after the declaration of results went into a Special Congress to ratify the primary elections.
The Congress unanimously ratified and adopted Rev. Fr. Dr Hyacinth Alia as the candidate of APC Benue state for the position of governor.
The Special Congress was attended by members of the State Executive Committee of the party, Critical Stakeholders, teeming members of the APC in Benue state and members of the press.
I'll Ensure Nigeria is Restructured in 6 Months – Atiku
Peoples Democratic Party (PDP) Presidential Candidate Atiku Abubakar says he will ensure Nigeria is restructured within six months of his administration if elected.
He said this at the PDP Presidential Diaspora Campaign Grand Finale held in Abuja.
Atiku, who was represented by former National chairman of the PDP, Dr Okwesilieze Nwodo, said that sufficient research work needed to achieve restructuring in Nigeria had been concluded.

Nwodo is the Deputy Director, Research and Strategy, of the PDP residential Campaign Council ( PCC).
He said that Nigeria worked better when every region controlled its natural resources.
The former Vice president recalled that existing socio-economic developments were put in place when regions controlled their resources.
"When we are talking about restructuring by Executive Order, in the first six months, this country will not be what you are seeing today.
"This has been worked out and I'm just waiting to be sworn in on May 29 and the plans will be rolled out."
He said that Nigeria was a great country, adding that all that it required was good leadership.
"We will provide that kind of leadership," he declared.
Atiku further said that if elected, he would rescue Nigeria from all indices that had portrayed it in bad light.
He listed his five-point agenda to include education and security, saying that he would restore security to the country by nipping in the bud factors responsible for rising violence.
Earlier, Director, Directorate of Diaspora Groups, PDP PCC, Prof. Isa Odidi, had said that Nigerians in Diaspora believe that Atiku would articulate and implement the Diaspora Policy Framework to help capture, harness and channel their expertise to the country.
"Atiku's government will do more to remove obstacles and create opportunities for Nigerians in the Diaspora to engage in economic development of Nigeria.
"We all unequivocally support Atiku/Okowa for President and Vice President of Nigeria," he he asserted.(NAN)