Buhari, Five African Leaders Inaugurate 650,000bpd Dangote Refinery in Style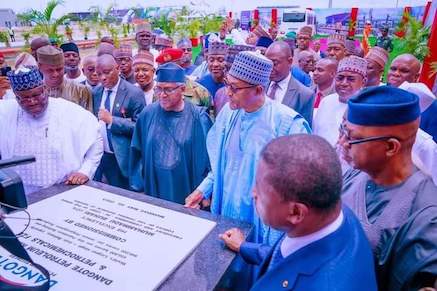 By Mathew Dadiya, Abuja
Five African Heads of State, yesterday joined President Muhammadu Buhari, to inaugurate Dangote Petroleum Refinery in Ibeju-Lekki, Lagos with a refining capacity of 650,000 barrels per day, which is expected to enable Nigeria to achieve self-sufficiency in refined products and even have a surplus for export.
The African leaders, who attended the inauguration ceremony, were Nana Akufo-Addo of Ghana, Faure Gnassingbe of Togo, Mohamed Bazoum of Niger, Macky Sall of Senegal and a representative of the President of Chad.
Speaking at the event, President Buhari described the feat as a significant milestone for Nigeria's economy and a game changer for the downstream petroleum products market in the entire African region.
"This mega industry we are commissioning today is a clear example of what can be achieved when entrepreneurs are encouraged and supported and when an enabling environment is created for investments and for businesses to thrive.
"I am confident that my successor, His Excellency Asiwaju Bola Ahmed Tinubu, will sustain the improvement in our economic and business environment and strengthen the framework of our public-private partnership policies to accelerate the pace of our economic growth and development.
"I am happy to leave our economy in very competent hands," he said.
Buhari who commended Aliko Dangote's leadership in executing the 650,000 barrels per day refinery urged other entrepreneurs to emulate his example in driving economic growth and realizing Nigeria's economic potential.
He stressed the need for African countries to come together, integrate their economies, eliminate trade barriers, and rally their populations to achieve Agenda 2063 for the continent's prosperity.
"I urge and encourage our other great entrepreneurs to emulate this iconic Nigerian industrialist and join the Government in accelerating our growth to realize our country's globally recognized economic potential.
"When I travel around Africa and meet and engage my brother Heads of State (and I am delighted some of their Excellences are here) I often sense a quiet expectation that our country is blessed with resources and human capacity to lead Africa's rise to economic prosperity and the attainment of Agenda 2063 – 'The Africa we all want.'
"But to achieve the goals of Agenda 2063, Africa must come together – we must integrate our economies, eliminate trade barriers and energize our youthful population to scale up our production capacity.
"We must create necessary conditions for our private sector to grow and partner with the public sector to accelerate economic growth across the continent.
"We must not allow outside powers to use some of our leaders to destabilize our economic and political trajectory," he said.
Buhari acknowledged the visionary investments made by the Dangote Group, under the leadership of Dangote, in transforming Nigeria's economy through its involvement in critical industries such as cement and fertilizer.
He noted that investment in these sectors has played a crucial role in shifting Nigeria from heavy import dependence to becoming a net exporter.
Buhari acknowledged that Nigeria's economy has faced significant challenges over the years, including deficits in economic infrastructure, insurgency, and external crises such as the Global Financial Crisis, oil price collapses, the COVID-19 pandemic, and the Russia-Ukraine war.
"The consequence of these challenges constitutes a severe strain on our economy, limiting Government's ability to provide basic infrastructure without resorting to huge borrowings.
"Our Government, therefore, took the decision to focus attention on creating an enabling environment for the private sector to thrive and fill the enormous gap in investments not only in infrastructure but also in all critical sectors.
"We recognize that without the active participation of the private sector and a strong commitment to public-private partnership, our economy would continue to remain severely challenged and our economic growth impeded.
"Government, therefore, will and should continue to provide an enabling environment and encourage innovative public-private partnerships in all sectors of our economy," Buhari said.
The President emphasized the administration's commitment to this approach, citing Executive Order 007 of 2019 which facilitated the rehabilitation/construction of many roads by private sector investors using a Tax-credit scheme.
"It is my hope that the succeeding Administration will continue to apply such innovative schemes in partnership with the private sector to accelerate the provision of critical infrastructure in particular roads, power and gas pipelines," he added.
Aliko Dangote emphasised the refinery's role in fulfilling the group's corporate vision of promoting self-sufficiency and global competitiveness.
"We have built a Refinery with a capacity to process 650,000 barrels per day (plus 900,000 tonnes of polypropylene) in a single train – which is the largest in the world. We have selected the best plants and equipment and the latest technologies from across the world.
"Our products slate is designed to meet the highest quality standards and high-value products including Premium Motor Spirit (PMS), Automotive Gas Oil (Diesel), Aviation Turbine Kerosine (ATK); all of Euro V Standards that will enable us not only meet our Country's demand but also to become a key player in the African and global market.
"Our coastal location and offshore loading and offloading (SPM) facilities with a capacity to receive all our crude oil supplies and evacuate up to 75% of our liquid products give us direct access to the rest of Africa and the global market for exports. In addition, 80 percent of our production can be discharged through trucks nationwide."
He disclosed that the huge investment of over $18.5billion in this industry was prompted by the company's desire to support and contribute its quota to the Federal Government's sustained effort to transform the economy and reposition Nigeria as the leading nation in Africa, and a respected member among emerging economies in the world.
According to him, apart from ensuring a consistent supply of high-quality fuels for the transportation sector, the refinery will provide essential raw materials to a wide range of manufacturing sectors, including plastics, pharmaceuticals, food and beverages, packaging, construction, and more.
He further stated that the refinery's operation and related businesses would generate a substantial number of job opportunities, while the downstream supply and distribution of its products would significantly contribute to the absorption of labor, potentially benefiting hundreds of thousands of individuals.
"'Once our plant is fully on stream, we expect that at least 40% of the capacity will be available for export and this will result in significant Foreign Exchange inflows into the country.
Overall, we are committed to operating our Plant in line with international best practice requirements, recognizing the importance of protecting the environment, and putting in place stringent environmental, health, and safety policies to ensure that the Refinery operates in a safe and sustainable manner," he said.
 Facts You Need to Know About the Refinery.
The Dangote Refinery and Petrochical  Company Limited commissioned yesterday with fanfare by President  Muhammadu  Buhari  is the largest single Train  refinery in the World. It has 650,00bpd refinery capacity and was built at the total cost of about  $18.5bn.
Out of the amount, Dangote contributed $9bn equity, while the balance was provided by a consortium of Nigerian banks and Africa Export  Import ( AFREXIM) bank under various lending terms 
It is situated on  2,635 hectaresof land, an area said to be seven times bigger than the size of Victoria Island part of Lagos.
Before Commencement  of construction, the company  dredged 65m cubic meters of sand at a cost of 300million euros.
The complex has a 435MW Power plant, with a 10m ton per year Granite quarry. The refinery completed its own port with two quays  both with a load bearing capacity of 25tons/sqm and has potential to be increased to 6. It also has  177 tanks with a bearing capacity of 4.7b litres. Dangote Group purchased  332 cranes for the project, which were used for loading, off loading and installations at the complex.
The construction phase involved 150,000 local technicians/engineers, 200 Nigerian contractors directly while the operational phase will employ over 30,000 directly  excluding at least  45 service contractors from different fields.
The .construction entailed the use of 3,000KM pipeline  network
while over 2,700 installations took place.
The Complex has a housing estate that could accommodate 40,000 staff according to the Central Bank of Nigeria(CBN), could generate up $11bn in foreign exchange annually and could  stabilise  the nation's foreign exchange  system..
The refinery hopes to supply 100 per cent of the fuel needs of Nigeria  and targets 40 per cent of its production for exports.
By its conception, the refinery  refine all crude types from Africa, Asia and America. 
CBN Debunks Report of Naira Devaluation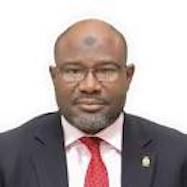 By Tony Obiechina, Abuja
The Central Bank of Nigeria (CBN), has debunked a newspaper report to the effect that it has devalued the Naira to 630/$1.
Reacting to the report in a statement on Thursday CBN Acting Director of Corporate Communications Department, Dr Isa AbdulMumin said the story was an outright falsehood.
The statement reads:
"The attention of the Central Bank of Nigeria (CBN) has been drawn to a news report by Daily Trust Newspaper of June 1, 2023, titled "CBN Devalues Naira To 630/$1".
"We wish to state categorically that this news report, which in the imagination of the newspaper … is replete with outright FALSEHOODS and destabilizing innuendos, reflecting potentially willful ignorance of the said medium as to the workings of the Nigerian Foreign Exchange Market.
"For the avoidance of doubt, the exchange rate at the Investors' & Exporters' (I&E) window traded this morning (June 1, 2023) at N465/US$1 and has been stable around this rate for a while.
"The public is hereby advised to ignore the news report by Daily Trust in its entirety, as it is speculative and calculated at causing panic in the market.
"Media practitioners are advised to verify their facts from the Central Bank of Nigeria before publishing in order not to misinform the public".
NEITI Hails Fuel Subsidy Removal, Offers Eight Strategic Considerations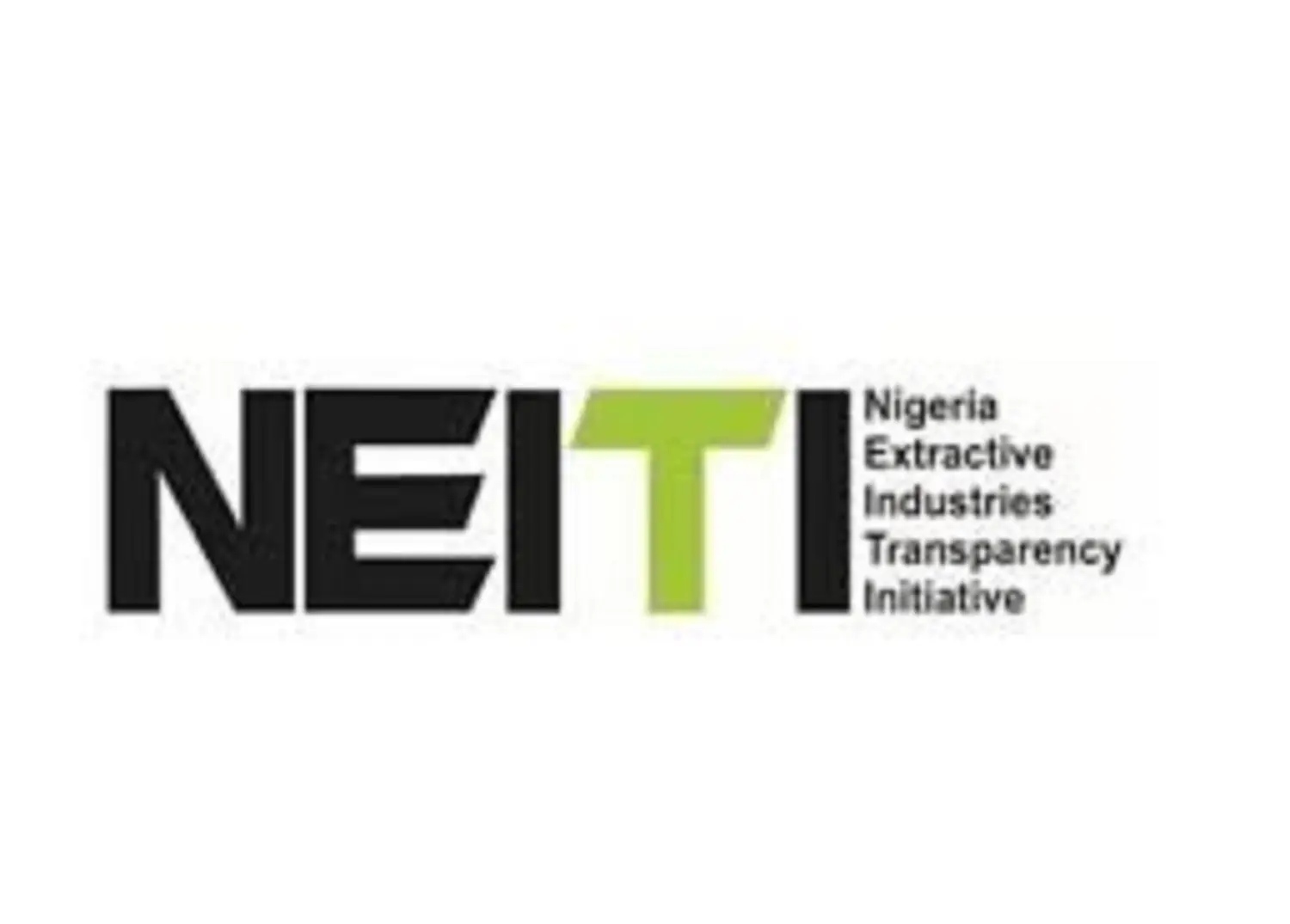 The Nigeria Extractive Industries Transparency Initiative (NEITI) has lauded the political will and sincerity of purpose demonstrated by President Bola Tinubu in removing fuel subsidy.
A statement from NEITI House, Abuja on Tuesday, described the move as a positive move by the administration to decisively implement the findings and recommendations contained in the NEITI reports.
The statement, signed by Mrs Obiageli Onuorah, the Deputy Director/Head Communications and Stakeholders Management, said bold step was required to block leakages, grow revenues and advance the ongoing reforms in the oil, gas and mining industries.
President Bola Tinubu, in his inaugural speech on Monday, said the fuel subsidy regime had ended with the commencement of his administration.
Onuorah recalled that its recommendations for the removal of fuel subsidies have remained a persistent request since 2006 given the agency's concerns about the huge financial burden that the subsidy regime imposed on the growth of the Nigerian economy over the years.
She explained that from the NEITI reports, between 2005 and 2021, the country spent $74.39 billion which translated to N13.69 trillion on subsidy.
According to the NEITI report, a breakdown of these figures showed that in 2005, the government paid $2.6 billion dollars (N351 billion) as subsidy. In 2006 and 2007, it paid $1.99 billion and $2.18 billion (N257 billion and N272 billion) respectively.
The report further pointed out that subsidy payments more than doubled in 2008 and 2010 and witnessed the highest increase ever in 2011 to $13.52 billion (N2.11 trillion).
She said a sharp decline was witnessed in the years 2012, 2013, 2014 and 2015 when it dropped to $3.34 billion (N654 billion) in 2012.
Onuorah said the decline in subsidy expenditure continued in 2016 and 2017 to as low as $473 million dollars (N154 billion) in 2017.
"The reduction was short-lived as the payments skyrocketed to over $3.88 billion (N1.19 trillion) in 2018 and 2021 to $3.58 billion (N1.43 trillion).
"By these figures, Nigeria expended an average of N805.7 billion annually, N67.1 billion monthly or N2.2 billion daily," she said.
She said the NEITI data also showed that the amount expended on subsidies from 2005 to 2021 was equivalent to the entire budget for health, education, agriculture and defence in the last five years.
Onuorah added the sum equals the capital expenditure for 10 years between 2011 to 2020.
The deputy director explained that it was during this time (2011) that fuel subsidies dwarfed allocations to all critical areas of the economy.
"NEITI 's persistent calls for the removal of petroleum subsidies were informed by the fact that the ways of funding the expenditure over these years relied more on federation accounts funds, the Federal Government and sometimes from external borrowing with negative consequences on government overall revenue profiles.
"NEITI was also concerned that the consequences of funding subsidies have resulted in poor development of the downstream sector, declining GDP growth, rise in product theft, pipeline vandalism, environmental pollution and undue pressure on foreign exchange.
"Other challenges imposed on the economy were naira depreciation, low employment generation, the declining balance of payments and worsening national debt," she said.
Onuorah said in a policy advisory released by NEITI in late 2022 to drive home the urgency to remove subsidy and resubmitted earlier in the year 2023, NEITI recommended eight steps to manage subsidy removal.
She listed the steps to include the urgency to strengthen the implementation of the Petroleum Industry Act (PIA) as a whole and not in parts.
NEITI also underlined the importance of unveiling the implementation of people-oriented welfare programmes to provide relief for the poor and vulnerable and advised on priority attention to be paid to the rehabilitation of the nation's four refineries currently ongoing.
On other policy considerations, she said government should commission a special report on actual PMS consumption in Nigeria, enforce stringent sanctions for criminal activities in the sector and conduct appropriate stakeholders' consultations, engagements and enlightenment. (NAN)
Subsidy Removal: PMS Price Jumps to N537 Per Litre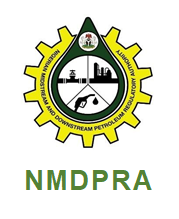 Following Monday's removal of fuel subsidy by President Bola Ahmed Tinubu, the Nigerian National Petroleum Company Limited (NNPCL), yesterday jerked up pump prices of petrol, also known as Premium Motor Spirit (PMS) from N195 per litre to 537 per litre at its fuel stations nationwdie.
According to a statement signed by the NNPC Ltd's Chief Corporate Communications Officer, Garba Deen Muhammad, the increment is part of measures to provide the public with quality service.
The statement also said that the NNPC Limited is committed to ensuring a ceaseless supply of products.
"NNPC Limited wishes to inform our esteemed customers that we have adjusted our pump prices of PMS across our retail outlets, in line with current market realities.
"As we strive to provide you with the quality service for which we are known, it is pertinent to note that prices will continue to fluctuate to reflect market dynamics.
"We assure you that NNPC Limited is committed to ensuring a ceaseless supply of products.
"The company sincerely regrets any inconvenience this development may have caused.
"We greatly appreciate your continued patronage, support, and understanding during this time of change and growth," the statement read.
According to a new price template disclosed by NNPLC yesterday, Lagos State has the least price of N488 per litre, while Maiduguri and Damaturu have the highest pump prices of N577 per litre.
Yesterday, most filling stations in the nation's capital, Abuja, had adjusted to the new pump price.
Similarly, pump prices had been adjusted across the states.
For instance, in Benue State, the fuel price had been adjusted to N537 per litre.
The price adjustment represents an over 200 per cent increase.
The implication is that nearly all prices of goods and services would drastically increase.
The development is coming barely two days after President Bola Ahmed Tinubu's inaugural speech, where he said fuel subsidy would be removed.
In the first half of 2023, Nigeria spent N3.6 trillion on fuel subsidy alone.
The country will save close to N6.7 trillion if fuel subsidies payment is discontinued.
Nigeria has spent N13.7 trillion on fuel subsidy in the last 13 years, according to Nigeria Extractive Industries Transparency Initiative.
NLC Kicks over Price Increase
The umbrella body of labour unions in the country, the Nigerian Labour Congress (NLC), yesterday fumed over the adjustment of pump prices by the Nigerian National Petrol Company Limited (NNPCL).
Barely 48 hours after President Bola Tinubu announced an end to the subsidy era during his inaugural speech at Eagle Square, Abuja on Monday, the NNPCL confirmed the hike in the pump price of Premium Motor Spirit also known as petrol.
Since the presidential pronouncement, fuel queues have resurfaced across the country as Nigerians forage for the premium product which was rose from around N185 per litre to between N400 and N600 per litre.
Worried by the situation, the NLC President, Joe Ajaero, issued a statement expressing worry that the national oil company would announce an increment.
Describing the development as unfortunate, Ajaero said the NNPCL's action was coming on the heels of an ongoing meeting with stakeholders in the oil and gas sector to manage the unilateral but unfortunate announcement by the President.
"It is therefore unacceptable and we seriously condemn it. Good faith negotiation is key to reaching agreement. What the government has done is like holding a gun to the head of Nigerian people and bringing undue pressure on the leaders thus undermine the dialogue," the NLC President said.
"We call on the federal government to immediately instruct the NNPC to withdraw this vexatious Pricing template to allow free flow of discussions by the parties. Nigerians would not accept any manipulations of any kind from any of the parties especially from the representatives of the Government.
"Our commitment to this process is buoyed on the fact that all the parties would be committed to ensuring that it is carried out within the ambits of liberty without undue pressure. The release of that Template may not allow us to continue if nothing is done to withdraw it so that the dialogue can continue unhindered. It is clear that Government is actually trying to scuttle the process."
IPMAN Sanctions over 100 Petrol Stations for Price Violation
The Independent Petroleum Marketers Association of Nigeria (IPMAN), has said that over 100 petrol stations have been sanctioned for increasing pump prices.
National Spokesperson of the Association, Yakubu Suleiman, disclosed this yesterday.
Briefly after President Bola Tinubu's speech on May 29 that the petrol subsidy has been cancelled, panic buying erupted in some parts of the country as some marketers closed shops, leading to large queues in filling stations across the country.
In Lagos, Abuja, and other parts of the country, it was observed that since May 29, some filling stations ceased operations; while those that dispensed petrol increased prices.
Speaking in an interview with Channels Television yesterday, Suleiman said there is a penalty for filling stations increasing pump prices, adding that over 100 sanctions have been placed on defaulters.
"We have a task force that goes around all the filling stations in the country and I want to assure you that they are there, working right from yesterday," he said.
"Any filling station caught increasing the price just because of this announcement, there has to be a penalty against such stations. We sanction those who default. We close the stations. Our task force is there doing its job.
"As of yesterday, more than 100 filling stations have been sanctioned. Some of them, when we go through their reports, are not real petroleum marketers. Real ones cannot go against the rule of their administration."
Mike Osatuyi, the national operations controller of IPMAN, had earlier told TheCable that the reflexive action of customers who wanted to stock up on cheap petrol before the price of the product increased, was to be blamed for the unprecedented level of queues.
He advised that, although there is currently enough petroleum stock to supply the nation, there would be a price increase eventually.
Meanwhile, the representatives of the federal government are expected to meet with the leadership of the Nigeria Labour Congress (NLC) today, over the planned removal of the petrol subsidy – the root cause.
NMDPRA: We're Ready to Issue New Petrol Import Licences
The Nigerian Midstream and Downstream Petroleum Regulatory Authority (NMDPRA) said it is ready to issue licences to companies interested in petrol importation.
Speaking to newsmen on Tuesday, Farouk Ahmed, chief executive officer of NMDPRA, said the criteria for importing kerosene and diesel will be applicable for the importation of the product.
However, Ahmed said several conditions have to be met before the applicants are granted licences.
"There are a lot of conditions to be met before you are given a licence to import petrol," he said.
"I cannot give you all the rundown now but I can tell you that just the way marketers import diesel or jet kero, there are conditions for all that and the same condition will apply to those who want to import premium motor spirit (PMS)."
Only companies that are lessees producing crude oil and/or condensates or who are holders of crude oil refining licences are eligible to supply wholesale petroleum liquids (including petrol importation), according to section 197 (2) of the Petroleum Industry Act (PIA) 2021.
While the PIA empowers the NMDPRA to issue licences to refiners or producers of crude oil, the regulation, in sections 73 (3) and 111 (1), provides that the minister of petroleum must approve such licences.
Currently, the Nigerian National Petroleum Company (NNPC) is the last-resort supplier, tasked with importing refined petrol to ensure adequate supply and distribution in the country.
Through the direct sale, direct purchase (DSDP) scheme, the country exports crude oil and exchanges it for refined petroleum products.