FCT Residents should Expect more Clean ups, Demolitions-Attah
Ikahro Attah is the Senior Special Assistant on Monitoring, Inspection and Enforcement to FCT Minister and a journalist. In this interview with Laide Akinboade, he speaks on the renewed demolition exercise of illegal structures in Abuja and other efforts of FCT Administration to uphold Abuja as a modern city
Give us the brief history of how the renewed vigour in cleaning up Abuja and enforcement of its Master plan all began again?
My history of enforcement is something I never planned or expected.
It started on September 18, 2019. I was one of the journalists covering the State House, I had approached the FCT Minister Malam Muhammad Bello, for questions on gridlock on Nyanya -Keffi Road and he told me to come and see him on the 19th of September, I went there to get exclusive interview.
To my shock the Minister announced, he wanted to form a traffic management team, I saw men in uniform around his office. He said he want to form the team to address problem of traffic in Abuja – Keffi Road and I was standing by he said, "You journalist, you are the chairman of the task force on the Abuja FCT Traffic management team.
Many thanks to those who had to encourage me, I know the job could have been done without me. But after the success recorded in Abuja -Keffi
Road, the Minister had to move me to Dutse-Alhaji Road.
Then when Covid-19 came I was so happy because I thought I was going to rest, because the stress of traffic work was so heavy. But during COVID-19 pandemic, the burden of enforcement was so heavy that we had to do heavy enforcement work. Shortly after that the appointment came as Senior Special Assistant to FCT Minister on Monitoring, Inspection and Enforcement.
How long have you been on enforcement?
I have been doing enforcement work since September 19th, 2019, about three years ago.
What prompted you to accept the appointment from Minister?
What prompted me was the series of activities. Largely the former FCT Minister, Bala Muhammad, had always told me and other journalists that we shouldn't limit ourselves to be only Senior Assistant, Media alone, or Chief Press Secretary but as a journalist we should be ready to do anything, we should be ready to do anything outside our purview. But the day the Minister announced my appointment I was shocked but he already believed in me with all the men in uniform that were there . And when we went to see the former FCT Police commander, Bala Ciroma, he encouraged me and told me I can do the job. Even the former FCT Permanent Secretary, Ohaa also said I can do the job, it seems as if all the people around me believe I can do the job but I am the only person that was a bit worried and wondering how can I metamorphose from being a journalist to an enforcement officer. From that point since everyone believed in me, I had to believe in myself very quickly.
I went out and I discovered we were getting results and getting good results . Although there are knocks here and there but that is normal in enforcement.
How many clean ups have you done in the last three years?
I don't have the precise number. We done traffic management team where we had to clean up Nyanya Market area, cleanup Dutse Alhaji Market area and Maitama Market in Kubwa area.
Later we went for Covid-19 enforcement even within we removed some night clubs, we removed some "Gida drama" and we came to some areas where we had to do demolition. It is what we do everyday. I don't think I can count. They are so many.
On the clean up, what more should Abuja residents expect?
They should expect more clean ups everywhere. Kuje is an area we are coming, "pantakers," Apo, Dutse Market, is very much there, Nyanya straight to Karchi, the Airport Road is one area that is very dear to the Minister of FCT. 
The entire Airport Road is very dear to the Minister and he has asked us to constantly go there especially some of the indigenous villages to remove squatters there, we have done Zamani Village but we have not finished. We have babanbola, (cart pushing waste collectors), we have them across the city, we need to smoke them out and removed them. They are enormous.
What are your challenges?
Our major challenges are sometimes attacks. We come under attacks and sometimes our team members are injured. I can always tell them in enforcement if you are not under attack then you are not doing enforcement. If people don't confront you, you are not doing enforcement, may be you are just playing around. There is the issue of personnel. We need more personnel , because you must overwhelm the crowd. The FCTA is funding us now but if they can do more funding it will allow us do very much more .
The main issue here is the fact that we get knocks from people. But it is normal and we are getting use to them. The knocks beat us into shape.
In all your clean ups, which one will its memory linger in you for a long time?
The one attack I will never forget is the one at Luigu. The one that would stay with me for a long time is the Mpape clean up because Mpape people were almost 100 per cent certain that we cannot have access to their community. I really find it worrisome they said during el-Rufai, Mpape didn't witness a single bulldozer activity. There was so much talk about Mpape and it will stay very long in me because we were able to dimistify that belief that government never comes to Mpape with machine to do demolition but we came. Someone once told me what government cannot do, is what government is not willing to do. Government can do so much if they want to do.
What message do you have for people buying, building, selling illegal land?
If you build or buy illegal land from chiefs and others, it would be removed, even if it is not by us but by others in future. There is certainty that someone who will come and do the purging. Even if we don't do it someone will do it
As SSA on Enforcement to the Minister, what is your vision?
I have keyed into the vision of FCT Minister. We will rid the city of illegality, squatters settlements and get babanbola out of Abuja because they are wrecking havoc.
What do you think can be done to permanently rid Abuja of illegalities in erection of structures?
The permanent thing to be done to stop illegality is for the work to be done every day. There is no permanent solution even in the United States, China, you must permanently be doing the job every day. There is no permanent solution to get rid of illegality. The removal of illegality has to be permanent. Remove them so that the people would have it in mind that enforcement is on and then you kill illegality.
Where you are looking for a permanent solution and sit in the office and be pushing file out, will not work. The permanent solution is for you to tackle it everyday.
As the Rainy Season kicks in, how do you intend to prevent flooding again it this year in the FCT?
We have removed some structures and we are going to be removing more structures. We will be engaging more the FCT Minister, the FCDA Executive Secretary, Engr. Shehu Hadi, Director Development Control, Muktar Galadima, we are all discussing where we can use both planning solution like demolition, restoring the master plan as well as engineering solution by creating more pathway for water to pass in districts like Lokogoma, Trademore Estate and so many others. So that we can get urban water to quickly flow out so that it won't flood houses or wreck havoc in the communities.
Traffic on Nyanya -Keffi Road, what is the way out? We have been working. The first thing we did was to remove Nyanya Market off the main road. Those days on Wednesdays which is the market day, nobody going to that axis can walk freely, everyone closes from the office on time because the road would be clogged but now we have pushed the market away from the main road.
On a market day now, the clogging has reduced. We are hoping that soon we will be able to push all of them from the road and free the entire market stretch there and no more trading in that area, while the Ministry of Works is working on the road expansion. There is also the problem of roadside trading that we are still removing, sadly the issue of Abacha Road entry point where some people are selling. We have told the Nassarawa State government to get them off. Once Abacha Road blocks, it stretches almost to Nyanya Bridge, that shows we are heavily connected.
What advise do you have concerning illegalities in Abuja?
Abuja is a project and it is a big project for everyone of us and we all must key in and be committed. Residents must not allow illegalities, they shouldn't encourage "babanbola." Let us follow the rules.
What is it about "babanbola"(cart pushing waste collectors)?We are going after them massively because what should have been a beautiful business of waste collection and recycling has turned to be very dangerous criminals business, where criminals hide in the dumps, they go with daggers, knife, and all dangerous weapons.
We are going after them strongly, they must purge themselves. The criminal element must leave. Any community where "babanbola" gather, there is massive stealing and people are being attacked daily. Those are the ones we are targeting and we are going to purge them out.
LAWMA Demolishes Shanties, Clears Street Traders Along Lekki-Epe Expressway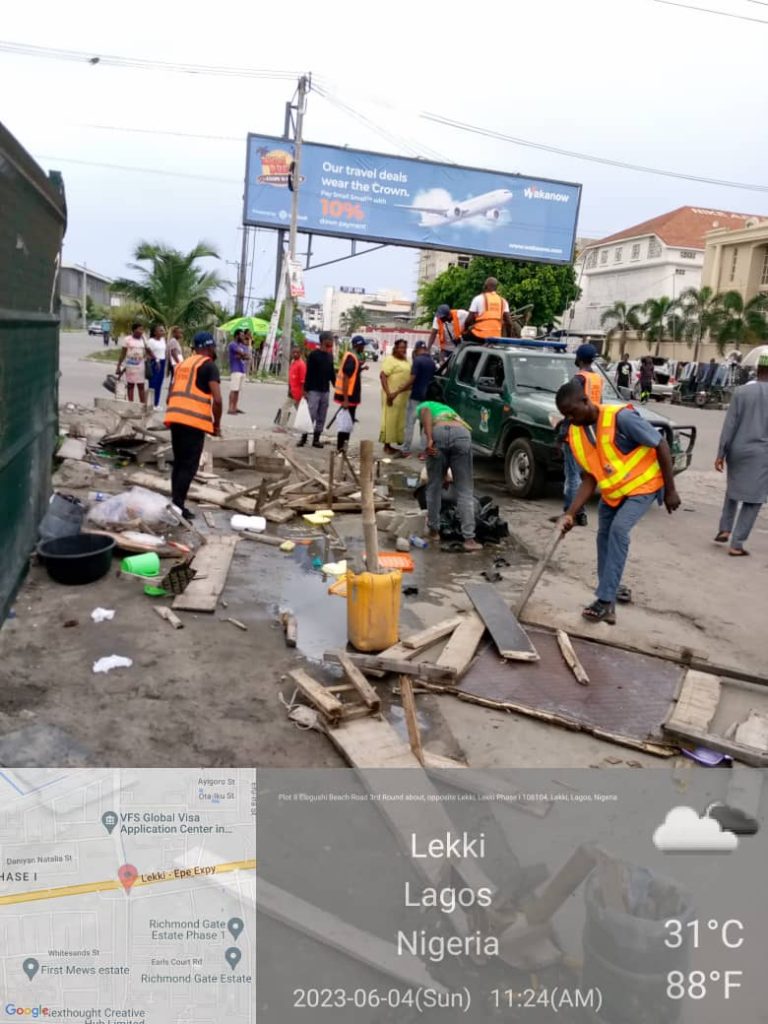 The Lagos Waste Management Authority (LAWMA) has demolished shanties and other illegal structures used by street traders and traffic vendors, along the first and second Toll Gates, of the Lekki-Epe Expressway.
Mr Ibrahim Odumboni, Managing Director/ Chief Executive Officer (CEO), LAWMA, said in a statement that the demolition was carried out in a comprehensive enforcement exercise that lasted for hours.
Odumboni said that the corridor had lately become notorious for sustained traffic congestion and other environmental nuisance, largely aided by the illegal activities of those vendors.
He condemned in clear terms, the activities of those traders, warning that anyone caught trying to re-assemble the structures would be instantly arrested and prosecuted.
"We have declared zero tolerance on street trading along the Lekki-Epe Expressway as these activities have led to significant environmental nuisance and traffic congestion.
"It is our duty to ensure that our city remains clean and habitable for all residents and visitors.
"Hence, we urge all traders to vacate the expressway immediately and avoid any further environmental infractions," Odumboni said.
He appealed to residents to take a new approach in how they treat the environment.
He stressed the importance of environmental responsibility, adding that stringent penalties awaited those who continued to disregard the regulations in place.
Odumboni said that the crackdown on street trading would be sustained in that axis and extended to others in the metropolis, in line with LAWMA's broader mission to improve the overall cleanliness and livability of Lagos.
He added that arrested offenders would be prosecuted, with their names and photographs published.(NAN)
Plastic Wastes Threat to Human Life, Says FCT Perm. Sec.
The Permanent Secretary, Federal Capital Territory (FCT), Mr Adesola Olusade, says plastic waste has become a major threat to human health.
This is contained in a statement issued by Deputy Director of Information, Abuja Environmental Protection Board, Mrs Janet Peni, and made available to the media on Friday in Abuja
Olusade said this during a road show to commemorate this year's World Environment Day, with the theme: "Beat Plastic Pollution.
"
World Environment Day is marked on June 5 of every year.
Olusade, who was represented by Mr Osi Braimah, Director of AEPB, said that the production, usage and disposal of plastic materials were not only polluting ecosystems, but also putting human and animal health in grave danger.
According to him, plastic pollution also destabilises the climate.
He further stated that globally, plastic waste situation had assumed a worrisome dimension, adding that same also applied to FCT.
"It has also become endemic, with drainage channels, canals and waterways littered with various plastic wastes.
"This contributes significantly to climate change, which results in short term damage, such as erosion and flooding, due to blockages of streams and waterways.
"This is why the matter is of utmost priority, as the world marks yet another World Environment Day in 2023," Olusade said.
The permanent secretary said that it was pertinent to bring to the fore the awareness of plastic management as an adaptation strategy to climate change.
"Only an integrated systemic shift from a linear to a circular economy can keep plastics out of our ecosystems and bodies.
"The recent United Nations Environmental Report laid out key elements of the required market transformation, rethinking and redesigning products, reusing, recycling, reorienting and diversifying markets," he said.
Olusade, however, expressed the optimism that addressing the demand for durable plastics would go a long way in solving the problem.
He noted that governments and the private sector would save money and that hundreds of thousands of new jobs would be created, thus contributing to poverty alleviation, if everyone recognised and play his/her roles.
"Governments will create the regulatory environment to incentivise the shift to a circular economy.
"The political will to do so is demonstrated by the FCT administration, backed by broad-based support by residents of the FCT and Nigerians in general," he said.
NAN reports that the road show commenced from Central Business District to Jabi market and Utako potor parks in Abuja.
The Chairperson of this year's World Environment Day Celebration Committee in AEPB, Ms Rebecca Mamven, said that the sensitisation on plastic waste recycling at Utako motor park was strategic.
She said that the road show was aimed at enlightening the public on the beneficial usage of plastics and their harmful effects on the environment.
"Plastics take a very long time to degrade. When you dispose of the plastics, either on water or soil, it affects the quality of the soil and the aquatic life forms," she said.
Mamven urged Nigerians to sustain the environment for successive generations.
According to her, the activities to mark the day will continue with environmental project exhibition by secondary school students on solutions to plastic pollution. (NAN)
Water Institute Sets Modalities for Bio-circular Economy

The International Water Management Institute (IWMI) has set up modalities for Nigeria to use solid waste from the agriculture, water, sanitation and energy sources for economic development.
Dr Boluwaji Onabolu, IWMI Lead Consultant, said this at the stakeholders engagement workshop on 'Assessment of the Investment Climate for Bio-Circular Economy in Nigeria'.
Bio-Circular Economy uses renewable biological resources from land and sea, such as crops, forests, fish, animals and micro-organisms, to produce food, health, materials, products, textiles and energy.
According to her, Nigeria has the potential to turn around its economic growth with huge investments and opportunities in the environment, sanitation, water, and agriculture sectors.
She said the rising global demand for water, food, and energy, in the context of a growing deficit and competing uses, reinforced the need for more investments in circular economy approaches.
She said the institute was assessing the investment climate for businesses so as to promote a circular economy in which nothing is put into waste.
She said investing in Resource Recovery and Reuse (RRR) businesses in Nigeria, was a potential pathway to sustainable economic development, saying the institute was convinced that stakeholders' participation would make a huge impact.
"We have learnt about studies that revealed that 183 million Nigerians do not have access to clean energy, so this is why IWMI has facilitated this workshop.
"We will have answers to some of the questions, why is it that these businesses like changing solid wastes into energy forms like biogas, and why is it that they are not able to sustain their growth?"
Prof. Olumuyiwa Jayeoba, President, Association of Deans of Agriculture in Nigeria, said many opportunities abound in the agriculture value chain.
Jayeoba said if Nigeria managed climate change and its impact well, it would have an advantage in the agricultural sector.
He said climate smart agriculture would sustainably increase productivity and income, and attainment of the National Food Security and Development Goals.
He said an effective approach in climate smart agriculture, would also strengthen the country's resilience to climate change and variability.
Also speaking, Dr Chimere Ohajinwa, noted that the impact of climate change in the environment was evident in extreme weather conditions, drought conditions, affecting the attainment of the sustainable development goals.
Ohajinwa said Nigeria faced significant waste management challenges, with increasing volumes of solid waste generated in urban areas.
She said the RRR approaches emphasised proper waste segregation, collection, and recycling.
"Establishing efficient recycling facilities and promoting community-based recycling initiatives can help recover valuable materials such as plastics, paper, glass, and metals.
"This creates employment opportunities in waste collection, sorting, and recycling industries, contributing to economic growth," she said.
Speaking on circular bio-economy, the environmental expert said it emphasised the use of renewable natural capital and focused on minimising waste, so as to meet the sustainable development goals by 2030.
Ms. Nneka Akunwa, a sanitation and hygiene expert, said Nigeria has a huge market for sanitation products and services.
According to her, half of Nigeria's population, about 111 million people, do not have a decent toilet of their own, lacking basic or safely managed sanitation.
"One in every four Nigerians are practicing Open defecation, and a reasonable amount of untreated human waste ends up in the environment, threatening people's health and degrading ecosystems.
"Imagine the business opportunities that are available in the sector if toilet business owners come on board."
IWMI has inaugurated a Nigerian assessment which is being conducted from February to May in collaboration with the Federal Government.
The findings will be used as a basis to design context-appropriate policies and strategies that can address the bottlenecks and increase RRR business attractiveness for investments. (NAN)