FIRS Loses N5.8bn to MDAs Tax Evasion, Others – Report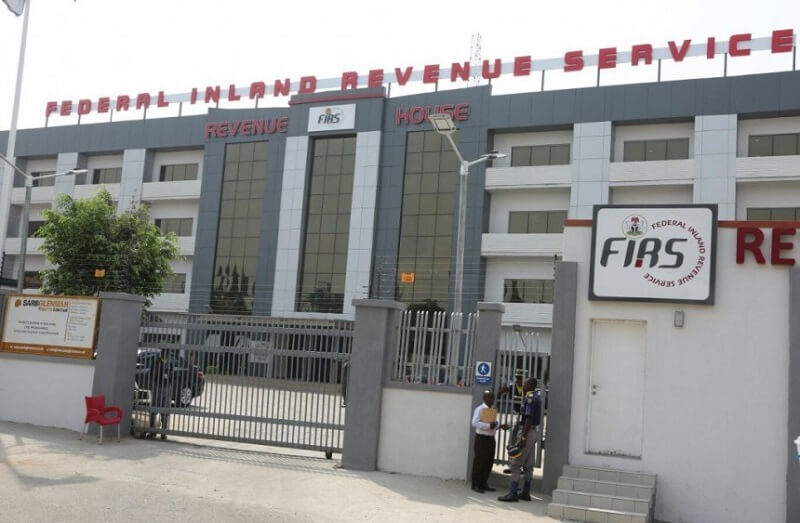 The non-remittance of tax deductions by ministries, departments and agencies of government as well as the House of Representatives and Senate led to the loss of tax revenue of N5.8bn by the Federal Inland Revenue Service in 2019.
The Office of the Auditor General of the Federation disclosed this in its 2019 Annual Report on non-compliance, internal control, and weakness issues in MDAs of the Federal Government of Nigeria for the year ended December 31, 2019.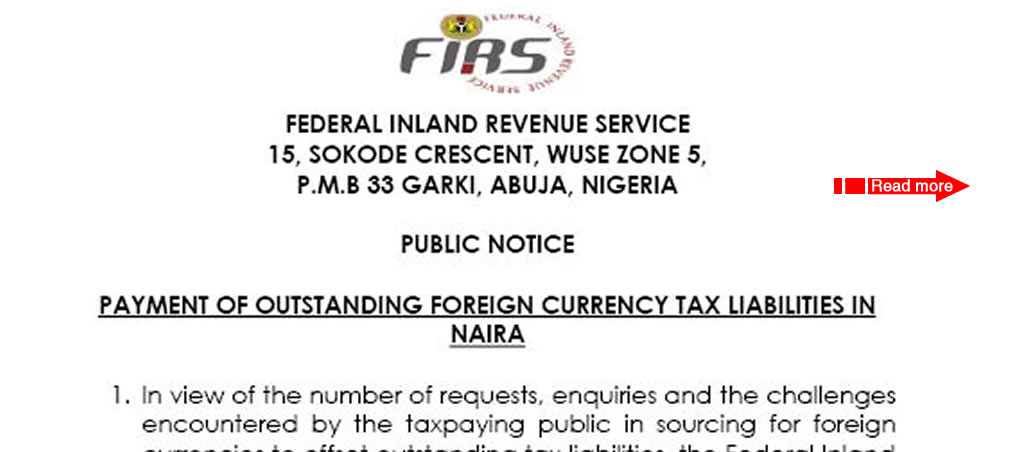 The MDAs are the Federal Ministry of Agriculture and Rural Development; Federal College of Freshwater Fisheries Technology, New Bussa; Advertising Practitioners Council of Nigeria; Nigerian Civil Aviation Authority; Nigerian Communications Satellite Limited; Hussaini Adamu Federal Polytechnic, Jigawa State; Federal Medical Centre, Keffi, Nasarawa State' Department of Petroleum Resources; National Assembly Service Commission; and Nigerian Correctional Service.
The report said between 2018 and 2019, the MDAs failed to either remit one per cent stamp duty, value added tax, withholding tax or Pay As You Earn tax deducted from awarded contracts, thereby contravening sections of the Financial Regulations and Treasury Circular issued on December 29, 2015.
According to the report, Paragraph 234(I) of the Financial Regulations states that 'it is mandatory for accounting officers to ensure full compliance with the dual roles of making provision for the Value Added Tax and withholding tax due on supply and services contract and actual remittance of same'.
It quoted Paragraph 235 as saying, "Deduction of VAT, WHT, and PAYE shall be remitted to Federal Inland Revenue Service at the same time the payee who is the subject of deduction is paid."
According to the report, the Treasury circular Ref No. TRY/A12&B12/2015 and OAGF/CAD/VOL.II/390 dated December 29, 2015 states that "1% Stamp Duty chargeable on contract awards and the remittance be made to the relevant tax authority (Federal Inland Revenue Service)."
It said, "The audit observed that the sum of N5,828,621,715.06 was the amount of taxes not remitted by 12 Ministries, Departments and Agencies.
"The Nigerian Civil Aviation Authority has the highest amount of N2,984,887,250.00 while Federal College of Freshwater Fisheries Technology, New Bussa has the least amount of N1,021,011.13."
We're Resolving Right-of-way Issues Hindering Power Projects- Minister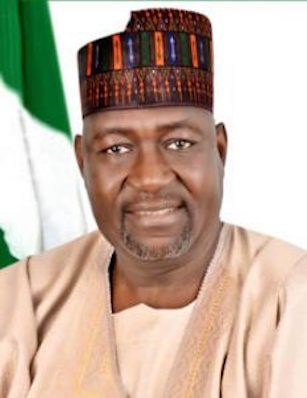 Minister of Power, Alhaji Abubakar Aliyu, says the federal government is making "significant progress" in resolving right-of-way (RoW) issues to ensure timely completion of power projects. Aliyu spoke in Abuja at an interactive session on "Frequent National Grid collapse", with the senate committee on power and critical stakeholders.
As at January 2020, 14 states reportedly hiked RoW charges.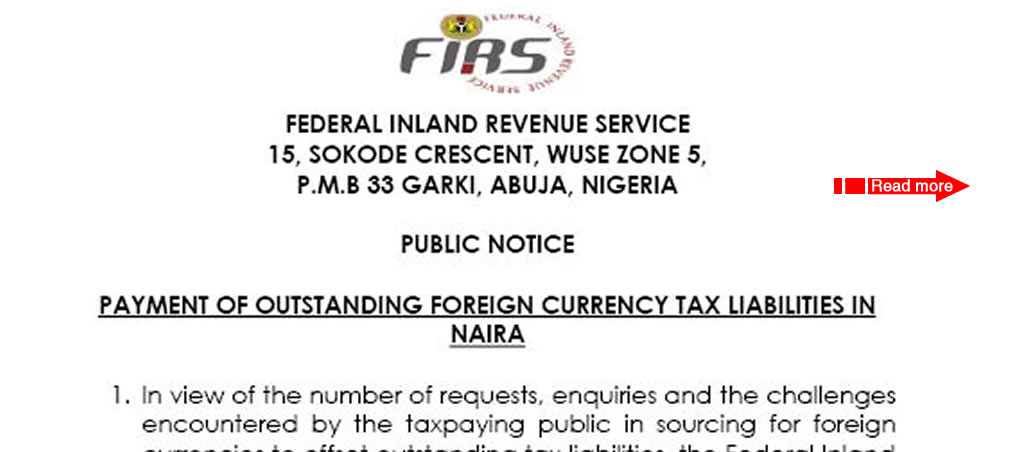 The RoW charge is the levy paid to state governments for laying of optic fibre on state roads. He also said the federal government is working towards improving the reliability of the nation's power grid.
The national electricity grid suffered a system collapse three times between March and April 2022, leading to power outages across the country. According to him, the country has witnessed improvement in the grid stability over the years.
"For example in 2017, we had 15 total collapse incidents, in 2018, we had 12, in 2019, we had nine in 2020, we had four and in 2021, two," NAN quoted the minister as saying.
"This year, we have had three collapses due to severe disturbances on the grid."
The minister explained that system collapse usually occurred when there were imbalances between the connected generation, transmission and distribution network. He, however, said the government was doing everything within its power to ensure that the country had a reliable grid.
"This administration has invested huge sums to see that Nigeria has a stable, reliable grid transporting quality power," he added. "Another challenge we are having are issues of right-of-way across various states.
"Just recently, I raised this issue with the governors during one of their meetings. I am pleased to inform you that we are making significant progress. "I am pleased to inform you that we are making significant progress.
"Once we fully execute these projects across the states, coupled with the efforts we are making to increase operational capacity, we can assure you that we will have a strengthened and reliable grid."
Earlier, Gabriel Suswam, chairman of the senate committee on power, said he was concerned about the collapse of the grid which started in March and has been recurring. "There are different explanations from the different parastatals and the ministry. Nobody knows what the problems are," he said. "Nigerians have been subjected to very high epileptic service of power. The tariff has not abated, rather, we hear rumours of tariff increase when people are not getting the energy they are paying for."
PIA: IoD Points at Ways to Facilitate Successful Implementation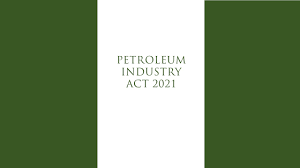 The Institute of Directors (IoD) on Monday highlighted important areas to be reviewed by the authorities to engender the successful implementation of the Petroleum  Industry Act (PIA).
Dr Ije Jidenma, President, IoD, gave the advice in a policy paper titled: "Making the Petroleum Industry Act work: A Position Paper," on Monday in Lagos.

Jidenma said that while there was no such thing as a perfect piece of legislation, recent events pointed to implementation 'headwinds.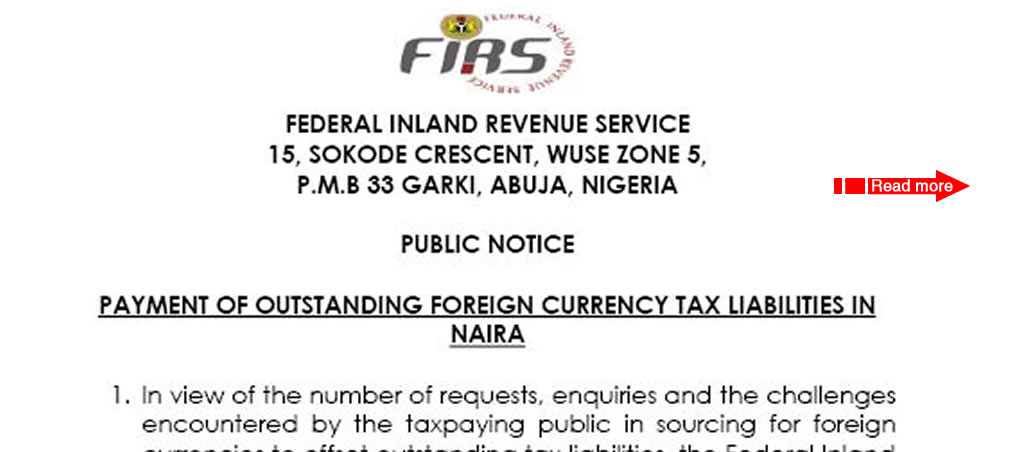 '
She stressed that Nigeria in its implementation of the PIA must send the right signals consistent with the outlined noble objectives.

Jidenma outlined the institute's concern with its implementation to include stalled downstream deregulation, implementation complexities, need for gas investment incentivising, and Environmental, Social and Governance (ESG) issues.
According to her, the Federal Government's decision to stall the Act raised further questions on section 53 (7) which requires "NNPC Ltd and any of its subsidiaries to conduct their affairs on a commercial basis in a profitable and efficient manner without recourse to government funds.
"

This, she said, was highlighted in view of the sum of $341 billion (or N1.43 trillion) which was reported to had been spent in 2021 on petroleum subsidy.
Jidenma tasked government to create an enabling environment that would make implementation of deregulation easier and readily acceptable.
"Pending their full privatisation, government must fast-track the ongoing full rehabilitation of refineries to ensure that the import freight element in the price of product is minimised;
"Government should review the current fuel pricing mechanism and must as a matter of urgency, work on removing all the inefficiencies and distortions that are negatively impacting the landing costs of products," she said.

She noted that feedback from the business community suggested that some aspects of the Act might prove difficult to implement in practice because of inherent complications.
Jidenma cited two examples that would suffice as: the hydrocarbon tax and Company Income Tax (CIT) overlap and conversion from existing Oil Prospecting License (OPLs) to the new Petroleum Prospecting License (PPLs).
She noted that while section 302 (1) states that CIT shall apply to companies engaged in petroleum operations (upstream, midstream and downstream), section 260 (1) states that Hydrocarbon Tax shall apply to companies upstream: onshore, shallow water and deep offshore.
"Hence, upstream firms would be subject to both Hydrocarbon Tax and CIT.
"Section 92 (1) allows for the voluntary conversion of existing oil prospecting license (OPL) to a petroleum prospecting license (PPL).
"However, the OPLs cover a larger size of 2,950 square kilometres while the new PPLs depending on terrain cover 300 square kilometres (onshore and shallow offshore) and 1,000 square kilometres (deep offshore).

"Conversion may not be as straight- forward as anticipated by the Act.
"To reduce the pain from implementation complexity, IoD Nigeria is putting forward the need to develop a uniform template for dealing with overlaps; and provide greater clarity on voluntary lease conversion and a clear timeline," she said.
She recommended the exemption of non-associated gas producers and developers from disallowing borrowing cost for the purpose of CIT computations.
"State an objective basis for determining the length of the transition from a regulated regime to a 'willing-buyer, willing-seller' gas market.
"Except where it is strictly in the public interest, undue price regulation should be avoided," she said.

The IoD President noted that while there was evidence that the PIA attempted to incorporate ESG principles, there were many 'missing links.
She said that the Act failed to encourage or mandate sustainability reporting.
Jidenma added that the NNPC Ltd Board reflected a degree of gender diversity but that might not be true of the Commission and Authority.
According to her, a review reveals that only one in six appointees in the boards of NNPC and the two regulatory authorities, put together, are women.
She said that there were no prescription on the matter for other boards of companies in the petroleum operations space.

"In view of Nigeria's declared commitment to Net-Zero 2060 at the CoP26 held in Glasgow, UK – three months after the Act was signed – it is important that urgency implied by the commitment is reflected in the speed and implementation of the  PIA.
"The  Act ought  to include a specific penalty for failure to comply with section 103 and for environmental damages.

"While it is commendable to have in place trusts and plans that cater for host communities, it is important to ensure related funds are well-managed and properly accounted for, if the desired socio- economic growth will result.
"Equally important is for all players, as a matter of good practice, to incorporate sustainability reporting as part of applying ESG principles.
"The Act should prescribe what companies engaged in petroleum operations (upstream, midstream and downstream) should consider adequate gender balance," she said. (NAN)
Investment Ministry Officials to Face Reps over MTN's Alleged N2.6trn Tax Evasion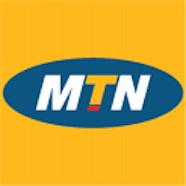 .We've Paid N3.5trn in Taxes, Levies to Govt since our Inception-MTN
By Joseph Amah, Abuja
The House of Representatives has summoned officials of the Ministry of Trade and Investment over allegedN2.
6 trillion capital allowances granted MTN.
Oluwole Oke, the Chairman, House Committee on Public Accounts, summoned the official on Tuesday in Abuja at the resumed investigative hearing into the audit queries on tax evasion.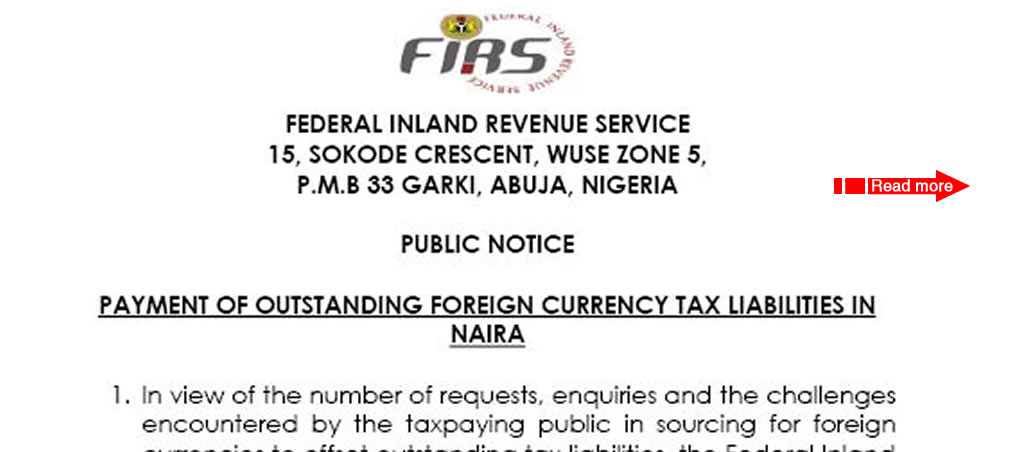 The query was issued by the office of the Auditor-General for the Federation, where it indicated that the documents relating to the N2.6 trillion capital allowances were allegedly forged.

He stressed that the Committee invited MTN over tax evasion, adding that the office of the Auditor-General in its report observed that Federal Inland Revenue Service (FIRS) accorded value to the telecoms company.
He added that in some cases, it was without certificates and evidence of capital allowance issued by Federal Ministry of Trade and Industry reflecting the whole assets procured by the company.

"We have issues in this country where funds are not adequate for Government to carry out policies and programmes. Which is why we had to borrow even though there are massive revenue leakages.
"MTN has also made appearances where N2.6 trillion was seen as the taxable value for assets of the company," he said
He said that Nigerians had the right to know the implications of MTN taking a certificate of N2.6 trillion to FIRS for tax waivers on the economy.

 "The Parliament simply wants to know whether it should sustain the query raised by the Auditor General or absolve the company of the allegations of tax evasion," he said.
He added that it would be wrong to accuse it of such if the records tally with the company's submission.
Mrs Yemisi Adeleye, the General Manager, MTN in her response explained that the company had submitted all relevant documents issued by Federal Ministry of Trade and Industry reflecting the value of N2.6 trillion given to MTN.

She said that the company made claimed to Federal Ministry of Trade and Industry at the end of the year prompting them to choose a location and inspect.
She added that it was physically impossible for them to inspect  thousands of assets across the country.
She said that, the Ministry, based on their selection using supporting documents, granted the allowances. 

Meanwhile, MTN Nigeria, on Wednesday, said that it had paid N3.5 trillion as levies and taxes to government since its inception.The Chief Executive Officer (CEO) of MTN, Mr Karl Toriola, who said this in his address at the 'Brunch with Karl' at Lagos Business School, also said that the organisation had committed over N3.4 trillion on capital investment.
Toriola said that MTN had enabled broad socio-economic development by creating values for shareholders, with over N2.5 trillion dividends paid since inception. The CEO, who assured that shareholders would be smiling to the bank, said that more than 30 million Nigerians had benefited from N28 billion investments through MTN Foundation.
According to him, MTN is a community that connects to the society and is truly committed to showcasing and developing the boundless talents of the people. "MTN has been enabling broad socio-economic development by supporting financial infrastructure through over 174,500 ATMs and POS for electronic payments, while it has also created alternative payment channels to 9.4 million active customers.
"It has equally provided high-capacity internet for over 160 public and private universities, polytechnics and colleges," he said. According to Toriola, MTN has committed N28 billion, through Yello Jppe Initiative, to support broad base of stakeholders. He expressed the organisation's commitment to carrying out its corporate social responsibility, stressing that it had provided jobs in every local government across Lagos. (NAN)