Flash Floods Claim Three Children, Render 20,000 Homeless in Yola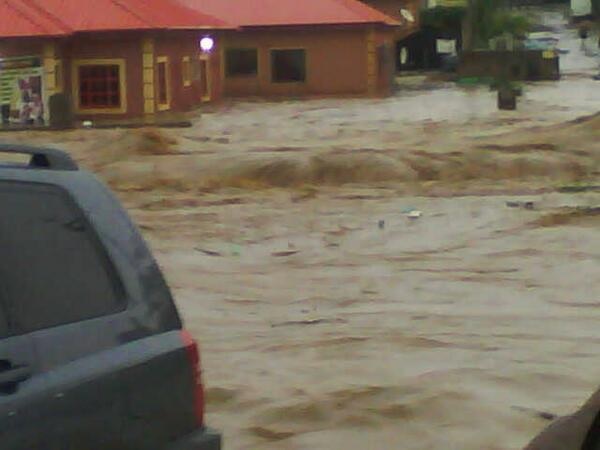 From Matthew Onah, Yola.
Three children have been confirmed drowned in a flash flood which swept Yola north And south local government councils of Adamawa state on Thursday.
About 20,000 persons were rendered homeless, while 6,000 houses were also damaged. The flood which occurred due to torrential rainfall swept houses and properties in Yola town, Jimeta, and the suburbs of jambutu, Bachure, karewa and nassarawo.
Speaking to pressmen after inspecting the damaged areas, Adamu Ibrahim Wakili, Chairman of Yola North local government council , said the area has not witnessed  such damaging flood in the last twenty years.
He stated that apart from the lose of lives, properties estimated at over N4bn were destroyed. Wakil attributed the gravity of the damage to the rapid urbanisation of the metropolis without regard to the geographical nature of the area, stressing that people were building on waterways, as well as blocked drainages. Wakil appealed to the Adamawa state and the federal governments to come to the assistance of the affected victims.He said already a census of the victims was being carried out in the affected areas.
LAWMA Demolishes Shanties, Clears Street Traders Along Lekki-Epe Expressway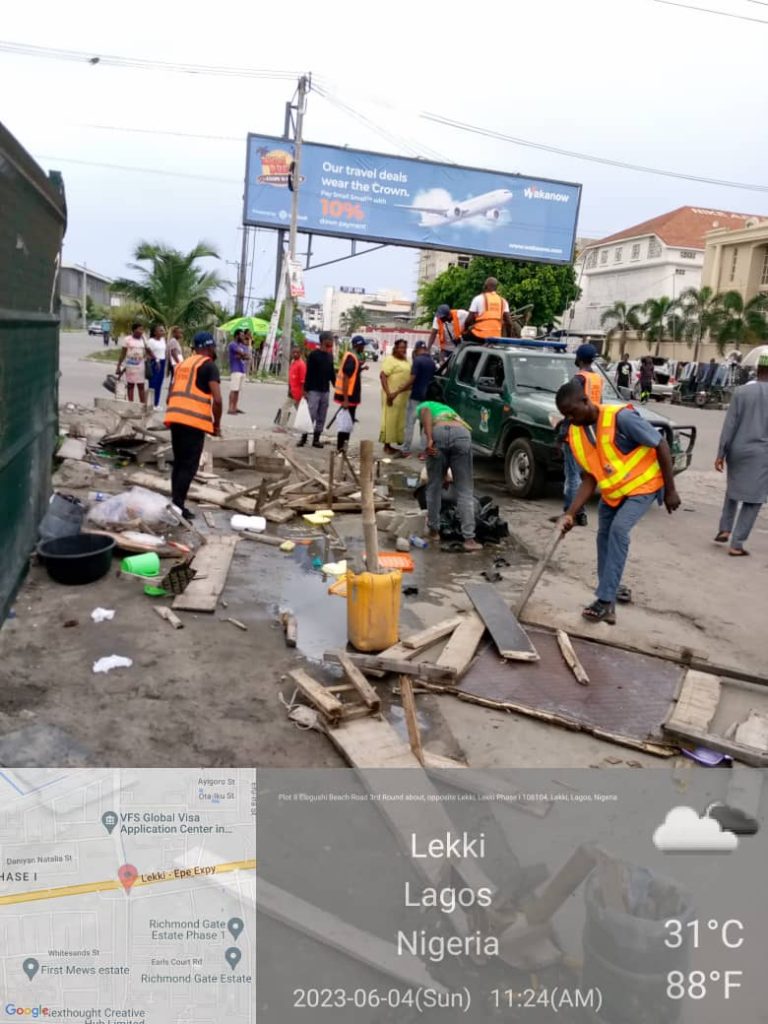 The Lagos Waste Management Authority (LAWMA) has demolished shanties and other illegal structures used by street traders and traffic vendors, along the first and second Toll Gates, of the Lekki-Epe Expressway.
Mr Ibrahim Odumboni, Managing Director/ Chief Executive Officer (CEO), LAWMA, said in a statement that the demolition was carried out in a comprehensive enforcement exercise that lasted for hours.
Odumboni said that the corridor had lately become notorious for sustained traffic congestion and other environmental nuisance, largely aided by the illegal activities of those vendors.
He condemned in clear terms, the activities of those traders, warning that anyone caught trying to re-assemble the structures would be instantly arrested and prosecuted.
"We have declared zero tolerance on street trading along the Lekki-Epe Expressway as these activities have led to significant environmental nuisance and traffic congestion.
"It is our duty to ensure that our city remains clean and habitable for all residents and visitors.
"Hence, we urge all traders to vacate the expressway immediately and avoid any further environmental infractions," Odumboni said.
He appealed to residents to take a new approach in how they treat the environment.
He stressed the importance of environmental responsibility, adding that stringent penalties awaited those who continued to disregard the regulations in place.
Odumboni said that the crackdown on street trading would be sustained in that axis and extended to others in the metropolis, in line with LAWMA's broader mission to improve the overall cleanliness and livability of Lagos.
He added that arrested offenders would be prosecuted, with their names and photographs published.(NAN)
Plastic Wastes Threat to Human Life, Says FCT Perm. Sec.
The Permanent Secretary, Federal Capital Territory (FCT), Mr Adesola Olusade, says plastic waste has become a major threat to human health.
This is contained in a statement issued by Deputy Director of Information, Abuja Environmental Protection Board, Mrs Janet Peni, and made available to the media on Friday in Abuja
Olusade said this during a road show to commemorate this year's World Environment Day, with the theme: "Beat Plastic Pollution.
"
World Environment Day is marked on June 5 of every year.
Olusade, who was represented by Mr Osi Braimah, Director of AEPB, said that the production, usage and disposal of plastic materials were not only polluting ecosystems, but also putting human and animal health in grave danger.
According to him, plastic pollution also destabilises the climate.
He further stated that globally, plastic waste situation had assumed a worrisome dimension, adding that same also applied to FCT.
"It has also become endemic, with drainage channels, canals and waterways littered with various plastic wastes.
"This contributes significantly to climate change, which results in short term damage, such as erosion and flooding, due to blockages of streams and waterways.
"This is why the matter is of utmost priority, as the world marks yet another World Environment Day in 2023," Olusade said.
The permanent secretary said that it was pertinent to bring to the fore the awareness of plastic management as an adaptation strategy to climate change.
"Only an integrated systemic shift from a linear to a circular economy can keep plastics out of our ecosystems and bodies.
"The recent United Nations Environmental Report laid out key elements of the required market transformation, rethinking and redesigning products, reusing, recycling, reorienting and diversifying markets," he said.
Olusade, however, expressed the optimism that addressing the demand for durable plastics would go a long way in solving the problem.
He noted that governments and the private sector would save money and that hundreds of thousands of new jobs would be created, thus contributing to poverty alleviation, if everyone recognised and play his/her roles.
"Governments will create the regulatory environment to incentivise the shift to a circular economy.
"The political will to do so is demonstrated by the FCT administration, backed by broad-based support by residents of the FCT and Nigerians in general," he said.
NAN reports that the road show commenced from Central Business District to Jabi market and Utako potor parks in Abuja.
The Chairperson of this year's World Environment Day Celebration Committee in AEPB, Ms Rebecca Mamven, said that the sensitisation on plastic waste recycling at Utako motor park was strategic.
She said that the road show was aimed at enlightening the public on the beneficial usage of plastics and their harmful effects on the environment.
"Plastics take a very long time to degrade. When you dispose of the plastics, either on water or soil, it affects the quality of the soil and the aquatic life forms," she said.
Mamven urged Nigerians to sustain the environment for successive generations.
According to her, the activities to mark the day will continue with environmental project exhibition by secondary school students on solutions to plastic pollution. (NAN)
Water Institute Sets Modalities for Bio-circular Economy

The International Water Management Institute (IWMI) has set up modalities for Nigeria to use solid waste from the agriculture, water, sanitation and energy sources for economic development.
Dr Boluwaji Onabolu, IWMI Lead Consultant, said this at the stakeholders engagement workshop on 'Assessment of the Investment Climate for Bio-Circular Economy in Nigeria'.
Bio-Circular Economy uses renewable biological resources from land and sea, such as crops, forests, fish, animals and micro-organisms, to produce food, health, materials, products, textiles and energy.
According to her, Nigeria has the potential to turn around its economic growth with huge investments and opportunities in the environment, sanitation, water, and agriculture sectors.
She said the rising global demand for water, food, and energy, in the context of a growing deficit and competing uses, reinforced the need for more investments in circular economy approaches.
She said the institute was assessing the investment climate for businesses so as to promote a circular economy in which nothing is put into waste.
She said investing in Resource Recovery and Reuse (RRR) businesses in Nigeria, was a potential pathway to sustainable economic development, saying the institute was convinced that stakeholders' participation would make a huge impact.
"We have learnt about studies that revealed that 183 million Nigerians do not have access to clean energy, so this is why IWMI has facilitated this workshop.
"We will have answers to some of the questions, why is it that these businesses like changing solid wastes into energy forms like biogas, and why is it that they are not able to sustain their growth?"
Prof. Olumuyiwa Jayeoba, President, Association of Deans of Agriculture in Nigeria, said many opportunities abound in the agriculture value chain.
Jayeoba said if Nigeria managed climate change and its impact well, it would have an advantage in the agricultural sector.
He said climate smart agriculture would sustainably increase productivity and income, and attainment of the National Food Security and Development Goals.
He said an effective approach in climate smart agriculture, would also strengthen the country's resilience to climate change and variability.
Also speaking, Dr Chimere Ohajinwa, noted that the impact of climate change in the environment was evident in extreme weather conditions, drought conditions, affecting the attainment of the sustainable development goals.
Ohajinwa said Nigeria faced significant waste management challenges, with increasing volumes of solid waste generated in urban areas.
She said the RRR approaches emphasised proper waste segregation, collection, and recycling.
"Establishing efficient recycling facilities and promoting community-based recycling initiatives can help recover valuable materials such as plastics, paper, glass, and metals.
"This creates employment opportunities in waste collection, sorting, and recycling industries, contributing to economic growth," she said.
Speaking on circular bio-economy, the environmental expert said it emphasised the use of renewable natural capital and focused on minimising waste, so as to meet the sustainable development goals by 2030.
Ms. Nneka Akunwa, a sanitation and hygiene expert, said Nigeria has a huge market for sanitation products and services.
According to her, half of Nigeria's population, about 111 million people, do not have a decent toilet of their own, lacking basic or safely managed sanitation.
"One in every four Nigerians are practicing Open defecation, and a reasonable amount of untreated human waste ends up in the environment, threatening people's health and degrading ecosystems.
"Imagine the business opportunities that are available in the sector if toilet business owners come on board."
IWMI has inaugurated a Nigerian assessment which is being conducted from February to May in collaboration with the Federal Government.
The findings will be used as a basis to design context-appropriate policies and strategies that can address the bottlenecks and increase RRR business attractiveness for investments. (NAN)