IMF Urges Nigeria, Others To Retool Development Needs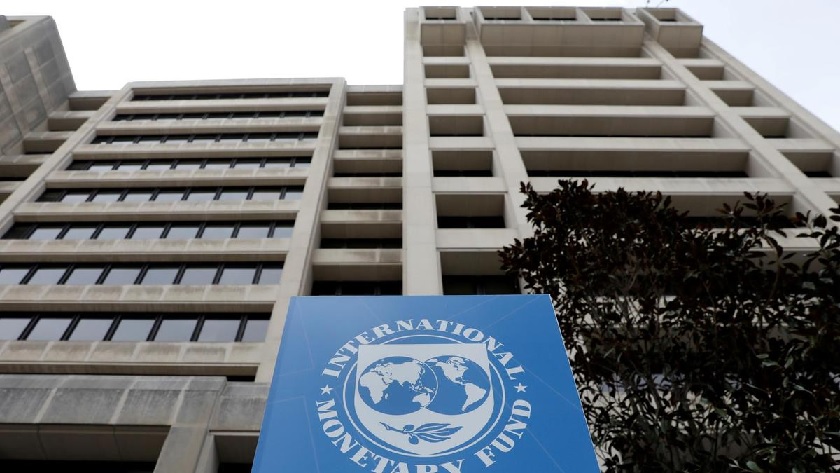 Stories: Ganiyu Obaaro, Lagos
The International Monetary Fund (IMF) has urged countries, particularly Nigeria, to refocus their expenditure in favour of infrastructure provision, like education, roads and technology.
It also reiterated the need for Nigeria and other countries that still retain the policy of subsiding fossil fuel to put an end to the policy.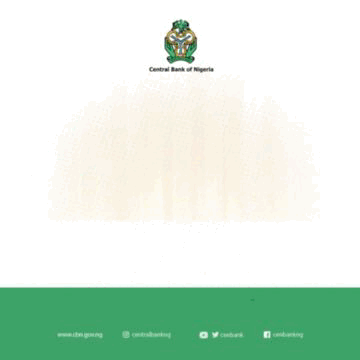 The financial institution said, while emphasizing a reduction on petroleum subsidy that, "Pensions, education, healthcare, better infrastructure, technology, and climate change: fiscal policymakers have their work cut out for them on many fronts.
Whether you live in a rapidly aging advanced economy, or a low-income or emerging market economy with a young, booming population, all these issues matter for you."
Precisely, the IMF said eliminating the policy which it pointed out, "typically benefit the rich more than the poor, could gain up to four per cent of global Gross Domestic Product (GDP).
Although the multilateral institution which stated this in a blog post titled: "Fuel for Thought: Ditch the Subsidies," did not name any country, a recent World Bank report had shown that Nigeria spent N731 billion to subsidise petrol consumption last year. This is also the situation in some low income and developing countries.
But the IMF in the blog post pointed out that "As the Fiscal Monitor in April 2019 shows, government policies on taxes and spending have to adapt and should shift to growth-enhancing investment. This means, for example, more money to build classrooms, hospitals and roads, while cutting wasteful spending, such as inefficient energy subsidies.
"Removing fossil fuel subsidies, which typically benefit the rich more than the poor, could gain up to 4 percent of global GDP in additional resources over the medium term to invest in people, growth, and help protect the most vulnerable.
"We define the subsidies–which amount to 6.5 per cent of GDP globally–broadly. The IMF's calculations include both the government funding to artificially reduce the price of energy below cost (0.4 per cent of global GDP) and the under taxation of fuel consumption (6.1 per cent of global GDP), because energy consumption contributes to global warming, local pollution, increased traffic congestion and more accidents."
It noted that monies spent on other priorities could help raise long-term economic growth, which it described as key ingredient to reduce the burden of high public debt.
DMO Offers N150bn Sukuk Bond for Subscription at N1, 000 Per Unit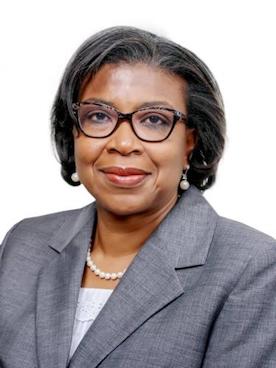 The Debt Management Office (DMO) on Tuesday offered for subscription, Ijarah Sukuk valued at N150 billion.
According to a statement by the DMO, the Sukuk is issued by Federal Government of Nigeria (FGN) Roads Sukuk Company PLC, on behalf of the Federal Government.
It said that the Sukuk were offered at N1,000 per unit, subject to a minimum subscription of N10,000 and in multiples of N1,000 thereafter.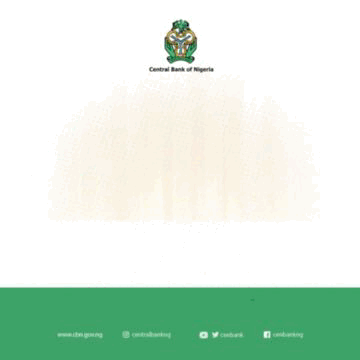 "Rental payment is made half-yearly, and bullet repayment is done on the date of maturity.
"Proceeds will be used solely for the construction and rehabilitation of key road projects and bridges across the six geopolitical zones of the country," the DMO said.
It added that the Ijarah Sukuk was backed by the full faith and credit of the Federal Government.
"It qualifies as securities in which trustees can invest under the Trustee Investment Act.
"Qualifies as government securities within the meaning of Company Income Tax Act and Personal Income Tax Act for tax exemption for pension funds among other investors.
"To be listed on the Nigerian Exchange Limited and FMDQ Securities Exchange Limited, " it said.
It added that the Ijarah Sukuk was classified as liquid asset by the Central Bank of Nigeria (CBN) and certified by the Financial Regulation Advisory Council of Experts of the CBN.
The News Agency of Nigeria (NAN) reports that the Sukuk is a Sharia-compliant instrument that represents the interests of the owner in an asset or pool of assets.
It ensures that every financial activity is backed by real economic activity, is usually linked to specific infrastructure projects.(NAN)
Umahi congratulates Mbah, urges opposition parties to stop distraction in Enugu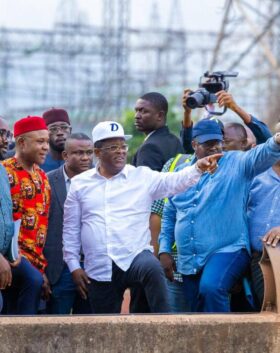 …..Umahi congratulates Mbah
Minister of Works, Chief Dave Umahi, has congratulated Gov. Peter Mbah on his victory at the Enugu State Governorship Election Petition Tribunal, even as he called on opposition parties to stop distracting the governor.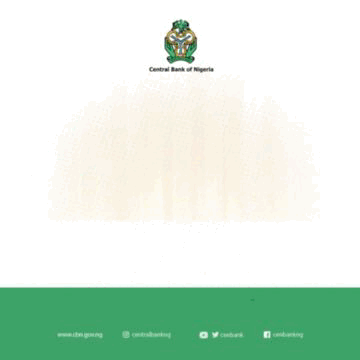 Umahi, who is an All Progressives Congress (APC) stalwart, said it was not about party affiliation but about the quality of the individual chosen by the people of the state to lead them.
The minister, who said this when he inspected the collapsed bridge at the Enugu end of the Enugu-Port Harcourt expressway, advised the opposition in the state not to waste their time contesting Mbah's 'divine and people's mandate'.
He also said that Mbah's initiative to commence the reconstruction and dualisation of Enugu-Abakaliki road up to the Ebonyi boundary was another display of people-driven leadership by a private sector person in governance.
"I am happy that you came from the private sector. There is a high hope, especially with the steps you have taken so far.
"They are in tandem with President Bola Tinubu's steps and I pledge to support you. There must be a change; we must reset the country.
"I want to publicly say, while congratulating you on the tribunal victory, that whoever is taking you to court must stop wasting his time as you are clearly the people's choice and for good reasons.
"So we will continue to support and pray for you and I urge whoever is distracting you that they should understand the steps of God and know that your emergence is divine and we are very proud of you.
"I know Gov. Mbah as a very successful private person and he is going to bring it to bear in the governance of this state.
"I also believe that what he is bringing to the table will rub off positively on Enugu State, the entire South-East states," he said.
The minister also commended Mbah for ending sit-at-home in the state, describing it a major step forward for the Igbo nation.
"Let me also thank you for being able to courageously stop sit-at-home in Enugu State.
"It is a major thing you have done for the Igbo people and for the country," he said. (NAN) 
…..Umahi congratulates Mbah
FG Plans Full Production Capacity  Revamp  for DICON  – Matawalle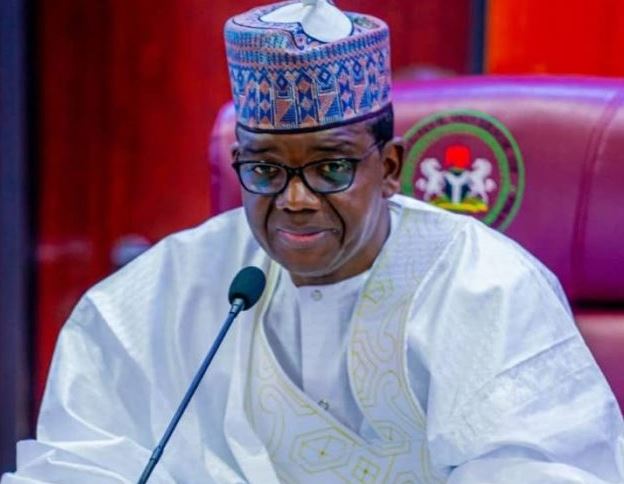 By Tony Obiechina, Abuja
The Minister of State for Defence, Dr Bello Muhammed Matawalle, has charged the staff and engineers of the Defence Industry Corporation of Nigeria (DICON) to improve on their performances as Federal Government plans to revamp and scale up the industry to a full production capacity.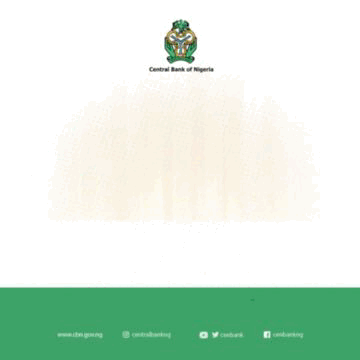 In a statement by the Acting Director of Press and Public Relations of the Ministry, Attari Hope in Abuja on Saturday, Matawalle stated this during his maiden visit to DICON facilities in Kaduna State.
In an address to staff of the industry, he said "as the technical personnel of this promising industry, your professionalism and dedication to work is paramount in sustaining the vision and growth of this industry.
We will ensure you get adequate funding to achieve this."
The Director General of DICON, Maj Gen AE Edet, lauded the Minister of State for his words of encouragement and assured hm of DICON's unwavering commitment to its vision and objective which it was set up.
As part of his maiden tour of DICON, the Minister of State visited the DICON's Special Equipment Factory, Ballistic Helmet Production Unit, Tailoring Unit, amongst others.