Imo Plans to Plant 500m Palm Trees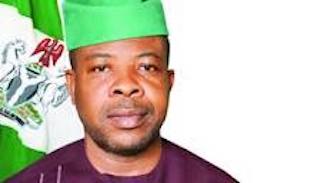 From Marcel Duru, Owerri
Imo State government is to unveil an Agricultural Revolution programme with a target of 500 million palm trees in the next 5 years.
Already, the government has engaged the services of some consultants to install an agricultural road map for the state, just as a world class technical partners had similarly been engaged to assist re-position the multi million Naira Ada Palm Nigeria Ltd Ohaji.

Uche Odozor, Senior Special Assistant (Agricultural Development) to Governor Emeka Ihedioha disclosed this while briefing newsmen in his office.
Odozor who identified agriculture as the key and pivotal pillar of the nation's economy with core direct impact areas as food security, employment, foreign exchange earnings, poverty reduction and raw materials for industry regretted that in spite of this obvious fact, the sector had been literally dead for dose a decade in the state.
"Farm productivity has simply stagnated in the last 8 years and what we have now mostly are poor farmers producing only what they can eat with small families and this reality has had horrendous impact on the economy and on the life style of the people as a whole".
"His Excellency, the governor of Imo State's position on this is that of a revolutionary and aggressive intelligent approach to the situation so that speedy recovery can happen for the benefit of our people".
According to him, the proposed agricultural revolution would demand data capturing of the people across the 27 LGAs of the state within the next one month, adding that at least 500,000 individuals would be needed in the first tranche.
He explained that the central objectives of this government's agricultural policy was to increase agricultural productivity by promoting technical progress and by ensuring the rational development of agricultural production and the optimum utilization of the factors of production with particular emphasis on labour, ensure a rapid improvement in the standard of living for the agricultural community by increasing the individual earnings of persons engaged in agriculture, assure the availability of supplies and also ensure that supplies reach the consumers at reasonable prices.
Odozor disclosed that the state government was currently focused on driving this initiative in the areas of oil palm, ginger, cassava, soya beans, cashew pig farming, Rice, maize, Tilapia, watermelon, cucumber, Aqua culture, mushroom, fresh vegetables, pineapples Dairy farming, goat farming, shea butter business, Isabella grape, and Agro based e-commerce.
He added "everything we do will be based on inclusive agriculture productivity growth, improved nutritional outcomes, enhanced livelihood for people as well as foreign exchange income earning capacity".
Others he said were: youth empowerment, climate smart agriculture, using less land to produce more food and preservation of land and soil saying "we will check consistently that all our strategies align with these core guidelines. People must be empowered and removed from poverty. Wealth must be created in communities, food must be amply available for local consumption and for export to other communities and abroad for foreign exchange earnings. Agriculture must once again become the core pillar and pride of our economy" he stressed.
Institute, NEPC Caution Farmers against using Pesticides to store Beans
The Nigerian Stored Products Research Institute (NSPRI) and the Nigerian Export Promotion Council (NEPC) have cautioned farmers against the use of pesticides and chemicals in storing dried beans and other legume crops.
Speaking at a sensitisation workshop in Sokoto, Dr Akin Olagbaju of the NSPRI, said the exercise was organised to enhance the capacity of farmers and merchants on how best to preserve beans for effective and profitable exportation.

Olagbaju highlighted several ways in which farmers and merchants can store their beans and legume crops without using any form of insecticide.
"The use of chemicals for storage is the cause of several ailments such as cancer among many others ravaging ills in the society.
"The NSPRI is also working on research on how to best to store onions and other varieties of crops for long term use and exportation," he said.
Earlier in his presentation tagged " Compliance to Food Safety Standards in Production and Storage of Safe and Healthy dried Beans for export" NEPC Trade Support Advisor, Alhaji Yahaya Ahmad-Sukaraiju said 95 beans farmers and merchants were selected in Sokoto state for the exercise.
Ahmad-Sukaraiju urged participants to make use of the opportunity to practice what they learned for business advantages as well as for the benefit of their produce.
"If you put these storage options you are taught today to proper use, you will not use chemicals in preserving your crops. These chemicals are dangerous to human health," he said.
Also speaking, the DSC Faruk Umar, of Nigeria Custom Service (NCS) in Sokoto advised exporters in the state to ensure they comply with all the registration processes .
Umar said all the required documents needed for exportation can be obtained through the office NEPC in Sokoto state. (NAN)
World Bank Donates $12bn Food Grant to Nigeria, Others
By Tony Obiechina, Abuja
The World Bank said it has disbursed at least $12bn, almost half of which was to Africa, to help beneficiary counties cope with food shortage.
In a report titled "Food Security Update: World Bank Response to Rising Food Insecurity" the Bank noted that domestic food prices remained high all over the world, especially in low and middle income countries.

According to the Bank, following Russia's invasion of Ukraine, trade-related policies imposed by countries have surged, and the global food crisis has been partially made worse by the growing number of food trade restrictions put in place by countries with a goal of increasing domestic supply and reducing prices.
The Bank also said a $30bn relief package, spread over a period of 15 months, including $12bn in new projects, will be rolled out to help counties cope with food insecurity.
According to the report, up to 205 million people are expected to face acute food insecurity and to be in need of urgent assistance in 45 countries.
"World wheat prices fell in January for a third consecutive month; international coarse grain prices remained mostly unchanged; and international rice prices rose at an accelerated pace in January 2023.
"Overall, FAO's analysis indicates that high prices have persisted for the past three months despite some evidence of easing from 2022 peaks in certain countries, with rice price hikes mostly responsible for sustained high cereal prices."
Beyond the fiscal stimulus, the World Bank Group stated it had partnered the G7 Presidency and co-convened the Global Alliance for Food Security, which aimed to catalyse an immediate and concerted response to the unfolding global hunger crisis.
The report added that the alliance had developed the publicly accessible Global Food and Nutrition Security Dashboard, which provided timely information for global and local decision-makers to help improve coordination of the policy and financial response to the food crisis.
FG Establishes 500 Capacity Livestock Farm in Sokoto
The National Agricultural Land Development Authority (NALDA) has established an animal husbandry farm with cow milking parlour.
The farm with capacity for 500 cows and cow milking parlour with capacity of 200 cows in a set, sits on a 100 hectares land in Sokoto State.
NALDA said the idea behind the project was to develop a modern animal husbandry farm that would sustain itself and reduce the movement of cows within the area.

The Executive Secretary, NALDA, Prince Paul Ikonne, who disclosed this while speaking with newsmen after inspecting the farm and the poultry feed mill facility, said he was satisfied with the level of work at the facilities.
He explained that the essence of establishing the modern animal husbandry farm, which has cow pens with napier grass on 50 hectares, with the construction of clinics/veterinary sections and a training centre, was to reduce the movement of cattle and end the farmers/herders clashes.
Ikonne said that NALDA was committed to achieving food security and development, as he assured that the farm would generate employment, hygienic milk production and cow fattening for meat.
At the same time, the farm would train and encourage young farmers to go into animal husbandry and animal food formulation, according to the NALDA boss.
Construction workers were spotted at the 100 hectares farmland at the section of the clinic and training centre building where work was ongoing, while the 500 cow capacity pens and the cow milking parlour have both been completed.
Also spotted were those watering the napier grass field using the boreholes provided by NALDA at the farm.
The farm is located at Dabagin-lafia, opposite the Usman Danfodio University farm, while the poultry feed mill is situated in Dayin village along the road to Doba, in Sokoto State.
"NALDA is into partnership with Prime Ranch Ltd, who donated the 100 hectares of land where we are establishing the animal husbandry farm, napier grass field and will cultivate maize and millet on 30 hectares of the said land," Ikonne stated.
"The establishment of the napier grass field is to ensure feed production for the cows, as that will eliminate the roaming around of the animals in search of feed, thereby curtailing farmer/herder clash.
"The milking parlour will serve both the cows in the farm and other animal husbandry farmers who would want their cows milked in a hygienic way.
"Prime Ranch will manage the farm on completion based on their wealth of experience in animal husbandry. This type of partnership is sustainable, productive and should be encouraged in order for us to achieve food security and development," he added.
On employment opportunities through the partnership, Ikonne stated that with the establishment of the poultry feed mill, which Prime Ranch provided the land and was managing the 62,000 poultry capacity, there would be feed production for small farmers across the zone and other parts of the country.
He said job opportunities would also be created for those who would work at the milking parlour by attending to the cows.
"The employment chain will not be anything less than 400, consisting of workers who would be directly involved in these activities, outside the output, which is achieving food sufficiency," he stated.
Also speaking during inspection of both projects, the farms and feed mill, the Founder, Prime Ranch Ltd, Nafiu Yakubi, said the partnership with NALDA was coming into fruition.
"The thinking when we incorporated Prime Ranch years back, is to have a ranch kind of arrangement whereby we grow our animals, grow their feeds, fatten them, and sell them off to the market. The partnership with NALDA is a very cordial one. They support us in all areas that we need support from them," he said.
On the output from the partnership, Yakubu said, "Arising from this partnership with NALDA, you have seen the feed mill. We are currently producing feed for our poultry and other NALDA poultry farmers."
He thanked President Muhammadu Buhari for encouraging young farmers through NADLA, stressing that the President had called Nigerians to return to farming, as he urged Nigerian youths to yield to the call.
"I am a lawyer and I am back to the farm, so Nigerian youths should go back to farming. It is very profitable and the opportunities are very wide," Yakubu stated.