Kebbi Governor Releases N950m Loan to Traders
From Haruna Aliyu Usman, Birnin Kebbi

The kebbi state governor, Senator Atiku Bagudu, has disbursed the sum of N950m as soft loans to organised labour unions in the state.

The ocassion was held at Haliru Abdu stadium in Birnin kebbi,it has in attendance the governor himself and other top government officials, also in attendance were leaders of national union of roads transport workers (NURTW),chairman and members of national association of roads transport owners (NARTO),leadership of fish sellers association, fish farmers association, market traders association and handset dealers association also attended as beneficiaries.



Bagudu who spoke at the symbolic cheque presentation ceremony said the intent of the loan was to improve the capital base of all the unions existing in the state adding that, the state too would benefit from it through massive apprenticeship of thousands of able bodied youths that would in future become self employed through the various trades they learnt.

The Governor warned the beneficiaries not use the funds for non profitable ventures, just as he stated that the loan was to be repaid in four years to enable others to also benefit from the fund.

Responding on behalf of fish sellers association, the state chairman, Alhaji Yau Mai kifi, described the gesture as humane and timely adding his his members were greatly indebted to the governor. Yau urged his members to see the loan as a challenge to improve their chosen trade not to satisfy other personal desires, He warned his members not to divert the facility as repayment was sacrosanct.




Naira Scarcity: Queues Gradually Disappear As Bank ATMs Dispense Cash
By Tony Obiechina, Abuja
Following the injection of more Naira notes by the Central Bank of Nigeria (CBN) into commercial banks on Thursday, long queues have begun to whittle down at some of the banks in Abuja.
Daily Asset Correspondent who visited some of the banks located in Garki and Central Business District, observed that their Automated Teller Machines (ATMs) were dispensing Naira notes to customers.

The banks visited include, Guarantee TrustHolding Company (GTCO), United Bank for Africa, (UBA), First Bank and Union Bank.
Banks across the country opened their doors to customers for withdrawals and deposits, bringing an end to long queues and pains suffered as a result of the cash crunch.
The Central Bank of Nigeria (CBN) had directed all commercial banks to open for operation on Saturdays and Sundays.
This came after the apex Bank had confirmed the evacuation of banknotes from its vaults to commercial banks across the country as part of a coordinated effort to ease the circulation of banknotes of various denominations.
A bank staff confirmed to Daily Asset at the weekend, that her bank received N10 million to distribute to other branches. A customer said she withdrew N10,000 as there are no restrictions on the amount to withdraw.
The CBN had confirmed the evacuation of banknotes from its vaults to commercial banks across the country as part of a coordinated effort to ease the circulation of banknotes of various denominations.
INEC Distributes Sensitive Materials in Bayelsa


From Mike Tayese, Yenagoa
The Independent National Electoral Commission (INEC) Bayelsa state ahead of state Assembly Election on Saturday 18th March 2023 has distributed sensitive materials to the eight (8) local government area that make up the 24 constituencies in the state.
The materials which was distributed at the state Branch of the Central Bank of Nigeria witnessed Party agents and other political actors, thought journalists were not allowed into the premises to see for themselves the distribution process.

Speaking to journalists at the gate of CBN, INEC Head of Voters Education and Publicity, Wilfred Ifogah said, they were at the CBN to retrieve the sensitive materials which comprises result sheet and ballot papers for Bayelsa state House of Assembly Constituency elections.
He said for the local government on Land, their materials will get there today while that of Southern Ijaw and Brass local government area will be moved to INEC head office for onward movement Friday morning to the local government headquarters.
"We know in Bayelsa we are not having governorship election, so right now we are moving the materials to the various local government headquarters so that the distribution can be early enough on Saturday.
"We have 24 Constituencies in Bayelsa. Each of the local government has three except southern Ijaw, which has 4 and Kolokuma/ Opokuma with 2. All necessary arrangements have been put in place. BVAS has been reconfigured for this particular Election. So far so good we are good to go".
Ifogah said to make the system smoother, a refresher training for the supervisor presiding officers has been organized, saying hopefully that of collation officers will also take place.
"Just before today, we actually reviewed the election we had on the 25th and we look at some of the lapses and what actually caused them. As we speak today, we are trying to break the chain. That is why we are moving our materials early enough so that they can go to the various local government headquarters, especially those on lands.
"The result sheet of state Assembly Election also has a seal on it, thought the seal is different from that of presidential election. This is to prevent people that want to be funny possibly want to compromise having seen that of the presidential. We don't play with that at all, so we design a different seal for this particular one," Ifogah said.
One of the party agent comrade Martins Bago who spoke with Journalists said, they went inside and inspect the materials and from there finding, constituency 2 has 8 cartoons, constituency 1is 11 cartoons while constituency 3 also has 11 cartoons totaling 30 cartoons.
"I want to believe that the materials are correct, we are moving them to Sagbama to separate them and send them to various wards to see how complete they are".
Also speaking, the state chairman of New Nigerian People's Party, comrade Joel Tubonimi, said the materials were already parked before they got there but that they insisted that all materials must be dropped down for proper inspection to know whether they are correct before moving them out which they actually inspected for confirmation.
He said they insisted because of what happened during the presidential election where some result sheet were missing. 
"So we insisted that we want to see everything and we were showed some of them. At Sagbama our agents are also going to inspect the materials again to make sure nothing has happened in the course of transit".
"We hope that INEC will keep to their promise by giving us free, fair and credible election on Saturday because we were not satisfied with the presidential election and others".
Commonwealth Day: Minister Calls for Peace, Unity and Prosperity among Commonwealth Nations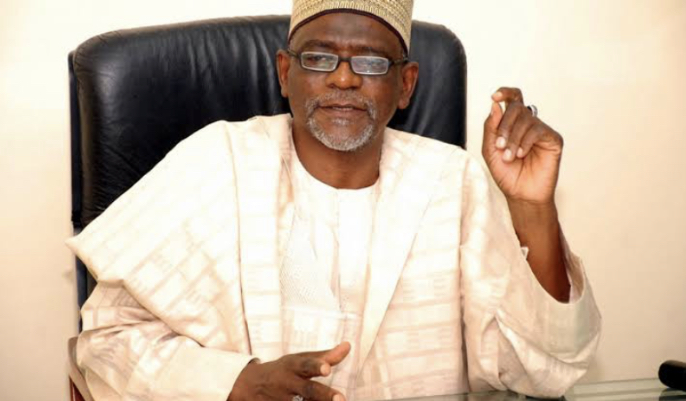 By Evelyn Terseer – Abuja
The Minister of Education, Mallam Adamu Adamu has called for increased actions and steps that would help promote peace, unity and prosperity among commonwealth nations
Adamu stressed the need for all countries of the commonwealth to look out for the welfare and wellbeing of member countries of the commonwealth for inclusive growth and prosperity.

He said: "Like we all know, the existence of peace in any space of human aggregation or nation translates to progress, wealth and tranquility.
It enhances positive outcomes in trade, investment, human rights, democratic governance, quality education, digitized learning and most importantly entrenches equity and equality, which in Nigeria and most Commonwealth means empowerment of youths, women and the girl-child
"As we celebrate, it is important we remind ourselves that the prosperity, peace and security is a collective responsibility and requires mutual commitment and perseverance.
The commemoration of the year 2023 Commonwealth Day is a re-awakening call that the promotion of unity, love, peace and prosperity is the foundation of development for our country in particular and the body of commonwealth nations in general."
Director, Education Support Services, Federal Ministry of Education, Dr. L.I Giginna, in her remarks, said that this year's event is unique being the first after His Majesty, Prince Charles III acceded to the throne as King of the United Kingdom after the demise of the venerated Queen Elizabeth II, his Mother.
"Today marks a decade of signing the Commonwealth Charter that positioned Commonwealth nations as the golden globe and the year declared specially for the youths by Commonwealth Heads of Government.
"Federal Ministry of Education promotes the commemoration of Commonwealth Day every year not just to highlight the historical ties and evolution to the present status of equity in diversity by member nations, but to also model the vision of unity and peace envisaged for Nigeria due to our diverse socio-economic and cultural background.
"We want to forge a common future devoid of tribalism, violence, incessant attacks on students and teachers, destruction of education infrastructure, among others. The Commonwealth vision projects mutual respect for one and all, a virtue worthy of emulation by adolescents and young people for sustainable peace and harmony to prevail."
Meanwhile, a message from Buckingham Palace, King Charles, noted that the myriad connections between commonwealth nations have sustained and enriched the countries for more than seven decades, stressing that commitment to peace, progress and opportunity will sustain the nations for many more years to come.
King Charles said: "Commonwealth Day was an occasion of particular pride for my beloved Mother. The late Queen. It's a treasured opportunity to celebrate our Commonwealth family, to whose service she dedicated her long and remarkable life.
"In succeeding Her Majesty as Head of the Commonwealth, I draw great strength from her example, together with all that I have learnt from the extraordinary people I have met, throughout the Commonwealth, over so many years.
"The Commonwealth has been a constant in my own life, and yet its diversity continues to amaze and inspire me. Its near-boundless potential as a force for good in the world demands our highest ambition. Its sheer scale challenges us to unite and be bold
"This week marks the 10th anniversary of the Charter of the Commonwealth, which gives expression to our defining values, peace and justice; tolerance, respect and solidarity; care for our environment, and for the most vulnerable among us."