Killings of Nigerians in South Africa Upsets Ramaphosa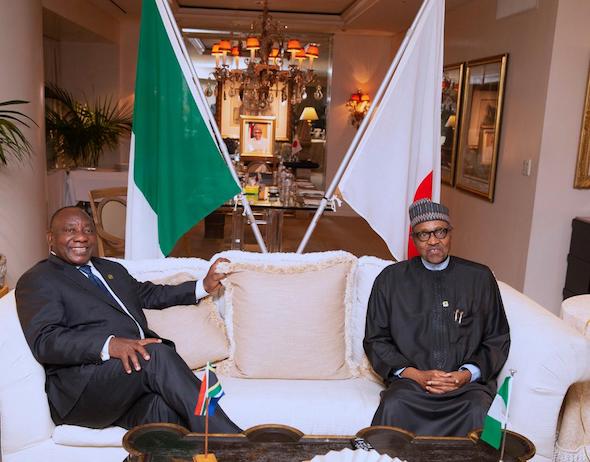 By Mathew Dadiya, Abuja
The President of South Africa, Cyril Ramaphosa, Wednesday, in Yokohama, Japan, said his government was very upset about the protracted killings of Nigerians in the country.
The South African President noted that the trend had necessitated the call for a meeting of the leaders of both countries on how to promptly nip the matter in the bud.
Ramaphosa made this disclosure while answering questions from State House journalists after holding a bilateral talk with President Muhammadu Buhari on the sidelines of the ongoing seventh Tokyo International Conference for Africa Development (TICAD7) in Yokohama.
Nigerians in South Africa have over the years become victims of xenophobic killings by citizens of their host countries who often unjustifiably accuse them of taking over their jobs opportunities in their own countries.
These protracted killings prompted some Nigerian students to recently stage a range of protests in the corporate offices of South African companies in Nigeria, threatening to shut them down if the killings of their fellow citizens in South Africa do not stop.
However, the South African president disclosed yesterday that his country's justice system had already taken up the matter, pointing out that he was not in support of the killings, and insisted that there was no justifiable reason for anybody to be killed.
He described the meeting he had with Buhari as a good forum for both South Africa and Nigeria to renew the bond of unity between them and simultaneously share together issues of common interest in the overall interest of the African continent.
"Well, no, no, we are going to be discussing all that because we have very good relations. We 'll talk about the issue of Nigerians who are dying in South Africa.
"We feel very upset about that. Obviously, our criminal justice system is working on it. We don't support killings. Nobody should ever be killed, but it's also good to use this opportunity here in Japan to renew the bond between us, to talk about common things between South Africa and Nigeria. We know we have to play key roles in the overall development of the continent," the South African President said.
End

Africa Must Maintain7% Growth Rate Until 2063 to Eradicate Poverty- AfDB
Africa must consistently maintain a seven per cent growth rate for the next four to five decades to eradicate poverty and reach a high income status.
The African Development Bank (AfDB) Group President, Dr kinwumi Adesina, said this while speaking on the Key Action to Achieving Inclusive Growth and Sustainable Development in Africa at the on-going 2023 AfDB Annual Meetings in Sharm El Sheikh, Egypt.
According to him, the need for accelerating growth to improve the leaving standards and achieve the UN Sustainable Development Goals(SDGs) and the African Union (AU) agenda 2023 is clear.
Adesina said although achieving this goal might be difficult, it was however not impossible for the continent.
On the AfDB outlook report, he said the average Gross Domestic Product (GDP) growth for the continent slowed from 4.8 per cent in 2021 to 3.8 per cent in 2022.
"And this decline is across the board. 31 out of 54 countries in Africa hosted weaker growth rate in 2022 relative to the previous year.
"However, we anticipate growth increase to four per cent in 2023 and to accelerate further to 4.3 per cent in 2024. Yet we must recognise the fluctuation in growth that has defined our parts,'' he said.
Adesina recalled that some countries experienced a remarkable growth rate only to fall back during challenging times, stating that we must learn from this to ensure sustained growth and prosperity.
"We acknowledge that our continent had its share of difficulties, growth-stagnation, decline and even catastrophic-growth and these statistics reminds us of the work that still needs to be done.
"We face an increasingly complex and uncertain world.Health, finance, social-economic and environmental shocks threaten our progress towards the UN SDGs, AU Agenda 2063 and all development goals high-five priorities.
"The challenges of COVID-19, conflict and climate change exposed the vulnerability of our health system and the fragility of Africa growth pillars.
"Especially our high dependency on commodity exports and external finance including debt, remittances, foreign direct investment and development assistant.''
The president said as we acknowledge the challenges before us, we must recognise the incredible potential and opportunities that Africa possess.
According to him, this demographic shift offers us the prospect of demographic dividend, a huge labour force to support Africa's quest for industrialisation and lower production cost.
He said young people are Africa's greatest assets and should be invested in. We must equip them with the skills and opportunities they need to drive the continent forward.
On implementation of Africa Continental Free Trade Area (AfCFTA), Adesina said it would be a game changer because it could increase trade by 52 per cent.
"It will stimulate intra-Africa trade by up to 7 billion dollars per year and it will reduce import from outside the continent by 10billion dollars.
"Our industrial export will be boosted by up to 45 billion dollars and 21 billion dollars respectively and these figures reflect a brighter future for trade and economic growth ratio among African countries,'' he said.
He urged economies on the continent to harness the natural resources which Africa was endowed with as it could generate significant returns, drive the youth and foster job creation.
Adesina said the studies served as a vital road map to guide Africa towards the future where each African nation could achieve an annual GDP growth rate of seven to ten per cent over the next 40 years.
He however said that growth alone was not enough and Africa must address issues of good and prosperous governance, inequality and poverty on the continent.
Adesina said:"We have a responsibility to facilitate green prosperous conformation , diversified growth sources and innovatively champion the need to embrace climate change and support environmental sustainability.
"We must create an Africa that is both economically strengthened , socially equitable and environmentally sustainable.
"Todays event marks a significant milestone in our journey as the study consortiums present their emerging findings to these distinguished audience.
"We eagerly await the final report which will be shared by heads of states and governments .
The AfDB president said as we moved forward our feedback and input were important in helping Africa shape its unique development path.
"One that finds the right balance between a colony, social and environmental dimension why also respecting our diverse environment, institution and aspiration
"Let us move forward together, united in our mission to build the Africa we want. Let us open a new era of shared prosperity and let us transform our continent into a beacon of hope, progress and opportunity for all Africa.
The News Agency of Nigeria(NAN) reports that the AfDB 2023 annual meeting which started on May 22 ends Friday. (NAN)
Foreign Ministry Staff Laud Onyeama for Placing Nigeria Top in Multilateral Fora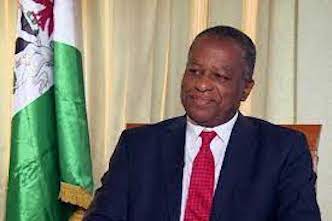 members of staff of the Ministry of Foreign Affairs have commended the Minister, Geoffrey Onyeama for placing Nigeria at the "top in the multilateral scene".
Some of the staff made this known on during a farewell reception organised in honor of the Minister and the Minister State, Zubairu Dada in Abuja, after a successful tenure of eight years.
Amb, Bola Akinremi, Director, Economic, Trade and Investment Division in the Ministry said that Onyeama brought his expertise from the international organization where he worked for over 30 years to make positive impact in the Ministry.
Akinremi said that Onyeama was a major push to making Nigerian take critical positions in world bodies like the African Development Bank (AFDB), among others.
He said that Onyeama's successes and positive impact could also be seen from Nigeria's robust relationship with other countries and the diplomatic community in Nigeria.
"It is a very rare occasion to find a Minister of Foreign Affairs serving for eight years. Because what we do is not what we make noise about so it is not often in the public domain.
"But this is someone we know has had great impact in the way things are done. I have had the opportunity of working with him when he came fresh, I was his spokesperson.
"And I knew the antagonism that came with it from politicians and he took it in his strides. He is not someone that is easily pushed.
"Secondly, where we get to the thick of the work, he was able to bring his professionalism to bear, knowing fully well that he came from the World Intellectual Property Organisation in Geneva.
"So when he came, he was able to blend even though he was not a career diplomats.
"International Organizations got a boost under him, a lot of them serving there, like the President of the ADB, he made it a reality, it has been on before he came in, he game it the necessary push.
"We will miss him and I personally will miss him," Akinremi said.
Amb. Francisca Omayuli, Spokesperson for the Ministry described Onyeama and Dada as teachers and mentors who always ensured they lead by examples.
"I had the opportunity like many others to work with the Minister who is a mentor, teacher, gentle but firm leader.
"The same goes for the Minister of State, and it was a great opportunity working with you both," Omayuli said.
Responding, Onyeama thanked the staff and the Foreign Service Officers for their cooperation and dedication which was a major contributor to his success.
Onyeama said that it was an honour to serve under President Muhammadu Buhari takes Nigeria's interests and foreign relations as a priority and this can be reechoed all the Ministers.
"It was indeed an honor of my life to serve under President Muhammadu Buhari.
"Nigeria's interest and its relations with other countries is always top priority for Mr President and that is visible with the top positions that Nigerians occupy in Multilateral institutions.
"I thank my brother, the Minister of State who we worked together as co-captains to sail this ship. If Nigeria Civil Service were staffed with him 60 per cent, it would make positive impact on our country.
"I want to also thank all the diplomats for the great jobs you are doing in your countries of posting despite the challenges and this can be seen from the warm reception accorded to Mr President by presidents of the countries of posting when he visits.
"I also want to thank the staff of the ministry for their unwavering support," Onyeama said.
Onyeama however noted the paucity of funding to the Foreign Service with a hope that it changes for good. (NAN
Osinbajo Leads Commonwealth Observer Group to Sierra Leone

Vice-President Yemi Osinbajo has accepted to lead the Commonwealth Observer Group (COG) constituted by Secretary-General, Patricia Scotland, to observe the Sierra Leone 2023 general elections.
Laolu Akande, Senior Special Assistant to the President on Media and Publicity, Office of the Vice-President, said this in a statement on Friday in Abuja.
The secretary-general constituted the observer group, a team of distinguished experts upon the invitation from the Electoral Commission for Sierra Leone for the June poll in the West African nation.
As the COG Chair, Osinbajo would be the leader and spokesperson of the group of distinguished experts drawn from around the world, interfacing between the group, the media and the authorities of the host country.
In a statement on Thursday, Scotland expressed gratitude to Osinbajo for accepting the invitation in spite of his busy schedule.
"As a senior statesman from the region, Osinbajo understands in depth, the challenges across West Africa and I am confident he will lead a brilliant team," Scotland said.
Responding, Osinbajo welcomed the opportunity to lead the election observers in Sierra Leone on June 24.
"I'm highly honoured by the unique opportunity to continue to bring my expertise and experience in contributing to deepening democracy especially in Africa and the Commonwealth by extension," he said.
According to the Commonwealth Secretariat, Osinbajo will be joined by recognised dignitaries from various fields including politicians, legal, media, gender and election administration professionals from across the Commonwealth to carry out the task in June.
The mandate of the Osinbajo-led Commonwealth Observer Group in Sierra Leone would be to observe the electoral process and provide an independent assessment of whether the election has been conducted in a credible manner.
The group will then report on the conduct of the elections in accordance with the standards to which Sierra Leone has committed itself, including its own laws.
"In line with Commonwealth methodology, the group will consider, among other things, whether conditions exist for credible and inclusive elections, including a fair election environment; whether public media has been impartial; the transparency of the entire process; and whether voters are free to express their will.
"The group, upon completion of its assignment, will submit its recommendations in a report to the Commonwealth secretary-general, who will subsequently share it with the Government of Sierra Leone, the Electoral Commission, political parties and all Commonwealth governments," the Secretariat said.
The vice-president, on behalf of the Nigerian government, had been at the forefront of championing democratic governments especially in the West African sub-region, under the auspices of the Economic Community of West African States (ECOWAS).
On several occasions, Osinbajo had represented President Muhammadu Buhari and Nigeria at different sessions of the Authority of the ECOWAS Heads of State and Government.(NAN)