Nigeria at 59: Ortom Calls For Synergy in Fight Against Crimes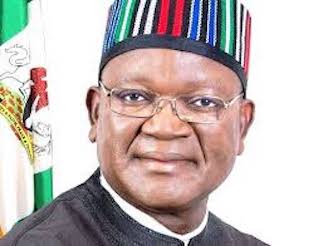 From Chris Gaga, Makurdi.



In a goodwill message to Nigerians on the nation's 59th Independence Anniversary, Benue State governor, Samuel Ortom has said only proper synergy between Local, State and Federal governments can strip the country of criminal activities and other factors challenging its unity.

Ortom in a message by his Chief Press Secretary, Terver Akase called on Nigerians to sustain their faith in the unity of the country.



The governor urged Nigerians not to be deterred by the numerous challenges bedevilling the nation, but believe  that the challenges will be overcome.

While admonishing the people to draw closer to God in words and action, Ortom said "only sustained synergy between the Federal Government and states, as well as other stakeholders can lead to victory against terrorism and other criminal acts in parts of the country. "

Ortom pointed out that the recent successful crackdown on kidnappers and armed robbers in Ushongo LGA of the state was a result of the effective collaboration between his administration, Benue people and security agencies.

He emphasized that "there will be no hiding place for enemies of peace as he will not surrender the state to criminals.

The Governor reaffirmed the commitment of Benue State Government to addressing youth restiveness by developing the agriculture value chain to engage young people in rewarding ventures.


Governor Ortom noted that the recent steps taken by his administration such as signing of the Pensions Law and establishment of a Pension Commission were aimed at speedily addressing the welfare of those still in service and retirees.

In a similar message on Nigeria's 59th Independence, a former Lagos State Police Commissioner, Abubakar Tsav Challenged  Nigerians to stop throwing harmers and spanner but rise in support of the fight against corruption as spear headed by President Buhari.

The anti-corruption crusader, Tsav who said there's was "nothing to celebrate" at 59 said "greed, selfishness and brazen criminality of few powerful Nigerians has sabotaged the growth of the nation.

"A few powerful people use ethnicity and religion to rape and milk Nigeria dry. They hypnotize the ordinary people with religion and ethnicity.

"Look at the case of P&ID Scam, who are the people involved?
Are they Fulani Herdsmen or Boko Haram insurgents or IPOB? I am utterly disappointed.

"Mr President Mohammadu Buhari is doing his best to sanitize this country and instead of cooperating with him, people are throwing harmer and spanners against his wheel to immobilize him.

"People who should join him in the Anti-corruption war, are deeply involved in corruption to frustrate him. Where do we go from here?," Tsav said.

He mocked that Nigeria seems to be moving fast but to no where, insisting that religion and ethnicity were not the major problems of the country but corrupt attitude of the powerful few.





OPEC, Sylva, Industry Stakeholders Mourn Barkindo
The Organisation of the Petroleum Exporting Countries (OPEC) and the Minister of State for Petroleum Resources, Chief Timipre Sylva on Wednesday mourned the demise of the outgoing OPEC Secretary General, Dr Mohammed Barkindo.
The News Agency of Nigeria (NAN) reports that Barkindo passed on in Abuja on Tuesday at the age of 63.
"OPEC Secretary General, Mohammed Barkindo, passed away yesterday in his home country Nigeria.

"He was the much-loved leader of the OPEC Secretariat and his passing is a profound loss to the entire OPEC Family, the oil industry and the international community," OPEC said in a statement issued on its official Twitter page.
Also, Sylva said Nigeria has been thrown into mourning over the passing of Barkindo.
"This is a great loss to Nigeria, to OPEC, to the energy sector and most compassionately to his family which we have in our prayers and thoughts," he said.
Also, Mr Mele Kyari, Group Managing Director, Nigerian National Petroleum Company (NNPC) said the OPEC boss who was in Nigeria to participate at the ongoing Nigerian Oil and Gas Conference in Abuja died at about 11.00p.m.
"Certainly a great loss to his immediate family, the NNPC, our country Nigeria, the OPEC and the global energy community.
"Burial arrangements will be announced shortly," Kyari said.
Mr Chinedu Okoronkwo, President, Independent Petroleum Marketers Association of Nigeria (IPMAN), said Barkindo distinguished himself as a global energy leader.
"On behalf of IPMAN, I want to commiserate with OPEC, the Nigerian government and the oil and gas industry on the demise of the beloved OPEC secretary general.
"I pray that God will grant his immediate family and the entire industry the fortitude to bear this great loss, "Okoronkwo said.
The News Agency of Nigeria (NAN) reports that Barkindo's career spanned over four decades and included work at Nigeria's National Petroleum Corporation, Duke Oil, Nigeria's foreign ministry and energy ministry, as well as OPEC.
Industry watchers said since taking the helm as secretary-general of OPEC in 2016, Barkindo oversaw tumultuous times for the oil producer group, which witnessed volatile markets rocked by historic events including the Covid-19 pandemic, the creation of the OPEC+ alliance with Russia and other non-OPEC states, and Russia's invasion of Ukraine.
While the organisation lost two members, Qatar and Ecuador, during that time, Barkindo is nonetheless credited with guiding unity among the group's members in an effort to stabilize global oil markets.
Barkindo was awarded a distinguished fellowship at the Atlantic Council, set to begin upon the completion of his term at OPEC on July 31.
Atlantic Council CEO Frederick Kempe had previously described Barkindo as having "unparalleled expertise on oil markets, security, and governance" and "a deep understanding of geopolitics in a volatile world."
In a statement included in the Council's July 1 announcement of the new fellowship, Barkindo had said, "I am deeply honored to have been recognized as a distinguished fellow at the Atlantic Council.
"I look forward to contributing to the organisation's work on a plethora of energy-related issues, at a time when the world's eyes are focused on both short- and long-term energy market outlooks."(NAN)
OPEC Secretary-General, Barkindo Dies at 63
Dr Mohammed Barkindo, the Secretary-General, Organisation of the Petroleum Exporting Countries (OPEC), is dead.
Mr Mele Kyari, the Group Managing Director, Nigerian National Petroleum Company (NNPC), confirmed the development in a statement posted on his official Twitter page on Wednesday.
"We lost our esteemed Dr Mohammed S Barkindo. He died at about 11.

00 p.m. on Tuesday.
"Certainly a great loss to his immediate family, the NNPC, our country Nigeria, the OPEC and the global energy community.
"Burial arrangements will be announced shortly," Kyari said.
The News Agency of Nigeria (NAN) reports that Barkindo, who is the outgoing OPEC secretary general, was in Nigeria where he delivered the Chairman keynote address at the ongoing Nigerian Oil and Gas Conference (NOG) in Abuja on Tuesday.
At his last official outing at the NOG, Barkindo was given a standing ovation by industry stakeholders for his outstanding contributions to the Nigerian and global oil and gas industry.
He had earlier in the day visited President Muhammadu Buhari in the Presidential Villa where he was hailed by the president for being a "worthy ambassador to Nigeria."
Born on April 20,1959 in Yola, Adamawa, Barkindo served as the Secretary General of OPEC since Aug. 1, 2016 and would have bowed out on July 31, 2022 following the completion of his tenure.
He completed his Bachelor's Degree in Political Science from Ahmadu Bello University Zaria, in 1981 and Masters of Business Administration degree from Washington University in 1991.
Prior to MBA, in 1988 he earned a PostGraduate Diploma in Petroleum Economics from Oxford University.
Also, he was awarded an honorary doctorate from the Federal University of Technology Yola.
Barkindo previously served as the acting Secretary-General in 2006 and represented Nigeria on OPEC's Economic Commission Board from 1993 to 2008.
He also led the Nigerian National Petroleum Corporation during 2009 to 2010 and headed Nigeria's technical delegation to UN climate negotiations since 1991.
Barkindo will be replaced by Mr Haitham Al-Ghais, a veteran of the Kuwait Petroleum Corporation (KPC), as the organisation's Secretary-General following his demise.
In a tribute to Barkindo on his contributions to the global energy industry, OPEC said he was instrumental in expanding the organisation's historical efforts to support sustainable oil market stability.
"This was through enhanced dialogue and cooperation with many energy stakeholders, including the landmark Declaration of Cooperation (DoC) since its inception in December 2016.
"These efforts are widely credited with helping to stabilise the global oil market since the unprecedented market downturn related to the COVID-19 pandemic, and providing a platform for recovery, "OPEC said in the statement posted on its website.
The statement noted that before being appointed the Secretary-General, Barkindo held a number of key roles at OPEC between 1986 and 2010, including as acting Secretary-General in 2006.
"He is known internationally for helping to produce the United Nations Framework Convention on Climate Change (UNFCCC) and the Kyoto protocol as the leader of Nigeria's technical delegation to the UN negotiations in 1991.
"He has remained a key contributor to the UNFCCC process, including most recently at the 26th Conference of Parties (COP) meeting in Glasgow in October and November 2021," it said. (NAN)
Bandits Attack Buhari's Advance Team Convoy in Daura
By Mathew Dadiya, Abuja
The Presidency has described as sad and unwelcome, the shooting incident near Dutsinma, Katsina State, at the convoy of cars carrying the Advance Team of security guards, protocol and media officers ahead of the President, Muhammadu Buhari's trip to Daura for Sallah.
The attackers opened fire on the convoy from ambush positions but were repelled by the military, police and DSS personnel accompanying the convoy.

Presidential Spokesperson, Garba Shehu in a statement, said two persons in the convoy were receiving treatment for the minor injuries they suffered.
Shehu said "all the other personnel, staff and vehicles made it safely to Daura".