Nigerian Households Spend $14bn Annually to Fuel Generators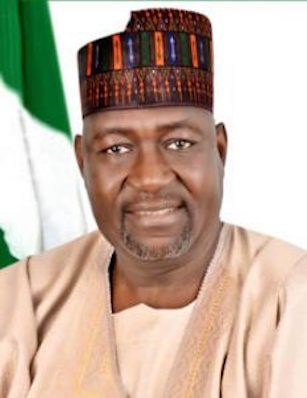 Over 40 per cent of households in Nigeria own and use generators to meet their electricity requirements, figures contained in a power sector report jointly put together by a research firm and a financial institution, showed.
It also stated that the affected households spent about $14bn annually to fuel their generators, as the power supply from the national grid continued to falter.

The June 2022 report by Stears and Sterling, titled, "Nigeria's State of Power: Electrifying the Nation's Economy," obtained by our correspondent on Friday in Abuja, stated that the cost expended on diesel and petrol for electricity generation by Nigerians was having severe economic impact on households and businesses.
It read in part, "Nigerian households, on average, have electricity in their homes for 15 to 18 hours each day. Of that, 44 per cent (or 6.8 hours) is self-supplied by generators.
And this differs by geography. In a state like Taraba, only 19 per cent of households report having electricity.
"Over 40 per cent of Nigerian households own generators, and bear the associated costs. First, the cost of purchasing generators – an estimated $500m between 2015 and 2019, higher than the proposed capital expenditure in Nigeria's 2022 budget.
"There is also the cost of powering these generators. Sources and estimates vary widely, but the African Development Bank estimated that Nigerians spend $14bn fuelling petrol or diesel powered generators."
"While PMS (Premium Motor Spirit) or petrol prices have been kept artificially low for the consumers through subsidies, variations in AGO (Automotive Gas Oil) or diesel prices can have a severe impact on households and businesses as Nigerians are currently experiencing," the report added.
The report stated though the National Bureau of Statistics diesel price watch for February 2022 showed a less than 10 per cent rise in the price of fuel from the beginning of the year, diesel was widely sold at prices 200 to 300 per cent up from the end of last year.
This, it said, had made it incredibly difficult for households or businesses to plan and manage themselves.
The analysts noted in their report that while petrol prices appeared more stable, prices were kept artificially low by government subsidies which were generally acknowledged to be unsustainable even in the near to medium term.
"These prices make the small petrol generators more attractive to households and MSMEs (micro, small and medium enterprises), they stated.
"However, perennial issues like product scarcity, make using these generators unreliable as well as expensive," they added.
Power experts at Stears and Sterling observed that Nigeria had one of the lowest electrification rates in the world.
They stated that in the most populous country in Africa, 43 per cent of the population had no access to grid electricity.
"This means that 85 million Nigerians are not connected to – and cannot receive electricity from – the Nigerian transmission grid," they stated in the report.
The report added, "While Nigeria's electrification rate is above the Sub-Saharan Africa regional average of 47 per cent, it lags significantly behind its peers across the continent and the global average.
"Nigerians who do have access to power also have to contend with its poor quality, typically exhibited by epileptic supply.
"Households connected to the grid only receive an average of seven hours of electricity per day, forcing them to turn to alternative energy sources – most prevalently diesel generators, an expensive and dirty source of energy."
The report stressed that the impact of not having reliable energy could not be overstated, adding that "economic losses associated with Nigeria's energy crisis are estimated at N10tn ($26bn) – the country's 2022 proposed budgetary revenue and roughly three times what it actually earned in 2020."
Proffering measures to help address the country's electricity problems, an energy expert, Prof. Yemi Oke, called for the appointment of individuals with expertise in handling power issues.
"Put those who are radically-proactive to deploy knowledge-based strategies to re-reform, because we need to go through another round of power sector reform, and the NERC (Nigerian Electricity Regulatory Commission), which I honestly think is unconstitutional as presently constituted.
"I've written and severally said this years ago. We can't be talking of a federated grid system or power sector in the 21st century! By virtue of the constitution, every state should, by now, have their equivalent of NERC.
"For example, Ogun State Electricity Regulatory Commission; Lagos; Kano, etc, to license power generation, transmission, and distribution. That's what our constitution says, but what operates is the reverse.
"You can imagine if the experiential efforts of Bola Tinubu with ENRON had been allowed to thrive and not undermined by 'federal might', same way Jakande's metroline was thwarted! It is well with Nigeria," he added.
Again, Wike, Obi Meet Behind Closed-Doors in Port Harcourt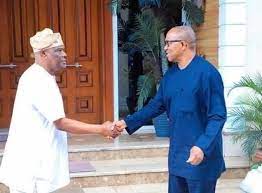 The aggrieved governor of Rivers State, Nyesom Wike has for the second time in few weeks met behind closed doors with the presidential candidate of the Labour Party, Peter Obi.
The meeting which held in Wike's residence had in attendance the former governor of Ondo State, Olusegun Mimiko.
This is not the first time Wike will be meeting politicians of rival political parties in his residence after losing the People's Democratic Party, (PDP), presidential and vice president tickets to Atiku and Governor Ifeanyi Okowa of Delta State.

It was gathered that the meeting was to woo Wike to Labour Party, ahead of the 2023 general election.
Celebrating the meeting on his Twitter handle on Monday, Mimiko shared a photo with the politicians, saying that it was nice to spend some time with them.
Terrorism: NSCDC Declares Emergency Security Measures in Schools Nationwide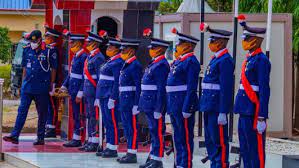 The Nigeria Security and Civil Defence Corps (NSCDC), has declared a state of emergency in schools nationwide.
The Commandant General, Ahmed Abubakar Audi, represented by Deputy Commandant General ( DCG ), in charge of Crisis and Disaster Management, DCG Nnamdi Nwinyi, disclosed this in a two-day Train-the-Trainer Capacity Building Workshop at the Corps National Headquarters, Sauka, Abuja.

He said the state of emergency declared on schools nationwide was a proactive step in protecting Nigeria's educational institutions.
According to him, the NSCDC has trained its Specialised Female Squad Unit on sustainable measures and strategies, to be used in protecting schools nationwide, thereby curtailing security threats.
The Commandant General observed that the workshop was "apt, timely and germaine to the implementation of the Safe School Initiative of the Federal Government.
"
He stated that the workshop was coming at a time when the nation is contending with security challenges, which he said necessitated the need for more pragmatic actions to whittle down the menace of insecurity in the country.
According to him, the Specialised Female Squad, since its formation has gained significant mileage against the ugly trend of the kidnapping of school children for a run.
He commended the Squad for their deliberate efforts in repelling numerous kidnapping attempts on students and more importantly, for keeping schools safe at all times.
The CG charged the Unit to remain focused, resilient, and committed to the security of schools and the protection of students, teachers, and other workers.
"The learning environment should be devoid of violence and crimes to attain educational excellence, which is key to the growth and development of the nation.
"Nothing in the world could be so precious as our children, which is why we have declared an emergency in this sector to mitigate the multi-faceted threats challenging the nation's security architecture, especially attacks on institutions of learning by hoodlums, kidnappers, and bandits.
"We have developed strategic plans and a robust template that will crystalize into more precise action to prevail over these hostilities and achieve sustainable safe schools in Nigeria.
"Note that the workshop is structured to expand your capacity as members of the Female Squad unit, you are therefore to compare notes, engage in critical thinking and come up with more robust templates to achieve sustainable safe schools in Nigeria." He said.
Dr. Audi assured that schools would remain safe and conducive for Nigerian children as the Corps is intensively l, collaborating and cooperating with other security operatives in combating all forms of criminalities across the country.
He charged participants at the workshop to take the lessons, skills, and knowledge acquired during the training down to their colleagues and subordinates for effective discharge of duties.
Chief Executive Officer, Supersonic Limited, Frank Ohwofa, in his remarks, thanked the Commandant-General, for granting their company the opportunity, to facilitate the training and praised his foresight, in creating the Specialised Female Squad.
He stated that the workshop is conceived to train the Female Squad Unit on new security trends and patterns employed by bandits and kidnappers for ransom.
"The workshop will interrogate in-depth public emergency security systems that can be deployed, by the Corps in collaboration with other stakeholders to effectively harness the kinetic assets of the Corps for maximum performance, thereby enhancing response time to violent incidents in places of learning." He stated.
He stated that the workshop is consistent with the imperative to provide robust interventionist and proactive measures, to mitigate the multi-faceted threats confronting the nation.
He described those chosen to lead in the fight against kidnapping and other forms of insecurity threatening safe learning environment in this trying moment in our nation's history as patriots.
He also challenged the participants to take advantage of the training, to build on the training already acquired, before now to fill necessary gaps.
He advised them to domesticate the knowledge and skills acquired in the strategic Train-The-Trainer Capacity Building Workshop, in their various State Command Headquarters.
A statement by the Director, Public Relations, DCC. Olusola Odumosu, NSCDC, National Headquarters Abuja, on Tuesday, said the CEO of Supersonic Limited, Frank Ohwofa, assured that with the cream of experts available at the workshop, the participants would leave the programme sharpened, and re-invigorated.
He added that the participants would go home better informed about new strategic planning tactics and execution of security protocols in schools.
"He called on the Federal Government, State Governments, proprietors of private school owners, and all stakeholders in the education sector, to give maximum support to the efforts of the Nigeria Security and Civil Defence Corps, under the able leadership of the current Commandant – General, for better security and protection of schools, students, teachers, and workers nationwide." The statement added.
Odinga Rejects Kenya Election Results
Raila Odinga has rejected the results of Kenya's presidential election saying that the figures announced on Monday were "null and void".
According to the results, Mr Odinga narrowly lost to Deputy President William Ruto.
Mr Odinga accused the head of the electoral body of a "blatant disregard of the constitution".

"We totally without reservation reject the presidential election results," he said.
Making his remarks in front of supporters in the capital, Nairobi, he said that there was "neither a legally elected winner nor a president-elect".
The 77-year-old long-time opposition leader was running for president for the fifth time. He has challenged the results in the previous two elections, including successfully in 2017.
Mr Odinga accused the chairman of the electoral body Wafula Chebukati of "gross impunity" saying his team will pursue all legal options.
Minutes before Mr Odinga spoke, four of seven electoral commissioners who refused to approve Monday's results held a press conference to give their reasons.
They accused Mr Chebukati of side-lining them and of announcing results that were full of "mathematical absurdity and defied logic".
Juliana Cherera, the vice-chairperson of the commission, said that if you added the percentages as announced by the chairperson of the commission the sum came to 100.01%.
But some commentators have said that this is down to a simple rounding error.