Pensioners Task Governors on Review, Gratuities
From Mohammed Muktar UMAR Bauchi
The Nigeria Union of Pensioners (NUP) has appealed to state governors to settle outstanding gratuities owed to its members and to review pension after every five years or where there is increase in the salaries of civil servants with a view to improving their plights.
National Vice President, north east zone of the union Alhaji Muhammad Inuwa Ahmad made the appeal in a press release issued to Journalists Monday in Bauchi where he said that pensioners who rendered selfless services to their states and country need to be well treated by the government.

" As elderly citizens, pensioners remained focused on the major political promises done by their respective leaders most especially governors during the recent general elections. Though, it is our civic right to be part of the juicy democratic system, we emanate confidence on major of their promises, as known to all and sundry, our prayers are settlement of all gratuity and pension arrears and upward review of monthly pension every five years or where there is increase in salary and wages to civil servants whichever comes earlier.
"
" The issue of gratuity and pension arrears has started to move a step forward in many of the north eastern states, as the Bauchi state government under Bala Mohammed has placed his positive giant strides on the Bauchi state pensioners, 100 million naira was duly paid on august and subsequently 200 million naira was also paid on september 2019 to both local government and state pensioners with confined expectations of getting higher than the previous payments every month".
" Governor Babagana Umar Zulum of Borno state has also made good attempt by paying one billion naira on july/ August to the Borno state pensioners , thus, this implies his kind acts toward addressing pensioners' plight."
" In the same vein, Governor Inuwa Yahaya of Gombe state has paid one billion and one hundred Million to state pensioners which we hope the same to the local government pensioners, and there is a reliable hope that more will be paid in subsequent months, for which we are thankful.
" In another development, Governor Mai- Mala Buni of yobe state has paid six hundred Million to settle the backlog of gratuity, hence he has been a good succesor of Governor Gaidam which Nigerian pensioners recommend him to be their most friendly governor." The statement reads.
While thanking the aforementioned governors for reducing gratuity debts in their states, Ahmad however, lamented that Adamawa and Taraba states pensioners were still not paid their gratuities hoping that the governors would act on that soonest.
" Lastly, we are calling on government at all levels to frame a reliable blueprint for the development of the teeming Nigerian pensioners. Thus, this will be done by upward review of monthly pension as many pensioners in Nigeria receive as low as N3,000 , hence we will not remain on our toes untill section 173(3) and section 210 of the 1999 constitution as amended which states that "pension must be reviewed every five years or together with any increase in civil servants salary whichever comes earlier" is being immediately put in place," he said.
---
Group Gives FG 14-day Ultimatum to End ASUU Strike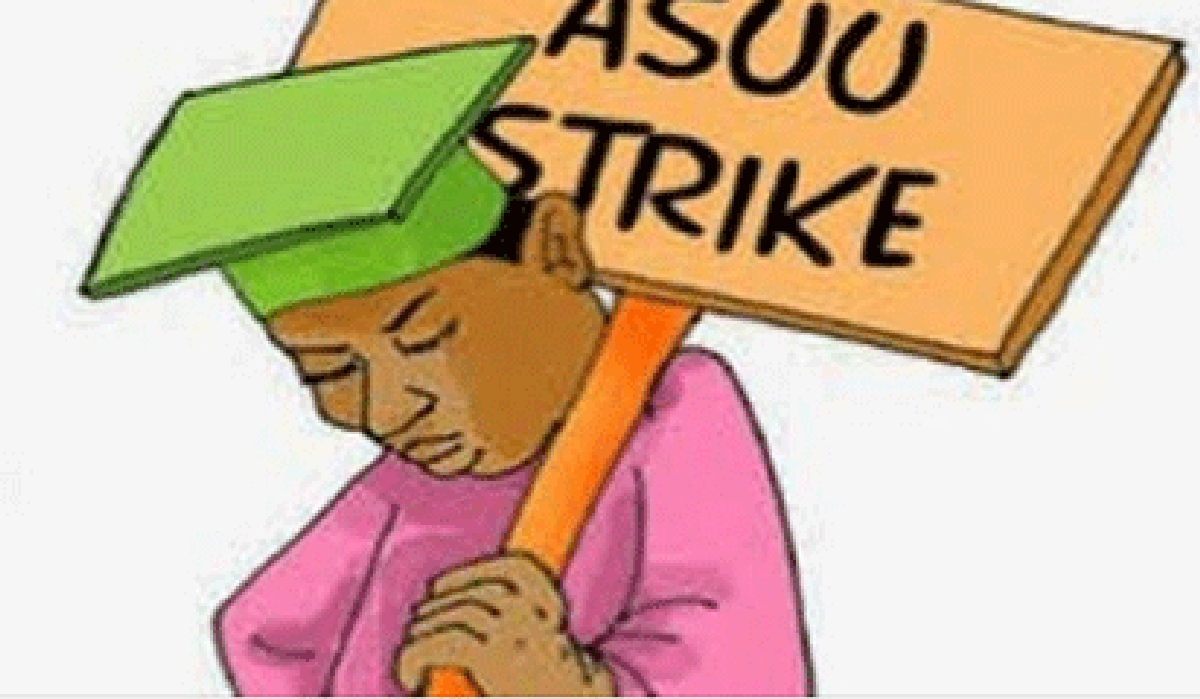 By Gom Mirian, Abuja
The Save-Education-Campaign, Nigeria, has issued a 14-day ultimatum to the Federal Government to meet up with the ASUU demands for campuses to re-open or risk mass protest.
The group issued the ultimatum yesterday at a conference, tagged: "save – public – education campaign", held in Abuja.
Speaking on behalf of the group, Comrade Vivian Bello lamented that the continued strike was an organized crime against students' career and educational pursuits.

She further lamented the meager allocation for education sector in the country, said only N1. 29tn (7.9%) is budgeted for education in the year 2022 which is a far-cry from UNESCO's standard recommendation of 26% minimum.
"We make bold to say, that if government will recognize the futility in its so-called insecurity-fighting campaign, change strategy and invest a greater proportion of the resources it is expending in the insecurity campaign in providing robust, efficient and quality educational system and structure and qualitatively educate its teeming citizenry, within a calculated period of time, insecurity will gradually die a natural death in Nigeria and the society will take on its hitherto regular and peaceful equilibrium
"We submit boldly that, Education can be a veritable panacea to insecurity in Nigeria," she added.
In a communique jointly signed by the Co-Convener of the group, Comrade Dimeji Macaulay, the group damands that "the negotiation process of the strike action, including as led by the Prof Nimi Briggs committee, be immediately concluded and SIGNED.(We demand an end to the lingering foot-dragging).
"The IPPIS has been specifically described and pointed out with evidence, by the striking academic unions as problematic, inconsistent and fraudulent. The Platform should therefore be set aside while the proposed more credible alternatives; UTAS, U3PS deployed accordingly.
"We call for immediate payment of ALL withheld salaries of the striking academic unions. Having become aware of a proposed bill by the Senate to establish financial Aid Scheme for students; we demand that such proposed Scheme be clearly explained to Nigerians.
"We want to see a properly public funded education at all levels in Nigeria and not creating another looting avenue or portfolio for some unscrupulous mindless public officials.
"That in view of the gravity of the situation, we make a clarion call for unity and coming together of staff unions, students, workers and communities across the Country, to mobilize and get ready for civic mass actions to compel the government to take the necessary steps to end the strike and have the millions of our children and students, return to school to end the jeopardy of their Education and future.
"Therefore, we wish to state unequivocally that, If the strike action lingers, we will be forced to commence another round of mass protests Nationwide to bring an end to the unjust denial of innocent Nigerians their Right to Education".
Bakers Threaten Strike over Rising Cost of Flour, Sugar
By Joseph Amah, Abuja
The Association of Master Bakers and Caterers of Nigeria (AMBCN) has threatened to withdraw their services nationwide, citing a hike in the price of bakery materials, neglect of by federal government and fleecing by regulatory agencies. 
The association said this on Friday in a communiqué issued after a meeting of its national executive council in Abuja.

In the communiqué, signed by the association's executives, led by Mansur Umar, its national president, the bakers said they would commence an initial two-week strike from July 13, 2022.

They said the cost of flour, sugar and other materials used in the bakery business had soared beyond the reach of many bakers.

The group also said efforts to get the government's intervention in the matter had been unsuccessful, as there had been no positive response from the concerned ministries, departments and agencies (MDAs) of government.

"Increase in prices of bakery materials, especially flour and sugar having reached unprecedented levels, for example, flour is now between N25,000 and N27,500, so also other ingredients," it reads.

"The National Wheat Cultivation Committee already constituted is yet to be inaugurated after over one year. NAFDAC, SON, and NESREA have turned the bakers into money-making machines by charging our members outrageous levies even at this very challenging moment.

"Consequently, the NEC in session resolved that all zones, state, Local Governments and units of our association should commence full mobilisation of our members nationwide to embark on withdrawal of services starting from Wednesday, July 13, 2022, for an initial period of two weeks."

The association, however, told its members to await further directives.
In March, bakers complained that the hike in diesel price and exchange rate volatility caused many of its members across the country to shut down their business operations. 




Fuel Crisis: IPMAN Warns Members Against Sale of Fuel Above N165/litre
The Independent Petroleum Marketers Association of Nigeria (IPMAN) has warned members of the association not to dispense Premium Motor Spirit, popularly called petrol, above the approved N165/litre pump price.

IPMAN in conjunction with the Association of Distributors and Transporters of Petroleum Products gave the warning in Abuja following reports that many retail outlets had adjusted the price in their various pumps upwards above the government-regulated rate.


The factional National President, IPMAN, Chinedu Okoronkwo, admitted that members of the association had called for a hike in petrol price, but noted that the Nigerian National Petroleum Company Limited had released enough petrol.

He said, "Our members in Lagos were getting the fuel at N170 – N173/litre, that's why they wanted price increased. It is only the NNPC that is importing the product.
The cost of doing business has changed, so it becomes difficult to sell at N165/litre.

"That is why we are thanking the NNPC for bringing the product to N143/litre. So, our members must sell the product at N165 which is the government-approved price."
Okoronkwo further revealed that IPMAN and its partner had engaged the services of Benham Group to recover money owed them for the supply of petroleum products.

"Our business requires technology, that is why we brought a seasoned financial expert and we've been able to recover a lot of funds in other countries and Nigeria," he said.
The IPMAN official added, "The incessant mishaps and destruction of trucks on the road, banditry and kidnapping is the reason we are bringing the insurance company to help us. Leaving the risk for the owner of the truck to bear will affect our businesses."

On his part, the National President, Association of Distributors and Transporters of Petroleum Products in Nigeria, Mohammed Danzaki, said the NNPC had done a lot to import the product, "but the main issue is the transportation."

He added, "We have not been getting our payments. That is why we engaged a financial expert, Benham Group, to recoup our money for Nigerians to get regular supplies in the fuel stations."
The Chairman, Benham Group, Maurice Ibe, said the collaboration was to ensure stabilisation of fuel supply at the filling stations.