Senator Abbo: FCT Women Reject Apology, Call for Prosecution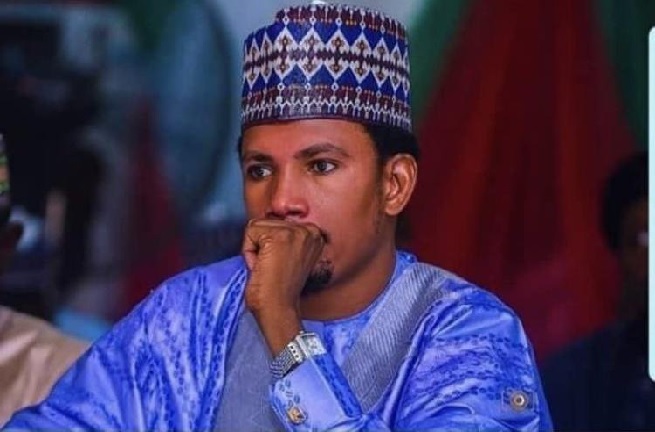 By Laide Akinboade, Abuja
Women in Federal Capital Territory (FCT) said they would not accept the apology of Senator Elisha Abbo of Adamawa North-Central in the Senate, who assaulted a nursing mother in a toy shop in Abuja.
The women, led by FCT chapter President of National Council of Women Society, (NCWS), Hadiza Umar on a protest to FCTA, demanded immediate arrest and prosecution of the Senator.

The women, who carried various placards with different inscriptions, insisted that violence against women must stop.
The video of the assault of the shop owner and her nursing mother friend has been trending on the Internet for some days.
"We are on a peaceful demonstration against an elected Senator that assaulted one of us. We want violence against women to stop now in Nigeria. We won't accept the apology of Senator Elisha Abbo, he must face the wrath of the law. We want to urge Inspector General of Police to arrest and prosecute him", she said.
Hadiza, who lamented the rate of violence against women and said it is unacceptable and the NCWS will continue to speak for all the women and vulnerable in Nigeria.
Acting Secretary of FCT Social Development Secretariat, Hajia Safiya Umar, while receiving the protesters said as the statutory organisation since FCT women through NCWS, said they won't accept the apology of the senator, then SDS, won't accept his apology.
Director Gender, in SDS, Agnes Hart, reiterated the commitment of the administration in fighting for rights of women and less privileged in the society.
She said the secretariat is overwhelmed by the way women are treated, by some people.
Woman, 33, Arraigned for Impersonating Police Officer
A 33-year-old woman, Damilola Odutola, who allegedly impersonated a police officer in an attempt to invade a house, on Thursday appeared before a Yaba Chief Magistrates' Court, Lagos.
Odutola, whose address was not provided, is facing a two- count charge of impersonation and breach of peace.
She, however, pleaded not guilty to the charges.

The prosecutor, ASP Rita Momah, told the court that the defendant committed the offences on March 10, 2021, at No 35a, Chief Collins Street, Uchediuno Leeki Phase 1, Lagos.
Momah alleged that Odutola entered the house of the complainant, Mrs Bimpe Daramola, dressed as a police officer.
She stated that Odutola intentionally acted in a disorderly manner, when she forced her way into the house of the complainant.
Momah said the offences contravened Section 168 (d) of the Criminal Law of Lagos State, 2015.
The Chief Magistrate, Mrs Adeola Olatubosun, granted the defendant bail in the sum of N500,000 with two sureties in like sum.
Olatubosun ordered that the sureties must show evidence of three years tax payment to the Lagos State Government.
She adjourned the case until April 17 for mention. (NAN)
Court Remands 9 Persons for Allegedly Robbing, killing a Police Inspector
 A Makurdi Chief Magistrates' Court in Benue on Thursday, ordered the remand of nIne persons in a correction centre for allegedly robbing and killing one Insp Peter Ilonye.
The police charged the defendants, who live at various addresses in Gwer-East Local Government Area of Benue with criminal conspiracy, armed robbery, illegal possession of firearms and culpable homicide.

However, the Magistrate, Mrs Roseline Iyorshe, did not take their plea for want in jurisdiction.
Iyorshe adjourned the matter until May 15, 2023 for further mention.
Earlier, the Prosecution Counsel, Insp Godwin Ato,told the court that the case was received at the State CID, Makurdi on March 1, 2023 from Operation Zenda Joint Task Force Headquarters, Makurdi via signal dated same March 1.
Ato said the signal stated that one Insp Terna Moughga attached to Operation Zenda JTF, Aliade Sector reported at the Operation Zenda JTF, Headquarters, Makurdi on March 1 that Insp Ilonye who was also attached to Operation Zenda JTF, Aliade Sector had been killed by a group of armed robbers.
Moughga stated that the deceased was riding on his motorcycle from Taraku to Aliade town when he ran into the gang of armed robbers who had blocked the road at Jiwunde village and were robbing motorists of their belongings.
Moughga stated that upon sighting Ilonye, they shot him on his stomach and carted away his service AK-47 rifle with breech number NH347439 loaded with 30 rounds of ammunition.
He said Ilonye was later confirmed dead as a result of the gunshot.
Prosecutor said the defendants, Alam Timothy, Ushahemba Tarveem, Ternenge Zafefa, Aondonenge Tyozenda, Zakpe Alfred, James Akange, Terdoo Ikpur, Aondohemba Torto and Jennifer Terna were arrested during police investigation for committing the offences.
He said some others are still at large.
Ato said two AK-47 rifles, four locally made pistols, seven single barrel guns, 67 rounds of 7.62×39 mm live ammunition and three magazines were recovered from the hoodlums.
Also recovered were four expended cartridges, 21 live cartridges, four pairs of Military camouflage and a pair of Mobile Police uniform were recovered from the defendants.
Prosecutor said their offenses contravened sections 6(b), 1(1)(2)(a)(b), 3(1) of the robbery and firearms act, 2004 and 222 of the penal code laws of Benue, 2004.(NAN)
DSS Confirms 'Entrenched Interests' Plot to Install Interim Government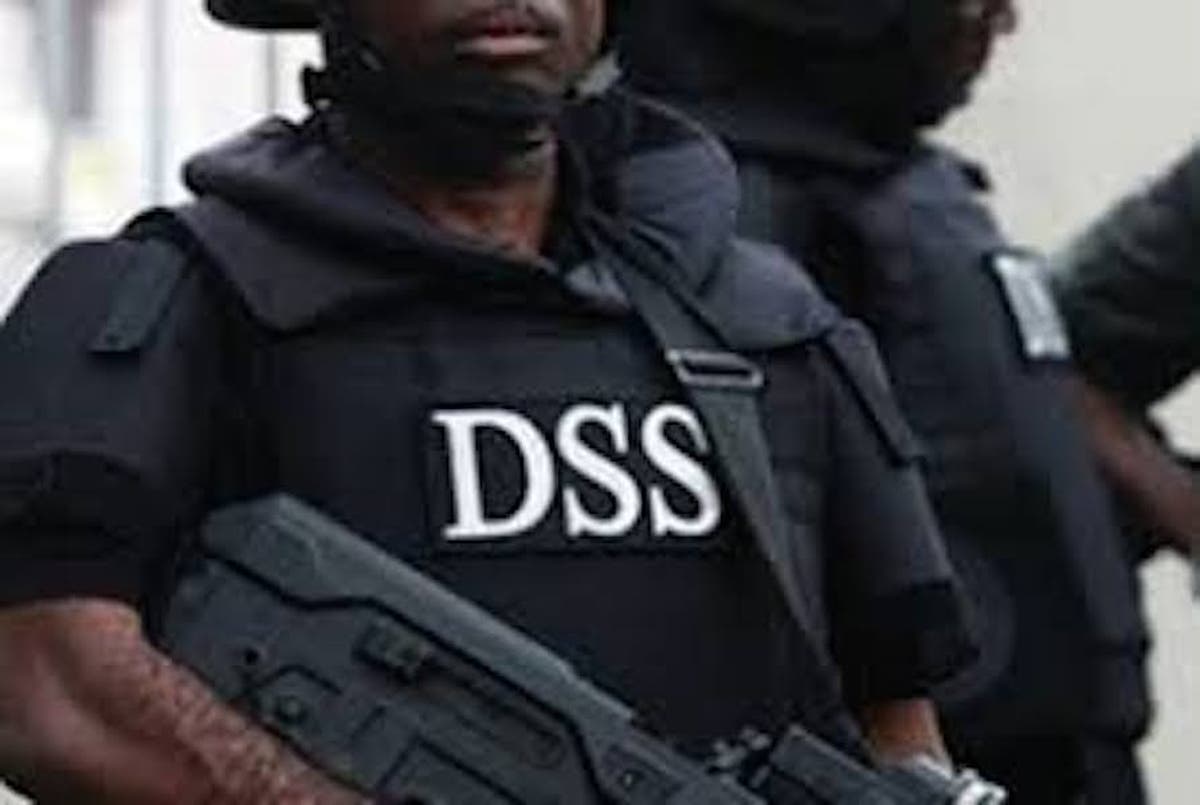 By Gom Mirian, Abuja
The Department of State Services (DSS), yesterday said it has confirmed a plot "by some key players" to install an interim government and stop Bola Ahmed Tinubu from being inaugurated as president.
The plot includes embarking on violent protests nationwide to engineer the declaration of a state of emergency as well as securing frivolous court injunctions to stall the inauguration, the DSS said.

In a statement yesterday, the Public Relations Officer of the secret police, Peter Afunanya, said: "The Department of State Services (DSS) has identified some key players in the plot for an Interim Government in Nigeria.
"The Service considers the plot, being pursued by these entrenched interests, as not only an aberration but a mischievous way to set aside the constitution and undermine civil rule as well as plunge the country into an avoidable crisis.
"The illegality is totally unacceptable in a democracy and to the peace loving Nigerians. This is even more so that the machination is taking place after the peaceful conduct of the elections in most parts of the country."
There have been agitations for Tinubu, the president-elect, not to be inaugurated on May 29, 2023 based on complaints by his opponents on the presidential election.
Datti Baba-Ahmed, the vice-presidential candidate of the Labour Party (LP), specifically called on President Muhammadu Buhari and Olukayode Ariwoola, the chief justice of Nigeria (CJN), not to inaugurate Tinubu, tagging it an "illegality".
Some demonstrators also went to the defence headquarters building in Abuja on Tuesday to protest the outcome of the presidential election in what might be understood as an invitation for military intervention.
Afunanya alleged that some protests are being sponsored.
"The planners, in their many meetings, have weighed various options, which include, among others, to sponsor endless violent mass protests in major cities to warrant a declaration of State of Emergency. Another is to obtain frivolous court injunctions to forestall the inauguration of new executive administrations and legislative houses at the Federal and State levels," he said.
"The DSS supports the President and Commander-in-Chief in his avowed commitment to a hitch-free handover and will assiduously work in this direction. It also supports the Presidential Transition Council and such other related bodies in the States. It will collaborate with them and sister security and law enforcement agencies to ensure seamless inaugurations come 29th May, 2023.
"Consequently, the Service strongly warns those organising to thwart democracy in the country to retract from their devious schemes and orchestrations.
"Stakeholders, notably judicial authorities, media and the Civil Society, are enjoined to be watchful and cautious to avoid being used as instruments to subvert peace and stability of the nation. While its monitoring continues, the DSS will not hesitate to take decisive and necessary legal steps against these misguided elements to frustrate their obnoxious intentions."
IPOB Denies Plan to Print Biafra Currency, Form Govt
The Indigenous People of Biafra, IPOB, Wednesday said it has no plans to print Biafra currency and operate a government in exile.
IPOB's spokesman, Emma Powerful, warned those he described as autopilot to desist from such a move.
In a statement he signed, Powerful distanced IPOB from the autopilot group, stressing that the group has no faction.
Powerful, who distanced IPOB from those operating Radio Biafra in the United States, noted that those operating under the guise of the Directorate of State are not members of IPOB.
"We the Indigenous People of Biafra (IPOB) under the command and leadership of the great liberator Nnamdi Kanu once again reiterate that IPOB is not part of the formation of Biafra government in exile anywhere.
"The people behind the shambolic Radio Biafra government in exile in the USA are not IPOB members, and they should stop linking themselves to us.
"Those piloting government in exile in the USA are not IPOB members, and they don't mean well for Biafra freedom and restoration.
"IPOB has no plan to print Biafra currency, stamps, and other important state documents because we are not yet a sovereign nation. If we print currencies now, where can they be used as legal tender," the statement read in parts.