UNICEF Awards $170m Malaria Vaccine Contract to GSK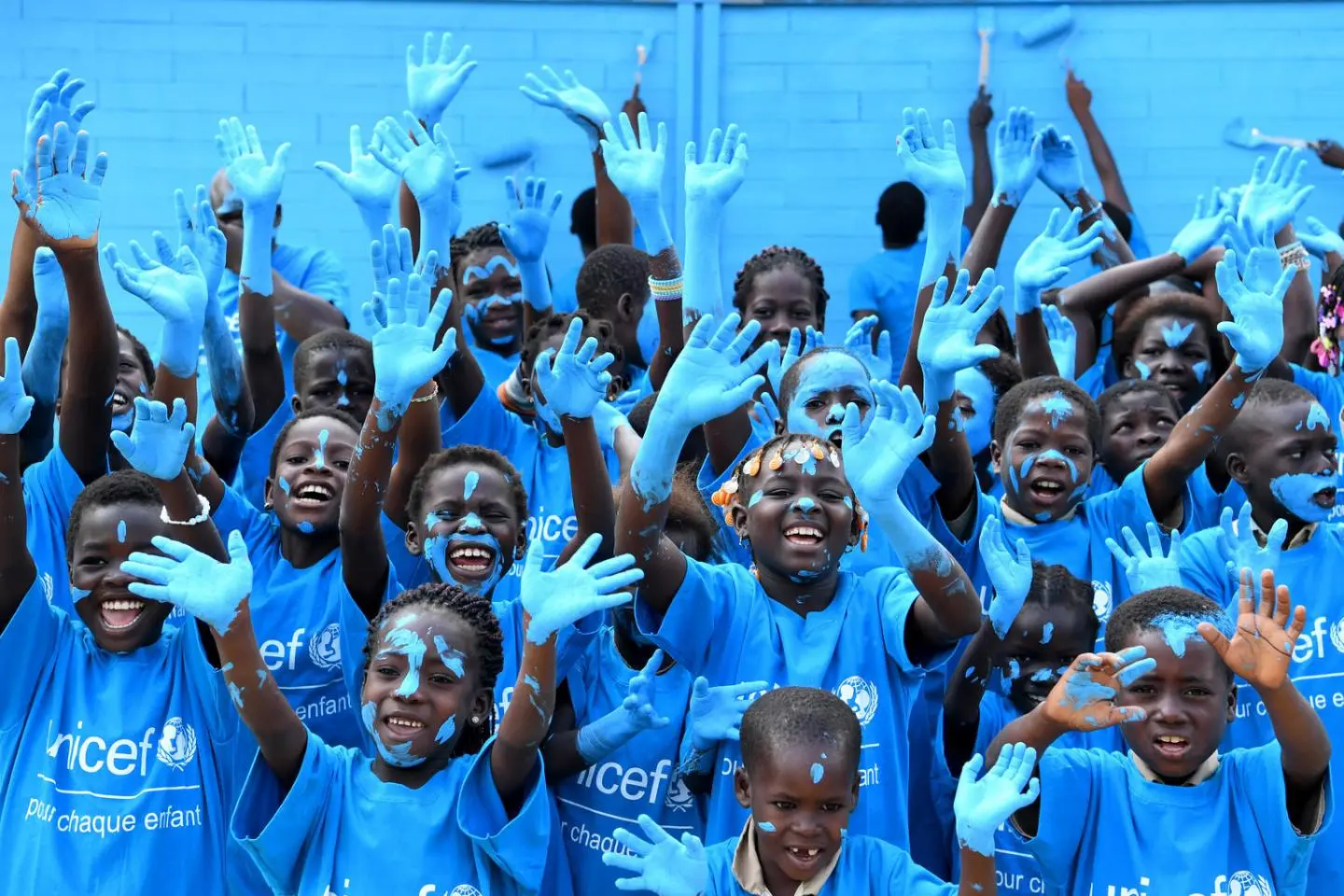 United Nations Children's Fund (UNICEF) has awarded a contract for the first ever supply of a malaria vaccine to GSK with a value of up to 170 million dollars.
Newsmen report that GSK plc, formerly GlaxoSmithKline plc, is a British multinational pharmaceutical and biotechnology company with global headquarters in London, England. Established in 2000 by a merger of Glaxo Wellcome and SmithKline Beecham.

UNICEF in a statement issued from New York on Tuesday said the landmark award would lead to 18 million doses of RTS,S/AS01 (RTS,S) being available over the next three years, potentially saving thousands of lives every year.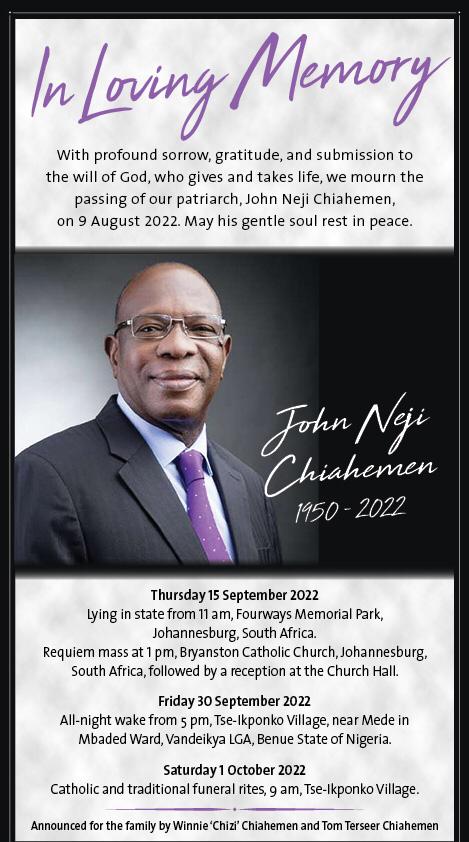 In 2020, nearly half a million children died from malaria in Africa alone, a rate of one child death per minute.
Etleva Kadilli, Director of UNICEF's Supply Division said the vaccine rollout would give a clear message to malaria vaccine developers to continue their work because malaria vaccines are needed and wanted.
"We hope this is just the beginning. Continued innovation is needed to develop new and next-generation vaccines to increase available supply, and enable a healthier vaccine market.
"This is a giant step forward in our collective efforts to save children's lives and reduce the burden of malaria as part of wider malaria prevention and control programmes."
According to WHO data, more than 30 countries have areas with moderate to high malaria transmission, where the vaccine could provide added protection against malaria to over 25 million children each year once supply scales up.
The RTS,S malaria vaccine is the result of 35 years of research and development and is the first-ever vaccine against a parasitic disease. The vaccine acts against Plasmodium falciparum, the most deadly malaria parasite globally and the most prevalent in Africa.
In 2019, pilot routine vaccine use was launched in three countries – Ghana, Kenya and Malawi – as part of the Malaria Vaccine Implementation Programme coordinated by WHO.
The experience and evidence generated by the pilots informed WHO's recommendation in October 2021 for widespread use of the first malaria vaccine in countries with moderate to high P. falciparum malaria transmission.
Soon after, in December 2021, Gavi, the Vaccine Alliance's decision to provide funding for malaria vaccine programmes in eligible countries opened the pathway for broader roll-out of the vaccine.
"We recently opened the first application window for Gavi support in rolling out the malaria vaccine.
"Thanks to UNICEF's procurement work, we now have more certainty on supply and can move a step further towards getting this life-saving vaccine to the people who need it the most.
"As manufacturing ramps up over time, we hope that increasing volumes will also lead to more sustainable, lower prices," Seth Berkley, CEO of Gavi, the Vaccine Alliance, said.
Dr Kate O'Brien, WHO Director of the Department of Immunisation, Vaccines and Biologicals said lives are at stake, every day.
"WHO welcomes the progress to secure supply and timely access to vaccine so that more countries can begin to introduce this additional malaria prevention tool as rapidly as possible.
"Given the initial limited supply, it is crucial that children living in areas where the risk of disease and need is highest are prioritised first."
This award is the culmination of 18 months of intensive preparation and consultation with industry and partners.
As the largest buyer of vaccines in the world, UNICEF accelerated action to conclude procurement negotiations, to ensure there are no delays in securing available supplies of the malaria vaccine to help protect vulnerable children.
Demand for the malaria vaccine is expected to be high among affected countries. As with any new vaccine, supply will be limited at first and will increase over time as manufacturing capacity ramps up to the level required.
As volumes increase, costs per dose should decrease. Plans are already underway to boost production, including through technology transfer, so that every child at risk will one day have the opportunity to be immunized against this killer disease.
"We must not lose sight of the need to accelerate access to this and future malaria vaccines, and to make the necessary investments in malaria control and immunization services, as well as in research and development.
"Effective malaria and immunization programs are both key to the successful delivery of a malaria vaccine and contribute to stronger health systems overall," Dr Ashley Birkett, Global Head of Malaria Vaccines and Biologics at PATH, said.
UNICEF supports the regional diversification of vaccine production and encourages GSK and other pipeline manufacturers to consider partnering with companies in Africa as part of this effort. (NAN)
FG Creates 10million Jobs, Buhari Tells UNGA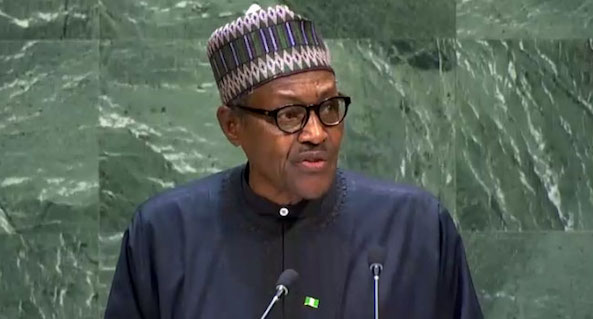 By Mathew Dadiya, Abuja
President Muhammadu Buhari has told the United Nations General Assembly (UNGA), in New York, United States, that the Federal Government under his administration has created 10 million direct and indirect jobs, financed 2.5million smallholder farmers to cultivate about 3.2million hectares of farmland across the federation under the Anchor Borrowers program to boost food security in the country.

Buhari expressed delight that the implementation of such programmes has resulted in a significant decline in the country's large food import bill, from $2.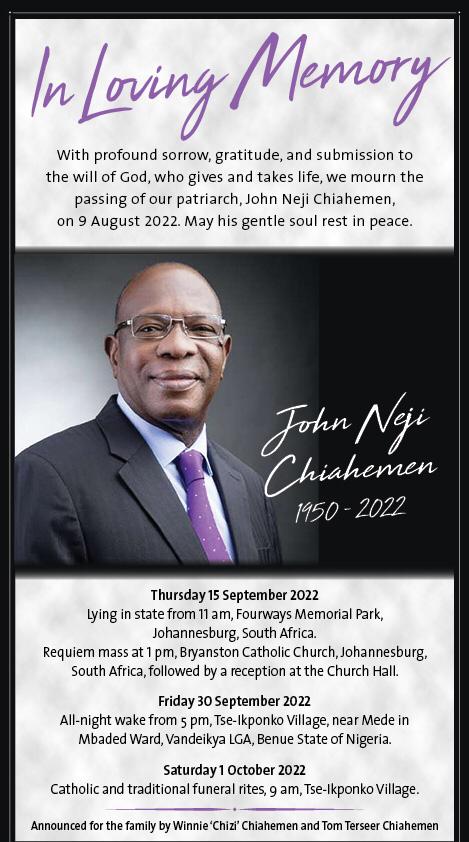 2billion in 2014 to $5.9million at the end of 2018, disclosing that rice imports alone dropped from $1billion a year to $18.5million dollars.
The President spoke in his capacity as the African Union Champion on efforts to eliminate corruption in the continent at a High-Level side event on "Food Security Response: Combating Illicit Financial Flows and Securing Asset Returns for Sustainable Development'', at the weekend on the margins of the 77th Session of the UN General Assembly.
He urged his colleagues to recall the United Nations General Assembly Special Session Against Corruption political declaration of June 2021 and ensure its effective implementation toward global food security and sustainable infrastructural development in the continent.
The Nigerian leader emphasizes the need for African leaders to fight tirelessly to get rid of corruption, lamenting that the continent has remained at the far end of global development index because of its menace.
He also acknowledged programmes initiated by the AU and ECOWAS to address food security, apprising that at the Federal level in Nigeria, the administration is working with state governments through initiatives such as the Anchor Borrowers Programme, to support local production of rice, maize, cotton and cassava.
"Accordingly, we remain committed to improving productivity of small-scale farmers by promoting equal access to land, technology and markets, sustainable food production systems and resilient agricultural practices across the country and beyond,'' the President said.
The President, however, cautioned that these lofty goals cannot be achieved if corruption, illicit financial flows, serious and organized crimes are not effectively addressed.
"Rice, wheat and fertilizer imports were riddled with gross corrupt practices such as over-invoicing and transfer pricing.
"It is only when these crimes are contained that we can secure the recovery and return of illicitly acquired assets to victim-countries, which will then provide the much-needed resources in the immediate term, to address development requirements,'' he said.
Providing his perspectives on the effects of corruption in the continent and the way forward at the event co-hosted by African Union Development Agency-New Partnership for Africa's Development (AUDA-NEPAD) and the Economic and Financial Crimes Commission (EFCC), the Nigerian leader said he was honoured to serve as AU Champion on anti-corruption since 2018:
"As you are all aware, this will be my last official participation at the United Nations General Assembly as President of the Federal Republic of Nigeria.
"I remain honoured and privileged to be President of Nigeria for two terms and I am grateful to the African Union for making me the Continental Organisation's Champion on efforts to eliminate corruption nationally and continent-wide.
"Over the years, we came to the painful realisation on how deeply embedded corruption has become in our countries and continent, as well as how corrosive it can be.
"Corruption has dwarfed our growth and tainted our nations and continent. Africa remains at the far end of development index and concerted efforts made in the last few years need to be sustained, deepened by good governance and accountability that are guided by the rule of law.
"I have strong faith that Africa and our national governments can do this with strong resolve and commitment to eliminating Illicit Financial Flows.
"We need strong partnerships from our global partners to ensure that these efforts succeed. A developed and stable Africa will not only be a global partner for peace but for sustainable development and progress."
Buhari, therefore, challenged his colleagues that for the continent to rise to its full potentials, "we must work tirelessly to get rid of corruption or by fighting it 24/7."
"Our national resources must not find safe-havens around the world. This fight is a necessity and not a choice to give our citizens a better life through economic prosperity, social peace and security," he added.
The Nigerian leader recounted that the administration has demonstrated effective utilization of recovered assets with the notable deployment of funds to three major infrastructure projects across the country namely; the Lagos-Ibadan Expressway, Abuja-Kano Expressway and the Second Niger Bridge.
The President, therefore, pledged not to relent in efforts to curb illicit financial flows, engender food security and achieve sustainable economic development.
He added that measures have been instituted based on policy advisories by EFCC to block revenue leakages arising from crude oil theft, tax evasion, pension fraud, foreign exchange manipulations, travel document racketeering and tax evasion:
"Furthermore, the Common African Position on Asset Recovery (CAPAR) 2020 was recognized as taking a broader approach to include resources lost through any and all types of Illicit Financial Flows.
"It is therefore our hope, that the CAPAR can be a model for designing a global framework to address Illicit Financial Flows and I use this opportunity to call on the African Union to ensure effective implementation of the CAPAR in line with the vision encapsulated in the Agenda 2063."
Commenting on the global food crisis, which the United Nations estimates that nearly a billion people went hungry in 2021, the President described it as "a collective shame on the world's conscience," further exacerbated by increased illicit financial flows.
He expressed concern that criminals are taking advantage of global food crisis to perpetrate illicit financial flows, with the ongoing crisis in Ukraine disrupting energy and food supply chains, thus, negatively impacting the global economy.
"Such developments have been made worse by increased Illicit Financial Flows, arising from a combination of factors, including organized violence and conflict risks, economic downturn, natural hazards and climatic risks, as well as worsening access to humanitarian assistance.
"Such an atmosphere presents criminals and their associates with opportunities to take advantage of information developments that characterize such areas of disruption and conflict."
He said the crisis in the energy and food supply chains demand urgent response from all leaders in governments, global institutions and businesses to re-think best approaches to address new and old global challenges.
He posited that food crises, illicit financial flows and asset recovery are cross-cutting issues that necessarily need to be addressed holistically through the effective adoption of multilateralism as highlighted in the theme of the 77th United Nations General Assembly: "A Watershed Moment: Transformative Solutions to Interlocking Challenges."
In her remarks, the Chief Executive Officer of AUDA-NEPAD Nigeria, Princess Gloria Akobundu, said the event "is a continuation of the advocacy on good governance that started in 2017 and was adopted by the Forum in 2018 as an annual event with the objective to promote peer-to-peer learning for best practices and strengthen partnership for good governance."
She added that, "if Africa's population and land space are credibly and productively harnessed, it will not only address these challenges but will be a turnaround for world economic boost and sustainable development."
Nigeria's Attorney General and Minister of Justice, Abubakar Malami, said that "reports from law enforcement agencies especially the Economic and Financial Crimes Commission (EFCC) show that illicit financial flows (IFFS) undermine efforts to development including food security…the United Nations estimates that $1.6trillion is lost each year due to illicit financial flows, which has a negative impact on global growth and development."
According to him, however, the Nigerian government is dealing with the situation: "Just this year, Mr President has signed the Money Laundering Prevention and Prohibition Act, (2022), the Proceed of Crimes Act just to mention a few."
Goodwill messages were delivered by representatives of International Organisations as well as Development Partners.
Buhari Lauds Nigerians in the Diaspora Over Achievements
By Mathew Dadiya, Abuja
President Muhammadu Buhari has commended Nigerians living in the United States for the exemplary roles they played in their different areas of endeavour, urging them to continue in that line to earn the respect of their hosts.
Speaking at the Townhall Meeting With Nigerians In the Diaspora, in New York at the weekend, Buhari said: "It is gratifying for me to note that many Nigerians in the USA have continued to excel in their careers leading to some being appointed into the cabinet of His Excellency President Joe Biden.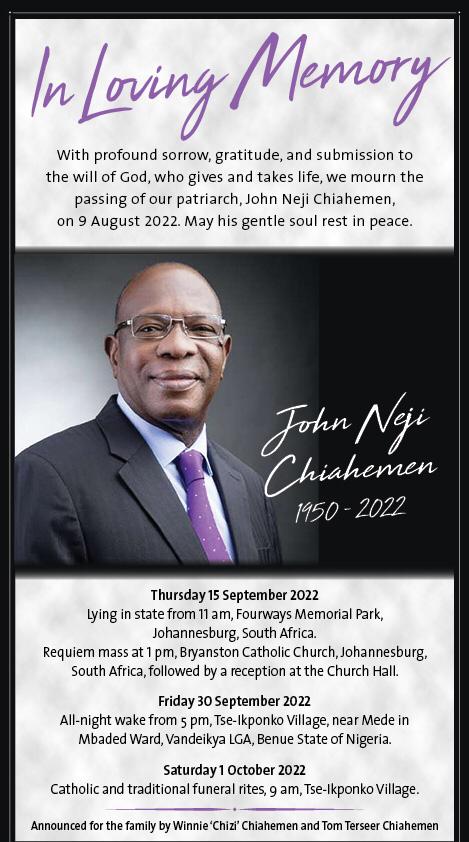 "Similarly, many have been elected/appointed into various responsible and competitive positions in the United States of America. I congratulate those who have brought honours and pride to our country. I thank and commend them for their respective successes as I equally urge them to demonstrate the highest sense of responsibilities in order that they continue to remain reference points of excellence as they serve human kind in this country.
"As always, I wish to emphasise the absolute necessity for each and every one of you to continue to remain law-abiding as you live in the United States of America and comport yourselves in such exemplary manners that should earn you the privilege of reference as good Ambassadors of Nigeria.
"In order to earn yourselves collective self-respect within the communities you live in, you must live with one another peacefully and continue to do so without sub-divisions amongst yourselves. As you may know, as a people, we shall always be stronger together."
The President said that the administration created the Nigerians in Diaspora Commission to serve as a bridge between them and the country in the developmental agenda with the expectation that they will give back to the country.
He said, "As our Diaspora Ambassadors, we expect your willingness to 'give back' to Nigeria some of your resources, talents, skills and global exposure in the development of our great country, Nigeria."
He gave assurances that the government will continue to act in their interests whenever the need arises, citing recent evacuations in Libya, South Africa, and recently in Ukraine. He added that he had also approved the same in UAE and India.
The President commended them for Diaspora remittances which stood at $20billon dollars in 2021, an amount four times the Foreign Direct Investment in the same period, as well as their investments in various sectors of the Nigerian economy such as Healthcare, Agriculture, Education, Information and Communication Technology (ICT), Housing and Real Estate, Transportation, Oil and Gas.
The President lauded Hon. Abike Dabiri-Erewa, Chair of the Nigerians in Diaspora Commission who coordinated the event, for her innovative programmes to bring the ambassadors closer home such as Diaspora Registration Portal, the Diaspora Mortgage Scheme and the Nigerian Diaspora Investment Trust (NDIT).
Buhari reiterated the administration's commitment to free, fair and transparent elections in 2023 as this is the only way Nigeria can continue to "set the right example for the rest of Africa and hopefully stop the recourse to unconstitutional changes of Governments in our sub-region and the rest of the African Continent."
The representatives of Nigerians in the US who visited the President were: Bobby Digi Olisa, an American born Nigerian, current President of Nigerians in Diaspora Organisation, New York, co-owns an international restaurant and a medical clinic in his community; Philip H. Moses, from Kaduna State, obtained his first Degree in Geology from Ahmadu Bello University Zaria in 1991. Lived in Minnesota, United States for 25 years now as a Mental Health practitioner, Behavior Modification Assistant with Minnesota Department of Human Services; and Dr. Yetunde Odugbesan-Omede, Ph.D, is a Professor of Global Affairs and Politics. She was recently awarded a four-year tenure as a Fulbright Specialist Scholar under the United States Department State Bureau of Educational and Cultural Affairs in recognition of her contribution and impact in the field of higher education and international affairs.
Others include, Wale Adelagunja, Chairman, Council for Global Alliance (C-Glo) which identifies appropriate business opportunities in furtherance of Continental African and Caribbean Descent in the area of  Commerce,  technological and infrastructural development; Dr. Rukaiya Bashir Hamidu, Born and raised in Maiduguri and Yola, she later attended St. George's University in Grenada/New York for medical school (Doctor of Medicine Degree, First Class). Currently, she is a Gastroenterology Fellow at the University of Maryland Medical Center in Baltimore; and Dr. Dominic Chukwuemeka Valentine Onyema, 1977 recipient of Barclays Bank International scholarship to the UWC Atlantic College in Wales in the United Kingdom. He holds a B.Sc. (Hons) degree from the University of Lagos in Nigeria and Medical Degree from St. Georges University. He is licensed in Medicine and Surgery in New York State since 1992. He is the Founder, Owner and President of Healthwise Medical Associates amongst others.
Zelensky Calls on Russians to Protest Military Mobilisation
Ukrainian President Volodymyr Zelensky has called on Russians to protest the partial military mobilisation announced in the country.
"Protest! Fight! Run away! Or become Ukrainian prisoners of war! Those are the options for your survival," Zelensky said in his daily video address.
He said 55,000 Russian soldiers had already died in Ukraine.
Zelensky also appealed to mothers and wives of Russian men called up for service.

"Do not doubt this, the children of your country's leaders will not take part in the war against Ukraine.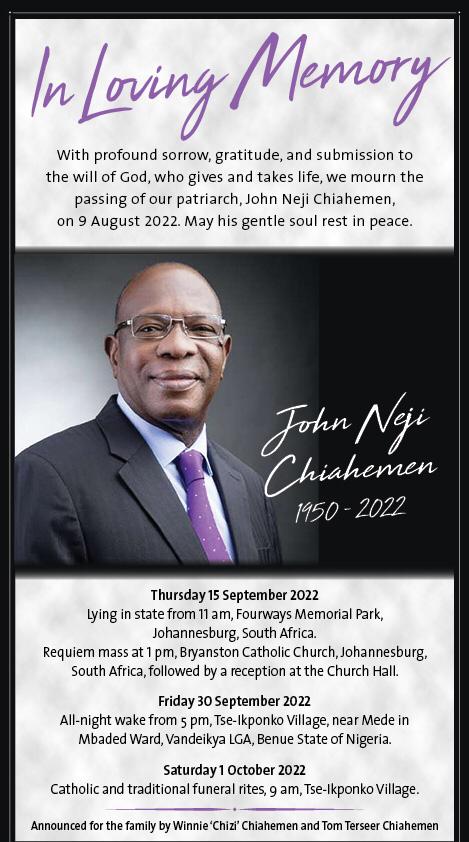 "Those making decisions in your country protect their children. And your children aren't even buried," he said.
Russian President Vladimir Putin a day earlier decreed the mobilisation of 300,000 reservists in order to garner more soldiers for the military's faltering campaign in Ukraine.
Addressing Ukrainians, Zelensky said Russia's partial mobilisation was a signal of Kiev's strength.
He said it means the war will now no longer be just a televised event for Russians, but will enter real life.
Nothing will change for Ukrainians, who will continue to fight for the liberation of their country, Zelensky said with conviction.
Referring to the UN General Assembly, Zelensky said Ukraine would now be supported by an even wider circle of states in the international community.(NAN)