Apapa Customs Facilitates Export Worth $641m
From Anthony Nwachukwu, Lagos
Export goods totaling about 5,380, 000 metric tons, with Free on Board (FOB) value of $641 million (over N245 billion), were facilitated through the Apapa Port in Lagos in 2021 following the Federal Government's export incentive schemes and the Nigeria Customs Service (NCS) facilitation and automation of NXP and CCI.

Comptroller Yusuf Malanta Ibrahim of the Apapa Area Command disclosed this in Lagos Thursday, stating that the command's sustained trade facilitation strategies yielded positive impact on export trade through the Apapa Port, as it records a boom of about 110 per cent increase in tonnage above the 2020 figure in the export of non-oil commodities.
Malanta, who was reviewing the activities of the command in 2021, noted that the figure was in excess of the 1,300,000 metric tons exported in 2020, and its FOB value of $340 million, while the items included steel bars, agricultural and mineral products.
On revenue profile, he said the command collected approximately N870.4 billion, an increase of about 68 per cent compared to the N518.4 billion collected in 2020, adding that same has been remitted to government's federation and non-federation accounts.
This was "in spite of the enormous challenges faced in the trade supply chain, occasioned by Covid-19 pandemic still ravaging economies around the world; high cost of freight, incessant traffic gridlock, rail construction through the port, as well as ensuring
increase in compliance level from stakeholders."
Declaring 2022 as "a year of hope and high expectations, particularly with increase in the service revenue target to N4.1 trillion," he said the command was determined to do more and surpass its revenue target for 2022, by God's grace.
He added: "We hope that the service will surely leverage the deployment of digital transformation of customs business processes, which will further take care of many control mechanisms through its risk management system.
"This transformation will further harmonise the activities of our stakeholders toward a seamless ease of doing business in the port.
Meanwhile, Malanta explained that in line with extant circulars, trade guidelines and government fiscal policies, the command further strengthened its anti-smuggling operations against economic saboteurs through credible, intelligence-driven operations and partnership with other relevant agencies for effective port management in the period under review.
As a result, it made a total of 103 seizures, including the 46.55kg of cocaine concealed in Mv Karteria and Mv Chayanee Naree, which were laden with raw sugar, all with approximate Duty Paid Value (DPV) of N31.22 billion.
The other seized items included containers of foreign parboiled rice, tomato paste, second-hand clothes, unregistered pharmaceuticals like captagon pills, tramadol and codeine syrup, all of which were condemned by a competent court of law, while the suspects are still undergoing investigation and interrogation.
"For the avoidance of doubt, no matter whose ox is gored, the command is not going to tolerate any form of illicit behaviour in the trade supply chain," he warned. "We are not only going to expose these recalcitrant traders (importers and their cronies), we will also ensure that they are brought to book with maximum penalty under the laws of the land."
Malanta further commended the doggedness and tireless commitment of the officers and men of the command for the achievements.
Meanwhile, he said the command has "diligently strengthened our risk assessment capacity through forensic system audit and dispute resolution procedures in accordance with the World Customs Organisation (WCO) standard.
"Trade disputes were amicably resolved in an atmosphere that promoted compliance, with visible results in higher revenue indicating less cost of doing business and seizures.
"The command has also achieved a robust industrial harmony with all government agencies in the Apapa Port, especially our host, the Nigerian Ports Authority (NPA), other sister-agencies (DSS, NAFDAC, NDLEA and SON), as well as shipping lines and terminal operators, whose tremendous contributions have been a source of great success in the past year."
Lai Mohammed Plans Fact-finding on State of Petroleum Subsidy Removal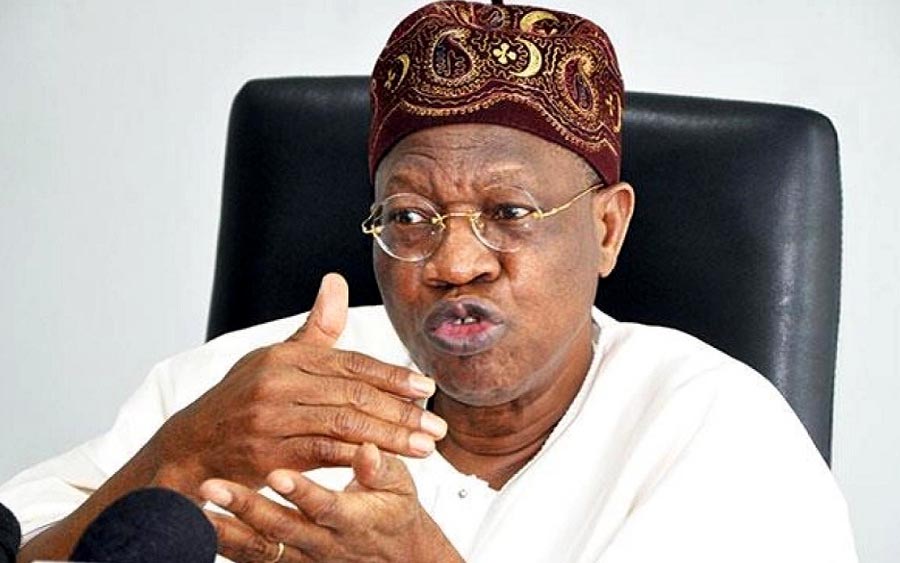 Minister of Information and Culture, Alhaji Lai Mohammed, has said he will need to consult with relevant agencies to know the exact position of government on whether or not fuel subsidy will be stopped this year.

Mohammed, who spoke with newsmen yesterday after the weekly virtual Federal Executive Council (FEC) meeting presided over by Vice-President Yemi Osinbajo at the State House, Abuja, explained that he was going to initiate a fact-finding process to determine the state of things on the removal of petroleum subsidy following the announcement Tuesday by Senate President, Dr Ahmad Lawan, that President Buhari had not told anyone to remove fuel subsidy.
When asked to clarity the issue since the 2022 budget has no subsidy provision beyond June 2022, the minister said he needed to consult with the relevant government agencies to determine the exact position of the subsidy removal question.
"As for the removal of fuel subsidy, I think you will give me time to consult with relevant departments and ministries and I will get back to you," he said.
Last October, the Minister of Finance, Budget and National Planning, Mrs. Zainab Ahmed, had announced that the federal government made provision for petrol subsidy only for the first six months of 2022 as the government looked towards a complete deregulation of the sector.
She had said: "In our 2022 budget, we only factored in subsidy for the first half of the year. The second half of the year, we are looking at complete deregulation of the sector, saving foreign exchange and potentially earning more from the oil and gas industry."
Reacting to Ahmed's position after meeting with President Muhammadu Buhari at the State House, Abuja on Tuesday, Senate President, Lawan, told newsmen that President Buhari had not directed anyone in his government to implement the removal of petroleum subsidy.
But he also conceded that subsidy was a big burden, noting that a solution had to be found to it.
"Well, it will be of interest to Nigerians to hear what I've come to discuss with Mr. President among several other things.
"Many of us are very concerned with the recent agitations, protests and many citizens were so concerned, our constituents across the country are very concerned that the federal government will remove the petroleum subsidy. And for us, as parliamentarians, as legislators representing the people of Nigeria, this must be of interest to us.
"And we've just finished our recess, we had gone home to our constituencies and senatorial districts. And we felt the pulse of our people. And I found it necessary to visit Mr. President, as the the leader of our government and our leader in the country, to discuss this particular issue of concern to Nigerians, and I'm happy to inform Nigerians that Mr. President never told anyone that the petroleum subsidy should be removed.
"I know and I agree that the subsidy is very heavy. But I think we must never transfer the burden to the citizens," he said.
Zulum Seeks Collective Fund-raising in Recharging Lake Chad & Hawul Basins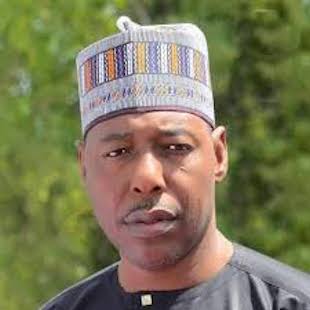 Borno State Governor, Babagana Zulum, has called for a collective fund raising that would be channeled towards recharging the Lake Chad and the Hawul Basins which have been the major sources of livelihood for about 30 million people before it receded by 90%.

Governor Zulum made the called on Tuesday, when he visited the Minister of Water Resources, Engineer Suleiman Adamu, at the ministry's headquarters in Abuja.
During the meeting which lasted for about an hour, Zulum noted that funds could be raised through collaborations with the United Nations regional stabilization facility, other foreign and Nigerian based development partners such as the Northeast Development Commission, as well as contributions from states within the Lake Chad region.
He noted that the funds would be channeled towards recharging the Lake Chad Basin which was a source of livelihood for about 30 million people before it receded by 90%.
Speaking on Hawul River Basin, Governor Zulum, a professor of Irrigation Engineering, suggested the possible use of distilling and suppressing vacuum techniques to expand the capacity of the basin, while promising Borno Government's support for urgent measures considered by the Federal Government.
"At our own level, we are ever ready to provide the needed political will to thrive these important projects", Zulum said.
Responding, the Water Resources Minister, Engineer Suleiman Adamu, assured the governor of President Buhari's commitment to reviving the Lake Chad.
He also promised that the ministry will henceforth shift focus from executing fragmented projects to a strategic and ambitious one that can make massive impact on the lives of people in Borno and rest of the Lake Chad region.
Governor Zulum was accompanied by the State Commissioner of Agriculture and Natural Resources, Engr. Bukar Talba.
Oil Thief Bags Two Years Jail Term in P/H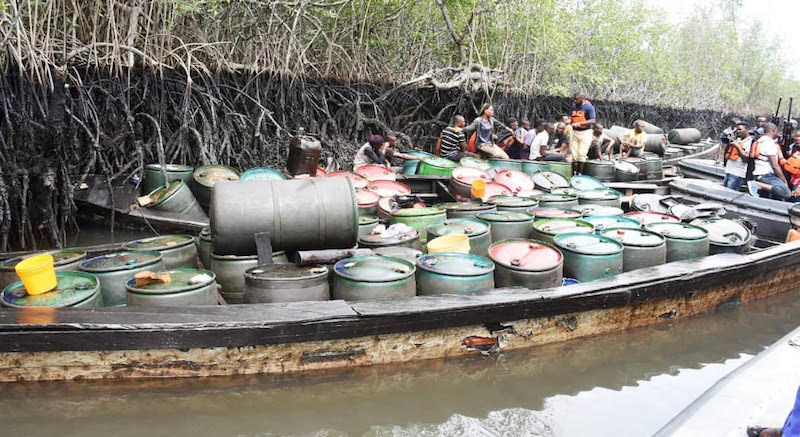 By Gom Mirian, Abuja
Justice E. A. Obile of the Federal High Court, Port Harcourt, Rivers State, has convicted and sentenced an oil thief, Francis Ezeakolam to two years imprisonment for illegally dealing in petroleum products without an appropriate licence.

Ezeakolam was convicted on Tuesday January 18, 2022 after pleading "guilty" to a one-count charge on illegal oil dealing.
The charge reads, "That you Francis Ezeakolam on or about the 9th May, 2021 at Port Harcourt, Rivers State within the jurisdiction of this honourable court did deal in petroleum product, to wit: 1,600 litres of Automotive Gas Oil (AGO) conveyed in a Volkswagen bus with registration number WER 473 ZZ which is not of good quality, contrary to Section 1 (18) (ii) of the Miscellaneous Offences Act, Cap M17, of the Revised Edition (Laws of the Federation of Nigeria) 2007 and punishable under Section 18 (1) (ii) of the same Act".
He pleaded "guilty" when the charge was read to him.
In view of his plea, prosecution counsel Ebiriukwu Deborah, led Prosecution Witness 1, Assistant Superintendent of the EFCC, Olawuyi Ridwan, to review the facts of the case. Ridwan told the court that, the defendant was arrested on May 9, 2021, through verified intelligence by operatives of the EFCC in an anti- bunkering operation around Borikiri/Aggrey Road, Port Harcourt, Rivers State for illegal dealing in petroleum products without an appropriate license
He explained further that: "The defendant was also arrested alongside a Volkswagen bus with registration number WER 473 ZZ and Nissan Bus with registration number AE 974 BND while transloading products suspected to be illegally refined Automotive Gas Oil (AGO) packed in cellophane bags".
Counsel to the defendant, Francis Echiane prayed the court to temper justice with mercy, stressing that the defendant "is a first- time offender and does not have previous criminal records. In addition, he has learnt his lessons. He is married with children. His wife and children will have no one to provide for them".
Justice Obile convicted and sentenced the defendants to two years imprisonment with an option of fine of N200, 000.00. He ordered that the 1,600 litres of illegally- refined Automotive Gas Oil (AGO) be forfeited to the Federal Republic of Nigeria and subsequently destroyed. He also ordered that the evidence of destruction of the forfeited products be filed in the court.
This is in addition to an undertaking of good behaviour to be signed by the convict.