Breaking: Obasanjo writes PMB open letter [Full Text]
Dear President and General Buhari,
OPEN LETTER TO PRESIDENT, GENERAL MUHAMMADU BUHARI
I am constrained to write to you this open letter. I decided to make it an open letter because the issue is very weighty and must be greatly worrisome to all concerned Nigerians and that  means all right-thinking Nigerians and those resident in Nigeria.
Since the issue is of momentous concern to all well-meaning and  all right-thinking  Nigerians, it must be of great concern to you, and collective thinking and dialoguing  is the best way of finding  an appropriate and adequate  solution  to the  problem.   The contents of this letter, therefore, should be available  to all those who can help in proffering effective solutions  for the problem of insecurity  in the land.
One of the spinoffs and accelerants is the misinformation and disinformation through the use of  fake news. A number of articles, in recent days, have been attributed to me by some people who I believe may be seeking added credence and an attentive audience for their opinions and view-points. As you know very well, I will always boldly own what I say and disown what is put into my mouth. But the issue I am addressing here is very serious; it is the issue of life and death for all of us and for our dear country, Nigeria.  This issue can no longer be ignored, treated with nonchalance,  swept under the carpet  or treated with cuddling  glove.  The issue is hitting at the foundation of our existence as Nigerians and fast eroding the root of our Nigerian community. I am very much worried and afraid that we are on the precipice and dangerously reaching a tipping point where it may no longer be possible to hold danger at bay.  Without being immodest, as a Nigerian who still bears the scar of the Nigerian civil war on my body and with a son who bears the scar of fighting Boko Haram on his body, you can understand, I hope, why I am so concerned.  When people are desperate and feel that they cannot have confidence in the ability of government to provide security for their lives and properties, they will take recourse to anything and everything that can guarantee their security individually and collectively.
For over ten years, for four of which you have been the captain of the ship, Boko Haram has menacingly ravaged the land and in spite of  government's claim of victory  over Boko Haram, the potency and the activities of Boko Haram, where they are active, remain undiminished, putting lie to government's claim. The recent explanation of the Chief of Army Staff for non-victory due to lack of commitment and lack of motivation on the part of troops bordering on sabotage speaks for itself. Say what you will, Boko Haram is still a daily issue of insecurity for those  who are victimised,  killed, maimed, kidnapped, raped, sold into slavery and forced into marriage  and for children forcibly recruited into  carrying bombs on them to detonate among crowds of people to cause maximum destructions and damage. And Boko Haram will not go away on the basis of sticks alone, carrots must overweigh sticks.  How else do you deal with issues such as only about 50% literacy in North-East with over 70% unemployment?
Herdsmen/farmers crises and menace started with government treating the issue with cuddling glove instead of hammer.  It has festered and spread. Today, it has developed into banditry, kidnapping, armed robbery and killings all over the country. The unfortunate  situation is that the criminality is being perceived as a 'Fulani' menace  unleashed  by Fulani  elite in the different parts of the country for a number of reasons  but even more  unfortunately, many Nigerians  and non-Nigerians who are friends of Nigeria attach vicarious  responsibility  to you as a  Fulani elite and the current captain of the Nigeria ship. Perception may be as potent as reality at times.  Whatever may be the grievances of Fulanis, if any, they need to be put out in the open and their  grievances, if legitimate, be addressed; and if other ethnic groups have grievances, let them also be brought out in the open and addressed through debate and dialogue.
The main issue, if I may dare say, is poor management or mismanagement of diversity which, on the other hand, is one of our greatest and  most important assets.  As a result, very onerous cloud is gathering.  And rain of destruction, violence, disaster and disunity can only be the outcome.  Nothing should be taken for granted, the clock is ticking with the cacophony of dissatisfaction and disaffection everywhere in and  outside the country. The Presidency and the Congress in the US have signalled to us to put our house in order. The House of Lords in the UK had debated the Nigerian security situation. We must understand and appreciate the significance, implication and likely consequences of such concerns and deliberations.
No one can stop hate speech, violent agitation and smouldering violent agitation if he fans the embers of hatred, disaffection and violence.  It will continue to snowball until it is out of control.  A stich in time saves nine, goes the old wise saying.
With the death of Funke, Chief Fasoranti's daughter, some sympathetic Nigerian groups are  saying "enough is enough". Prof. Anya, a distinguished  Nigerian merit Laureate,  has this to say "We can no longer say with certainty that we have a nation".  Niger-Delta leaders, South-Eastern leaders, Middle-Belt leaders and Northern Elders Forum have not remained quiet.  Different ordinary Nigerians at home  and abroad are calling  for  different measures to  address or ameliorate  the situation. All the calls and cries can only continue to be ignored at the expense of Nigerian unity, if not its continued existence.
To be explicit and without equivocation, Mr. President and General, I am deeply worried about four avoidable calamities:
1. abandoning  Nigeria  into the hands of criminals who are  all being suspected, rightly or wrongly, as  Fulanis and terrorists of Boko Haram  type;
2. spontaneous  or planned reprisal attacks against Fulanis which  may inadvertently or advertently mushroom into  pogrom or Rwanda-type genocide that we did not believe could happen and yet it happened.
3. similar attacks against any other tribe or ethnic group anywhere in the country initiated  by rumours, fears, intimidation and revenge capable of leading to pogrom;
4. violent uprising  beginning  from one section  of the country  and spreading  quickly  to other areas  and leading to dismemberment  of the  country.
It happened to Yugoslavia not too long ago. If we do not act now, one or all of these scenarios may happen. We must pray and take effective actions at the same time. The initiative is in  the hands of the President  of the nation, but he cannot do it  alone.  In my part of the world, if you  are sharpening your  cutlass and a mad man comes from behind to take the cutlass from you, you need other people's assistance to have your cutlass back without being harmed. The mad men with serious criminal intent and terrorism as core value have taken cutlass of security.  The need for assistance  to regain control is obviously compelling and must be embraced now.
A couple of weeks ago at a public lecture, I had said, among other things, that:
"In all these issues of mobilisation for national unity, stability, security, cooperation, development, growth and progress, there is no consensus.  Like in the issue of security, government should open up discussion, debate and dialogue as part of consultation at different levels and the outcome of such deliberations should be collated to form inputs into a national conference to come up with the solution that will effectively deal with the issues and lead to rapid development, growth and progress which will give us a wholesome society and enhanced living standard and livelihood in an inclusive and shared society.  It will be a national programme.  We need unity of purpose and nationally accepted strategic roadmap that will not change with whims and caprices of any government.  It must be owned by the citizens, people's policy and strategy implemented by the government no matter its colour and leaning.
Some of the groups that I will suggest to be contacted are: traditional rulers, past heads of service (no matter how competent or incompetent they have been and how much they have contributed to the mess we are in), past heads of para-military organisations, private sector, civil society, community leaders particularly in the most affected areas, present and past governors, present and past local government leaders, religious leaders, past Heads of State, past intelligence chiefs, past Heads of Civil Service and relevant current and retired diplomats, members of opposition and any groups that may be deemed relevant."
The President must be seen to be addressing this issue with utmost seriousness and with maximum dispatch and getting all hands on deck to help.  If there is failure, the principal responsibility will be that of the President and no one else.  We need cohesion and concentration of effort and maximum force – political, economic, social, psychological and military – to deal successfully with the menace of criminality and terrorism separately and together.  Blame game among own forces must be avoided.  It is debilitating and only helpful to our adversary. We cannot dither anymore. It is time to confront this threat headlong and in a manner that is holistic, inclusive and purposeful.
For  the sake of Nigeria  and Nigerians,  I pray that God may grant you, as our President, the wisdom, the understanding, the political will and  the courage  to do what is right when it is right and without fear or favour.  May God save, secure, protect and bless Nigeria. May He open to us a window of opportunity that we can still use to prevent the worst happening.  As we say in my village, "May God forbid bad thing".
OLUSEGUN OBASANJO
July 15, 2019
Released by
Kehinde Akinyemi
Special Assistant Media.
Naira Scarcity: Queues Gradually Disappear As Bank ATMs Dispense Cash
By Tony Obiechina, Abuja
Following the injection of more Naira notes by the Central Bank of Nigeria (CBN) into commercial banks on Thursday, long queues have begun to whittle down at some of the banks in Abuja.
Daily Asset Correspondent who visited some of the banks located in Garki and Central Business District, observed that their Automated Teller Machines (ATMs) were dispensing Naira notes to customers.
The banks visited include, Guarantee TrustHolding Company (GTCO), United Bank for Africa, (UBA), First Bank and Union Bank.
Banks across the country opened their doors to customers for withdrawals and deposits, bringing an end to long queues and pains suffered as a result of the cash crunch.
The Central Bank of Nigeria (CBN) had directed all commercial banks to open for operation on Saturdays and Sundays.
This came after the apex Bank had confirmed the evacuation of banknotes from its vaults to commercial banks across the country as part of a coordinated effort to ease the circulation of banknotes of various denominations.
A bank staff confirmed to Daily Asset at the weekend, that her bank received N10 million to distribute to other branches. A customer said she withdrew N10,000 as there are no restrictions on the amount to withdraw.
The CBN had confirmed the evacuation of banknotes from its vaults to commercial banks across the country as part of a coordinated effort to ease the circulation of banknotes of various denominations.
INEC Distributes Sensitive Materials in Bayelsa


From Mike Tayese, Yenagoa
The Independent National Electoral Commission (INEC) Bayelsa state ahead of state Assembly Election on Saturday 18th March 2023 has distributed sensitive materials to the eight (8) local government area that make up the 24 constituencies in the state.
The materials which was distributed at the state Branch of the Central Bank of Nigeria witnessed Party agents and other political actors, thought journalists were not allowed into the premises to see for themselves the distribution process.
Speaking to journalists at the gate of CBN, INEC Head of Voters Education and Publicity, Wilfred Ifogah said, they were at the CBN to retrieve the sensitive materials which comprises result sheet and ballot papers for Bayelsa state House of Assembly Constituency elections.
He said for the local government on Land, their materials will get there today while that of Southern Ijaw and Brass local government area will be moved to INEC head office for onward movement Friday morning to the local government headquarters.
"We know in Bayelsa we are not having governorship election, so right now we are moving the materials to the various local government headquarters so that the distribution can be early enough on Saturday.
"We have 24 Constituencies in Bayelsa. Each of the local government has three except southern Ijaw, which has 4 and Kolokuma/ Opokuma with 2. All necessary arrangements have been put in place. BVAS has been reconfigured for this particular Election. So far so good we are good to go".
Ifogah said to make the system smoother, a refresher training for the supervisor presiding officers has been organized, saying hopefully that of collation officers will also take place.
"Just before today, we actually reviewed the election we had on the 25th and we look at some of the lapses and what actually caused them. As we speak today, we are trying to break the chain. That is why we are moving our materials early enough so that they can go to the various local government headquarters, especially those on lands.
"The result sheet of state Assembly Election also has a seal on it, thought the seal is different from that of presidential election. This is to prevent people that want to be funny possibly want to compromise having seen that of the presidential. We don't play with that at all, so we design a different seal for this particular one," Ifogah said.
One of the party agent comrade Martins Bago who spoke with Journalists said, they went inside and inspect the materials and from there finding, constituency 2 has 8 cartoons, constituency 1is 11 cartoons while constituency 3 also has 11 cartoons totaling 30 cartoons.
"I want to believe that the materials are correct, we are moving them to Sagbama to separate them and send them to various wards to see how complete they are".
Also speaking, the state chairman of New Nigerian People's Party, comrade Joel Tubonimi, said the materials were already parked before they got there but that they insisted that all materials must be dropped down for proper inspection to know whether they are correct before moving them out which they actually inspected for confirmation.
He said they insisted because of what happened during the presidential election where some result sheet were missing. 
"So we insisted that we want to see everything and we were showed some of them. At Sagbama our agents are also going to inspect the materials again to make sure nothing has happened in the course of transit".
"We hope that INEC will keep to their promise by giving us free, fair and credible election on Saturday because we were not satisfied with the presidential election and others".
Commonwealth Day: Minister Calls for Peace, Unity and Prosperity among Commonwealth Nations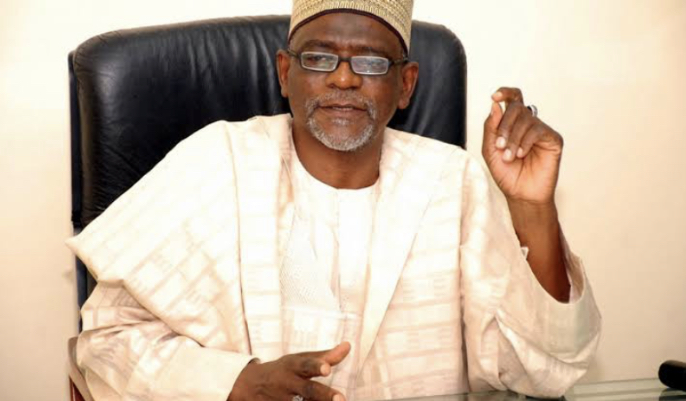 By Evelyn Terseer – Abuja
The Minister of Education, Mallam Adamu Adamu has called for increased actions and steps that would help promote peace, unity and prosperity among commonwealth nations
Adamu stressed the need for all countries of the commonwealth to look out for the welfare and wellbeing of member countries of the commonwealth for inclusive growth and prosperity.
He said: "Like we all know, the existence of peace in any space of human aggregation or nation translates to progress, wealth and tranquility.
It enhances positive outcomes in trade, investment, human rights, democratic governance, quality education, digitized learning and most importantly entrenches equity and equality, which in Nigeria and most Commonwealth means empowerment of youths, women and the girl-child
"As we celebrate, it is important we remind ourselves that the prosperity, peace and security is a collective responsibility and requires mutual commitment and perseverance.
The commemoration of the year 2023 Commonwealth Day is a re-awakening call that the promotion of unity, love, peace and prosperity is the foundation of development for our country in particular and the body of commonwealth nations in general."
Director, Education Support Services, Federal Ministry of Education, Dr. L.I Giginna, in her remarks, said that this year's event is unique being the first after His Majesty, Prince Charles III acceded to the throne as King of the United Kingdom after the demise of the venerated Queen Elizabeth II, his Mother.
"Today marks a decade of signing the Commonwealth Charter that positioned Commonwealth nations as the golden globe and the year declared specially for the youths by Commonwealth Heads of Government.
"Federal Ministry of Education promotes the commemoration of Commonwealth Day every year not just to highlight the historical ties and evolution to the present status of equity in diversity by member nations, but to also model the vision of unity and peace envisaged for Nigeria due to our diverse socio-economic and cultural background.
"We want to forge a common future devoid of tribalism, violence, incessant attacks on students and teachers, destruction of education infrastructure, among others. The Commonwealth vision projects mutual respect for one and all, a virtue worthy of emulation by adolescents and young people for sustainable peace and harmony to prevail."
Meanwhile, a message from Buckingham Palace, King Charles, noted that the myriad connections between commonwealth nations have sustained and enriched the countries for more than seven decades, stressing that commitment to peace, progress and opportunity will sustain the nations for many more years to come.
King Charles said: "Commonwealth Day was an occasion of particular pride for my beloved Mother. The late Queen. It's a treasured opportunity to celebrate our Commonwealth family, to whose service she dedicated her long and remarkable life.
"In succeeding Her Majesty as Head of the Commonwealth, I draw great strength from her example, together with all that I have learnt from the extraordinary people I have met, throughout the Commonwealth, over so many years.
"The Commonwealth has been a constant in my own life, and yet its diversity continues to amaze and inspire me. Its near-boundless potential as a force for good in the world demands our highest ambition. Its sheer scale challenges us to unite and be bold
"This week marks the 10th anniversary of the Charter of the Commonwealth, which gives expression to our defining values, peace and justice; tolerance, respect and solidarity; care for our environment, and for the most vulnerable among us."