Breaking: Obasanjo writes PMB open letter [Full Text]
Dear President and General Buhari,
OPEN LETTER TO PRESIDENT, GENERAL MUHAMMADU BUHARI
I am constrained to write to you this open letter. I decided to make it an open letter because the issue is very weighty and must be greatly worrisome to all concerned Nigerians and that  means all right-thinking Nigerians and those resident in Nigeria. Since the issue is of momentous concern to all well-meaning and  all right-thinking  Nigerians, it must be of great concern to you, and collective thinking and dialoguing  is the best way of finding  an appropriate and adequate  solution  to the  problem.   The contents of this letter, therefore, should be available  to all those who can help in proffering effective solutions  for the problem of insecurity  in the land.
One of the spinoffs and accelerants is the misinformation and disinformation through the use of  fake news.
A number of articles, in recent days, have been attributed to me by some people who I believe may be seeking added credence and an attentive audience for their opinions and view-points. As you know very well, I will always boldly own what I say and disown what is put into my mouth. But the issue I am addressing here is very serious; it is the issue of life and death for all of us and for our dear country, Nigeria.  This issue can no longer be ignored, treated with nonchalance,  swept under the carpet  or treated with cuddling  glove.  The issue is hitting at the foundation of our existence as Nigerians and fast eroding the root of our Nigerian community. I am very much worried and afraid that we are on the precipice and dangerously reaching a tipping point where it may no longer be possible to hold danger at bay.  Without being immodest, as a Nigerian who still bears the scar of the Nigerian civil war on my body and with a son who bears the scar of fighting Boko Haram on his body, you can understand, I hope, why I am so concerned.  When people are desperate and feel that they cannot have confidence in the ability of government to provide security for their lives and properties, they will take recourse to anything and everything that can guarantee their security individually and collectively.
For over ten years, for four of which you have been the captain of the ship, Boko Haram has menacingly ravaged the land and in spite of  government's claim of victory  over Boko Haram, the potency and the activities of Boko Haram, where they are active, remain undiminished, putting lie to government's claim. The recent explanation of the Chief of Army Staff for non-victory due to lack of commitment and lack of motivation on the part of troops bordering on sabotage speaks for itself. Say what you will, Boko Haram is still a daily issue of insecurity for those  who are victimised,  killed, maimed, kidnapped, raped, sold into slavery and forced into marriage  and for children forcibly recruited into  carrying bombs on them to detonate among crowds of people to cause maximum destructions and damage. And Boko Haram will not go away on the basis of sticks alone, carrots must overweigh sticks.  How else do you deal with issues such as only about 50% literacy in North-East with over 70% unemployment?
Herdsmen/farmers crises and menace started with government treating the issue with cuddling glove instead of hammer.  It has festered and spread. Today, it has developed into banditry, kidnapping, armed robbery and killings all over the country. The unfortunate  situation is that the criminality is being perceived as a 'Fulani' menace  unleashed  by Fulani  elite in the different parts of the country for a number of reasons  but even more  unfortunately, many Nigerians  and non-Nigerians who are friends of Nigeria attach vicarious  responsibility  to you as a  Fulani elite and the current captain of the Nigeria ship. Perception may be as potent as reality at times.  Whatever may be the grievances of Fulanis, if any, they need to be put out in the open and their  grievances, if legitimate, be addressed; and if other ethnic groups have grievances, let them also be brought out in the open and addressed through debate and dialogue.
The main issue, if I may dare say, is poor management or mismanagement of diversity which, on the other hand, is one of our greatest and  most important assets.  As a result, very onerous cloud is gathering.  And rain of destruction, violence, disaster and disunity can only be the outcome.  Nothing should be taken for granted, the clock is ticking with the cacophony of dissatisfaction and disaffection everywhere in and  outside the country. The Presidency and the Congress in the US have signalled to us to put our house in order. The House of Lords in the UK had debated the Nigerian security situation. We must understand and appreciate the significance, implication and likely consequences of such concerns and deliberations.
No one can stop hate speech, violent agitation and smouldering violent agitation if he fans the embers of hatred, disaffection and violence.  It will continue to snowball until it is out of control.  A stich in time saves nine, goes the old wise saying.
With the death of Funke, Chief Fasoranti's daughter, some sympathetic Nigerian groups are  saying "enough is enough". Prof. Anya, a distinguished  Nigerian merit Laureate,  has this to say "We can no longer say with certainty that we have a nation".  Niger-Delta leaders, South-Eastern leaders, Middle-Belt leaders and Northern Elders Forum have not remained quiet.  Different ordinary Nigerians at home  and abroad are calling  for  different measures to  address or ameliorate  the situation. All the calls and cries can only continue to be ignored at the expense of Nigerian unity, if not its continued existence.
To be explicit and without equivocation, Mr. President and General, I am deeply worried about four avoidable calamities:
1. abandoning  Nigeria  into the hands of criminals who are  all being suspected, rightly or wrongly, as  Fulanis and terrorists of Boko Haram  type;
2. spontaneous  or planned reprisal attacks against Fulanis which  may inadvertently or advertently mushroom into  pogrom or Rwanda-type genocide that we did not believe could happen and yet it happened.
3. similar attacks against any other tribe or ethnic group anywhere in the country initiated  by rumours, fears, intimidation and revenge capable of leading to pogrom;
4. violent uprising  beginning  from one section  of the country  and spreading  quickly  to other areas  and leading to dismemberment  of the  country.
It happened to Yugoslavia not too long ago. If we do not act now, one or all of these scenarios may happen. We must pray and take effective actions at the same time. The initiative is in  the hands of the President  of the nation, but he cannot do it  alone.  In my part of the world, if you  are sharpening your  cutlass and a mad man comes from behind to take the cutlass from you, you need other people's assistance to have your cutlass back without being harmed. The mad men with serious criminal intent and terrorism as core value have taken cutlass of security.  The need for assistance  to regain control is obviously compelling and must be embraced now.
A couple of weeks ago at a public lecture, I had said, among other things, that:
"In all these issues of mobilisation for national unity, stability, security, cooperation, development, growth and progress, there is no consensus.  Like in the issue of security, government should open up discussion, debate and dialogue as part of consultation at different levels and the outcome of such deliberations should be collated to form inputs into a national conference to come up with the solution that will effectively deal with the issues and lead to rapid development, growth and progress which will give us a wholesome society and enhanced living standard and livelihood in an inclusive and shared society.  It will be a national programme.  We need unity of purpose and nationally accepted strategic roadmap that will not change with whims and caprices of any government.  It must be owned by the citizens, people's policy and strategy implemented by the government no matter its colour and leaning.
Some of the groups that I will suggest to be contacted are: traditional rulers, past heads of service (no matter how competent or incompetent they have been and how much they have contributed to the mess we are in), past heads of para-military organisations, private sector, civil society, community leaders particularly in the most affected areas, present and past governors, present and past local government leaders, religious leaders, past Heads of State, past intelligence chiefs, past Heads of Civil Service and relevant current and retired diplomats, members of opposition and any groups that may be deemed relevant."
The President must be seen to be addressing this issue with utmost seriousness and with maximum dispatch and getting all hands on deck to help.  If there is failure, the principal responsibility will be that of the President and no one else.  We need cohesion and concentration of effort and maximum force – political, economic, social, psychological and military – to deal successfully with the menace of criminality and terrorism separately and together.  Blame game among own forces must be avoided.  It is debilitating and only helpful to our adversary. We cannot dither anymore. It is time to confront this threat headlong and in a manner that is holistic, inclusive and purposeful.
For  the sake of Nigeria  and Nigerians,  I pray that God may grant you, as our President, the wisdom, the understanding, the political will and  the courage  to do what is right when it is right and without fear or favour.  May God save, secure, protect and bless Nigeria. May He open to us a window of opportunity that we can still use to prevent the worst happening.  As we say in my village, "May God forbid bad thing".
OLUSEGUN OBASANJO
July 15, 2019
Released by
Kehinde Akinyemi
Special Assistant Media.
Plateau PDP Set to Receive Atiku, Governors, National Leaders in Jos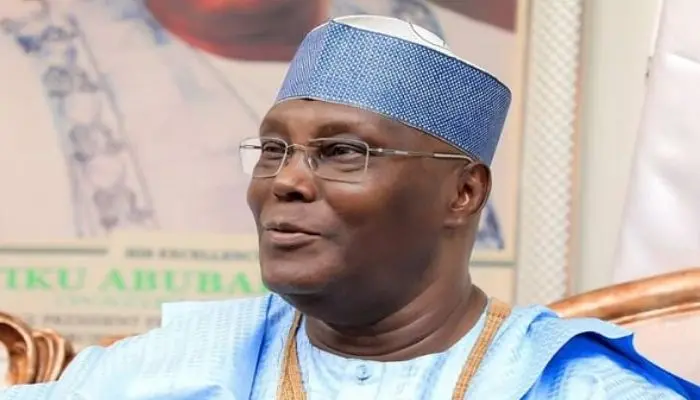 From Jude Dangwam, Jos
The Chairman of the Peoples Democratic Party (PDP) Plateau State Chapter Hon. Christopher Hassan has disclosed that all is now set for the state to receive the Presidential candidate of the party, Alh. Atiku Abubakar, his Vice Sen. Ifeanyi Okowa alongside governors and other national leaders of the PDP to Jos for the presidential campaign flag-off.
He said the flag-off will enable the Presidential candidate of the party to interact with Plateau people who are driven by a conscious and patriotic zeal to reverse the downward slide that has become the order of the day at the federal and state level in the last seven and half years of the All Progressives Congress (APC) administration by voting PDP from top to bottom in the general elections.
The State Chairman made this known yesterday while addressing a press conference at the PDP Secretariat in Jos the State Capital.
Explaining that the flag off is to hold at the Rwang Pam Township Stadium having followed all proceedings of applications by the Party.
In his words, "We are by the special grace of God, flagging off our Presidential campaign on Tuesday 13th day of December, 2022 which our incoming President of the Federal Republic of Nigeria, His Excellency Alh. Atiku Abubakar will be in Jos to meet and interact with Plateau people.
"Gentleman of the press, let me state here unequivocally that we are setting out well prepared, with vision of the time is now to genuinely rescue and rebuild Plateau state.
"We are driven by a conscious and patriotic zeal to reverse the downward slide that has become the order of the day in the State in the last seven and half years."
He said the party is going into elections as a strong indivisible family, "It is worthy to note that the party is facing the 2023 election on a clean slate and we shall come out victorious.
"Even the status of the state executive has been cleared with the judgement delivered by Justice D. V. AGISHI which clearly put to rest the non-compliance with Gangs Judgement a thing of the past" in the state.
Hassan reiterated, "It is instructive to state clearly that the repeat State Congress held on the 25/9/2021 is not challenged by any party faithful in court.
"The party was at a time plunged into induced crises after some aggrieved members through the sponsorship of the All Progressives Congress infiltrated the party, seeking the soul of the party using various means media war and court in the bid to destroy it.
"But to God be the glory a sigh of relief was brought into the party when the final case touching its soul was dismissed at the Jos Federal High Court removing all legal impediments and setting the course clear for the party to face the electorates," joyfully stated.
Naira Redesign: CBN Pegs Individual Withdrawals Over Counter at N100,000
By Tony Obiechina, Abuja
Following the Naira Redesign, the Central Bank of Nigeria (CBN) has directed that the maximum cash withdrawal over the counter by individuals and corporate organizations per week shall henceforth be N100,000 and N500,OOO respectively.
The directive was contained in a circular issued on Tuesday by the Director of Banking Supervision, Mr Haruna Mustafa and addressed to all Deposit Money Banks (DMBS) and Other Financial Institutions; Payment Service Banks (PSBs); Primary Mortqaqe Banks (PM3s) and Microfinance Banks (MFBs), takes effect from January, 9, 2023.
CBN Governor, Mr Godwin Emefiele had announced that the newly designed naira notes to be unveiled are N1,000, N500 and N200 notes, effective December 15, 2022, while deadline of January 31, 2023 would be for the withdrawal of the old notes.
The Circular which pointed out that the directive was also in line with the Cashless policy of the CBN, said, "Withdrawals above these limits shall attract processing fees of 5% and 10%, respectively".
According to the circular, third party cheques above N50,OOO will not be eligible for payment over the counter, while extant limits of El on clearing cheques still subsist, while the maximum cash withdrawal per week via Automated Teller Machine (ATM) shall be NI00,000 subject to a maximum of N20,000 cash withdrawal per day.
The circular further reads: "Only denominations of N200 and below shall be loaded into the ATMs; the maximum cash withdrawal via point of sale (POS) terminal shall be N20,000 daily.
"In compelling circumstances, not exceeding once a month, where cash withdrawals above the prescribed limits is required for legitimate purposes, such cash withdrawals shall not exceed and for individuals and corporate organisations, respectively, and shall be subject to the referenced processing fees in (I) above, in addition to enhanced due diligence and further information requirements".
The circular further directed the banks to obtain the following information at the minimum and upload same on the CBN portal created for the purpose:
*Valid means of identification of the payee (National ID, International Passport, Driver's License).
*Bank Verification Number (BVN) of the payee.
*Notarized customer declaration of the purpose for the cash withdrawal.
*Senior management approval for the withdrawal by the Managing Director of the drawee, where applicable.
*Approval in writing by the MD/CEO of the bank authorising the withdrawal.
The Apex Bank also directed that monthly returns on cash withdrawal transactions above the specified limits should be rendered to the Banking Supervision Department.
The circular also stated:
"Compliance with extant AML/CFT regulations relating to KYC, ongoing customer due diligence and suspicious transaction reporting etc. is required in all circumstances.
"Customers should be encouraged to use alternative channels (internet banking, mobile banking apps, USSD, cards/POS, eNaira, etc.) to conduct their banking transactions".
The Apex Bank then warned "that aiding and abetting the circumvention of this policy will attract severe sanctions".
Al Jazeera Files ICC Case over Journalist's Killing
The Al Jazeera network has submitted a case against Israeli forces at the International Criminal Court (ICC) over the killing of Shireen Abu Aqla.
The Palestinian-American journalist was shot in the head during an Israeli army raid in the occupied West Bank in May.
The Israeli military concluded that one of its soldiers probably killed her, but called her death unintentional.
Al Jazeera said that was completely unfounded and that its evidence showed it was a "deliberate killing".
Outgoing Israeli Prime Minister Yair Lapid said: "No-one will investigate [Israel Defense Forces] soldiers and no-one will preach to us about morals in warfare, certainly not Al Jazeera."
Israel does not recognise the ICC's authority and has refused to co-operate with an investigation by the Hague-based court's prosecutor into possible war crimes in the occupied territories.
Shireen Abu Aqla, who was 51, went to the Jenin refugee camp on 11 May to report for Al Jazeera's Arabic TV channel on an Israeli raid which had seen gun battles break out between soldiers and Palestinian militants.
She was wearing a helmet and blue flak jacket marked with the word "press" when she was killed while walking along a road with other journalists, one of whom was also shot and wounded.
Journalists, bystanders and Palestinian officials said the gunfire came from Israeli troops stationed about 200m (656ft) away – allegations which was later backed by investigations by the UN and multiple media organisations.
The Israel Defense Forces (IDF) initially said that it was not possible to know who killed Abu Aqla. But in September a senior official told journalists that there was a high probability that she was shot "by mistake by an IDF soldier, and of course he didn't identify her as a journalist".
Al Jazeera, which is based in Doha and funded by the Qatari state, said in a statement on Tuesday that its legal team had conducted a detailed investigation into the killing and "unearthed new evidence", including eyewitness accounts and multiple videos.
"Al Jazeera has highlighted in its submission to the ICC Prosecutor that the new witness evidence and video footage clearly show that Shireen and her colleagues were directly fired at by the Israeli Occupation Forces (IOF)," it said.
"The claim by the Israeli authorities that Shireen was killed by mistake in an exchange of fire is completely unfounded.
"The evidence presented to the Office of the Prosecutor (OTP) confirms, without any doubt, that there was no firing in the area where Shireen was, other than the IOF [Israeli Occupation Forces] shooting directly at her. The journalists were in full view of the IOF as they walked as a group slowly down the road with their distinctive media vests, and there were no other persons in the road."