Buhari Leaves For Japan to Attend TICAD7
President Muhammadu Buhari will depart Abuja Sunday for Japan to participate in the Seventh Tokyo International Conference on African Development (TICAD7) holding in the City of Yokohama, August 28-30, 2019.
A statement by Femi Adesina, Special Adviser on Media and Publicity on Friday, said President Buhari's participation will be his second, having attended TICAD6 in Nairobi, Kenya, in August 2016.

The conference , which has as theme, "Africa and Yokohama, Sharing Passion for the Future," will be opened by the Japanese Prime Minister and host, Shinzo Abe.
President Buhari will deliver Nigeria's Statement during Plenary Session Three in which he will appraise Nigeria-Japan relations and takeaways from TICAD6.
The statement also said Buhari will will attend a State Banquet and also honour the invitation of Emperor Naruhito to a Tea Reception at the Imperial Palace, Tokyo.
In addition to a bilateral meeting with Prime Minister Abe, the Nigerian President will also attend some side-events and meet chief executive officers of some Japanese companies with huge investments in Nigeria.
Formed in 1993, the now triennial TICAD, which has been convened alternately in Japan and Africa since TICAD6, according to the organisers, is the largest international conference held in Japan which "provides an open forum that generates innovative discussion among various stakeholders on African development." Participants are drawn not only from African countries, but also international organisations, private companies and civil society organisations involved in development.
TCAD7 is expected to focus on Africa's "economic transformation and improvements in business environment and institution through private investment and innovation; promotion of resilient and sustainable African society for human security; and peace and stability in support of Africa's domestic proactive efforts."
Nigeria has gained tremendously since her participation in TICAD6 at the highest level, during which Japan pledged $30 billion investment "for the future of Africa combined with the private sector;" $10 billion infrastructure investment, and $500 million for vocational training of 50,000 Africans.
Since the Nairobi Conference, Japanese government and companies have been very active in supporting Nigeria's agriculture, healthcare, electricity and youth empowerment.
President Buhari and his delegation are expected in Yokohama to push for broader Japanese assistance in the areas of science and technology, innovation, human resource development, education, agriculture, power, health and disaster risk reduction, among others.
President Buhari will be accompanied by Governors Babagana Zulum, AbdulRaham AbdulRazaq and Babajide Sanwo-Olu of Borno, Kwara and Lagos States respectively; ministers and other top government officials.
The President is expected back in Nigeria on Saturday, August 31.
Biden Announces Expansion of U.S. Military Presence in Europe
The U.S. military presence in Europe is set for a long-term expansion, U.S. President Joe Biden says.
"We're going to make up sure that NATO is ready to meet threats from all directions across every domain, land, air and the sea,'' Biden said.
He spoke alongside alliance NATO Secretary-General Jens Stoltenberg at a summit of NATO leaders in Madrid.

Biden noted plans for increased U.S. troop deployments in the Baltics, the deployment of two squadrons of U.S. F35 fighters in Britain and additional air defences in Italy and Germany.
Biden also announced the establishment of a permanent headquarters for the U.S. Fifth Army corps in Poland.
The announcement followed a U.S. decision to up the number of U.S. destroyers based in Rota, Spain from four to six. (dpa/NAN)
Senate Wades into Ewkeremadu Saga, Sends Delegation to London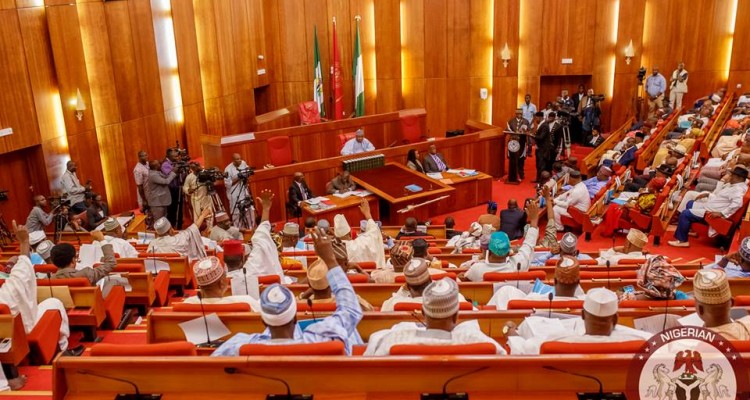 President of the Senate, Ahmad Lawan, has disclosed that a delegation from its Committee on Foreign Affairs would depart Nigeria for London on July 1, 2022, to pay a visit to Senator Ike Ekweremadu and his wife, who are both presently in detention over an allegation of organ harvesting. 

Lawan made this known on Wednesday, while giving details into the outcome of a closed session held by the upper chamber before the start of plenary proceedings.


The closed door session which started about 10:57 a.m ended at 11:49 a.m.
According to Lawan, the decision to wade into Ekweremadu's arrest and detention was against the backdrop of a briefing received by the Nigerian High Commissioner to London.

He further disclosed that the Senate would engage the Ministry of Foreign Affairs and Nigerian High Commission in London on the recent arrest of Senator Ike Ekweremadu by the London Metropolitan Police in the United Kingdom.

He said, "I had a personal engagement with our Nigerian High Commissioner to Britain, Alhaji Isola Sarafa, who has done so well to establish contact with our colleague, who has been able to get his team to be in the court at Uxbridge  where Ekweremadu was taken to.

"The high Commission has also been able to provide some consular services that include the engagement of some lawyers who will defend our colleague.
"We commend them for giving attention to the issue at stake. Equally, the Nigeria Foreign Affairs Minister has been engaged here, so that the Ministry of Foreign Affairs takes steps to provide diplomatic support for our colleague. 

"Because this issue is already in court, we have limited opportunity to discuss beyond what we have done so far.

"But I want to ensure the family of our colleague, Senator Ike Ekweremadu and Nigerians, that the Senate will continue to engage with our ministry of foreign affairs as well as our high commission in London. 

"The High Commission has done so much but we still expect that it will continue to provide any other further consular services.

"We have also mandated our committee on foreign affairs to engage with the British high commission here in Nigeria, to find more details on this case, as  as far as the high commission is involved.

"There will be a delegation to London to see Senator Ike Ekweremadu and his wife. A delegation from the Senate Committee on Foreign Affairs of the Senate will leave in the next two days to London for that purpose.

"I want to urge all all federal government institutions that can do anything to ensure that Justice prevails in this case, that they do so."
Reps Urge Foreign Affairs Ministry to Provide Ekweremdu with Consular Support
The House of Representatives has urged the Federal Ministry of Foreign Affairs and Nigeria's High Commission to the UK to ensure embattled Sen. Ike Ekweremadu and his wife, Beatrice are provided with all consular services they require.
The resolution was sequel to a unanimous adoption of a motion by Rep. Abdullahi Abdulkadir (APC-Bauchi) at the plenary on Tuesday.

Moving the motion earlier, Abdulkadir said he is concerned, the arrest of Ekweremadu a Nigerian citizen, a serving senator, a former Deputy President of Senate and former Deputy Speaker of the ECOWAS Parliament by the metropolitan police in the United Kingdom.
He said Ekweremadu and his wife Beatrice were arrested at the London Heathrow Airport, on their arrival from Nigeria to the United Kingdom.
According to him, the Metropolitan police and the Crown Prosecution Service (CPS) have since charged the Ekweremadus of offences relating to human traficking and exploitation.
Abdulkadir said that the Nigerian lawmaker and his spouse had been detained pending the determination of the jurisdiction issues by the Attorney-General of England and Whales.
"Concerned that the additional information emerging from the Nigerian Immigration Service (NIS) and other legitimate sources including the visa issuing protocols at the UK High Commission.
"Bank verification number (BVN) suggest a different narrative which might not have been available to the metropolitan police at the time of arrest and charge.
"Hopeful that the authority in the United Kingdom will work with their national security and intelligence counterpart in Nigeria to conduct a holistic and thorough investigation to ascertain all the facts relating to the allegation in order to make a fair determination on the issues in the best interest of equity and justice for all concerned
"I am confident that the Federal Government of Nigeria will, through the respective organs of government, use all available tools to ensure that the investigation and outcome of this will be conducted in the highest fidelity to the rule of law and with respect to the dignity of the person as enshrined in the European Convention of human rights which the United Kingdom is a signatory.
"We are aware of Ekweremadu's unblemished record as a constitutional lawyer, ranking legislator at the highest level in Nigeria, the West Africa subregion and various international parliamentary bodies and foremost advocate of the right and dignity of man.
"Also aware that Mrs Ekweremadu has had a flawless career in the Nigerian federal public service rising to the rank of director," he said.
Abdulkadir said that it is important to be mindful of the value of human life as it was imperative that Miss Ekweremadu who has a life threatening ailment is not allowed to come to harms way due to the unavailability of parental care owing to the continuous detention of her parents.
The lawmakers requested that the agencies of government and corporate bodies and particularly the National Identity Commission (NIMC), Nigerian Immigration Service and banks, act swiftly to respond to legitimate request for information to facilitate the prompt resolution of the charges against Ekweremadu.
The house resolved to invite the Minister of Foreign Affairs, acting Comptroller of the Nigerian Immigration Service, Director-General of NIMC to brief the house through the relevant committees on all necessary actions taken regarding the matter.
In his ruling, the Speaker, Femi Gbajabiamila said that a criminal charge does not constitute a conviction or conclusive proof of guilt.
According to him, this is merely the beginning of the judicial process to substantiate the fact of the allegation and gather sufficient evidence to sustain the charges therein.
"Until that process is concluded and even then, let us keep in mind that at the heart of this matter, there are human beings and fellow citizens whose lives have taken a turn none of us would ever wish for ourselves," he said. (NAN)