Communities Demand N86b From Oil Companies in Imo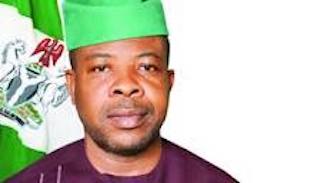 From Marcel Duru, Owerri
The communities of Oil Producing Areas in Ohaji-Egbema and Oguta Local government Areas of Imo State are demanding over N86billion from oil companies for compensation over environmental degradation or face quit order.
Speaing with DAILY ASSET in Asaa, Awarra Ohaji Egbema Local government area, Chief John Okereke, who identified himself as one of the community leaders in the area said that the Oil producing communities in Imo State have been polluted and degraded by the activities of Oil Companies  operating in the area, which include Shell Petroleum Development Company (SPDC), Chevron Oil Company, Agip, Adax and Walter Smith, which he alleged have caused unending neglect, suffered by Oil Producing communities.
He further disclosed that since their inception, the local communities where the oil was being drilled have suffered total neglect.
"People from these communities don't even have access to basic necessities of life such as skill acquisition of Youth, portable drinking water, health centres, hospitals, good road network and modern structures in primary and secondary  institutions in the areas.
Okereke also revealed that Oil companies have exposed their land to incessant flooding and landslide as a result of high degraded environment.
"If they fail to comply with our demand, within the stipulated time frame, we will give them an irrevocable quit order", he stated.
Recently, the deputy governor of Imo State, Engr. Irona in a radio programme lambasted the Oil Companies in Ohaji-Egbema, Oguta Local government Areas, accusing them of causing the environmental degradation in the areas that exposed the communities to unending flood disaster any time there was heavy rainfall.
"The oil companies are the cause of incessant flooding in the oil communities and since the flood disaster in the areas, they have never come and show sympathy to any of the communities, it is a sheer wickedness" he told listeners.
The Deputy governor assured the people of Ohaji-Egbema and Oguta Local government Areas that the State government will do everything possible to ameliorate their conditions in no distant time.
Benue IDPs Hail Govt., Donor Agencies for Support
A cross section of Benue Internally Displaced Persons (IDPs) on Wednesday commended the  Benue Government and donor agencies for the continuous support to them in spite of the hash economic situation in the country.
The IDPs who spoke to the newsmen, commended the Federal and Benue State Governments for their various support over the years.
They said though they were still in the camps and facing numerous challenges, they still thanked God and commended those who continuously remembered them.
They said the State Government distributed relief materials to them monthly.
Newsmen reports that the Executive Secretary, Benue State Emergency Management Agency (SEMA), Dr Emmanuel Shior, had said the state had over two milliion IDPs due to herders' attacks and flood.
Newsmen further reports that the state has over 10 official camps across Guma, Makurdi, Logo, Agatu, Okpokwu, Gwer-West LGAs while many others were staying with people in the host communities where the camps are located.
At the Abagena IDPs Camp in Makurdi, Mama Mercy Igbawua, 69, commended the government, NEMA, donor agencies and individuals for their continuous support.
Mama Igbawua said that following the attack on her community close to Udei in Guma Local Government Area in 2017, she ran to the camp for safety.
According to Igbawua, the camp has become her home for the past five years adding that she lived and survived with the support from government, donor agencies and individuals.
She admitted that though they were to some extent, well taken care of, life at the camp was completely different from the outside.
Recalling the day of the attack, she said everything happened like a movie but it was true.
"I am from Udei axis from Guma LGA. I ran to the camp for safety in 2017 when the attackers took us by surprise.
"At first I thought it was hunters testing their guns. Then I saw people running while some were shouting and crying. Being this old, I was assisted by someone whom I cannot remember," she said.
She said she was very thankful of the assistance they were receiving from government, NEMA, donor agencies, NGOs and individuals.
Also Mr Daniel Terwase, 33, another victim, commended the government and organizations for their support to them.
He appealed to government for resettlement.
Mr Terwase, who is currently staying at the camp with his wife and 3 children, said they were tired of staying at the camp but their villages were still not safe for them to return.
"My brother, we are tired of life in the camp but we don't have any other alternative at the moment. NEMA, Benue Government and organizations are helping us with food and non food materials but there is no place like home.
"We cannot continue like this. We cannot continue staying at the camps forever. We need to return to our homes but the same homes are not safe for now." (NAN)
Tinubu Promises to Tackle Flooding, Donates N100 Million to Victims in Kogi
From  Joseph Amedu, Lokoja
The All Progressives Congress (APC) Presidential Candidate, Senator Bola Tinubu has promised to tackle flooding menace in Nigeria if given the mandate.
He also sympathized with flood victims in Kogi state with a donation of N100 million to them to cushion the effect of devastation.
He described the loss of lives and properties as unfortunate.
Tinubu's address which was delivered on his behalf by Governor Yahaya Bello stated "Let me assure you that one of the very first things we will tackle is the perennial flooding in Kogi State. Flooding is a big problem in Kogi perhaps because of its strategic location as the confluence between Rivers Niger and Benue."
Gov. Bello, who had mobilized over 20,000 Kogites to receive the APC presidential candidate at Mohammad Buhari Square, noted that efforts to bring a lasting solution to the perennial flooding will be carried out if he becomes the President.
While appreciating the tumultuous crowd that trooped into Lokoja, from all over Kogi State to demonstrate support and solidarity for him and the presidential running-mate, Senator Kashim Shettima, Tinubu promised that the voice and demands of Kogi people would be heard, not only in the Campaign Council but also in the incoming APC administration.
He promised to work assiduously to confront security, revamp the economy, target double-digit GDP, increase megawatts of electricity to power the industries, businesses and homes, and empower the people through the creation of jobs, affordable loans and mortgages respectively.
"Let me assure you that Kogi State will occupy a right of place in our administration. As a Confluence State, You are important to us in the APC and the country."
"Apart from the presence of your Governor, Yahaya Bello, in the Presidential Campaign Council, one of your sons, Rt. Hon. James Abiodun Faleke is also the Secretary of our Campaign Council. So you are ably and adequately represented."
"I want to tell you today that flooding will be a thing of the past when we get to the office. We will work with the Kogi State Government to devise a permanent solution to this problem. The blessings of God exemplified in torrential rain should not be a curse on us."
The crowd, led by Governor Bello, closed the solidarity walk at the Kogi State APC Campaign Secretariat.
UN Seeks Support for Floods Victims in Nigeria
The United Nations (UN) on Thursday, called on the international community to support Nigeria as it faces unprecedented floods, which have impacted more than three million people.
UN Spokesperson Mr Stéphane Dujarric, told correspondents at the UN headquarters in New York that the Humanitarian Coordinator in Nigeria, Mr Matthias Schmale had made an appeal for assistance.
"More than 100,000 hectares of farms have been flooded, damaging staple food crops such as cassava, rice, and plantain. This will aggravate the already alarming food and nutrition crisis across Nigeria.
"As floodwaters slowly recede, the priority is to help people to get back to what is left of their homes and regain lost assets and livelihoods.
"We are working together with the Government, doing the best we can to provide aid, but additional funding is needed.
Similarly, Dujarric said Niger was also facing severe flooding, where heavy rains are continuing to claim lives and wreak havoc on homes and infrastructure.
"Our humanitarian colleagues tell us that more than 330,000 men, women and children are now impacted by floods in all eight regions of the country.
"Since the rain started in July, 195 people have died and more than 200 people have been injured. More than 36,000 houses have collapsed,'' he said.
According to him, the southern regions of Zinder and Maradi have been hit particularly hard, with entire neighbourhoods submerged.
He said the agriculture sector throughout the country was also impacted.
"We, along with our humanitarian colleagues, are providing support of the Government, delivering essential items.
"The 2022 Humanitarian Response Plan for Niger is looking for 552 million dollars; it is only 42 per cent funded,'' he said.
The News Agency of Nigeria (NAN) reports that Mr Mustapha Ahmed, Director-General, National Emergency Management Agency (NEMA), said the flood killed no fewer than 300 persons, injured 500 persons and displaced 100,000 others in 2022.
NEMA also said houses and farmlands were submerged in Lagos, Yobe, Borno, Taraba, Adamawa, Edo, Delta, Kogi, Niger, Plateau, Benue, Ebonyi, Anambra, Bauchi, Gombe, Kano, Jigawa, Zamfara, Kebbi, Sokoto, Imo, Abia States, and the Federal Capital Territory. (NAN)