Gen. Buratai still Chief of Army Staff not Adeosun , says Army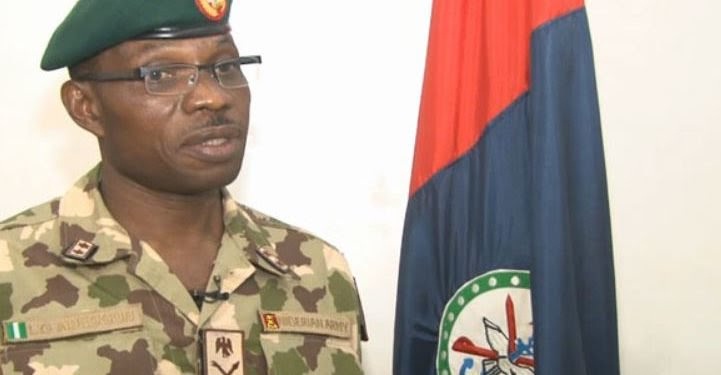 By Gom Mirian, Abuja  
The Nigeria Army has said that Lt Gen Lamidi Adeosun remains the chief of Training and Operations at the Army Headquarters despite his accelerated promotion by President Muhammadu Buhari.
In a statement issued by the army spokesman ,Col Sagir Musa, said that insinuations or suggestions of his appointment as new chief of Army Staff is fake.
Col.Musa said: "Contrary to fake news going round insinuating or suggesting appointment of Lieutenant General Lamidi Adeosun as Chief of Army Staff of the Nigerian Army, members of the public are hereby once again informed that Lieutenant General Adeosun has just been given special/accelerated promotion from Major General to Lieutenant General and formally communicated to him by the Chief of Army Staff Lt Gen TY Buratai.
"Lt Gen L. O Adeosun is only granted special promotion by the President, Commander -in – Chief, of the Armed Forced of the Federal Republic of Nigeria, President Muhammadu Buhari for his extra ordinary feats, exemplary leadership, loyalty and uncommon commitment in the counter insurgency operation in the North Eastern part of Nigeria.
"He still retains his appointment/position as Chief of Training and Operations of the Nigerian Army.
"Any contrary information is baseless, fake news and should be disregarded."
Anambra Urges Indigenes to shun IPOB's Sit-at-home
Anambra State government has urged its indigenes to shun the sit-at-home protest announced by a faction of the Indigenous People of Biafra, IPOB.
A release by the state's Commissioner for Information, Mr Paul Nwosu said the attention of the state government has been drawn to the announcement which he described as wicked, mindless, retrogressive and unnecessarily punitive.
He said the order released on social media was by "enemies of Igbo nation. "
A faction of IPOB, led by Finland-based Simon Ekpa had slated five days, from December 9 to 14, for the sit-at-home.
"Government is calling on our people to disregard the order and go about their normal businesses and daily activities peacefully. The Christmas season is a period of joy and happiness and government will go all out to ensure that the mood is not dampened in any way.
"All the various arms of our security agencies are on full alert to ensure the safety of lives and properties as well as apprehend those who may breach the peace and tranquillity of the state this season.
"Anambra State Government also finds it disturbing that a renegade and expelled member of IPOB will, from the comfort of his Finland home, continue to issue cold-blooded and murderous orders that are aimed at destabilizing Igboland.
"This is condemnable and an atrocious crime against the enterprising and peace-loving people of Igboland. It's about time the Federal Government took necessary steps to contain these foreign agents who are bent on fomenting needless crisis in southeastern states.
"It is pertinent to note that in a swift reaction by the authentic IPOB leadership led by Mazi Nnamdi Kanu, the media and publicity secretary, Comrade Emma Powerful, stated that "the global family of IPOB, under the command and leadership of Mazi Nnamdi Okwuchukwu Kanu did not issue any sit-at-home order," Nwosu said added.
CJN Not Under DSS Investigation – Supreme Court
The Supreme Court of Nigeria has dismissed insinuation that the Chief Justice of Nigeria (CJN), Justice Olukayode Ariwoola was subjected to interrogation by the Department of the State Service (DSS) over alleged pro-Wike political remarks.
The apex court also debunked claims that five Justices of the Court have demanded resignation from office by the CJN over the same issue.
In a statement by the Director of Information and Press of the Court, Dr Festus Akande, the apex Court warned those peddling the rumours to desist in their own interests.
The reaction of the Supreme Court is in response to a publication by an online medium, which reported that Justice Ariwoola has been grilled by DSS over his alleged political remarks in Port Harcourt at a public function.
The statement read in part, "We have read with dismay and shock a publication with the above caption by an online media outfit, "People's Gazette," alleging that the Chief Justice of Nigeria, Hon.
Justice Olukayode Ariwoola, was grilled by the DSS for the remarks he made in 'Port Harcourt at a state banquet' and that 'five Justices of Supreme Court are calling for his resignation.'
"Just like our earlier press statement debunking this barefaced falsehood and mischievous antics aimed at scoring very cheap and unpopular political gains in this era of aggressive and mudslinging politicking, we wish to state in very clear and unmistaken terms, that this is yet another round of the avalanche of lies that have been disingenuously packaged by individuals with an unenviable pedigree to malign the character and personality of not just the CJN but several other Judicial Officers that they considered to be too unpliable and principled to be approached for any form of underhand dealings, especially as election cases (petitions) will soon be streaming to the tribunals (courts) for adjudication."
According to the statement, it had become very obvious that those with sinister motives have perfected plans to unleash all manner of coordinated attacks on Judicial Officers, starting from the CJN with a view to arm-twisting and blackmailing and ridiculing them to silence, ultimately for their ulterior motives.
The statement further added that the publication is laced with tissues of lies, non-existent sources of information and unsubstantiated claims and it clearly showed the unwholesome intentions of the authors.
It also clarified that no single Justice of the Supreme has asked the CJN to resign, and no Justice of the Supreme Court has or is writing any letter of protest whatsoever.
"Neither the CJN nor the Honourable Justices of the Supreme Court or other Courts for that matter, are politicians, so, none of them should be dragged into politics in any form whatsoever.
"Our advice to this set of rabble-rousers whose stock in trade is character assassination via dissemination of false information to create tension and disaffection is to have a rethink and engage in meaningful productive activities that will move the nation forward. A word is enough for the wise," the statement said.
One Feared Dead, Others Missing as Gunmen Attack Abuja
Gunmen yesterday night attacked a residence close to the hill in the Wuse Zone 5 area of Abuja, shot two, and killed one, with several others missing as the gunmen escaped through the hills.
An eyewitness who reached out to our correspondent through a distress call noted that the gunmen shot sporadically at Amilomania Street and later moved to Toyin Street.
He said, "We heard gunshots twice when they first stormed a house at Amilonania Street. They're now at Toyin Street, at the last house by the hill.
"They shot a tailor, Oshodi, and he's lying down dead. They also shot another male, but we have taken him to the General Hospital at Phase 4, but he was unconscious.
"The gunmen have escaped through the hill. We are equally looking for some people and we've not found them. It's possibly an abduction."
When contacted, the FCT Police spokesperson, Josephine Adey, didn't take calls nor responded to text messages from our correspondent on Tuesday night.