Gun Shots Threaten PDP's Governorship Primary in Bayelsa
As predicted by some observers, the governorship primary of the Peoples Democratic Party (PDP) in Bayelsa State for the November 16, governorship election has begun amidst high tension, shooting and many uncertainties.
There are 21 aspirants vying to become the flag bearer of the party, with Senator Douye Diri, representing Bayelsa Central in the senate emerging as the preferred choice of the out- going governor, Seriake Dickson.

On Tuesday morning there was uncertainty as to where the primary election would hold as party officials declined to disclose the venue, citing security reasons, even as many roads were blocked by stern – looking security operatives.
Journalists also had a hard time to secure accreditation tags as the State Publicity Secretary of PDP, Barr. Osom Macbere who came to the NUJ press center to distribute the tags complained of insufficient number of tags provided by the Commissioner for Information, Daniel Iworiso Markson.
It was alleged that the insufficient tags was a deliberate ploy by the state government to tactically reduce the number of journalists who would have access to the venue of the primary election ostensibly to minimize the spread of the ugly scenes that were allegedly programmed to happen at the venue.
At Ijaw House along the Sani Abacha Way in the state capital, where the accreditation of delegates was later taken to, the atmosphere there looked like a garrison as the combined presence of police, both regular and mobile force, including men of the Nigeria Security and Civil Defense Corps literally out- numbered the crowd outside the gigantic edifice.
A Deputy Commissioner of police, and Commander of the State anti crime squad, code named Operation Doo Akpo, DCP Asufie was having hectic time controlling the movement in and out of the venue as some youths were patrolling along the Sani Abacha road chanting war songs.
As the tensed situation around the venue was getting more charged, sporadic gun shots were heard from a distance, and this prompted a riot of clicking sounds as the security men readied their riffles for any eventuality.
Some journalists who already found their way inside the premises rushed out to escape for dear lives, while others yet to be checked in by the police voted with their legs.
The Returning Officer for the primary election, and governor of Taraba State, Mr. Ishaku Dairus had earlier hurriedly left the venue in his convoy.
It was learnt that the desperation by the outgoing governor of the state, Seriake Dickson to foist a successor on the state and the determination by other aspirants not in the governor's political family, Restoration Caucus to resist the imposition heightened the tension.

INEC Distributes Sensitive Materials in Bayelsa


From Mike Tayese, Yenagoa
The Independent National Electoral Commission (INEC) Bayelsa state ahead of state Assembly Election on Saturday 18th March 2023 has distributed sensitive materials to the eight (8) local government area that make up the 24 constituencies in the state.
The materials which was distributed at the state Branch of the Central Bank of Nigeria witnessed Party agents and other political actors, thought journalists were not allowed into the premises to see for themselves the distribution process.

Speaking to journalists at the gate of CBN, INEC Head of Voters Education and Publicity, Wilfred Ifogah said, they were at the CBN to retrieve the sensitive materials which comprises result sheet and ballot papers for Bayelsa state House of Assembly Constituency elections.
He said for the local government on Land, their materials will get there today while that of Southern Ijaw and Brass local government area will be moved to INEC head office for onward movement Friday morning to the local government headquarters.
"We know in Bayelsa we are not having governorship election, so right now we are moving the materials to the various local government headquarters so that the distribution can be early enough on Saturday.
"We have 24 Constituencies in Bayelsa. Each of the local government has three except southern Ijaw, which has 4 and Kolokuma/ Opokuma with 2. All necessary arrangements have been put in place. BVAS has been reconfigured for this particular Election. So far so good we are good to go".
Ifogah said to make the system smoother, a refresher training for the supervisor presiding officers has been organized, saying hopefully that of collation officers will also take place.
"Just before today, we actually reviewed the election we had on the 25th and we look at some of the lapses and what actually caused them. As we speak today, we are trying to break the chain. That is why we are moving our materials early enough so that they can go to the various local government headquarters, especially those on lands.
"The result sheet of state Assembly Election also has a seal on it, thought the seal is different from that of presidential election. This is to prevent people that want to be funny possibly want to compromise having seen that of the presidential. We don't play with that at all, so we design a different seal for this particular one," Ifogah said.
One of the party agent comrade Martins Bago who spoke with Journalists said, they went inside and inspect the materials and from there finding, constituency 2 has 8 cartoons, constituency 1is 11 cartoons while constituency 3 also has 11 cartoons totaling 30 cartoons.
"I want to believe that the materials are correct, we are moving them to Sagbama to separate them and send them to various wards to see how complete they are".
Also speaking, the state chairman of New Nigerian People's Party, comrade Joel Tubonimi, said the materials were already parked before they got there but that they insisted that all materials must be dropped down for proper inspection to know whether they are correct before moving them out which they actually inspected for confirmation.
He said they insisted because of what happened during the presidential election where some result sheet were missing. 
"So we insisted that we want to see everything and we were showed some of them. At Sagbama our agents are also going to inspect the materials again to make sure nothing has happened in the course of transit".
"We hope that INEC will keep to their promise by giving us free, fair and credible election on Saturday because we were not satisfied with the presidential election and others".
Commonwealth Day: Minister Calls for Peace, Unity and Prosperity among Commonwealth Nations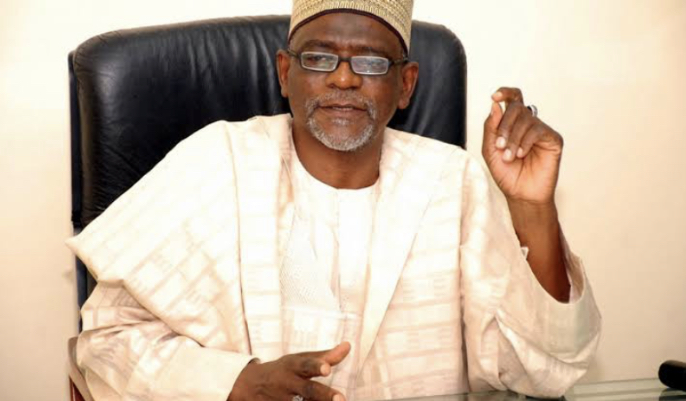 By Evelyn Terseer – Abuja
The Minister of Education, Mallam Adamu Adamu has called for increased actions and steps that would help promote peace, unity and prosperity among commonwealth nations
Adamu stressed the need for all countries of the commonwealth to look out for the welfare and wellbeing of member countries of the commonwealth for inclusive growth and prosperity.

He said: "Like we all know, the existence of peace in any space of human aggregation or nation translates to progress, wealth and tranquility.
It enhances positive outcomes in trade, investment, human rights, democratic governance, quality education, digitized learning and most importantly entrenches equity and equality, which in Nigeria and most Commonwealth means empowerment of youths, women and the girl-child
"As we celebrate, it is important we remind ourselves that the prosperity, peace and security is a collective responsibility and requires mutual commitment and perseverance.
The commemoration of the year 2023 Commonwealth Day is a re-awakening call that the promotion of unity, love, peace and prosperity is the foundation of development for our country in particular and the body of commonwealth nations in general."
Director, Education Support Services, Federal Ministry of Education, Dr. L.I Giginna, in her remarks, said that this year's event is unique being the first after His Majesty, Prince Charles III acceded to the throne as King of the United Kingdom after the demise of the venerated Queen Elizabeth II, his Mother.
"Today marks a decade of signing the Commonwealth Charter that positioned Commonwealth nations as the golden globe and the year declared specially for the youths by Commonwealth Heads of Government.
"Federal Ministry of Education promotes the commemoration of Commonwealth Day every year not just to highlight the historical ties and evolution to the present status of equity in diversity by member nations, but to also model the vision of unity and peace envisaged for Nigeria due to our diverse socio-economic and cultural background.
"We want to forge a common future devoid of tribalism, violence, incessant attacks on students and teachers, destruction of education infrastructure, among others. The Commonwealth vision projects mutual respect for one and all, a virtue worthy of emulation by adolescents and young people for sustainable peace and harmony to prevail."
Meanwhile, a message from Buckingham Palace, King Charles, noted that the myriad connections between commonwealth nations have sustained and enriched the countries for more than seven decades, stressing that commitment to peace, progress and opportunity will sustain the nations for many more years to come.
King Charles said: "Commonwealth Day was an occasion of particular pride for my beloved Mother. The late Queen. It's a treasured opportunity to celebrate our Commonwealth family, to whose service she dedicated her long and remarkable life.
"In succeeding Her Majesty as Head of the Commonwealth, I draw great strength from her example, together with all that I have learnt from the extraordinary people I have met, throughout the Commonwealth, over so many years.
"The Commonwealth has been a constant in my own life, and yet its diversity continues to amaze and inspire me. Its near-boundless potential as a force for good in the world demands our highest ambition. Its sheer scale challenges us to unite and be bold
"This week marks the 10th anniversary of the Charter of the Commonwealth, which gives expression to our defining values, peace and justice; tolerance, respect and solidarity; care for our environment, and for the most vulnerable among us."
Deepen Digital Literacy Among African Women, Girls, Stakeholders Tasks UN
By Laide Akinboade, Abuja
Stakeholders in women and girl child rights propagation have urged the United Nations (UN) to foster more inclusive partnerships and resources for the digital literacy and innovative education of women and girls within the African region, as that would be the surest escape route from socio-economic backwardness and other inhibiting gender barriers.

This was part of the passionate appeals made by experts at the ongoing Parallel Event, United Nations Commission on Status of Women ( NGO CSW 67 Forum), held at the United Nations, Headquarters, New York, with the theme, "Education and Innovations as the Solution to the Empowerment of Women and Girls in a Digital Age.
"
One of the stakeholders, President of the Helpline Foundation for the Needy, Dr. Jumai Ahmadu, in her presentation at the event, said that deliberate efforts have been made by stakeholders toward eliminating gender barriers in the region, but more needs to be done to bridge digital literacy divide amongst women and girls.
"In order to bridge this gap, there is a need to focus our efforts on maximizing the use of every opportunity to educate young girls and women in digital skills."
Ahmadu noted that the digital divide was very noticeable in Nigerian rural areas, as well as across Africa, hence the need for a partnership that will trigger a digital literacy revolution.
She disclosed that her Foundation in collaboration with other organizations have taken up the challenge in Nigeria, and has trained over 200 rural women on computer literacy, aimed at empowering them.
According to her, the little efforts by the Foundation and various stakeholders were already changing the tides of digital backwardness amongst women and girls, with appreciable progress being recorded by many of them in the area of the Fintech industry, creating mobile banks, and other mobile platforms.
She further stressed that particularly in Nigeria, women and girls have shown the willingness to overcome all gender barriers, making inroads into prosperity through technological innovation.
She, however, noted that it was a call to action for all stakeholders to ensure that all young girls can access quality education and skills in digital technology.
"We can only achieve this through sustainable partnerships to access funds and these resources are essential for this course. "Many girls and women rely on us to be empowered with these skills; we strongly believe this assembly will yield partnerships and MOUs for the common goal of women and girls in Nigeria and the world," she added.