NIREC Urges Media Practitioners to be Objective
The Executive Secretary, Nigeria Inter Religious Council (NIREC), Rev. Fr. Cornelius Omonokhua, has urged media practitioners  to be objective in their reportage to enhance harmony in the society.
Omonokhua who stated this in an interview the press in Lagos on Thursday, said that an effective media aids national development.
He said that going contrary to the ethics of the profession could spell doom for the people and the nation.
He expressed concern on primordial sentiments, especially after the general elections, saying that the problem of Nigeria was not religion.
Omonokhua called for an effective leadership through the use of the media, to harmonise the potentials of the nation for the common good of the people.
According to him, the use of the media to manipulate people negatively was a disservice to the nation and should be avoid.
"A good leadership should be competent and deliver the needed goods to the generality of the people,"he said.
He urged those managing information for organisations in the country to verify facts before pushing such out to the public.
"We should at all times be conscious of the information we push out to the public and refrain from what will put the society in crisis," he said.
NAN reports that, NIREC is an organisation with the statutory mandate to foster peaceful coexistence among the religious bodies of the country. (NAN)
Fuel Scarcity: LASTMA Cautions Motorists Against Road Obstruction

The Lagos State Traffic Management Authority (LASTMA) has cautioned motorists queuing up for fuel at different filling stations not to obstruct traffic.
It warned them not to cause congestion that could hinder other road users around filling stations.
The General Manager, LASTMA, Mr Bolaji Oreagba, said these in a statement issued on Wednesday in Lagos through the Director, Public Affairs and Enlightenment Department, Mr Taofiq Adebayo.
He said that he had deployed more officers on traffic monitoring around filling stations and other areas across the state.
Oreagba said that the deployment became imperative following reports of long queues around filling stations caused by motorists parking indiscriminately.
He said that such motorists were blocking roads while queuing up to buy fuel.
The LASTMA boss expressed displeasure at the disorderly behaviour of such drivers who queue up haphazardly around filling stations.
He urged petrol attendants and marketers to ensure that products were sold in an orderly manner.
Oreagba said this was necessary so as not to infringe on the right of way of other road users.
"Buying fuel is not an excuse to block and impede traffic flow across the state.
*In as much as we want our roads to be free, we do not want fuel queues to constitute a burden for other road users across the state.
"Efficient traffic management has remained crucial in the attainment of Gov. Babajide Sanwo-Olu's seamless multi-modal transportation system in Lagos.
"We are equally advising motorists including members of the public against unsafe fuel storage inside vehicles, homes, markets and workplaces.
"Landlords and tenants should shun inappropriate storage of fuel at homes and public places.
"Filling Stations must equally avoid dispensing fuel in polythene bags to avoid scuffles that can spark off fire incidents," Oreagba said. (NAN).
DSS Denies Barricade of EFCC Lagos Office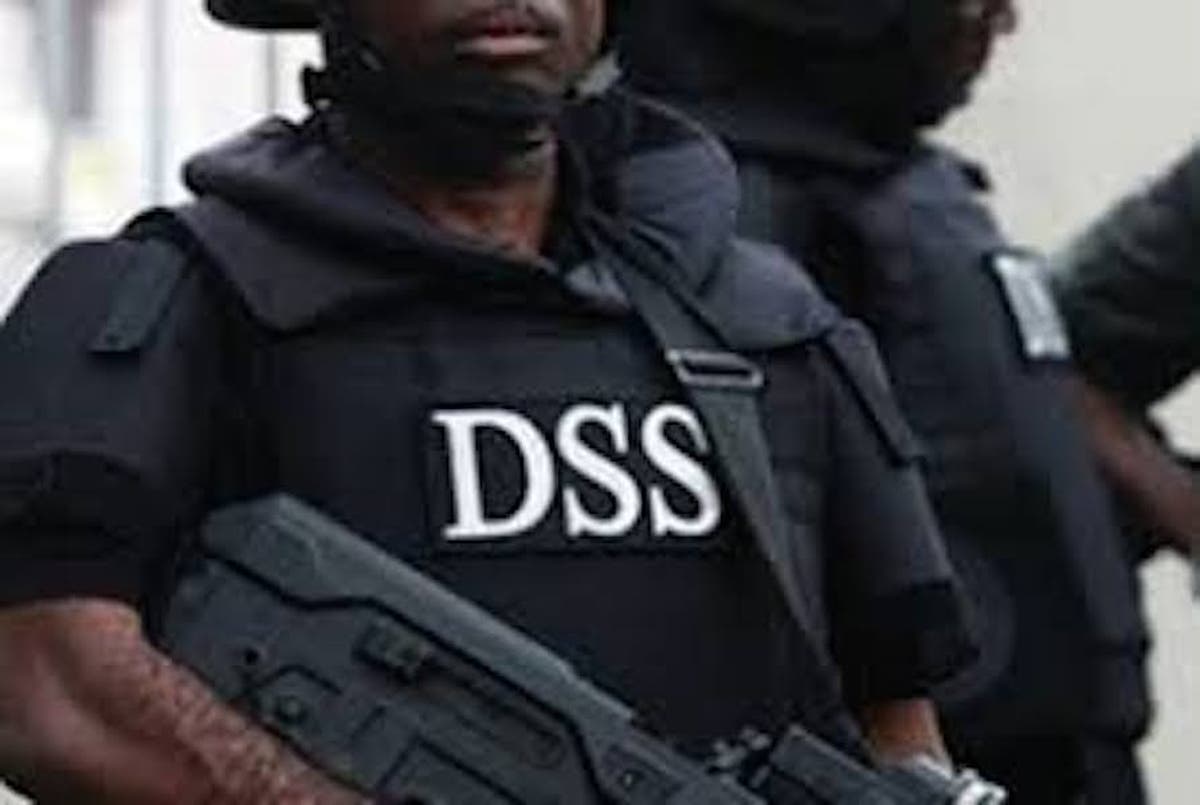 By Gom Mirian, Abuja
The Department of State Services ( DSS) has dismissed the insinuations in a section of the media that its operatives barricaded offices of Economic and Financial Crimes Commission (EFCC) and prevented staff from entering into their offices in Lagos.
" No. It is not true. The Service is only occupying its own facility where it is carrying out its official and statutory responsibility," spokesman of DSS, Dr Peter Afunaya said in a statement on Tuesday.
Similarly, Afunaya clarified that there was no controversy over No 15A Awolowo Road as being insinuated in some quarters.
" Did the EFCC tell you it is contesting the ownership of the building? I will be surprised if it is contesting the ownership. "Awolowo Road was NSO headquarters. SSS/DSS started from there. It is a common knowledge. It is a historical fact. Check it out" he explained.
The DSS declared that there was "no rivalry between the Service and the EFCC over and about anything" and advised the media and mischief makers not to create any imaginary one.
"They (DSS and EFCC)are great partners working for the good of the nation. Dismiss any falsehood of a fight" he stressed.
CYPF Takes Menstruation Message to School Girls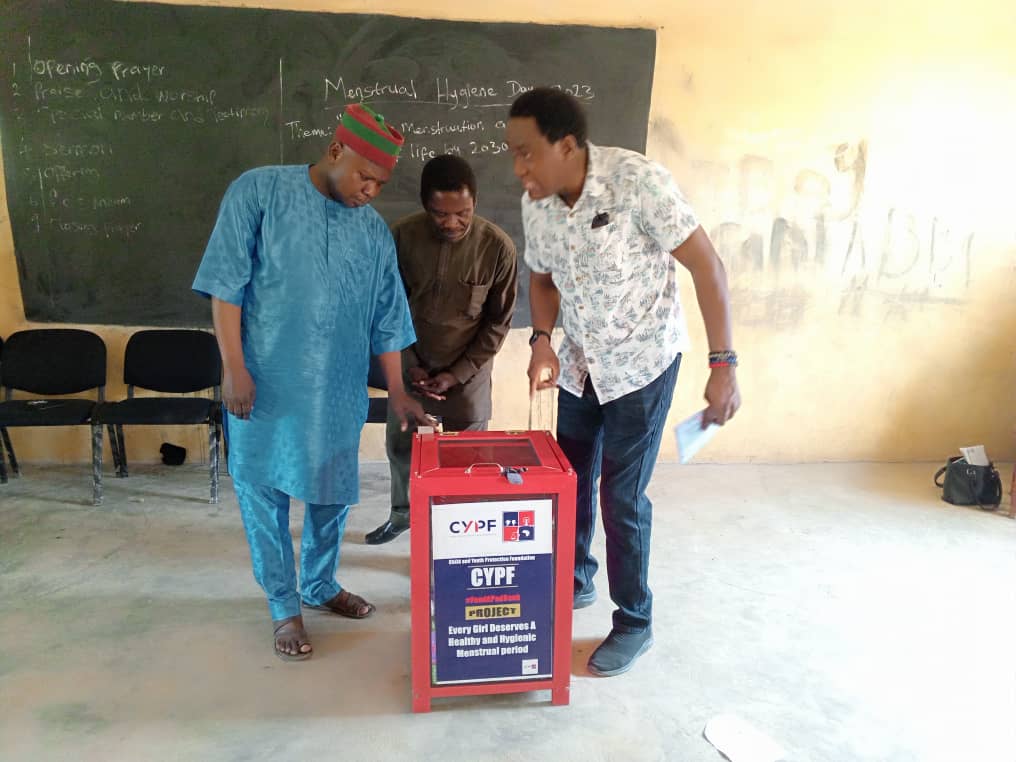 By Prosper Okoye, Abuja
In a groundbreaking initiative, the Child and Youth Protection Foundation (CYPF) has embarked on a mission to enlighten and empower young girls at Government Secondary School (GSS) Kuchingoro, Abuja, by providing them with crucial knowledge on proper menstrual care.
As part of their noble endeavor, CYPF generously donated a comprehensive menstrual tool kit to the school, ensuring that these girls have the necessary resources to manage their menstruation effectively.
Director of CYPF, Kolawole Olatosimi, emphasized the importance of this educational campaign, stressing that the advancement of the girl child is pivotal in driving Nigeria's development.
Olatosimi shared his concerns, revealing that he has witnessed firsthand the devastating consequences of inadequate menstrual hygiene practices, which can lead to severe health issues for women.
Commencing the didactic session, Fejiro Anibor, a facilitator from CYPF, shared her personal experience of her first menstruation.
She emphasized that menstruation is a natural process that every woman goes through, encouraging the girls to never feel ashamed and to reach out for assistance when needed.
"Menstruation is not a sin, and it isn't a form of punishment for women," Fejiro reassured the girls, recognizing their discomfort in discussing the topic.
Continuing the session, Mrs. Mary Iteogu-ubach guided the girls through the signs they might experience during menstruation.
"Your menstrual flow may last from 5-7 days, depending on your biological makeup," she informed the attentive girls, who were now actively engaged in the discussion.
Several girls acknowledged suffering from mood swings, cravings, stomach cramps, anxiety, and fatigue during their menstrual cycles while seeking clarifications on issues that bothered them regarding menstruation.
Mrs. Mary further advised the girls to keep track of their menstrual cycle, which typically ranges from 21 to 28 days on average, with a maximum duration of 35 days. This would help them be prepared and avoid being caught off guard.
Furthermore, Binta Jalo demonstrated to the girls the proper way to insert a pad into their underwear and the best method for disposing of a used menstrual pad.
Davou James, the Principal of GSS, praised the initiative and pledged that the school would work diligently to sustain it.
"Sincerely speaking, I am greatly impressed with what CYPF has accomplished in the school," James expressed.
"Due to the remote location of the school and their parents' financial circumstances, many of these girls lack access to pads. Additionally, they are not familiar with proper sanitary habits and often use whatever materials that are available, regardless of cleanliness. Therefore, this project will have a significant impact on their lives," he added.
The FCT's Secondary School Board Director, represented by Oladele Olajide, Assistant Director of Guidance and Counseling in the Board, informed DAILY ASSET that the project would prevent girls from having to return home due to the onset of their menstrual flow.
"Kudos to CYPF, now, all they need to do is visit the guidance office, and a pad will be provided to them, eliminating the need for them to go back home," he explained.
DAILY ASSET reports that the menstrual pad box was packed with packs of pads, toilet rolls, detergents, and toilet soaps.