Sen. Nnamani charges Igbo women to Revive Activism Potentials for National Development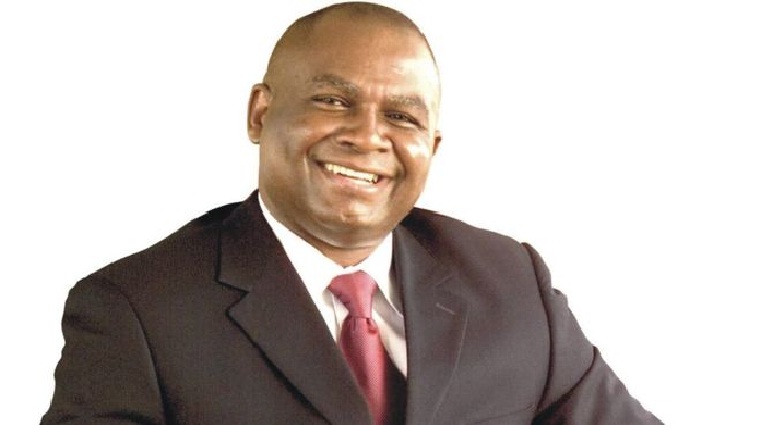 Former Governor of Enugu State, Sen. Chimaroke Nnamani has charged Igbo women to revive the socio-political and economic activism employed during the pre-colonial era in moving the region and nation forward.
The former governor made the call in Enugu on Sunday in a keynote lecture entitled, "Amazons as Leaders," to mark the second reunion of the alumni class of '76 of the Anglican Girls Grammar School, AGGS, Awkunanaw, Enugu.

The senator representing Enugu East Senatorial Zone, urged women to emulate prominent Igbo women of old who excelled in politics and in businesses.
He said that Ndigbo were known for being enterprising both in business and politics and as such it should be maintained by all and sundry as a mark of identity.
The former governor, in encouraging the Igbo women to be aggressive in their pursuit of any endeavour, cited prominent Igbo women that had made Ndigbo proud.
Such women include late Margaret Ekpo who made a mark in politics that an airport in Calabar was named after her.
Others were a woman simply known as Nwanyeruwa who led the 1929 Aba Market Women Riot that stopped the imposition of tax on women and the abrogation of Warrant Chiefs because of their autocratic tendencies.
Another great woman was Ahebi Ugbabe who fled Enugu Ezike in Nsukka to escape marriage to a deity.
She later became influential due to her bravery that she was made a warrant chief in the colonial era which was the preserve of men.
Other notable Igbo women were Nkpolo Nwagwudu-Elele; Flora Nwapa, a renowned author and Oyibo Odinamadu among others.
Nnamani, therefore, charged the old girls to use their good positions in society to better the lot of their alma mater, the Anglican Girls Grammar School, Awkunanaw which was suffering infrastructural decay at the moment.
He pointed out that if the amazons had kept quiet and allowed things to rot, they would not have made a mark and their societies would have groaned in agony and dejection.
The senator urged them to add value to their former school and the society.
President of the Class of 76, Mrs Bridget Oduah-Ebonwu said, in her address, that they decided to come together after 43 years they left the school to give back to the school that nurtured them into adulthood.
"We agreed to contribute our quota towards lifting our alma mater. We are working towards achieving this purpose.
"We visited the school earlier in the day to see things for ourselves and we all agreed that there is a lot we can do to make a difference," she said.
Man Slumps, Dies At FCMB Bank In Rivers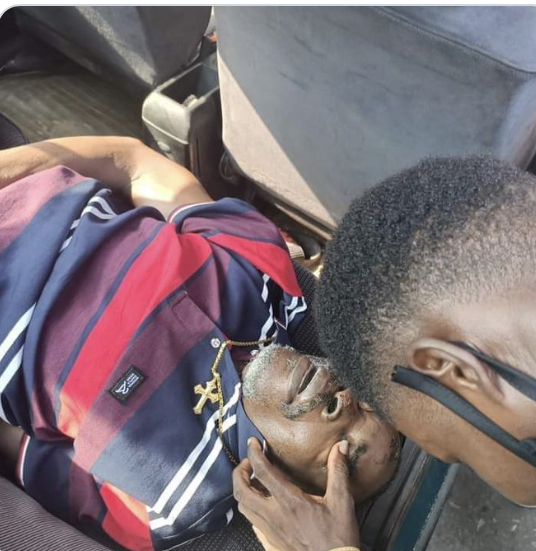 Man has allegedly slumped and died in front of a branch of the First City Monument Bank at Ikwerre Road, Mile 1, Rivers Stateon Tuesday.
The man's death, according, to a Twitter user, Dokubo, Kenneth Promise #EndSARS, who posted it on his Twitter handle @dokubo_kenneth, was due to frustration resulting from hostile treatment meted out on him by the customer service officials of the bank.

According to the report, the man (whose name was withheld) had been trying to withdraw money but could not, as the bank asked him to do an affidavit in order to have access to his money.
Dokubo further said the victim went with his next of kin to the bank as judicial workers had been on strike, jeopardising any process of swearing an affidavit.
Man dies at @MyFCMB in Port Harcourt due to frustration and unfriendly treatment by the customer service attendants of a bank," Dokubo tweeted.
The man was said to have been vomiting and begging having been in the queue for five hours before he collapsed and died.
"An eyewitness at the scene of the incident disclosed that a man who hails from Asari-Toru Local Government Area of Rivers State, a customer of (First City Monument Bank) FCMB died in front of the bank.
"He was refused access to his own money since Friday even when he came with his next of kin. He was asked to go to the court to get an affidavit knowing the court is not in session.
"Narrating the event, she added, 'The man was vomiting and at the same time begging for him to have access to his own money yet he was denied. After he was left unattended to for more than 5 hours, he just died now a few minutes ago at FCMB, Education Bus Stop, Ikwerre Road, Mile 1, she said,'" Dokubo reported on Twitter.
Appellate Court 600 Pre-election Appeals so far, says President
The President of the Court of Appeal,  Justice Monica Dongban-Mensem on Friday said the court has so far received 600 pre election matters from its 20 Divisions.
Dongbam-Mensem made this known when Amb. Samuela Isopi, Ambassador, EU Delegation paid her a visit in her office.

"The court received over 600 Pre-Election appeals in the 20 Divisions of the Court from November to date and more appeals are still being filed
" .Over 60 Panels were setup in the various Divisions to hear and determine all Pre-Election appeals filed.
" Mindful of the pressures under which the Hon Justices are working, some experienced Registrars of the Court were empanelled to summarize the decisions so far made and distribute to the various divisions to avoid conflicting decisions," she said.
The president expressed joy at their presence which she said provided an opportunity to exchange views, share experiences and learn from their respective experiences in their countries.
No doubt, she said there are challenges being experienced, what is imperative is how those challenges were surmounted to ensure the sustenance of democracy in the Country.
According to her, transparency in the electoral process is one of the core values of democratic stability in a nation.
She stated that the active involvement of Election Observation Missions in Nigeria to ensure free, fair and credible elections is appreciated.
"Pertinent to state that the role of these Observer Organizations have greatly impacted the resolve to review the Electoral Act, 2010.
"The Electoral Act, 2022 has introduced laudable innovations to strengthen our democracy and ensure credible elections.
"The Court of Appeal has reviewed, developed and expanded the scope of working materials for Judges she said.
According to her there is now a Judicial Electoral Manual which incorporate decisions of the Supreme Court and those of this Court and the "critical" fundamental sections of the Electoral Act, 2022
This , she said, to ensure that appeals with similar facts and issues are categorized together to maintain the doctrine of stare decisis.
" In preparation of delivering its Constitutional mandate, the Court is faced with numerous challenges which includes but not limited to paucity of funds
" To effectively manage the tribunals, deployment of ICT equipment and the need for continuous training of support staff with a view to enhancing their capacities and powers to effectively drive the electoral adjudication process.
" Permit me to state that the Court is in a dilemma, we have just 21 days to the General Election and the special intervention fund to conduct the Election Petition Tribunal is yet to be released she said.
She added that this will impact negatively on the activities of the Court and Tribunals to effectively discharge its Constitutional duties.
" It is expected that by now, provisions would have been made for the procurement of necessary materials and equipment needed for the smooth running of the various Tribunals.
" Also we ought to have organised further trainings for Hon. Justices, Members of the Tribunals and Secretariat Staff but we cannot due to paucity of funds.
"We are hopeful that these challenges will be soon addressed before the conduct of the General Election.
" I thank your Excellences for the visit and look forward to a fruitful interactive session" she said.
Speaking , Amb.l Isopi , expressed delight in the effort noticed in the improvement in election matters.
" One of the points you made was to support the judiciary on building capacity of judges on election related matters .
" I am happy to say we were able to support in training 300 judges.
" We also trained secretaries and support staff because, for us ,this is something that is seen as being crucial .
" This is because, we know that it really can contribute in improving and promoting election disputes resolutions she said. (NAN)
Nigerians Take Mats, Mattresses To Banks' ATM Galleries Over Long Queues As Naira Notes Scarcity Bites Hard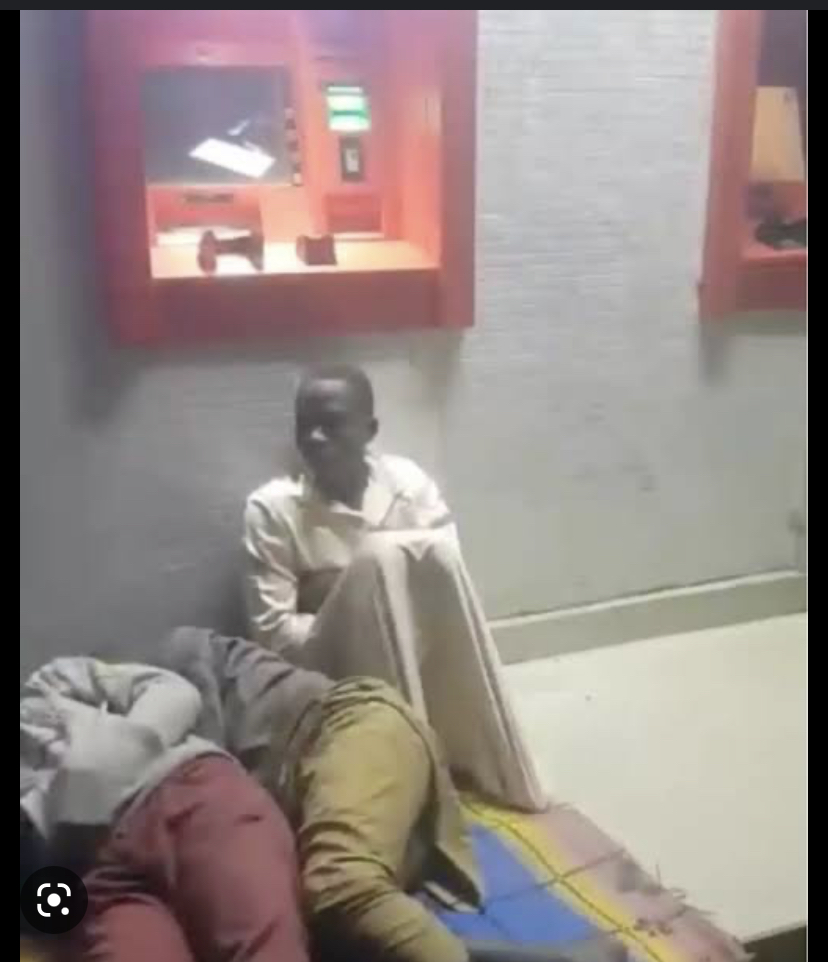 Anger and frustration have become the lots of Nigerians as they now sleep in various Bank Automated Teller Machines (ATM) locations in order to make withdrawal of new notes from the bank ATMs.
SaharaReporters gathered that while some bank customers, in Enugu State for example, stayed till 2am until the funds loaded were finished, others came in as early as 3 am to stay till morning so that they could be among the first to make withdrawals when the banks started work by 8am.

It was observed that virtually in all the banks, only one or two ATM machine(s) were dispensing cash, while so many other ATM machines were not loaded, forcing hundreds of people to queue up to five hours to make withdrawals, which could not exceed N20,000 daily.
A bank customer who gave his name as Oforbuike Moses told SaharaReporters that for three days, he had been returning to bank ATMs to make withdrawals but had not been successful because of a huge crowd that besiege bank ATMs.
Moses said, "Today will make it fourth time I will be going to bank. I left my house by 4am so that I can make withdrawal. Unfortunately, by the time I got to First Bank ATM at Ọkpara Avenue, behold over 100 people were already there. The people that came before me had already started issuing number according to the time they came. At 4am, I am 115 in number which means 114 people had come before me and when the bank starts work by 8am, they will first make withdrawals before me."
He added, "I was even told that some people slept in the ATM because the only machine dispensing money stopped working by 2am and they had to sleep there."
Lamenting the situation, Moses described this CBN new monetary Policy as demonic and evil.
"There's no reason whatsoever to justify this unmitigated suffering that they have thrown Nigerians into. People now leave their businesses and spend the whole day in other to get N20,000 only. Yet terrorists and bandits in the Northern Nigeria are already parading the new banknotes in millions while the poor Nigerians are being subjected to unimaginable suffering to make simple N20,000 withdrawal here."
Another bank customer, Kingsley Obi, also lamented the suffering Nigerians were going through to get cash.
"I went to bank around 1:30am yesterday (Thursday) only to withdraw N20,000 around 11am, after how many hours. So, people have left their businesses to stay in ATM machines. This is the worse policy of this administration.
"Why is Buhari a curse to Nigeria? When he came as a military Head of State in 1983, because of his inept administration Nigerians were pepped. Now he is at it again. People are suffering in everything while the government is not providing solution. It is unfortunate. Nigerians will also make another mistake and choose another Buhari or looters who use different decoy to loot public treasure," he lamented.
Meanwhile in Sokoto State, one of the core northern states, the situation is any better.
Bank customers in Sokoto State queued for hours, sometimes days due to shortage of new naira notes, SaharaReporters gathered.
The bank customers who wish to access the new naira notes have now resolved to sleep at an ATM gallery due to the long qeues.
A bank customer from Wamakko, in the Wamakko Local Government Area, Aliyu Muntari, said he decided to bring his beddings to a Zenith bank ATM gallery because he queued for over 14 hours to withdraw N10,000.
"I came all the way from Wamakko town, today is my third day in Sokoto city. I had to bring my mat to sleep at the ATM gallery because I want to be able to get N10,000 cash.
"Surprisingly, I'm not alone, as you can see other people here, we'll be passing the night so that by the time the machines are loaded in the morning, we'll be among the people to make withdrawals," Muntari said.
Another customer, Saminu Kurfi, said, "Imagine how this people have subjected the poor people to hardship. Often you need just N1000 to buy foodstuff but you can't get it.
"Now in virtually all markets, particularly in rural areas, most vendors no longer accept the old naira notes, making almost impossible to transact any business.
"This is a very dangerous trend, and I can almost predict that if things continue this way going forward, people may be forced to revolt," Kurfi said.
(SR)