The Brawl by Sudan's Generals and Implications for Nigeria

By Lizzy Okoji

With air strikes in Khartoum, Darfur, and other cities of Sudan resuming just hours after the ceasefire, one would only wonder what next to expect in the conflict-torn country.
The current conflict in Sudan which started on April 15 is the result of the lingering rivalry between two Generals, Sudanese President, Gen.
Abdel Fattah al-Burhan, and his Deputy, Gen. Mohammed Hamdan Dagalo.

The quarrel dates back to 2021 after al-Burhan overthrew the joint military-civilian government which ousted Sudanese long-serving President, Omar al-Bashir in 2019.

Since then, al-Burhan head of the Sudanese Armed Forces and former Chairman, Sudan Transition Sovereignty Council and Dagalo, popularly called 'Hemedti', head of the Rapid Support Forces (RSF) have been  are locked in a deadly fight over who will control of the country.
Former Director-General of the Nigerian Institute of International Affairs (NIIA),Prof. Bola Akinterinwa, described the conflict as an unfortunate product of selfish leadership.
"What is happening in Sudan is that we have two Generals fighting and the African Union expects that under normal circumstances, there must be peaceful approach to it; using war to take over power is illegal.

"Why the war is most unfortunate is because those who are fighting were together in the same camp as at 2019.
"In this case, what brought them together initially, what is now separating them is because of selfishness and this is why I think it is most unfortunate.

"Many lives have been lost, many people have been displaced and rather than focusing their attention on the economic situation in Sudan they are fighting over who will be in charge of the country," Akinterinwa said.

Akinterinwa blamed the degeneration of the political situation of Sudan on the failure of all parties to adhere to agreements before the ousting of former President al-Bashir in 2019.
When two elephants fight, the grass suffers. The conflict in Sudan has forced many grasses, including Nigerians in Sudan and other foreigners to suffer unimaginable losses.

There are growing concerns over the safety of Nigerians in Sudan as the Federal Government makes frantic efforts to evacuate them through neigbouring Egypt.
Also a source of worry is the impact of such an arms conflict in Sub-Saharan Africa which is also a theatre of terrorist activities fuelled by illegal arms deals by dubious elements from conflict-ravaged countries such as Libya.

The impact of the conflict in Sudan, experts say, could resonate in heightened insecurity, humanitarian crises, and economic difficulties, for Sub-Saharan African countries, particularly Nigeria which has had to contend with terrorist groups such Boko Haram and ISWAP.
A security expert and Managing Director, Beacon Consulting Limited, Dr Kabiru Adamu, said that given the number of Nigerians in Sudan there is the likelihood of some criminal elements infiltrating the group as evacuation goes on.

"In a recent interview, the Sudanese Ambassador to Nigeria claimed that there were about five million Sudanese of Nigerian descent currently living in different parts of Sudan.
"Some of them are fourth generation, fifth generation or even longer than that; there is a strong business link, especially the north Eastern part of Nigeria.
"Given these huge numbers it is only normal that there would be concerns. Another area of concern is the possibility of a prolonged conflict reinforcing or institutionalising the spread of weapons.
"Already, Nigeria has that challenge. There are so many weapons within the region including Nigeria, small arms and light weapons", he said.

He said the security implication for Nigeria is worsened by the age-long gun running channels that goes through Sudan which could expose Nigeria to the activities of gun runner due to its potential large market for illegal arms.

"The entire Sahel region is almost being dominated by Jihadists, Burkina Faso is an example, Mali, Niger to an extent, and Sudan and Chad used to be the only countries that presented some sort of hope.
"So, if there is a degeneration of the security situation in Sudan you could see the infiltration of these jihadists into other regions including Nigeria," Adamu said.

The international community said it would do everything possible to end the Sudan conflict.
The United Nations Secretary-General, Antonio Guterres, said the UN would use all its instruments, institutions and structures to ensure that all the parties in the conflict appreciated the need to sheath their swords and embrace peace.

"The United Nations is not leaving Sudan. Our commitment is to the Sudanese people in support of their wishes for a peaceful and secured future. We stand with them at this terrible time.
"I call on all council members to exert maximum leverage with the parties to end the violence, restore order and return to the best of democratic transition.

"We must do everything within our power to pursue them from the edge of the abyss," Guterres told a recent Security Council meeting on maintaining international peace.
Experts say the intervention of world leaders, especially African leaders is critical to resolving the conflict in Sudan.

The brawling Generals must accept that no country thrives under war and conflicts. Peace cannot be kept by force; it is always a product of compromise. (NAN)
By Jideofor Adibe
Asiwaju Bola Ahmed Tinubu, Nigeria's President since 29 May, once said that his lifelong ambition was to become the President of Nigeria. He was lucky that his dream came true. Though the outcome of the election remains contested, he has been Nigeria's President the past one week.
So what are the takeaways from his one week in office?
One, there was a bounce from his inauguration.
Though Tinubu came to office with a huge legitimacy crisis and is one of the most scandal-ridden African Presidents, no fewer than 20 presidents from around the world attended the inauguration according to some media reports. American President Joe Biden sent a delegation as did the British Prime Minister, Rishi Sunak. And these were despite the damning reports of most of the international election observers of the Presidential election in which INEC declared him the winner and the campaign by the opposition for world leaders not to legitimize Tinubu's 'victory' by congratulating him.
Two, the bounce from the inauguration was overshadowed by the unintended consequences of Tinubu's declaration on the day of his inauguration that "fuel subsidy is gone". That speech immediately led to the panic buying of fuel, the return of queues in petrol stations across the country and the jumping of pump prices in some filling stations to as much as N700 per litre. While the removal of fuel subsidy was expected and all the three leading presidential candidates – Tinubu, Atiku Abubakar and Peter Obi –  had promised to remove it if they won the election, few people thought it would be done in such a dramatic manner as Tinubu did.
Those who argue that removing the subsidy on fuel was a decision foisted on Tinubu by the outgoing government forget that he has the powers to reverse it by sending a supplementary budget to the National Assembly with a request that funding the subsidy should remain while he put together his team and the necessary infrastructure that would help to cushion the effect of that policy.
My feeling is that by announcing the ending of the fuel subsidy regime the way he did he wanted to convey a message that he would be a decisive President who would not bulk at taking tough decisions. This is especially so if his "fuel subsidy is gone" statement is related to his pre-inaugural speech where he declared that he would not want anyone to pity him owing to the enormity of the challenges bedevilling the nation because he sought for the job and campaigned for it.
Three, the angst across the country resulting from the manner in which the removal of the subsidy was announced shows that hardship has no ethnic, religious or political party affiliation. In fact, the argument that fuel subsidy benefits only (or even mostly the rich) is motor park economics as everyone – rich, middle class, the poor and businesses –  seems overwhelmed by a sense of foreboding following the nearly 300% hike in the pump price of fuel in this largely generator-dependent economy.
Suddenly the perennial online combat between the ardent supporters of Tinubu and others that are often wrongly lumped together as 'Obedients' seem to have abated as everyone appears to worry about how the policy will impact on them once it has cascaded through the entire value chain. While a new price template of N488 per litre in Lagos and N537 and N557 in Abuja and Borno state respectively announced by the Nigeria National Petroleum Corporation (NNPC)led to the disappearance of queues in most filling stations, it would take a while for the effects of the huge price hike to fully work themselves through the country's various value chains. 
My feeling is that if the anticipated hardship from this policy becomes overwhelming and is not attenuated within a reasonable time frame, even some of Tinubu's most passionate supporters will join the camp of those praying for the court to overturn his declaration as the winner of the 25 February 2025 election.
Four, just a few days after his inauguration, some putative centres of power in the Tinubu government had begun to emerge. One of the President's children, Folasade Tinubu-Ojo, the Iyaloja ("Mother of the Market") of Lagos markets, crowned herself the First Daughter of Nigeria and also elevated her position from the Iyaloja of Lagos Markets to Iyaloja of Nigeria. She also announced the launching of what she called Friends of Iyaloja Initiative, which she said will "channel her experience, connections and human resources" towards supporting her father's administration. Similarly, just a few days after his inauguration, there was a viral video of the First Lady, Senator Remi Tinubu, sitting in a purported economic meeting with President Tinubu, Vice President Kashim Shettima, the Central Bank of Nigeria (CBN) Governor Godwin Emefiele and the Group Chief Executive Officer of the Nigerian National Petroleum Company Limited NNPCL, Mele Kyari at the Presidential Villa, Abuja. While some argued that the First Lady sitting in such a meeting was a violation of protocol, her supporters counter that as head of the Senate committee on NNPC during Saraki's era as Senate President, she sat at the purported meeting as a politician, not as First Lady. The point here is that one of the issues used against Tinubu during the campaigns was that different members of his family (Remi, Seyi and Folashade in particular) might constitute themselves into independent centres of power if he won the election.
Five, in the one week of his presidency, Tinubu has started assembling members of his kitchen cabinet. On 2 June, just five days after his inauguration, he appointed the outgoing Speaker of the House of Representatives, Femi Gbajabiamila, as his new Chief of Staff, former Deputy Governor of Jigawa State, Sen. Ibrahim Hadejia, as Deputy Chief of Staff and Former Minister of Special Duties, George Akume, as Secretary to the Government of the Federation. While his appointments so far mirror the tendency for Chief Executives to populate their kitchen cabinets with long term allies and loyalists, he has so far not included very controversial individuals that would make the task of post campaign reconciliation more problematic.
For instance, if the position of Secretary to the Government of the Federation (SGF) had been given to former Kaduna State Governor Nasir El Rufai as was rumoured, it would have made reconciliation more difficult.
This is because El Rufai not only championed the Muslim-Muslim ticket in Kaduna, he sought to institutionalize that anomaly by ensuring that his handpicked successor retained the same Muslim-Muslim template. Similarly, it would have been more difficult to achieve reconciliation if the duo of Bayo Onanuga and Femi Fani Kayode who uniquely fanned the embers of ethnic hatred and promoted both provincialism and Igbophobia are given front row seats in the government. 
Overall, Tinubu started with a fumble as many newly elected leaders often do. This is because while politicians are said to campaign in poetry, in governance, they will be forced to rule in prose. They will not only discover that the devil is in the detail but will also find out that every policy or even major pronouncement, has unintended consequences.
Nigeria and the Next National Assembly
By Ebun-Olu Adegboruwa
Come June 13, 2023 or thereabout, the leadership of the National Assembly will be up for a change, the present set having been elected on June 11, 2019, with Ahmed Lawan (APC) and Femi Gbajabiamila (APC) in charge as President of the Senate and Speaker of the House of Representatives respectively.
They were anointed to take over the leadership of the National Assembly in 2015 following the victory of their political party at the general elections, but that was not to be, as certain influential members of the APC lobbied the opposition lawmakers to upset the applecart, thus throwing forward Bukola Saraki and Yakubu Dogara as leaders instead.
The lobbying in the present dispensation has been very intense, with all manner of permutations and calculations, from zoning to merit, being bandied to canvass support for certain interests. Some have posited that zoning, faith and gender should play major roles in the recruitment process, given the composition of the leadership of the major political parties.
Deliberately and without mincing words, the framers of the Constitution established the Legislature as the First Arm of government, because law is needed to define all other aspects of human existence.
It is thus expected that through its additional powers of approval and oversight functions, the legislature will work to curb the excesses of the executive arm of government, especially in situations where retired politicians have hijacked the democratic process, having in their prime tasted power and are not unwilling to hand over to others. These factors have shot the legislature into national focus, especially the leadership.
The National Assembly is a bicameral legislature consisting of 109 members of the Senate and 360 members of the House of Representatives, modelled after the federal Congress of the United States and meant to guarantee equal representation. In the current 9th National Assembly, the APC has 66 seats in the Senate, PDP 38, NNPP 1 and YPP 1 whilst in the House of Representatives, the APC has 227 seats, PDP 121, APGA 4, NNPP 3, ADC 1 and PRP 1.
Three seats are vacant in the Senate while one seat is vacant in the House of Representatives. In the 10th National Assembly that will be inaugurated in June, APC has 59 senators, PDP 36, LP 8, SDP 2 NNPP 2, APGA 1 and YPP 1. In this composition, the ruling party has 59 senators whilst the opposition parties altogether have 50, which gives renewed strength for diversity. In the House of Representatives, the APC has 162 seats, PDP 102, LP 34, NNPP 18, APGA 4, ADC 2, SDP 2 and YPP 1.
What this has shown is that it is not possible for the ruling party to foist any candidate upon the National Assembly, even though the same scenario played out in the 9th Assembly with the opposition parties unable to pull their weight when it mattered most.
Notwithstanding the seeming plurality of representation, the 9th National Assembly has not been able to assert itself as an autonomous institution, preferring rather to treasure political party affiliation over and above the national interest. In that dispensation, the executive arm of government was always certain of maximum support and approval of all proposals and requests, no matter how unpopular, injurious or backward. In the jurisdiction for which our legislative arm has been patterned, there is the robust system of separation of powers and the doctrine of checks and balances.
The three arms of government are expected to operate independently and complimentarily, not dependent upon or patronizing, in the manner that the 9th Assembly has carried on. No doubt it is good to have a responsible legislature for the purpose of harmonization and development but when it gets to the level where the executive is always right, then such level of dubious cooperation should worry all lovers of true democracy.
A legislature that cannot supervise and check the excesses of the executive is not worth its name at all. Truth is, such an assembly of persons cannot claim to represent anyone, when the chips are down. They represent only themselves, only their interests and their stomachs. However, the 9th Asssembly was able to conclude the process of the amendment of the Constitution and it also gave us the new Electoral Act, with all its booby traps.
Owing largely to the independent mode of its leadership recruitment, the 8th National Assembly under Saraki and Dogara turned out to be one of the best ever, at least in taming the monstrous executive arm. You can imagine what would have happened under Saraki should the Central Bank of Nigeria dream of the calamitous project of Naira redesign or the needless loans that the federal government has embarked upon in its dying days.
It was not business as usual in the National Assembly under Saraki and Dogara, as the legislators asserted their powers to the fullest and held the executive down to follow due process, at all times. As an appointee of the President, you would have to prepare very well for your screening, and ministries and other government agencies had to sit up to defend their budgets and actions.
They were very daring, courageous and they took steps to protect the people from an overbearing executive. It was little wonder then that the ruling party did all its best to ensure that most members of that collective did not return to the 9th National Assembly. But Nigeria has paid dearly for that selfish agenda as the 9th National Assembly operated more like a weeping institution, a clearing house and a reporting Chamber, where elected representatives of the people stoop to beg directors of parastatals to attend public hearings, at times issuing empty threats without any follow-up action and granting virtually all the requests of the executive. Having succeeded in installing its cronies in positions of authority at the National Assembly, the executive has since then embarked upon mindless borrowings, putting our nation at the mercy of shylock imperialists, who whimsically drafted contracts that threaten even our cherished sovereignty, at times in their own language. Yes, it is a National Assembly that prides itself in 'reporting' errant serving ministers and heads of parastatals who defy its summons, to the President.
As elected representatives of the people, the National Assembly is expected to assert the will of the people by invoking the relevant provisions of the constitution in the discharge of their statutory responsibilities of law making, supervising the executive arm and also to prevent waste and corruption.
Lawmakers who scramble for constituency projects cannot be in the best position to make laws that will impact the people positively. So much has been invested in the National Assembly in order to guarantee optimum performance and so the leadership of such a crucial organ should not be a matter of political patronage or reward for perceived electoral support.
We cannot afford the misfortune of parading elected representatives who are whipped along the lines of executive preferences, all the time. There has to be a balance of power and of forces, for our nation to ever dream of attaining the expected growth that our leaders have touted so often.
In choosing the leadership of the 10th National Assembly therefore, the most important criteria should be competence, which can also include experience, qualification and indeed reputation.
As the saying goes, the fish gets rotten from the head, so the kind of leaders to be entrusted with the management of the National Assembly is key to our national development. Of course we need to be sensitive to issues of gender parity, faith and indeed zoning, all of which could be accommodated in the primary consideration of merit as indeed it is possible for the right candidate to possess all these features all at once. Although the tradition is for the ranking members-elect of the political party with the highest number to produce the leadership of the National Assembly, it does not have to be along party lines, given that the laws governing the choice of leadership is internal to the legislature.
For instance, the opposition parties, either in the name of "the Greater Majority" or any other forum, can swing the tide if they remain united. In this regard, legislators should be allowed to vote according to their convictions, not vote buying.
The news filtering that certain candidates for the leadership are campaigning with dollars to garner support should be a disqualifying factor, if at all it is true. Security agencies should beam their searchlight on the members-elect to monitor their activities, especially their finances.
We cannot afford to reduce the next leadership of the National Assembly to commercial ventures to be sold to the highest bidders, as once corruption has been laid upon the foundation of that hallowed institution, then we can all predict what would happen in the next four years.
Members-elect are thus enjoined to discountenance the APC contraption of leadership by zoning. I vote for an independent, vibrant and active National Assembly.
Adegboruwa, a Senior Advocate of Nigeria (SAN), writes from Lagos
Commencement Speech AUN 2023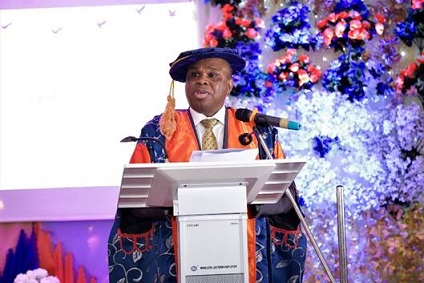 I am highly honoured by the opportunity to deliver the 2023 commencement address of this highly respected University. Many thanks to the Founder and former Vice President of the Federal Republic of Nigeria, H.E Atiku Abubakar, for the wisdom of establishing this university and making it a beacon of hope for the minds willing and able to explore the unknown.
I thank him for his vision in setting up a university of this excellence and also in the decision to focus the University on development issues. His support for education in Nigeria is legendary. In addition to this University, I am also aware of the AUN Academy as well as his advocacy work for improvements in the education sector overall.
Special appreciation to Senator Ben Obi, members of the Board of Trustees and members of the Governing Council for this privilege and for finding me deserving of the very high honor of the award of an honorary degree of Doctor of Human Letters of this Prestigious University.
To you, the graduands, whom we are all gathered here to celebrate, I say "Congratulations"! I am sure your years at this great University have severely tested your talents, perseverance and your commitment to hard work. You sit in this hall today, hooded, because you all passed the tests. Now that it is all over and you step into a new beginning, I am sure some of you will do so with trepidation, unsure of what the future holds. That is understandable because as you look into the horizon, you see thickening clouds of uncertainty and few rays of hope. Wars, hunger, violence, terrorism, climate change, poverty and overall economic malaise define your daily encounter with the news and present a most daunting environment for any young graduand. As difficult as it may sound, I want you to know that the situation is not unique to you. I want you to know that like the legendary Egyptian bird, Phoenix, that got burnt and rose from its ashes, you too can emerge as a star out of the violent cacophony of today's turbulent world.
As you ponder your future, I will like you to listen to my own story. Forty years ago, back in 1983, I was like you, a young graduate full of life, ideas and aspirations. I also graduated into a Nigeria that was going through its worst economic crisis in decades. The economy was in a very bad shape. A crash in oil prices exposed macroeconomic management weaknesses, which tipped the economy into recession; the economy contracted by more than 10%; there was massive unemployment, inflation soared as import licensing and, price controls led to unprecedented scarcity of basic supplies. Citizens queued for hours to buy simple cooking oil, for instance. The environment was most daunting for a young man fresh out of school, with big ideas about how to contribute to society.
In the midst of the challenges, I saw an opportunity and invested my time and energy in it. I chose not to be controlled by development I had no control over. I charted my own course in the midst of the turbulence. And today, I stand before you, 40 years later as President of African Export-Import Bank, a bank that has become a critical piece of Africa's financial architecture. So, dear graduands, I want to assure you that you can be all you want to be; you are the author of your destiny, dream big dreams and allow your aspirations to roam. You will soon find that as you turn the corner of any adversity, an opportunity may beckon.
And the opportunity for you today may be found in the story of my life I just narrated. If you listened carefully, you would have noticed that, as it was forty years ago, so it is today. I am sure you will be wondering whether time stood still in Nigeria.
Over-dependence on crude oil was at the root of the economic crisis in 1983; it is the same today. And therein lies the opportunity, the chance to contribute in building an economy that is diversified, resilient and dynamic so that in 40 years' time we will have a transformed, more modern society.
The African Continental Free Trade Agreement and Digital technology have provided platforms that are helping to unleash the power and creativity of our youth, even in the midst of difficulties. A quiet revolution that will redefine our future is in the offing.
So, graduands, you have your destiny in your hands; your future is yours to shape. American Philosopher, Eric Hoffer, once wrote that those with skills to move mountains do not need the faith that moves mountains. Your training in this university has prepared you for the future. There is no "mountain" you cannot move; there is no challenge you cannot overcome.
Today, we must celebrate not just the end of your most recent academic journey, but the beginning of a life-long commitment to making a difference. The core of my message today is focused on the latter. Making a difference means more when you are from a continent where young and able people believe that they have no better option but to attempt to cross the Mediterranean Sea in search of greener pastures, despite the high probability of death. It means more when you are from a continent that is home to more than 60% of the world's arable land but can't feed itself. It means more when we are home to much of the world's remaining mineral resources but account for only 3% of global trade and 3% of Global GDP. It means more when you are from a continent that accounts for 17% of the world's population and 66% of all young people globally yet contributes almost 40% of the global poor. Making a difference means abandoning all those evils that hold us back as a people. You must say no to tribalism, religious bigotry and extremism, greed and selfishness. You must always strive to rise above the self and protect the collective interest because in an interconnected world, you will prosper when the group prospers.
You have all acquired an important asset, namely education. However, I would like you to see education from perspective offered by the Irish poet William Butler Yeats who noted that "Education is not about filling a bucket but lighting a fire". I hope that your time over the last few years at AUN has lit a fire in you, a fire to go and change the world, starting with Africa. I would also like to emphasize that education is not a finite destination, rather it is a lifelong pursuit.
While hard work and education are critical, they are not enough. I can't think of anything more important than love for country and continent. It is through the love for country and continent that we develop the deep passion that is required to drive change.
I would also like to remind you that those who fought for the independence of African nations, did so as young people. As I said in another speech, Kwame Nkrumah and his contemporaries "invested their youth in that project. Instead of the luxury of serving the colonial masters, they chose deprivation that came with agitation for independence; instead of the safety that subservience would have assured them, they chose the danger that littered the path to political independence; instead of living for the present, many sacrificed their present for a better future for all Africans".
While they won the battle for political independence, which you and I enjoy today, we are deep into another struggle, the fight for economic independence. How would we fight this raging battle? The leaders of my generation have made efforts in this regard but have had limited success. It is You, the educated African youth in this arena and similar universities around the world, that can help us to eventually win the battle. And it is a battle we must engage in and win as it will define the future of the African. Otherwise, we will remain at the periphery of the global scheme of things. It is because of the new knowledge economy that Apple has a valuation today that is almost the size of Africa's GDP. And as Artificial Intelligence and other technology gain ground, it is you, our youth that will ensure that this time, the country is not left behind and that we take control of our destiny and compete effectively globally. In this new world we are in, a new struggle is raging.
As I had said in the past and repeat here in quote "A revolution is sweeping across the African continent without bloodshed or conflict. It is peaceful and will fundamentally alter our world, shatter old assumptions and reshape our lives. It is easy to underestimate as it is not accompanied by banners or fanfare. The revolutionaries are of a different breed. Instead of being trained in military camps, the freedom fighters for this new battle are being trained in technical schools and universities; instead of fighting in trenches, this battle will be fought in factory floors and tech incubation centres; instead of guns, the battle will be fought with ideas, hard work and investments. While bravery was required for the political struggle, courage is a necessity for the economic liberation struggle. Tech, and not armed guerrillas; ideas and not bullets will constitute the potent forces for victory in this new struggle. And as with the political struggle, Africa needs partners that can support it to prevail. The partnership we seek is one beyond aid and grant, but one founded on mutual respect and trust, win-win economic cooperation and pursuit of shared prosperity."
We will know we are winning when we produce as many tech Unicorns as other parts of the world. We will know we are winning when we have mechanisms for control of our intellectual property. There is still some way to go to arrive at the promised land but the journey has commenced.
To be clear, it is not all doom and gloom, there are some examples we can look at. Despite infrastructural challenges, the youth-led entertainment industry in Nigeria has achieved tremendous success over the last two decades. Nigerian movies have now become a staple on Netflix and Amazon Prime and watched across the globe. Nigerian artistes have become household names and now play in the topmost arenas and events around the world, including World Cup Finals, Champions League Finals amongst others. It is no longer rare to have Nigerian artistes nominated for most respected entertainment awards. The entertainment industry now contributes more than 5% to Nigeria's GDP and is growing at a fast pace.
Nigeria has also produced a few Unicorns, such as Flutterwave, Interswitch, Opay and Andela. And in the old economy sphere, the gigantic Dangote Refinery and Petrochemical Plant was commissioned just a few days ago placing Nigeria in the global map of serious players in petrochemical and petroleum refining industries.
Nigeria also has a significant pool of entrepreneurs and bankers who made the most of what Nigeria has to offer. As you graduate today, you must set your goals clearly and keep your eyes on the ball. The quality of education you received in this University has prepared you for the World. You will always aim for the best and never be content with substitutes. You must never allow yourself to be consumed by those negative attributes that divide us as a people because you can thrive without them and help us to build a better Nigeria.
As I close, I will like to once again congratulate all graduands for making a huge success of their endeavors in this great university. Congrats are also in order for your parents and guardians for their support and commitment to your success.
As you enter the world, I will like to inform you that Afreximbank, the Bank that I lead offers a comprehensive suite of products that can support you as you build your career. For those of you intent on pursuing higher degrees who will like to be considered for internship positions, the opportunities abound.
Finally, I would like to convey my appreciation to the Founder, H.E Alhaji Atiku Abubakar, as well as to Senator Ben Obi, Chairman of the Board of Trustees, members of the Board of Trustees and Governing Council and the Interim President for the honour to address you today. I am in particular very grateful for the high honor of the Honorary Degree of Doctor of Human Letters awarded me. I will cherish it throughout my life. And as this University has proven itself in the fields of development, we will explore other support and linkages we can develop, such as sabbatical opportunities, internships, research grants etc. We look forward to a deeper and broader partnership.
Thank you for your kind attention.
Speech delivered by B. O. Oramah, President and Chairman of the Board of Directors , Afreximbank  on the Occasion of the Fourteenth Graduation Ceremony of the American University of Nigeria and Receiving a Honorary Degree of Doctor Commencement Speech Delivered by Prof. Benedict Oramah, President and Chairman of thr of Human Letters  on 27 May 2023